Kazuma Kiryu returns for yet another action-packed adventure – but after his perfect sendoff in Yakuza 6, is this a story that really needed telling?

There's a joke among Yakuza fans that Kazuma Kiryu will never truly be gone. At 90 years old he'll be hauling himself out of the retirement home to beat some poor sod's face in, before heading to the nearest pocket circuit club to race miniature cars against children. Like a Dragon Gaiden: The Man Who Erased His Name feels like it's aware of the joke – in part because it's the force pulling Kiryu out of retirement for yet another bout.

Kiryu, or rather special agent Joryu, now puts the beatdown on foes at the behest of the secretive Daidoji faction – the same group he thwarted in Yakuza 6: The Song of Life. Having faked his death at the end of Yakuza 6, Like a Dragon Gaiden largely revolves around Kiryu trying to maintain his covert status so as to protect the children of Morning Glory Orphanage, as various nefarious factions vie to control him for their own ends.

It's a pretty compelling plot point – protecting the kids we've come to know and love over the series so far – but it's hampered by where Like a Dragon Gaiden takes place. 2020's Like a Dragon chronologically follows Gaiden, so we already know from the previous game that Kiryu manages to maintain his faked death, and thus protect the children, sadly eliminating a fair amount of dramatic tension from Gaiden. This sort of brings the entire thing back to one painful point: I don't know why Like a Dragon Gaiden exists.

We're still beating up folk in real-time with just a few button presses – one for kicking, another for punching – mixed in with super-moves like dunking bicycles on enemies. Accumulating 'Heat' with every strike lets you pull off those crushing moves, like throwing someone off the iconic Sotenbori bridge, and dodging a strike at the last second before slamming a fist into a foe's ribs is still excellent fun.

None of that's to say Like a Dragon Gaiden isn't bringing anything new to the table whatsoever. With Kiryu's new secret identity comes fancy new 'secret agent' gadgets, like a fake cigarette that explodes like a grenade, or rocket-powered shoes that leave a blazing trail of fire in their wake, or even a whip-like gadget that sends enemies flying into buildings. They're all equally bizarre as they are fun to use, seamlessly integrating themselves into a real-time combat system that's been refined and perfected for nearly two decades.

The result is a brawler that's as good now as it's ever been. Like a Dragon Gaiden takes the core building blocks that everyone knows – punching, kicking, throwing bins at people – and deftly mixes in the secret agent gadgets for brilliant effect, making the entire combat system feel like it's bringing new ideas to the table even, from a developer that isn't afraid to evolve a system that was working just fine before. That the combat system still feels enticing, after more than seven games in the Yakuza series, is a huge testament to how Like a Dragon Gaiden builds on its foundations.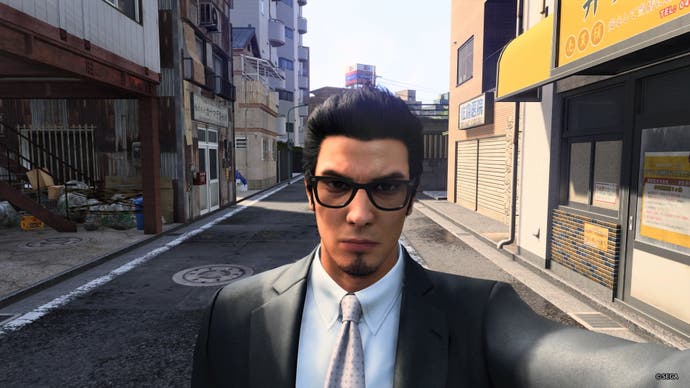 Like a Dragon Gaiden also feels like it's trying to be a 'greatest hits' collection of minigames. There's a cabaret club to visit, pocket circuit cars to race around mini tracks, a battle colosseum where you can lead a team of fighters, and casino games like blackjack and poker. The hair-rising twists and turns of pocket circuit are just as enthralling as they were back in Yakuza 0, and it's incredibly easy to get absorbed by the casino-based games for hours on end when they're all so simple yet entertaining. They don't all stick the landing, though – the cabaret club is shot in live-action, in a move that feels a little trite and at odds with the themes of this being a high-stakes adventure for Kiryu.

It feels like RGG Studio threw the entire kitchen sink at Like a Dragon Gaiden's side stuff. All the minigames are just that – mini games – rather than being engrossing side stories you can sink dozens of hours into (like Yakuza 0's cabaret club management sim, for example). Admittedly, perhaps that's a case of the Yakuza series spoiling me with expansive minigames so far – standing on their own, Like a Dragon Gaiden's minigames are perfectly serviceable for a game that's deliberately designed to be shorter than the 30-hour epics we've been on with Kiryu before.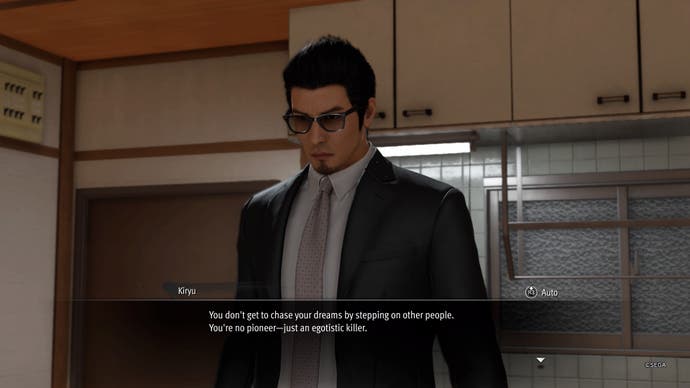 If anything is a clear drawback from the past, it's how side stories are handled. They're all taken on as missions from an overarching bounty board of sorts, connected to the 'Akame Network' that Kiryu's hunkered down with in Osaka. The nature of accepting side stories from one board removes an element of spontaneity from the game – you won't stumble upon whacky and memorable stories like a human statue who needs a distraction because he needs to go to the toilet, for example.

That's a crying shame, because it makes Like a Dragon Gaiden's world feel a lot less involved and engrossing. Thankfully, the side stories themselves are still pretty funny, like the return of the dreaded Obatarian from Yakuza 0, or Kiryu and Judgment guest character Kaito calling each other gorillas while trying and spectacularly failing to crack a detective case together. They're still a fine accompaniment to the main tale, even if Like a Dragon Gaiden does remove the surprising nature of them.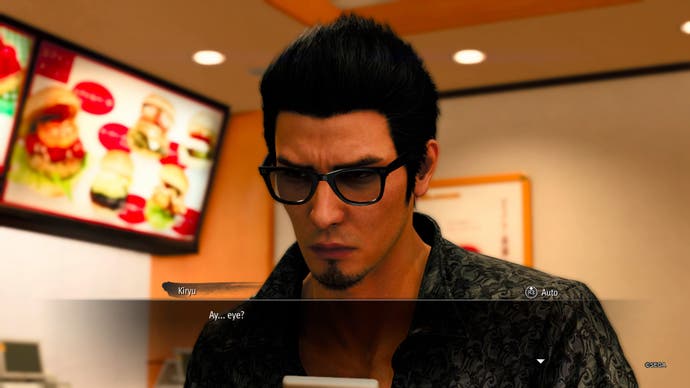 Kiryu already got a pitch-perfect sendoff in Yakuza 6 back in 2018, going out in a beautiful scene that mirrored baby Haruto's first steps alongside Kiryu's final steps away from Morning Glory and the orphans he helped raise. Why then, does Like a Dragon Gaiden feel the need to resurrect Kiryu yet again after such a perfect ending?

RGG Studio seems intent on filling in the blank between Kiryu's faked death in Yakuza 6, and his cameo appearance in Like a Dragon. Again, the problem with that is we already know the end result. No matter how many guns are literally pointed at Kiryu's head in Like a Dragon Gaiden, and no matter how many times the children of Morning Glory are threatened, we know he emerges from the entire thing unscathed, secret identity and faked death intact.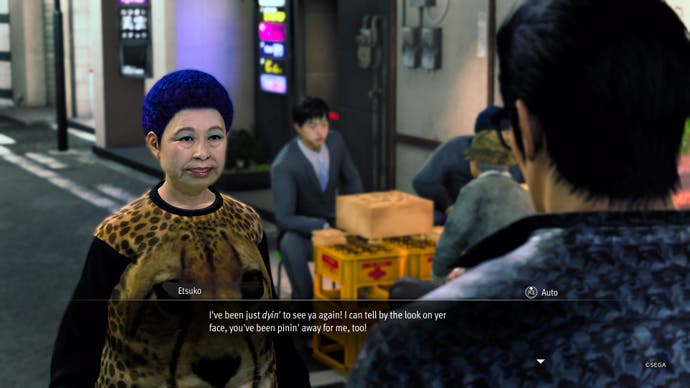 We're in an era where game studios are under more pressure than ever to produce more things of the stuff people love, as game development budgets spiral increasingly north of $100 million and bigger publishers take fewer risks. It feels like Kiryu has fallen victim to this, set up as a theoretical home run for RGG Studio in between slightly riskier bets (the turn-based combat of Like a Dragon, for instance, and 2024's Like a Dragon: Infinite Wealth), perfect sendoff in Yakuza 6 be damned.

So the question becomes, what is Like a Dragon Gaiden doing that seven previous Yakuza games haven't done for Kazuma Kiryu? The answer is, ultimately, very little – we're still slamming bikes onto ruffians, we're still engaging in turgid chats with hostesses in cabaret clubs, and we're still going on nonsensical misadventures with people that involve things like relieving a construction worker of his evil foreman.

What perhaps saves Kiryu's latest adventure is an absolutely fantastic combat system, bolstered with wild gadgets, and minigame offerings that just about work with an approach to breadth instead of depth. This is another entertaining, idiosyncratic, action-packed romp for the Yakuza series, but it feels as though Like a Dragon Gaiden needs to do more to justify its undermining of Kiryu's perfect sendoff in Yakuza 6.
A copy of Like a Dragon Gaiden: The Man Who Erased His Name was provided for review by Sega.

on bbc news
on hindi news
on the news today
on channel 7 news
ôrf news
campo grande news ônibus
ôpera news
campo grande news greve de ônibus
l1 news horário dos ônibus
l1 news ônibus
lago azul news ônibus
news österreich
news österreich heute
news österreich aktuell
news öffentlicher dienst
news österreich corona
news öl
news österreich orf
news ö3
news österreich heute aktuell
news österreich sport
ö24 news
ölpreis news
öbb news
ösv news
österreich news krone
övp news
özil news
öffentlicher dienst news 2023
österreich promi news