Summary
Leslie Jones faced horrific backlash and online vitriol after starring in the 2016 Ghostbusters reboot, including death threats and racist abuse.
The abuse Jones experienced highlights the toxic behavior of online fandoms, which extends beyond Ghostbusters to other franchises like Star Wars and Lord of the Rings.
The issue of online harassment towards actors and creators of beloved properties persists, and a solution to combat this toxic behavior is still far from being found.
Comedian and actor Leslie Jones reflects on the horrific backlash she faced due to her role in 2016's Ghostbusters: Answer the Call. Helmed by Bridesmaids director Paul Feig, 2016's Ghostbusters reboot saw Jones join a new team of paranormal investigators, starring alongside Melissa McCarthy, Kristen Wiig, and Kate McKinnon. Even before the film premiered, the reboot attracted generated considerable controversy with various social media pundits attacking the film's premise and mocking Feig's decision to use an all-female cast. Jones herself became a target for excessive online vitriol, eventually prompting her to temporarily quit Twitter mere days after the film's release.
Seven years on, Jones reflects on the backlash in her new biography Leslie F*cking Jones: A Memoir (via Rolling Stone) and provides more insight into her decision to step away from social media. Explaining that she had never "seen it so bad," Jones could not believe she became the target of repeated death threats and racist abuse simply for taking a role in a movie. Of all her cast members, she also reveals she was the "one who got taken through the ringer" due to her racial background. Check out the following passage from her book below:
That night of July 18 was horrible, though. I remember crying and thinking, This is the first time I had ever seen it so bad. How do y'all all get together to bully a person? It wasn't as if I'd committed a crime or something — I was being bullied over a movie, over playing a part in a movie. (I can't believe I have to say this out loud.)

The weakness of muthaf**kas amazes me. I cried not because I was being bullied, but because this is our world and because I can't believe anyone would do this s**t to someone, anyone, for working. This is awful. I am in a movie. Death threats for something as small as that? The world was not as rosy as I'd hoped it was. But none of that s**t was about me.

But then that same night Kate McKinnon came over, we drank some wine, and I went on about my business.

Of all the women in Paul's remake of the movie, I was the one who got taken through the ringer. I wonder why . . . Oh, right, because I was a Black girl. I was being sent films of being hanged, of white guys jacking off on my picture, saying, "You fucking n****r. We going to kill you." Why are people being so evil to each other? How can you sit and type "I want to kill you." Who does that?
How Ghostbusters: Answer The Call Shone A Light On Toxic Online Fandoms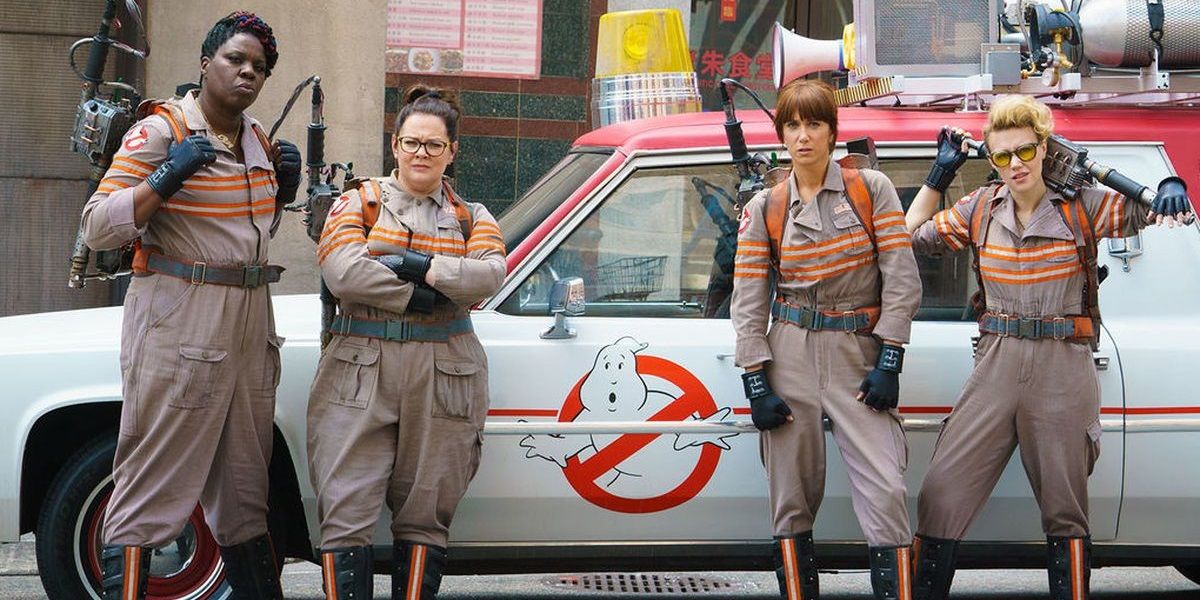 With 1984's original Ghostbusters widely considered one of the most iconic films of the 20th century, any attempt to reinvent the franchise was bound to be met with some degree of resistance. Yet while 2016's Ghostbusters: Answer the Call appeared to fall well short of many viewers' expectations, the kind of abuse that Jones encountered went far beyond simple criticisms of the finished film's artistic merits. In an online world where some of the most vile and reprehensible sentiments can be expressed behind a protective wall of anonymity, Jones quickly became a target for some truly detestable behavior.
Sadly, however, this kind of online toxicity didn't begin nor end with the 2016 Ghostbusters reboot. In the lead up to 2015's Star Wars: The Force Awakens, Finn actor John Boyega found himself of the receiving end of abhorrent racial attacks, and Star Wars: The Last Jedi star Kelly Marie Tran also found herself having to leave social media due to ongoing harassment by toxic fans. More recently, stories emerging from the various stars of Lord of the Rings: The Rings of Power and Obi-Wan Kenobi suggest the issue is still very much an ongoing concern.
Related: Ghostbusters: Afterlife Vs 2016's Reboot: Which Is Better?
Thanks to the connective power of social media, the actors and creative minds responsible for some of pop culture's most beloved properties are now far more accessible to everyday fans than ever before. Unfortunately, however, with that newfound accessibility also comes the danger of exposing those same figures to endless streams of digital effluent born of intolerance and bigotry. The response to 2016's Ghostbusters: Answer the Call may have brought this problem into much sharper focus, but it would seem a workable solution is still a long way from being found.
Source: Rolling Stone
on bbc news
on hindi news
on the news today
on channel 7 news
ôrf news
campo grande news ônibus
ôpera news
campo grande news greve de ônibus
l1 news horário dos ônibus
l1 news ônibus
lago azul news ônibus
news österreich
news österreich heute
news österreich aktuell
news öffentlicher dienst
news österreich corona
news öl
news österreich orf
news ö3
news österreich heute aktuell
news österreich sport
ö24 news
ölpreis news
öbb news
ösv news
österreich news krone
övp news
özil news
öffentlicher dienst news 2023
österreich promi news