Within Marvel Comics, Kingpin has proven to be a particularly adaptable villain. The character works as an antagonist in all sorts of stories — even serving as a big enough problem to focus an entire crossover like Devil's Reign around. But one of the character's most surprising attributes might be the way he actually works as an ally for one surprising group of heroes.
Kingpin's connection with Emma Frost is a clever addition to both character's backstory, and provides a key ally to the X-Men's current struggles. It adds moral complexity to both characters, and could even be a useful addition to the Marvel Cinematic Universes' inevitable plans to bring the X-Men to their universe. Kingpin being an unlikely friend to the X-Men is his best modern tweak, and should remain a constant for the character.
RELATED: X Of Swords Proves It's Marvel's Turn For A Mortal Kombat Krossover
How Kingpin Became An Ally To The X-Men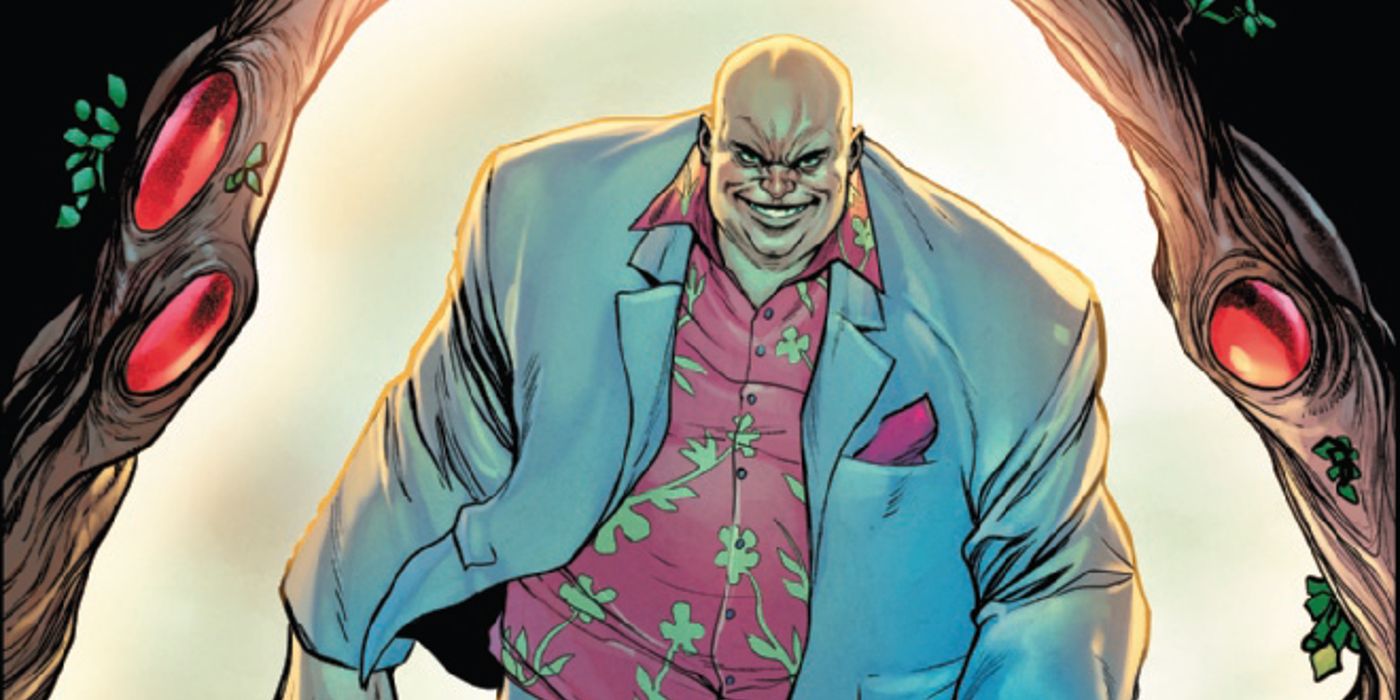 Wilson Fisk is one of the most flexible Marvel villains, capable of easily serving as an antagonist to all sorts of heroes across the Marvel Universe. Beginning as a Spider-Man villain, the Kingpin has since become a major nemesis for Daredevil and Punisher, a frequent foe of the Avengers, and a thorn in the side for the whole hero community. He's the kind of villain who can easily fit alongside the likes of Doctor Doom and Loki in big crossovers like Acts of Vengeance, while still working perfectly well in more grounded, street-level storylines. One of his most important recent connections has been shared with Emma Frost of the X-Men. Devil's Reign revealed that during her tenure as a villainous member of the Hellfire Club, Emma Frost worked for Fisk. Using her telepathic powers, Emma manipulated others into Fisk's service, cover the tracks of his crimes, and generally serve as a crucial player in his criminal empire.
Eventually though, Emma splintered away from Fisk and the Hellfire Club, becoming the morally murky but thoroughly dedicated hero she is today. That connection was explored during Devil's Reign, and has come back into play in a big way during the build-up to Fall of X. Thanks to his marriage to Typhoid Mary, Fisk was allowed to argue for citizenship on Krakoa. In the aftermath of Orchis' attack on Krakoa, his wife is now one of the countless mutants missing — with Fisk openly willing to work alongside the remaining X-Men to fight back against Orchis. Despite his villainous history making him an unlikely ally to the X-Men, his resources make him a crucial figure in the survival of the remaining mutants. This all sets up the revelation in Immortal X-Men #14 that he's become the new White King of the Hellfire Club, seemingly with the assistance of Emma.
RELATED: Iceman's Last Words Highlight the X-Men's Most Heartbreaking Tragedy
Why Kingpin Should Remain An Ally To The X-Men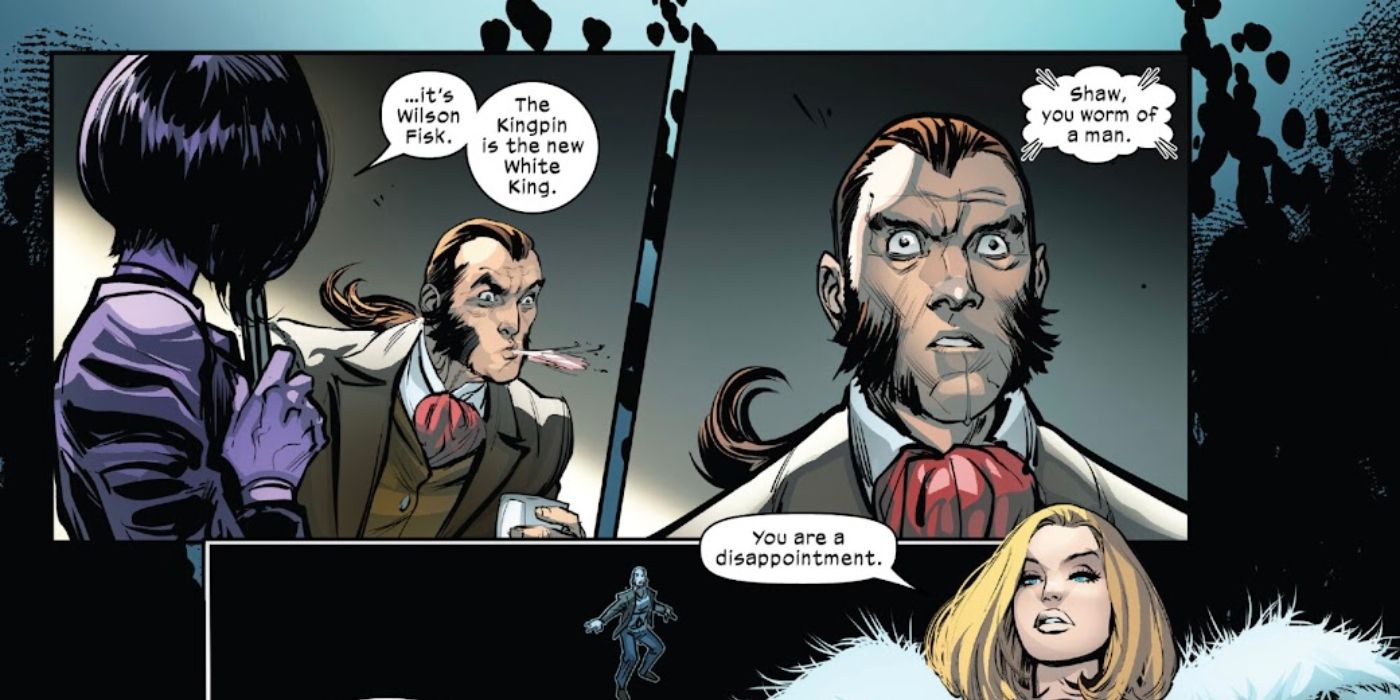 This connection between Emma and Fisk has been a compelling turn for both characters. It brings back elements of Emma's earlier villainous days while allowing her to retain her heroic modern persona, highlighting how pragmatic the character can be. Emma's status as a former villain who never really repented (even as she found a form of redemption as an unlikely teacher) makes her a unique and compelling figure within the nominally heroic X-Men. While she's unhappy to be working with Fisk again, her willingness to do so highlights how she's perfectly fine in a morally gray area that other nobler characters would feel uneasy with. It fits well into Fall of X's general approach to darker methods being required by the grim circumstances, a theme that's already being explored with characters like Kate Pryde. It also introduces an interesting complication into Emma's dynamic with other Marvel heroes like Iron Man — who has plenty of reason to distrust Fisk, regardless of what he claims.
This development is also a great addition to Kingpin's place in the Marvel Universe, as it gives the typically ruthless villain a genuinely complex connection to some major heroes. As opposed to any brief alliance Kingpin may form with characters like Spider-Man or Daredevil, his marriage to a mutant gives Fisk a concrete reason to care about mutant affairs. His connections to the criminal underworld could actually benefit a people who've often had to literally hide underground to avoid persecution, providing a moral reason for his association. His connection to Emma could force both of them to confront the limits of their ruthless nature and their willingness to cross moral lines for the sake of a "greater good." Even if Kingpin remains firmly a villain, this sort of connection could highlight how the X-Men are separated from most of the hero community. While most heroes see Kingpin as a monster, the X-Men — who have a long history of turning major enemies into complicated allies — can bring out different layers in the character.
It could even serve as a useful element to bring to the MCU. Kingpin's role as one of the universe's most effective crime lords could help seed the X-Men's eventual arrival by introducing Emma as one of his most important silent agents. The revelation that she's been working for him for years could explain potential continuity issues in regard to people's knowledge of his actions, highlighting how her telepathic powers can alter the memories and perception of others. Emma's telepathy would likely allow her to remain hidden in a setting like the MCU, offering an easy explanation for how some mutants could exist in the franchise without revealing themselves previously. Kingpin and Emma having a connection is a clever idea, tying together different parts of the Marvel Universe while giving one of the universe's most iconic villains a uniquely heroic thread. It's the sort of element that should remain in play post-Fall of X, especially if Krakoa remains an active element in the Marvel Universe. This bond could easily become a key element of Kingpin and Emma's histories, and gives new strengths to both characters.
on bbc news
on hindi news
on the news today
on channel 7 news
ôrf news
campo grande news ônibus
ôpera news
campo grande news greve de ônibus
l1 news horário dos ônibus
l1 news ônibus
lago azul news ônibus
news österreich
news österreich heute
news österreich aktuell
news öffentlicher dienst
news österreich corona
news öl
news österreich orf
news ö3
news österreich heute aktuell
news österreich sport
ö24 news
ölpreis news
öbb news
ösv news
österreich news krone
övp news
özil news
öffentlicher dienst news 2023
österreich promi news