Warning: Potential SPOILERS for Fire & Ice: Welcome to Smallville #4
Summary
Lobo and Fire create an unexpected romance in Fire & Ice: Welcome to Smallville #4, with a steamy variant cover that pays homage to romance novel covers.
The series follows the exploits of the former Justice League members in Smallville, where Fire opens a fight club that attracts Lobo's attention.
This cover represents a shift in DC's approach, embracing female characters and courting the attention of female and queer fans in the "Dawn of DC" era.
Though there have been countless romances within the Justice League, only this completely unexpected couple deserves the romance novel treatment: Fire and Lobo. The Main Man is seducing the Justice League International icon in a new cover that would make even Fabio jealous.
DC has dropped new details about Fire & Ice: Welcome to Smallville #4 by Joanne Starer and Natacha Bustos, including a steamy variant cover by fan-favorite artist David Talaski. The cover takes inspiration from classic "bodice ripper" romance novel covers with a shirtless Lobo — wearing a cowboy hat, no less — approaching a prone Fire. All of this, in true Smallville fashion, takes place in the middle of a cornfield. Check out the cover and the full issue solicitation below: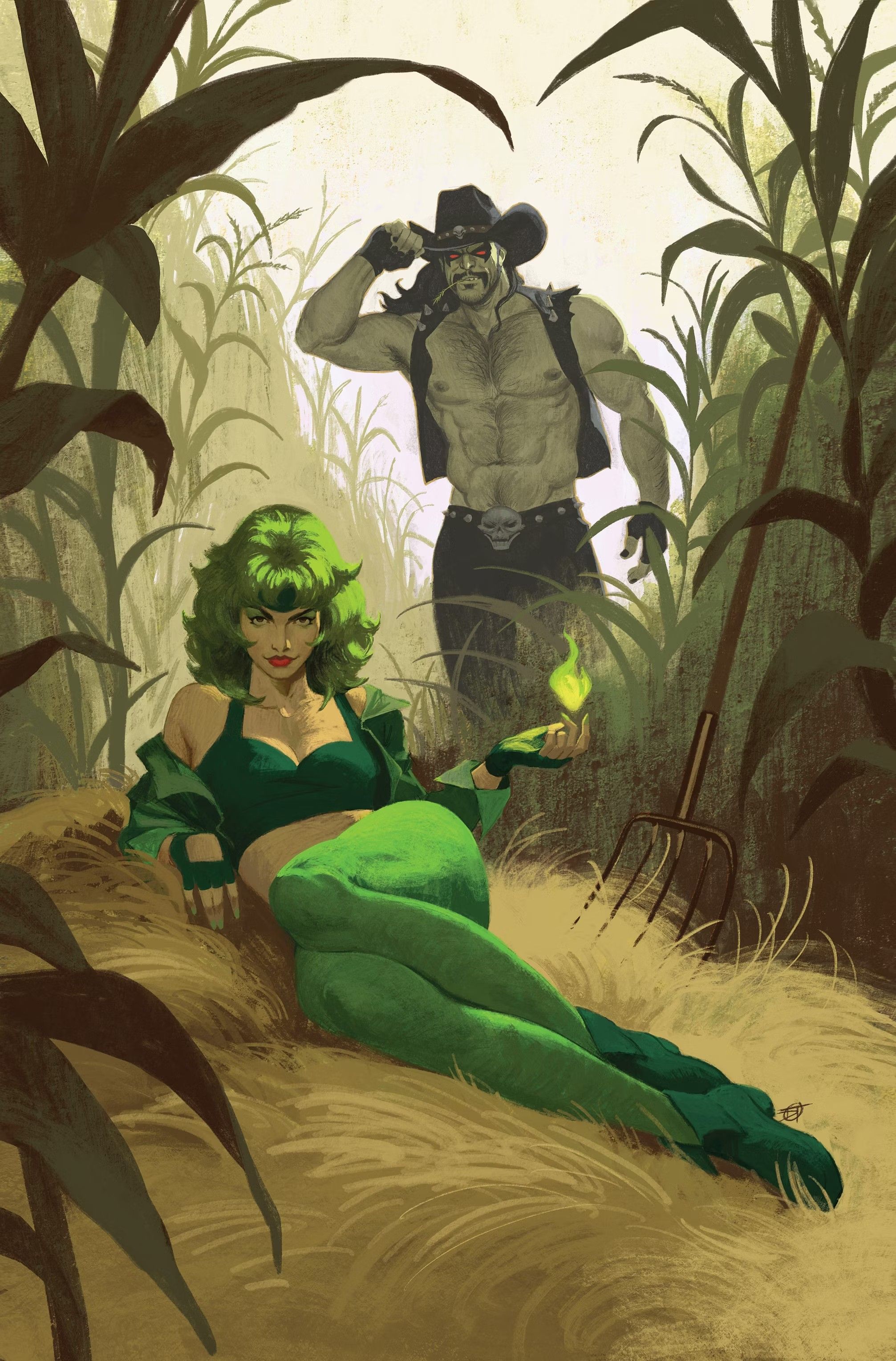 FIRE & ICE: WELCOME TO SMALLVILLE #4
Written by JOANNE STARER
Art by NATACHA BUSTOS
Cover by TERRY DODSON
Variant cover by DAVID TALASKI
1:25 variant cover by OSCAR VEGA
$3.99 US | 32 pages | 4 of 6 | Variant $4.99 US (card stock)
ON SALE 12/5/23
Ice's worst fears about Fire's antics are confirmed when a horrifying revelation comes to light, and whatever trust they'd tentatively rebuilt crumbles to dust. And despite Martha Kent's best attempts to mediate over Smallville's finest drag brunch, there might be no coming back for what was once the Justice League's most dynamic duo. (Booster and Beetle who?)
Oh, and Lobo shows up hot and bothered to throw down in Fire's defunct fight club. What could possibly go wrong?
Related: DC's Lobo Gets a Major Status Quo Shift Thanks to Superman's Nemesis
Lobo Makes His Play in Superman's Hometown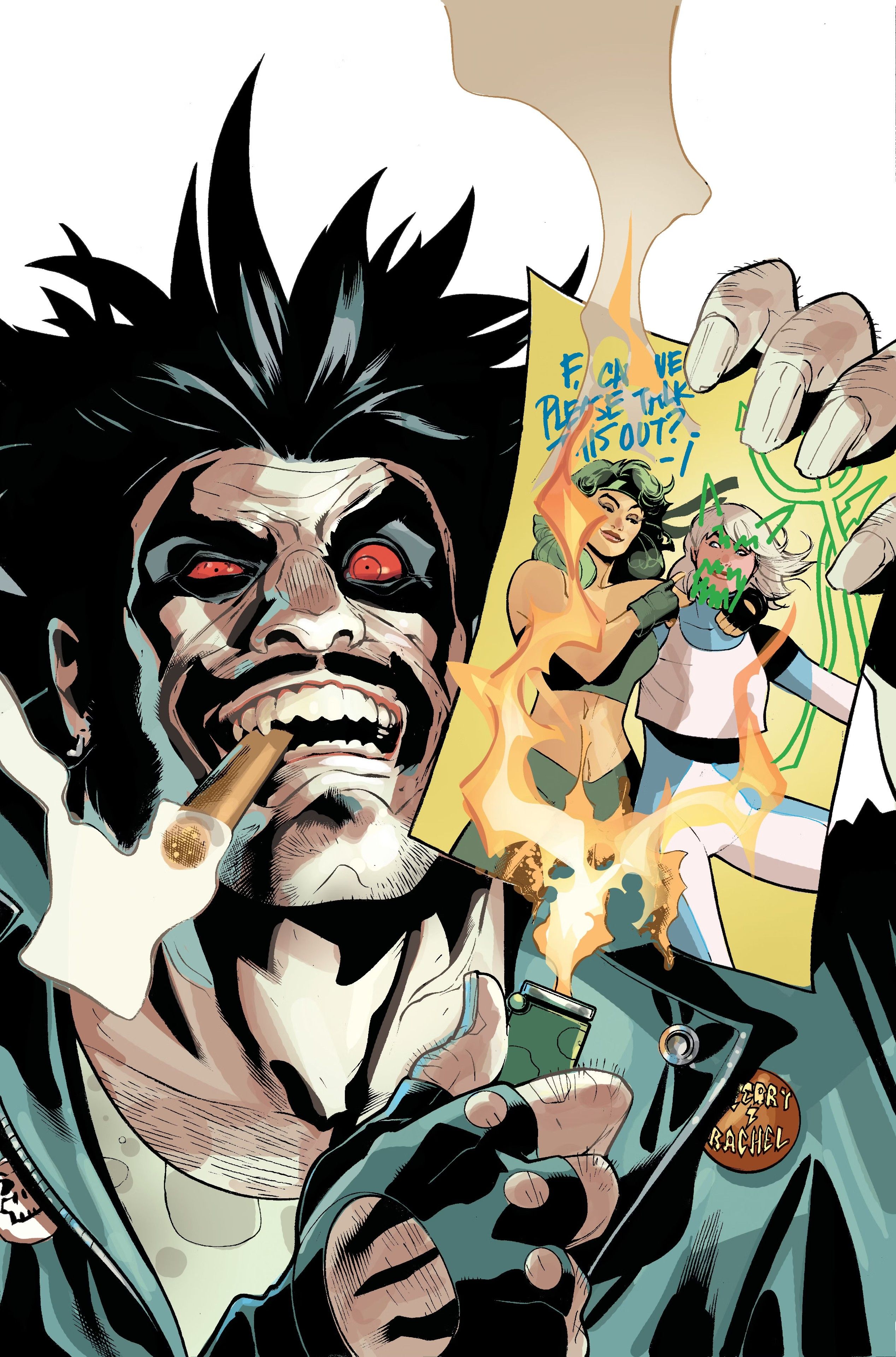 This new miniseries, Fire & Ice: Welcome to Smallville, follows the exploits of the Justice League's best best-friends after they've been exiled to Smallville, the Superman's quaint hometown. The series promises hijinks galore as the duo grates against the small-town vibe — especially Fire, whose brash personality puts her at odds with her new home base. As the solicitation suggests, she'll even be opening her own fight club — which will attract Lobo, a brutally violent and brutally crass Czarnian who often butts heads with Superman and other League heroes.
Lobo's über-macho design is not only a relic of comic-book decades past, but also the perfect anchor for a classic-looking romance novel cover. Though it's more likely this issue will see Fire and Lobo duke it out than go on a date, this cover from Talaski perfectly captures the playful tone of this miniseries, which features two classic DC women at its center. Beyond the inherent comedy of seeing a shirtless Lobo on a romance cover, it's actually refreshing to see this woman-focused cover — and story — among DC's upcoming offerings. Between Fire & Ice and the new Power Girl and Birds of Prey titles, DC is clearly embracing both its female characters and its non-male fanbase in the new "Dawn of DC" era.
Fire & Ice Are Part of a Renaissance for DC Women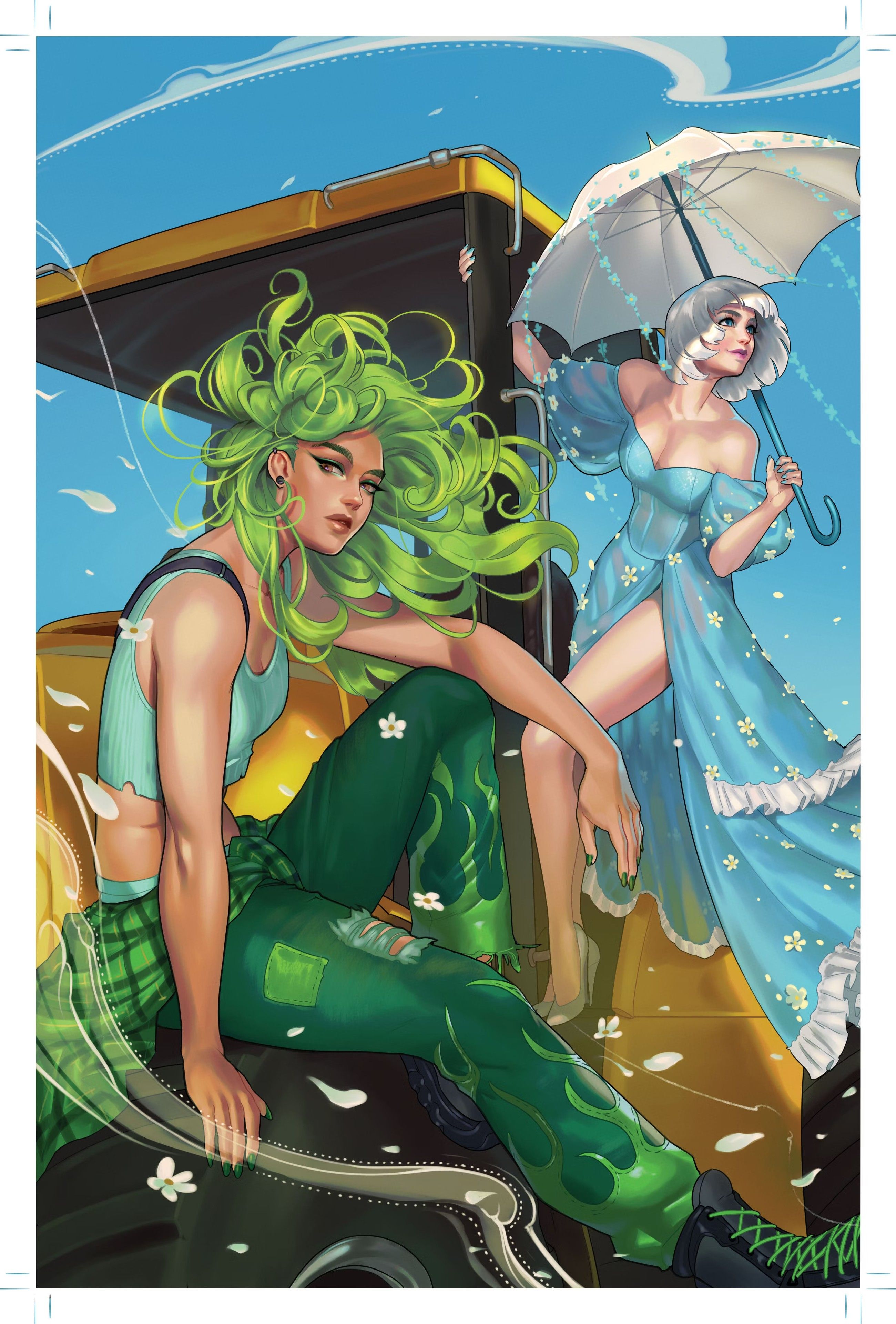 Even if Fire and Lobo don't actually fulfill the romantic promise of this cover, its playful existence is another sign of comics' changing culture — one that is increasingly and intentionally courting the attention of female and queer fans. Though readers of all kinds could only dream of a Lobo-led romance novel, this variant cover promises a bright future for the Justice League's true dynamic duo, Fire and Ice.
Check out Fire & Ice: Welcome to Smallville #4, available December 5th from DC Comics!
on bbc news
on hindi news
on the news today
on channel 7 news
ôrf news
campo grande news ônibus
ôpera news
campo grande news greve de ônibus
l1 news horário dos ônibus
l1 news ônibus
lago azul news ônibus
news österreich
news österreich heute
news österreich aktuell
news öffentlicher dienst
news österreich corona
news öl
news österreich orf
news ö3
news österreich heute aktuell
news österreich sport
ö24 news
ölpreis news
öbb news
ösv news
österreich news krone
övp news
özil news
öffentlicher dienst news 2023
österreich promi news