Summary
Wolverine's partnership with young female heroes like Kitty Pryde and Jubilee was a unique and successful dynamic in the comics.
Jubilee's status as an outsider and her time spent caring for Illyana Rasputin made her experience of Illyana's death particularly heartbreaking.
Jean Grey's attempt to comfort Jubilee with the quote, "We come into this world alone, and we leave the same way, the time we spend in between … time spent alive, sharing, learning … together … is all that makes life worth living," is deeply touching.
"To Quote a Phrase" is a feature where I spotlight memorable quotes from comic books. Today, we look at Jean Grey's poignant words to Jubilee to try to make sense of a major X-Men death.
October is a Month of To Quote a Phrase, both here and at Pop Culture References!
As you likely know by now, one of the major things that Wolverine is known for in the comics is the way that he has been partnered with young female heroes. The contrast between the gruff killer, Wolverine, and innocent (or, at least, MORE innocent) young women really worked very well. The most famous one, by far, was Kitty Pryde, who even shared a miniseries with Wolverine in the 1980s where she was trained as a ninja (well, "trained" is a stretch – she sort of had the skills magically placed into her mind by a psychotic killer, but whatever, same difference). Well, when Kitty Pryde was written out of the X-Men following the "Mutant Massacre," and became a founding member of Excalibur, Wolverine went without a young sidekick for a few years. Chris Claremont came up with a new character, Jubilee, to serve as Wolverine's new sidekick. She was an orphan living in a mall who traveled back to the X-Men's Australian base after they visited the mall on a trip. She then hid in their base, and lived there. When the X-Men's base was attacked by the Reavers, Jubilee rescued Wolverine (who had been literally crucified by the Reavers), and nursed the injured Wolveirne back to health and became his new sidekick. Eventually, she joined the re-formed X-Men, but then that was the problem. X-Men and X-Factor merged to form a new, giant-sized X-Men team, so big that they split into two teams (Gold and Blue), who each had their own book, Uncanny X-Men and the brand-new X-Men. Well, Jubilee technically didn't make either team.
Jim Lee kept her as a major character in X-Men, even not as an official member of the team, but when Lee and his other X-Men plotter, While Portacio, left the books, Jubilee was sort of left adrift. Scott Lobdell, though, took advantage of that sense of uncertainty for Jubilee in a nice spotlight issue of the series following the X-Cutioner's Song in Uncanny X-Men #297, where Jubilee and Professor Xavier (who had not really interacted much before) spent the issue together. That set the scene for another major issue spotlighting Jubilee in her sort of "outside the squad" status quo, as Jubilee started spending most of her time with Illyana Rasputin, the younger sister of Colossus, who had come down with the deadly Legacy Virus. This led to the tragic, but memorable "Going Through the Motions" in Uncanny X-Men #303 (by Lobdell, guest artist Richard Bennett and Dan Green, with letters by Chris Eliopoulos and colors by Joe Rosas).
RELATED: Captain America Had Some Strong Words For Baron Zemo When They Met Again
What was the Legacy Virus?
The Legacy Virus debuted in the epilogue of the X-Cutioner's Song in X-Force #18 (by writer Fabian Nicieza and artists Greg Capullo and Harry Candelario), when Mr. Sinister had an aide open up a canister Stryfe had traded to Sinister earlier in the crossover, telling Sinister that it contained Summers DNA (which is to Sinister what Trix was to the Trix Rabbit or Lucky Charms were to Lucky the leprechaun). After Stryfe seemingly dies, the canister was opened, and, well, not good news for mutants!
It was first hinted at in Uncanny X-Men #298 (written by Scott Lobdell, drawn by Brandon Peterson and Dan Paonsian), when Colossus' sister (who had just moved back to the United States with the X-Men after her parents were murdered) comes down with an illness…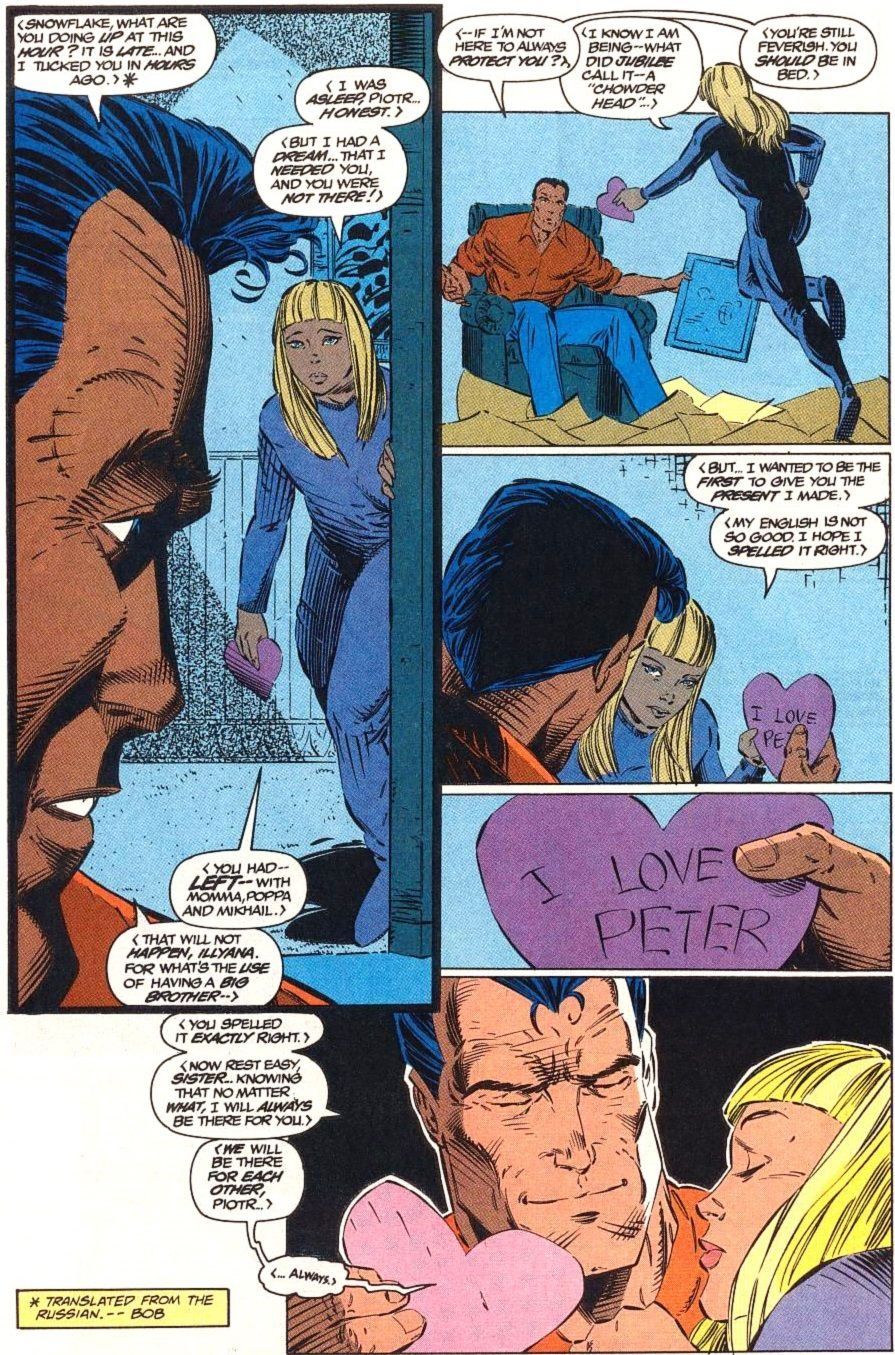 The virus was further fleshed out in Uncanny X-Men #300 (by Lobdell, Peterson, Panosian and Milgrom) (even as Nicieza had one of the Dark Riders, Apocalypse's enforcers, come down with the virus in the pages of X-Men) and X-Factor #90 (by Lobdell, Aldrin Aw and Al Milgrom). Uncanny X-Men #300 revealed that the Legacy Virus affected mutants, and was terminal. It was the AIDs metaphor of 1990s X-Men comics.
And in Uncanny X-Men #303, Illyana's time was close to an end.
RELATED: That Time That Boom Boom's Stupidi…Er…Ahem…Cleverness Saved the Day
How did Jean Grey try to get Jubilee through Illyana's passing?
I've noted before that this is one of the saddest X-Men comic book deaths ever.
This is just an issue-long story of a little girl slowly dying from the Legacy virus, and another slightly older young girl, Jubilee, dealing with the death of an innocent girl she doesn't even know as Kitty Pryde and Professor X are so distraught with Illyana's death and caught up in the big picture stuff that they miss out on the little picture stuff, plus her brother Colossus' psyche is so messed up that he can't do anything either…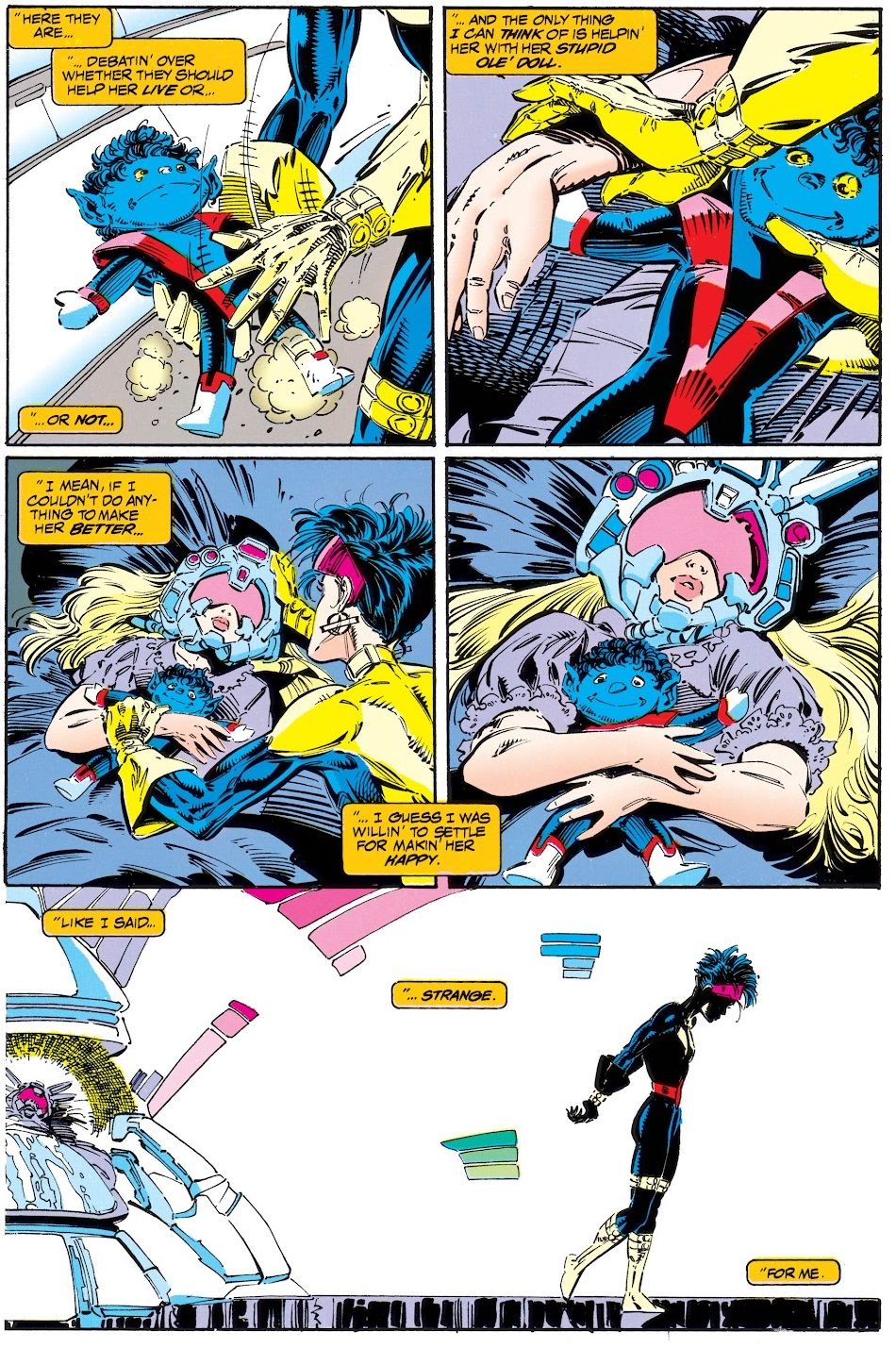 Again, Jubilee really is only friends with Wolverine, and yet she lives in a mansion with all of these other X-Men, and the connections are sort of strained. So when Illyana passes away, Jean tries to comfort Jubilee, but how do you comfort someone you barely know?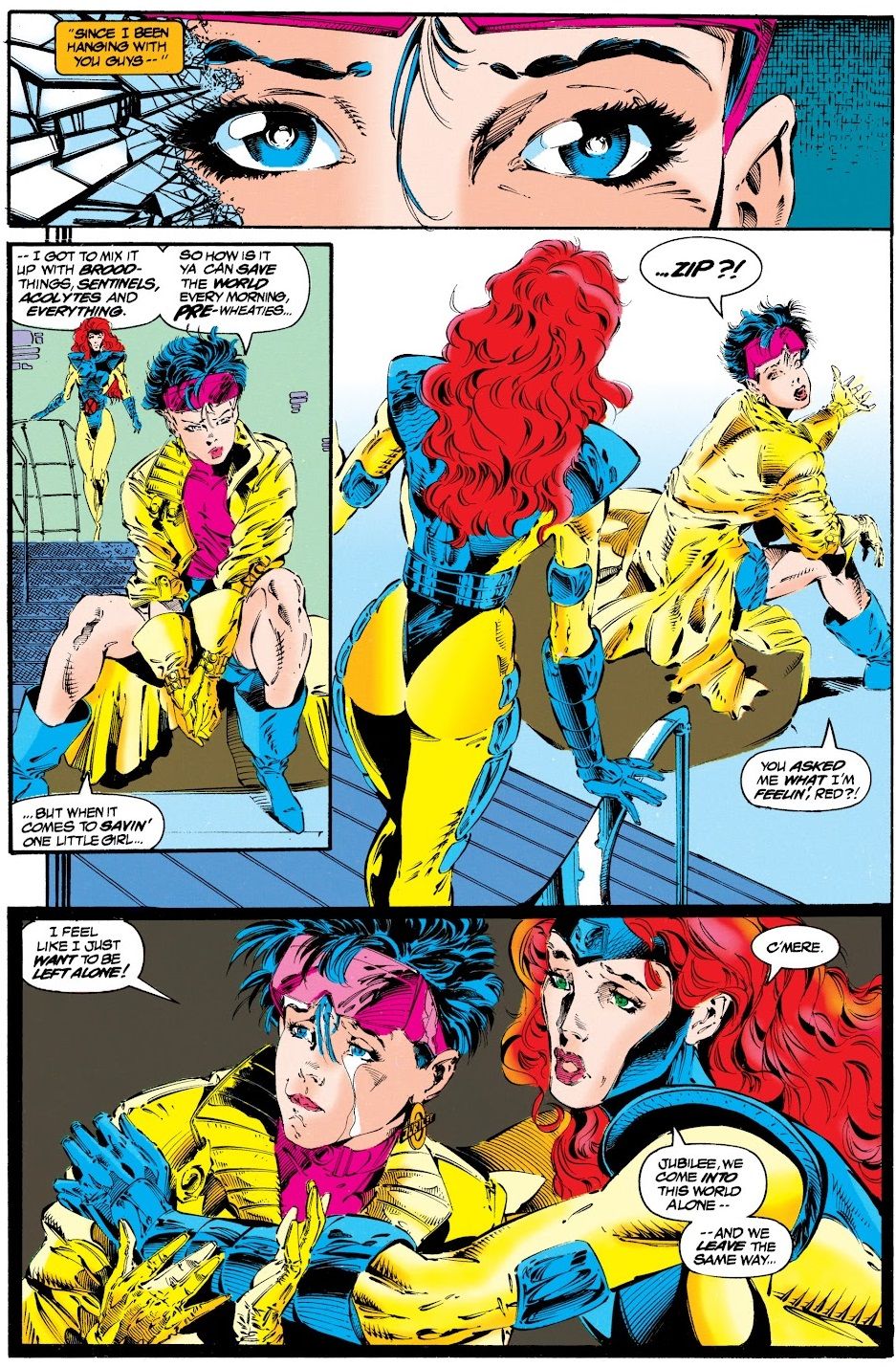 Jean gives it her best shot, and she has an excellent quote by Lobdell, "We come into this world alone, and we leave the same way, the time we spend in between … time spent alive, sharing, learning … together … is all that makes life worth living."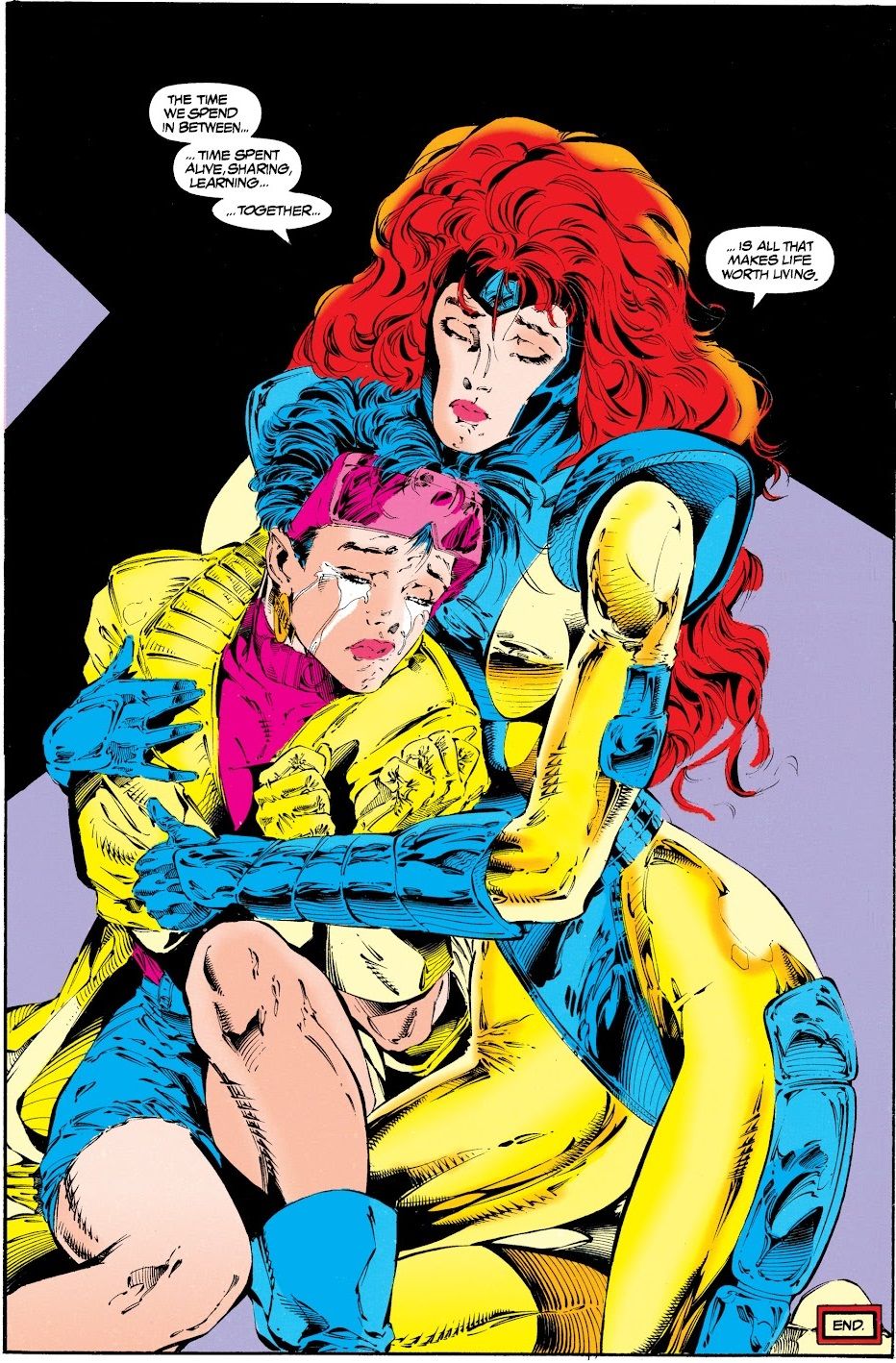 That's some touching, touching stuff right there.
Okay, folks, if you care to suggest cool comic book quotes that you'd like to see spotlighted here, drop me a line at brianc@cbr.com. There's a decent enough chance that if you think the quote in question is super cool, than I, too, will find it super cool and feature it here. Not a 100% chance, though, of course. Let's say roughly a 60% chance.
on bbc news
on hindi news
on the news today
on channel 7 news
ôrf news
campo grande news ônibus
ôpera news
campo grande news greve de ônibus
l1 news horário dos ônibus
l1 news ônibus
lago azul news ônibus
news österreich
news österreich heute
news österreich aktuell
news öffentlicher dienst
news österreich corona
news öl
news österreich orf
news ö3
news österreich heute aktuell
news österreich sport
ö24 news
ölpreis news
öbb news
ösv news
österreich news krone
övp news
özil news
öffentlicher dienst news 2023
österreich promi news