The Big Picture
Hollywood remakes often weaken the heart of international films by changing culture-specific elements, as seen in the American version of Shall We Dance? which lacks the cultural context of the original Japanese film.
Shall We Dance? highlights the taboo theme of dancing in Japan, symbolizing the country's reserved culture and the societal pressure on the film's protagonist, Shohei, as he learns ballroom dancing.
The original film is more emotional, authentic, and believable, thanks to director Masayuki Suo's personal touches and the focus on the connectivity of people and the power of dance to inspire and transform lives.
Notoriously, Hollywood has made a habit of remaking international films, shadowing the original version from Western audiences. These types of remakes often weaken the heart of the original by changing key, often culture-specific, elements of the script, leaving the final product feeling hollow. Most audiences outside of Asia are unfamiliar with the 1996 Japanese film Shall We Dance? which inspired the American movie of the same name — starring Richard Gere and Jennifer Lopez. Critics welcomed the remake with a fresh outlook but scored the movie low due to its lack of cultural context that the Japanese film embodies flawlessly.
Written and directed by Masayuki Suo, Shall We Dance? tells the story of a depressed accountant Shohei Sugiyama (Kōji Yakusho) who lives the mundane life of going to work on time, coming back home to his family, and then waking up to do it all over again. On a train ride home, Shohei spots a beautiful, melancholy woman looking out the window of a dance studio. Igniting an unknown spark in his heart, Shohei looks forward to seeing the woman every day after work. He soon musters the courage to visit the studio and signs up for ballroom dancing lessons. What makes the Japanese rom-com so great is its ability to symbolize the thirst for change in its original setting. The story excels in representing different types of dreamers and strives to break Japan's traditional, cultural divide regarding ballroom dancing.
​​
How Does Japan's Reserved Culture Become a Character of Its Own in 'Shall We Dance'?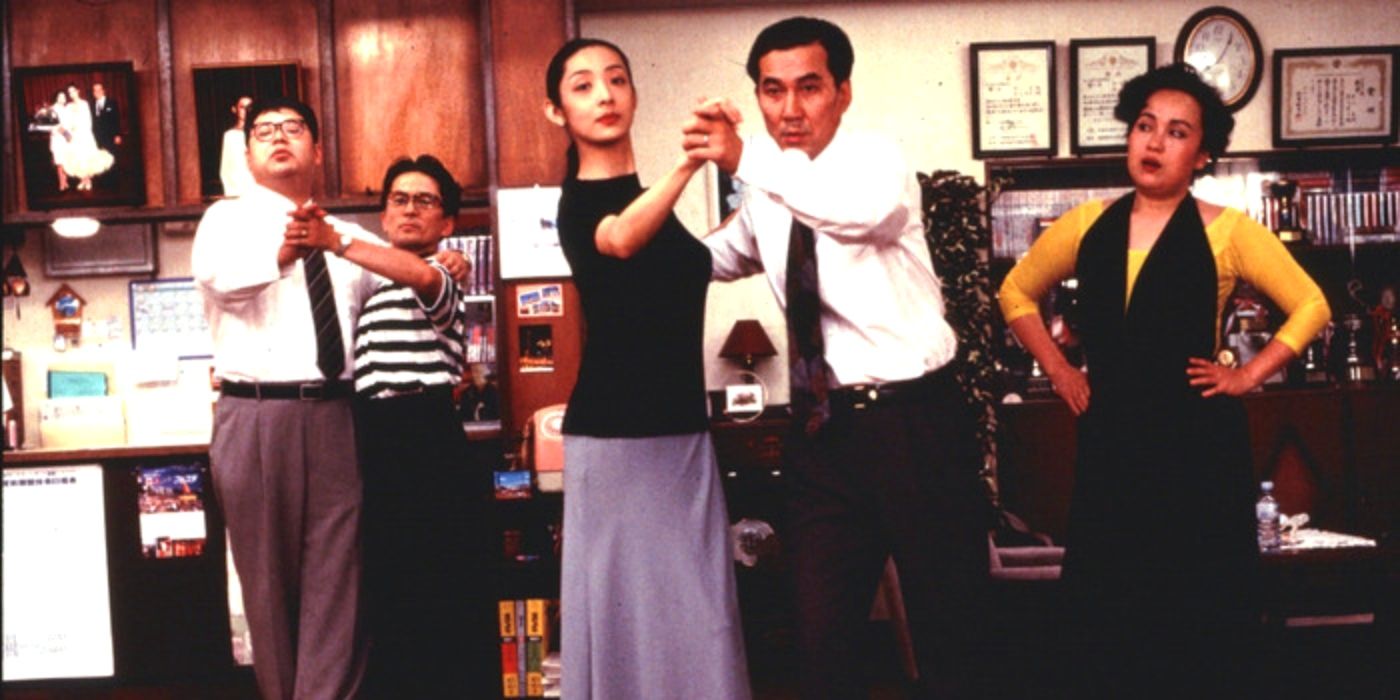 Dancing has long since held a negative stigma across Japan. Only just recently was the ban against dancing past midnight lifted! From their honorific language to peaceful landscapes, Japanese culture is known to be well-mannered and reserved. Any form of physical dancing, when two people must be in close contact, is viewed as scandalous. Shall We Dance? sheds light on this taboo theme, creating an allusion to the prohibition of public dancing as mentioned in the famous plot of Footloose. This puts the stakes at a higher risk for the film's 42-year-old protagonist.
When Shohei, the office worker, starts taking ballroom classes, he struggles to move his body rhythmically. Western ballroom dancing requires deep concentration on footwork and posture that most Japanese people are not exposed to. It takes him multiple lessons to get used to this form of dancing and even more time to become comfortable with a partner. Compared to his classmates' goals, Shohei's motivation for picking up dancing stems from his infatuation with the gorgeous teacher Mai Kishikawa (Tamiyo Kusakari), a well-known dancer in the Western ballroom dance community, and his hesitance to learn more about her also influences his slow, learning pace.
Weeks later, Shohei's wife, Masako (Hideko Hara), suspects his happier mood, assuming he is having an affair, and goes as far as hiring a private investigator. One night, the detective and his partner visit the dance studio and take pictures of Shohei practicing with Mai. They assume Shohei, being a middle-aged man, is only taking dancing lessons because he is a pervert. "Seems embarrassing for these old Japanese people to be doing that," comments the detective. Knowing the film would have a significant impact on Japanese culture, director Masayuki Suo sought to convey the exhilaration of the characters to bring across the message that dancing doesn't have to be kept a secret. In an exclusive interview with The Seattle Times, Suo shares, "The dance studios all have big windows, so that everything can be seen by the public. They also hold dance competitions to make it seem more legitimate. I don't agree with that view of dancing as a sport. I think just by bringing two people together, that's what's wonderful."
What Makes 'Shall We Dance's Characters Stand Out?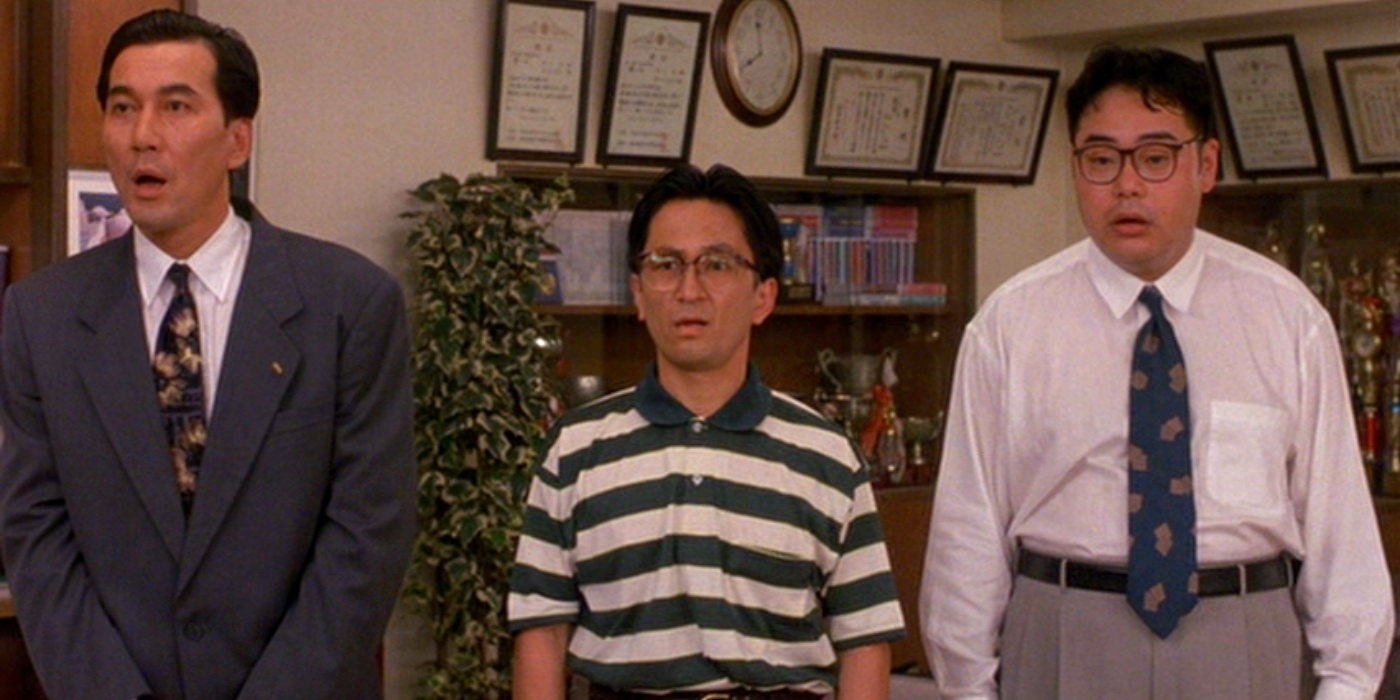 Being a newcomer to the dancing scene, Shohei initially decides to opt for taking group lessons instead of private sessions with the intimidating Ms. Mai. There, we meet his misfit classmates: Tōkichi Hattori (Yu Tokui) who wants to impress his wife, Masahiro Tanaka (Hiromasa Taguchi) who is working on losing weight, and co-worker Tomio Aoki (Naoto Takenaka) who yearns to find a community that will accept his goofy personality. Each character's inner motive, gradually revealed in the film, strongly represents the common dreamers that live among us in today's society. The American remake also uses the same tropes; however, the original film tastefully embodies the societal pressure in Japanese culture, giving these realistic character types a believable foundation.
In Shohei's case, he is a perfect example of an ordinary man who is stuck in the routine system of Japan's grueling workplace traditions. He doesn't know exactly why he's yearning for change, but the conventional style of living isn't enough for him — nor should it be for anyone. "Step-by-step", we can't help but route for Shohei's success and for his hilarious peers who reflect the unspoken insecurities people often face on the path to making themselves better.
More so, the film sparkles brightly from the expanded backstory of its deuteragonist Mai. Unlike the American version, we learn quite early that Mai suffered from an accident during a ballroom competition in Blackpool with her partner Okada. Mai feels betrayed, swearing to avenge herself for his fault, but her father forces her to teach at their family dance studio in hopes she can start anew. When Shohei agrees to enter the "amateur sports dance competition", Mai offers to help train him and something shifts inside her! The two form a fond respect for each other's tireless hard work which allows Mai to realize she lost her trust in people and had been mentally dancing alone from the years of hatred she'd bottled up inside. Her true dream was to find the fun in dancing again, and both Shohei and Mai needed each other's friendship to become inspired to change.
What Does the Original 'Shall We Dance' Do Better Than the Remake?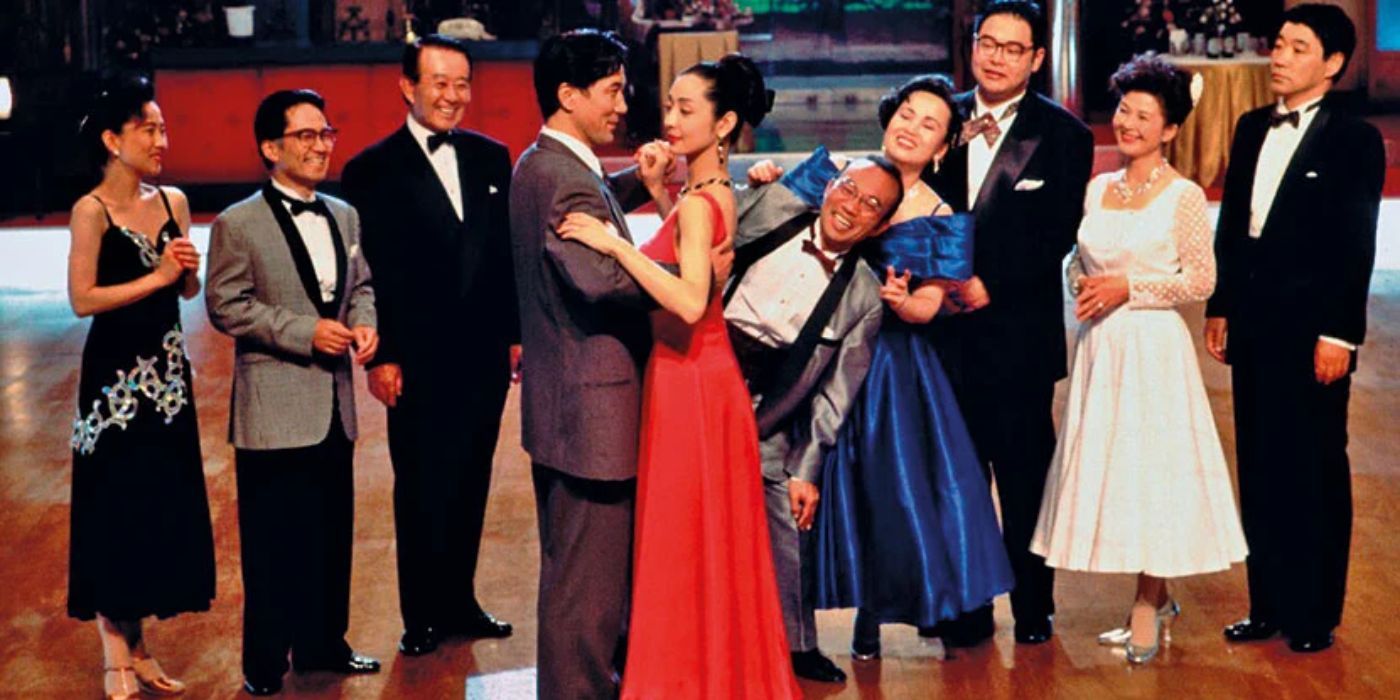 The original version of Shall We Dance? not only inspires but is more emotional, authentic, and believable thanks to director Masayuki Suo deliberately implementing personal touches into the script. To translate the magic of dancing, Suo wrote the story to focus on the connectivity of people and the muses we need in life to motivate each other. In the aforementioned Seattle Times interview, the director admits to taking up dancing lessons during the film's production, so he could understand the electric drive of dance on a more intimate level. According to the article, Suo comments, "I was taking lessons as I was filming. I wanted to capture that joy of dancing, which you can't see when you're just watching other people do it, so we put the camera on this twirling platform that moves with the dancers on the dance floor."
Besides Shohei building a love for ballroom dancing, he also transforms his life with a new community of friends. Throughout the film, Ms.Tamako Tamura, the older dance teacher at the studio (Reiko Kusamura) becomes an influential mentor for him. She shows Shohei the importance of keeping your passions alive in life and that no matter what age you are there is no excuse to stop dreaming. "…forget the steps and just have fun".
In the concluding half of the movie, Shohei experiences a fatal accident, similar to Mai's, at the quick-step competition. Shohei decides to quit dancing, reverting to his old lifestyle. His wife begs him to start dancing again, but he refuses. Thanks to his bossy daughter, the couple share one of the most tender moments of the film where Shohei gives into teaching his wife how to dance in their backyard. This scene is more than just tissue-worthy. It shows what a real, loving relationship should be like with his wife's commitment and support to understand her husband's new dream. Masako's acceptance inspires him to attend his friend's concluding dancing party where Mai and Shohei share a bittersweet dance, tying in the film's ultimate message – never give up!
Shall We Dance? won over 13 Japanese Academy Awards and made a momentous impact on the cultural divide of dancing in Japan. The movie does a brilliant job of making the audience see a piece of themselves in at least one of the characters — the actors perfectly took over their archetypes by turning their dancing flaws into belly laughing, bought lessons. At the start of the story, Shohei cannot differentiate his hunger to learn something new from his infatuation with his mysterious dance instructor. Shohei and Mai come to the conclusion that life is a constant battle of change, bringing forth a man's life-defining journey to finding his true passion and the dear friends he desperately needs to become even greater than before.
on bbc news
on hindi news
on the news today
on channel 7 news
ôrf news
campo grande news ônibus
ôpera news
campo grande news greve de ônibus
l1 news horário dos ônibus
l1 news ônibus
lago azul news ônibus
news österreich
news österreich heute
news österreich aktuell
news öffentlicher dienst
news österreich corona
news öl
news österreich orf
news ö3
news österreich heute aktuell
news österreich sport
ö24 news
ölpreis news
öbb news
ösv news
österreich news krone
övp news
özil news
öffentlicher dienst news 2023
österreich promi news