The Big Picture
Season 2 of Invincible brings in a star-studded cast, including voice-acting legend Peter Cullen, who plays the role of Thaedus, the leader of the Coalition of Planets.
Series creator Robert Kirkman enjoyed the chance to watch the iconic Optimus Prime voice actor perform.
Despite not having the chance to form a deeper connection, Kirkman praised Cullen as a person, stating that he was a pleasure to work with.
Season 2 of Invincible is finally here after an over two-and-a-half-year wait and with it comes a massively expanded cast of stars including some of the biggest names in the industry. Several of these new additions will see plenty of screen time as the season winds on, including Sterling K. Brown as the multiversal villain Angstrom Levy and Ben Schwartz as the Martian hero Shapesmith. One actor that series creator Robert Kirkman was especially thrilled to work with was voice-acting legend Peter Cullen.
For nearly 40 years, Cullen has provided the bellowing voice of the Autobot leader Optimus Prime, going from the original Transformers television series in 1984 to this year's Transformers: Rise of the Beasts. His work doesn't stop there, as he's also played the down-in-the-dumps donkey Eeyore in more Winnie the Pooh projects than any other actor and has a whole host of other wildly varying roles to his name, including creating the alien sounds of The Predator. Collider's Steve Weintraub asked Kirkman about working with Cullen and the rest of the cast during our Season 2 premiere screening and Q&A and the creator admitted it was a special experience seeing the master do his thing.
Cullen appears in Season 2 as Thaedus, the leader and founder of the Coalition of Planets responsible for combating the Viltrum Empire and keeping other planets safe. Unfortunately, working in the recording studio with the actor wasn't easy considering lingering pandemic protocols. It was a bit of a double-edged sword, but at the very least, utilizing Zoom was an efficient process for managing everyone across multiple recording sessions:
"It's both a blessing and a curse that we do this over Zoom now. Even with COVID and everything becoming somewhat manageable, there have been protocols in place where you have to limit the number of people that are in the recording booth and in the recording studio. And so the voice director and myself, and Simon Racioppa and Dan Duncan when he was able to find time, we do the recording sessions over Zoom. And we're basically like looking at little screens on our laptop with the people who are in the recording booth and we're getting everything in real time and it's basically the same process."
Kirkman Was Overjoyed to Work With One of His Heroes on 'Invincible'
Working with Cullen over Zoom might have been for the best for Kirkman, though, considering it was an emotional experience for him. Like many children, the comic book giant grew up hearing Cullen as the heroic Optimus Prime and considered the iconic Transformer as a formative character for him. Bringing the man behind him in for the long haul on Invincible – Thaedus is a deeply important character throughout the run of the comics who should have a major presence in the show going forward – was something truly special even when working with other standout actors.
"But you turn your camera off because the voice director, they don't wanna have four windows of people going, 'say it louder, angrier.' So we had like a little chat window where we're talking about our notes and what we want, 'oh this guy is supposed to be scared here. He's not acting scared,' and then the voice director relays those messages and then every now and then for some kind of nuance or something, I'll pop in and go, 'hey Jason Mantzoukas because can you please stop adlibbing, we gotta get through this.' I only have to do that three times during sessions, but with Peter Cullen it was a blessing that we were on Zoom because I could turn my camera off and then wipe my tears because it was very moving. You know, Optimus Prime, a big part of my life. I remember watching that original Transformers movie when I was like eight, and you know, a big deal for me."
The only downside to not working more closely with Cullen was that Kirkman didn't get the chance to form a deeper connection with him. The Walking Dead mastermind had rave reviews for the Transformers star as a person, though, saying, "But he's also fantastic. He's a super nice guy. It was a lot of fun working with him. The other thing that's funny is that I've only interacted with people through these Zoom things. So there was a Transformers screening that Peter Cullen came to for that Rise of the Beasts movie. And I got to go to it because he was very nice and I was like, 'It's good to see you' and then I realized he's not gonna know who I am."
The first episode of Invincible Season 2 is now streaming on Prime Video with new entries coming every Friday. Three more episodes are on the way before the season takes a brief mid-season break. Read up on all the new and returning stars to the series with our cast and character guide here.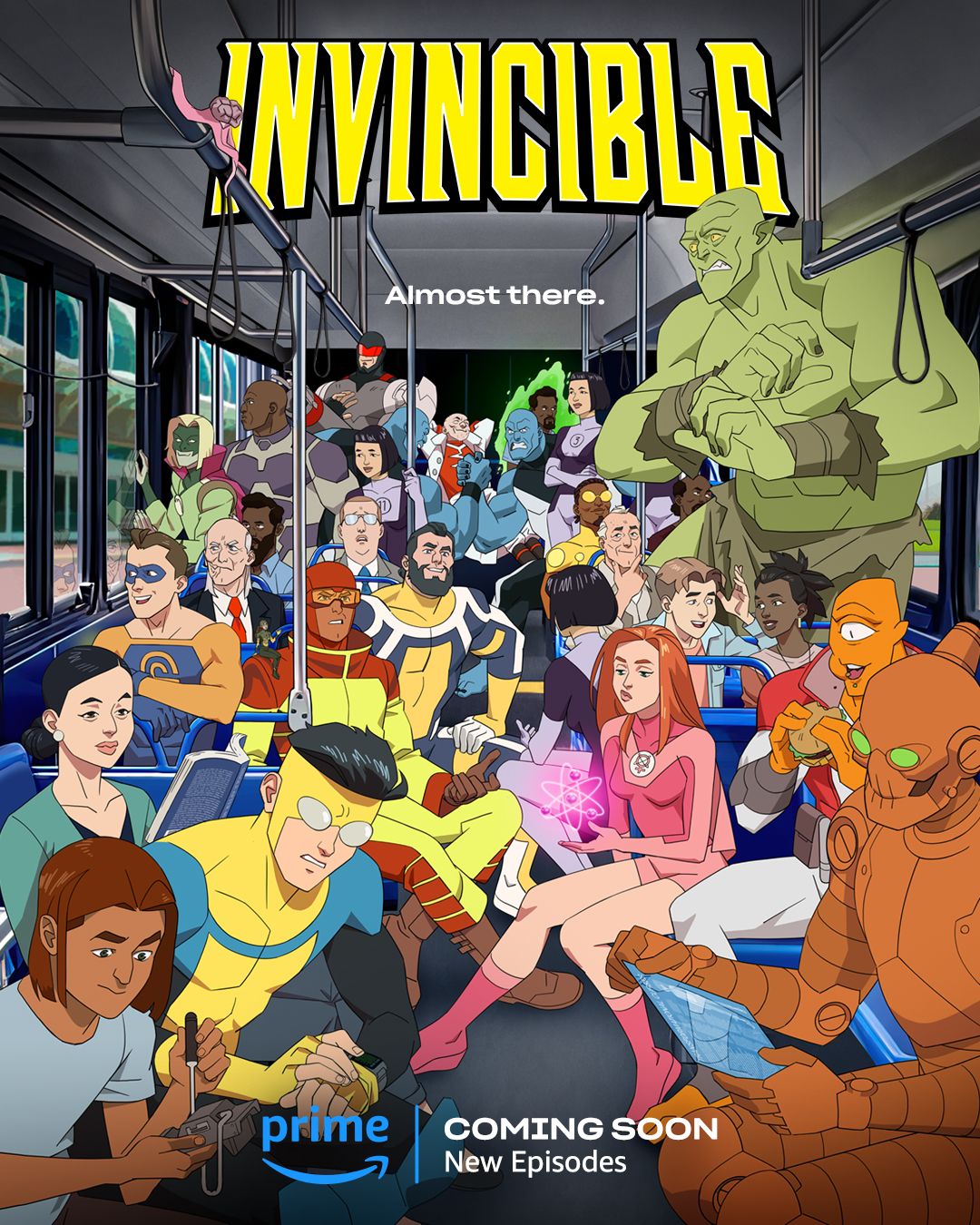 Invincible is an adult animated superhero series that revolves around 17-year-old Mark Grayson, who's just like every other guy his age — except his father is the most powerful superhero on the planet, Omni-Man. But as Mark develops powers of his own, he discovers his father's legacy may not be as heroic as it seems.
Release Date

March 25, 2021

Cast

Steven Yeun, J.K. Simmons

Main Genre

Superhero

Genres

Science Fiction

Seasons

2

Creator

Robert Kirkman

Developer

Simon Racioppa

Number of Episodes

9

Network

amazon prime video

Streaming Service

Prime Video
on bbc news
on hindi news
on the news today
on channel 7 news
ôrf news
campo grande news ônibus
ôpera news
campo grande news greve de ônibus
l1 news horário dos ônibus
l1 news ônibus
lago azul news ônibus
news österreich
news österreich heute
news österreich aktuell
news öffentlicher dienst
news österreich corona
news öl
news österreich orf
news ö3
news österreich heute aktuell
news österreich sport
ö24 news
ölpreis news
öbb news
ösv news
österreich news krone
övp news
özil news
öffentlicher dienst news 2023
österreich promi news