This review was written during the 2023 WGA and SAG-AFTRA strikes. Without the labor of the writers and actors currently on strike, the series being covered here wouldn't exist.On television, there are plenty of shows that cling to the past and attempt to recreate what already resonated before. While rather regressive, this common next step is a fairly safe way to please the audience you already have rather than challenge them with where you take them next. The Apple TV+ series Invasion is not only not one of those shows, but is one that reinvents itself in its second season. In its ten-episode return, the science fiction series makes its first season more like a prologue for the story it really wanted to tell. Sure, there are the same characters we pick back up with, but their world is now an entirely different one. Season 2 is more than a bit scattered in how it establishes this, with many storylines feeling less spectacular than the one the show is exploring at its core, but still is a significant step up from where it began. Some of this comes down to pacing, as everything plays out with far more energy even after a rocky start, but the season also thrives when it looks out to the vastness of the universe while chaos plays out on the ground below. It isn't the best science fiction story on the streamer by any means, as that still remains works like Silo and Foundation, though Invasion has now become one with its own promise to explore.
After last season explored the initial stages of an alien invasion, Season 2 picks up months later with the world now consumed by it. Following the misguided attempt to launch a nuclear attack against the extraterrestrials (did the ending of Oppenheimer teach them nothing?) which only resulted in a false sense of security that was quickly dashed, we are now months into the fallout. The aliens are rapidly taking over everything, save for some small safe zones, which the series uses to explore other narratives and components of the world it is building. The determined Mitsuki (Shioli Kutsuna) is trying to fight back in one of the more dangerous zones to protect other people on the front lines, but she is soon scooped up by a helicopter to take her to a facility for a mysterious mission that only she can do. At the same time, Aneesha (Golshifteh Farahani) is on the run with her children, and Trevante (Shamier Anderson) is back home in relative safety though still ill at ease with what happened to Caspar (Billy Baratt) back in London. While this isn't the biggest jump a sci-fi show like this has made, it is a sizable one that Season 2 uses to push into new tonal territory. There are plenty of growing pains, but it serves as the kick in the pants Invasion needed to justify a second season.
RELATED: 'Invasion' Season 2: Release Date, Cast, Trailer, and Everything We Know So Far
'Invasion' Season 2 Is Vastly Different From Its First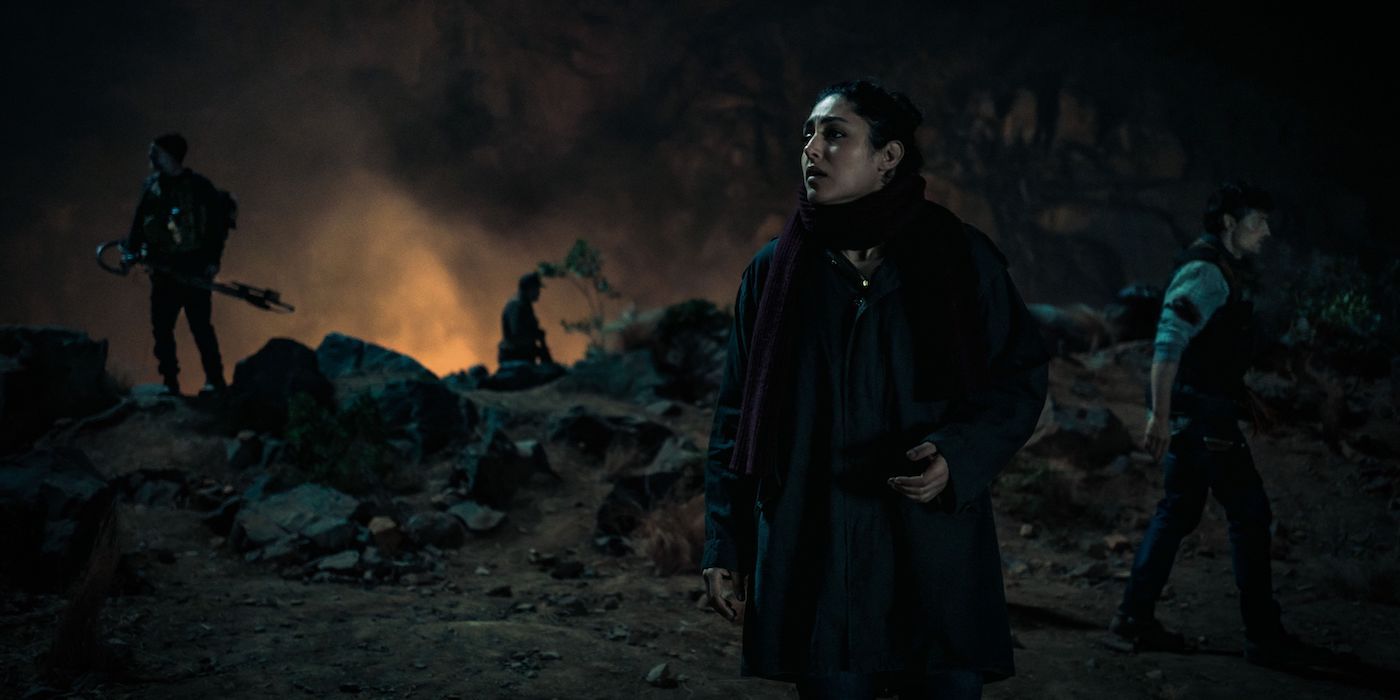 At times more reminiscent of the better parts of The Walking Dead, taking a look at the various survivors trying to make a life in the remnants of the world they knew, Invasion Season 2 does ditch some of the more grounded elements. In many ways, this is a misunderstanding of what made the first season a more divisive one. Stories that take their time to unfold can be shattering when done well, but it requires a spark to each moment. There were far too many episodes in the first season where this was lacking, and tangents came to define the large majority of the experience. This second season leaves behind the initial elements of characters discovering what was happening to dive headfirst into a more action-heavy experience defined by battling the aliens. There is a rather awkward element to this, not just because the show seems to hint there might be something more complicated going on, but also because there are many moments where cutting to the safe zones takes away much of the needed urgency of the supposedly pressing threat.
One could generously say this is meant to play as some sort of commentary to express how stratified the world is, with the harm falling on the most vulnerable, though it could have been executed far more smoothly. This becomes especially true when the season tries to inject some humor, including a throwaway joke about The Exorcist that feels particularly off considering how bleak that film is and how this story often tempers the similar darkness that it could have more fully immersed itself in. The aliens themselves, while beginning to evolve, are often an afterthought and even pushed offscreen to particularly silly results in one battle scene.
'Invasion' Season 2 Starts Down a New Path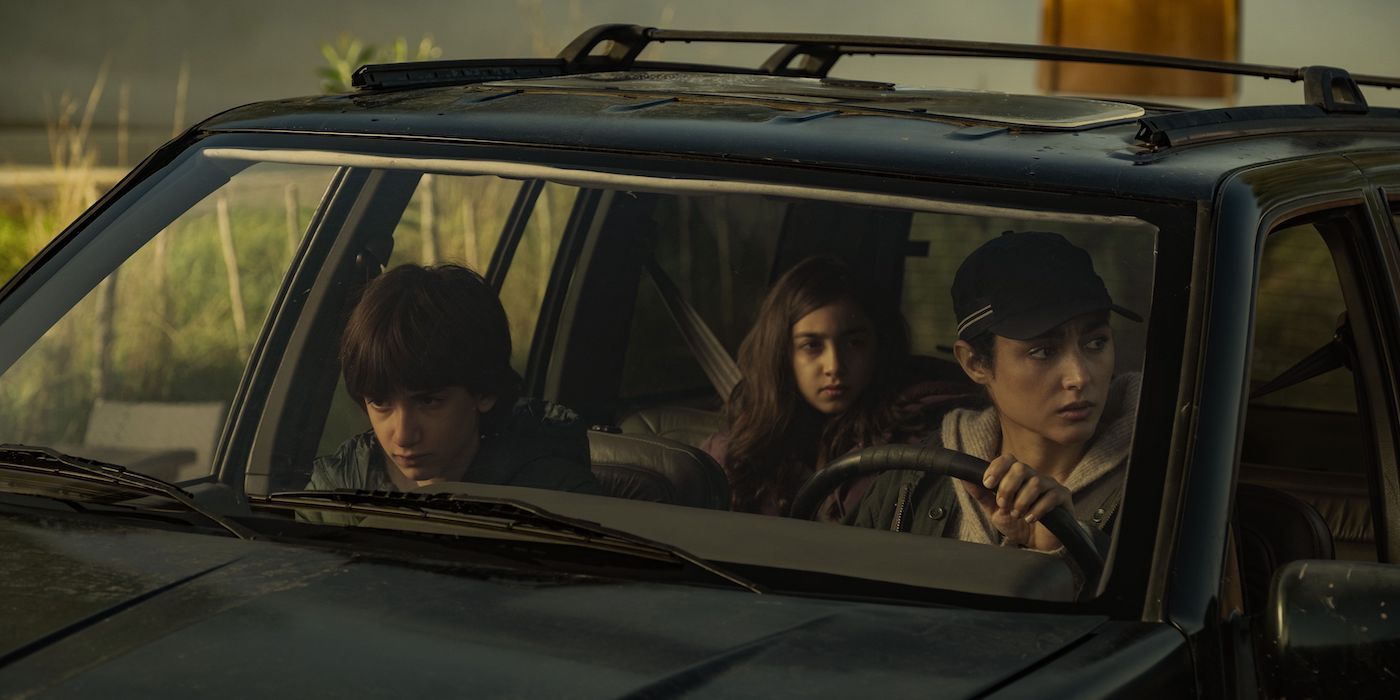 What makes up for this and becomes the redemptive heart of the story is everything taking place with Mitsuki. After losing the love of her life, it seems that she has gained some sort of connection to the aliens. The more we peer into this world, which opens the door to some of the most spellbinding visual sequences in the series, the greater the impact it has. Much of what surrounds it can be narrow, but this central throughline proves there is something more lurking in the shadows. The series still is coy about what ramifications this will have on the world and so any review must as well. There is an element of this that teeters on the edge of being unsatisfying, especially when a majority of everything else is a more standard science fiction story, but the season offers just enough more substantive breadcrumbs to snack on.
In many regards, Invasion is increasingly interested in exploring ideas similar in nature to the achievement of a film like Arrival, especially in terms of seeking truth amidst the potential annihilation of everything we hold dear, but without the same focus in order to be as successful just yet. Still, that potential is there — the series finally isn't just spinning its wheels and is starting to get somewhere. Where that is remains to be seen, as there are many threads left dangling just as the world hangs on by one, but Season 2 now stokes a more earned curiosity about how they will unravel in the still-expanding story ahead.
Rating: B
The Big Picture
Invasion's second season reinvents itself, making the first season feel like a prologue, with an often scattered yet significant step up in storytelling.
The show's focus shifts more fully to the aftermath of the alien invasion, exploring a variety of narratives and introducing new tonal territory.
The story's redemptive heart lies in Mitsuki's story, offering spellbinding visuals and teasing a deeper connection to the aliens, while other elements are more standard and less satisfying.
Season 2 of Invasion premieres August 23 on Apple TV+.
on bbc news
on hindi news
on the news today
on channel 7 news
ôrf news
campo grande news ônibus
ôpera news
campo grande news greve de ônibus
l1 news horário dos ônibus
l1 news ônibus
lago azul news ônibus
news österreich
news österreich heute
news österreich aktuell
news öffentlicher dienst
news österreich corona
news öl
news österreich orf
news ö3
news österreich heute aktuell
news österreich sport
ö24 news
ölpreis news
öbb news
ösv news
österreich news krone
övp news
özil news
öffentlicher dienst news 2023
österreich promi news