We recently spoke to Intel's Tom 'TAP' Petersen about updates to its DirectX 11 driver for Arc graphics cards and a new, entirely rebuilt version of its PresentMon tool for monitoring system performance. In short, these Arc GPUs continue to improve as Intel shore up support for older graphics APIs, with up to a 19 percentage point increase in average frame-rate in a selection of DX11 games with the release of the latest Arc driver, while the new version of PresentMon – available in beta now – offers some tantalising new possibilities for Digital Foundry and interested consumers alike.
To start off, Intel says that they've now finished bringing over DX9 titles to their new driver, so now they're moving onto DirectX 11 with a rearchitected driver. The way TAP explained it, the Intel graphics driver has historically thought of CPU performance as essentially infinite, because on a system with integrated graphics, you're always going to be GPU-limited – so it makes sense to offload as much work as possible to the CPU to maximise frame-rates.
With Arc, that paradigm doesn't make as much sense and the CPU often becomes the bottleneck, so the re-architecting has been about moving some functions back to the GPU, to lessen CPU load and improve overall performance.
This re-engineering has unlocked some substantial performance improvements in a range of popular DX11 titles, with up to a 33 percent increase in average frame-rate on Arc A750 LE with Overwatch 2. Esports titles seem like a noticeable focus, with boosts to Counter-Strike 2 (18 percent), Valorant (18 percent), League of Legends (11 percent) and Apex Legends (17 percent).
As well as that 19 percent average improvement to average frame-rate, frame-time consistency has improved by 20 percent as well in this selection of DX11 titles. But behind these averages, there's quite a lot of context-sensitive variance – we noticed that the Intel Arc DX11 driver was historically quite fast when not much was happening on-screen, but fared worse than its competition when there were a lot of draw calls. The new driver is meant to help to some degree here, and performance gains moment-to-moment throughout a scene can be far in excess of the average gains.
Those Intel-provided data points are from a Core i5 13400F system (incidentally our current 'best value gaming CPU' pick from Intel's lineup), but you still see some performance improvements with a higher-end Core i9 13900K that is able to brute-force its way past some of Intel's previous DX11 driver inefficiencies. Here, Valorant is no better than before, but Counter-Strike 2 and Apex Legends are still 18 percent and 28 percent better respectively under the new DX11 driver.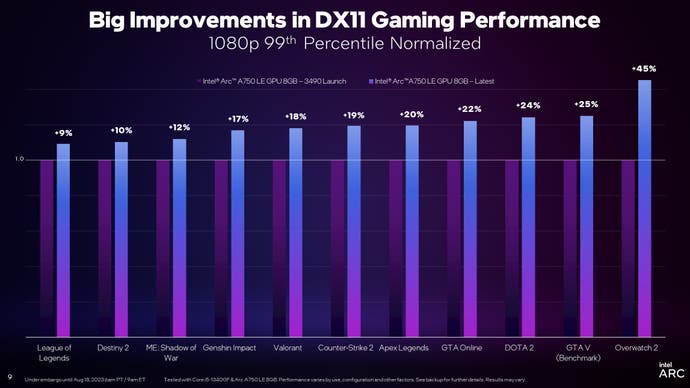 Next, let's cover the new beta version of PresentMon – as this is something you can play with right now. The new overlay has been made easier to use and tracks new metrics, including a 'GPU busy' stat that shows you when your GPU is fully-fed and rendering, and when it is running under-utilised owing to other bottlenecks within the system.
This is a useful thing to track over time, as it might hint as to whether your CPU or GPU needs upgrading. For example, if your GPU is always busy, then your CPU is providing it with enough work to do and you're therefore GPU-limited, while if it's often idle then you're CPU-limited. (Intel has promoted this idea of balanced systems recently, due to more competitive Intel CPU/GPU offerings in the budget-oriented section of the market, so making it easier to determine that balance point plays into the firm's hands.)
Beyond this though, you can more easily see how game settings affect the GPU busy and frame-time metrics. For example, running CS:GO on low settings on the Core i5 + Arc A750 LE system results in very spiky frame-times – while increasing the graphics to ultra results in more consistent frame delivery despite a drop in average frame-rate. So the PresentMon tool perhaps makes it easier to see these metrics and try to balance CPU and GPU load in real time on a per-game basis.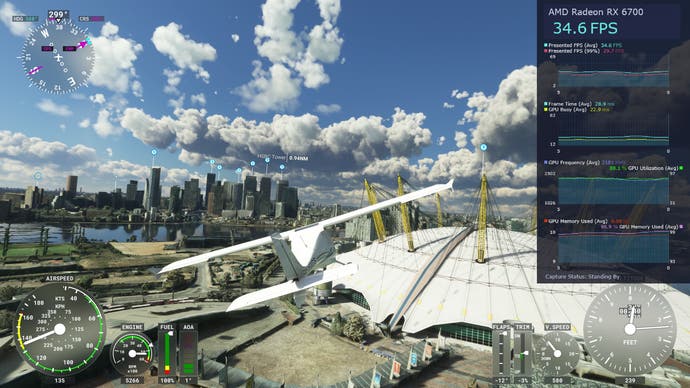 In our conversation with Tom Petersen, he suggested that a future version of PresentMon would offer more clarity as to how much frame-time is consumed by the driver versus the game or the GPU itself being fully committed, which opens up some cool possibilities for Digital Foundry analysis of PC game performance.
The PresentMon overlay's other stats are more familiar, offering a look at frame-rate, frame-time and GPU stats like frequency, voltage, temperature and VRAM usage. More data can be captured than realistically shown on screen at once, and it should be possible to set it up to show and record whatever you're interested in.
The PresentMon tool is designed to run with basically zero overhead too, so it doesn't affect the results, it's open source, and it isn't just for Intel graphics cards either, as it supports Nvidia and AMD GPUs too. It also runs on all major modern graphics APIs (OpenGL, DX9, DX11, DX12 and Vulkan) and comes with command line capabilities for automation. Intel also says that the new PresentMon retains the API of the older version of the tool, so developers that used PresentMon to make their own applications – like Nvidia's FrameView, AMD's OCAT and the independent CapFrameX – will be able to move over to the new version without issues.

To see this content please enable targeting cookies.


There are plenty of other features in the new PresentMon as well, from running in a windowed mode rather than an overlay for multiple-monitor setups, automatically capturing from the process with the highest GPU utilisation and adjusting the size, scope and update rate of the overlay. It's fascinating stuff that we've only begun to dig into, but well worth exploring yourself if you have an interest in GPU metrics.
Overall, today's disclosures are good news. A completely rearchitected DX11 driver represents an impressive step forward that shores up the weakest element of Intel's Arc offering – its substandard performance outside of the most modern DX12 and Vulkan graphics APIs. Meanwhile Intel's PresentMon packages offers users a new tool that looks to have quite a bit of potential. We'll be talking about all of this news in much more depth in the upcoming DF Direct Weekly #125, where we show more of the new tool running on our 4800S/RX 6700 console-like PC lash-up!

on bbc news
on hindi news
on the news today
on channel 7 news
ôrf news
campo grande news ônibus
ôpera news
campo grande news greve de ônibus
l1 news horário dos ônibus
l1 news ônibus
lago azul news ônibus
news österreich
news österreich heute
news österreich aktuell
news öffentlicher dienst
news österreich corona
news öl
news österreich orf
news ö3
news österreich heute aktuell
news österreich sport
ö24 news
ölpreis news
öbb news
ösv news
österreich news krone
övp news
özil news
öffentlicher dienst news 2023
österreich promi news