False alarm! Intel's big batch of new gaming CPUs for 2023 is not the architectural overhaul known as Meteor Lake. The 14th generation of Core chips is instead codenamed Raptor Lake Refresh, and if the Core i5-14600K and Core i9-14900K are any indication, that comes with an awful lot more emphasis on "Raptor Lake" than on "Refresh."

Outside of some mild clock speed increases and some new AI-powered doodads for the Core i9-14900K, this is about as conservative a yearly processor upgrade as it's possible to imagine. The Performance and Efficiency cores are essentially the same hardware as they were in the 13th Gen Raptor Lake chips, and those were themselves barely a step forward from the transformative Alder Lake series in the first place. It should come as no surprise, then, that the gaming performance of these 14th Gen CPUs stutters into stagnancy.

That's not to say that the hybrid P-core/E-core setup has become old hat. It's just that the only processor in the Raptor Lake Refresh family to get a truly physical upgrade is the Core i7-14700K, which gains four more E-cores over its 13th Gen equivalent. The chips we have here, on the other hand, keep their counts: the Core i5-14600K gets the same six P-cores and eight E-cores of the Core i5-13600K, while the Core i9-14900K matches the Core i9-13900K's eight P-cores and 16 E-cores. The new i9 can claim the distinction of a boost clock speed that reaches all the way up to 6GHz, though we've already seen this on the Core i9-13900KS. The Core i5-14600K's highest possible P-core speed is now 5.3GHz, a nudge upward from its predecessor's 5.1GHz.

In terms of plain-and-simple performance upgrades, that's your lot. There's no boost to RAM speed limits, no power efficiency improvements, and no increase in instructions per clock (IPC), so Intel is really counting on those tuned-up clock speeds to get clear of Raptor Lake. And, let's not forget, its rivals in the AMD Ryzen 7000/7000X3D series.
There are some other feature upgrades, but they're pretty minor, especially considering that the Core i5-14600K lacks the AI smarts of its i9 sibling. Wi-Fi 7 support is arguably the highlight, assuming you have an updated 700 series motherboard to get it working (I used one of these, the Asus ROG Maximus Z790 Dark Hero, for my testing).

Before we get into how not-very-successful-at-all this clock speed tactic has been, I should explain that this Core i5-14600K and Core i9-14900K review is serving as a inaugural run of our new CPU benchmarking process. I've retired the Nvidia GeForce RTX 2080 Ti as our graphics card of choice and subbed in a newer, more powerful RTX 4070 Ti; this should cut the chances of GPU bottlenecking getting in the way of fair CPU-reliant results. This will naturally require re-testing previously reviewed chips with the new card, and since time was short and AMD samples weren't immediately at hand, the results are mainly a 14th Gen versus 13th Gen type deal. No need to comment, I know that isn't ideal, but I was at EGX most of last week and it would have looked extremely weird if I was pulling the test rig around the show floor in a cart.

Anway! 1080p gaming benchmarks, go: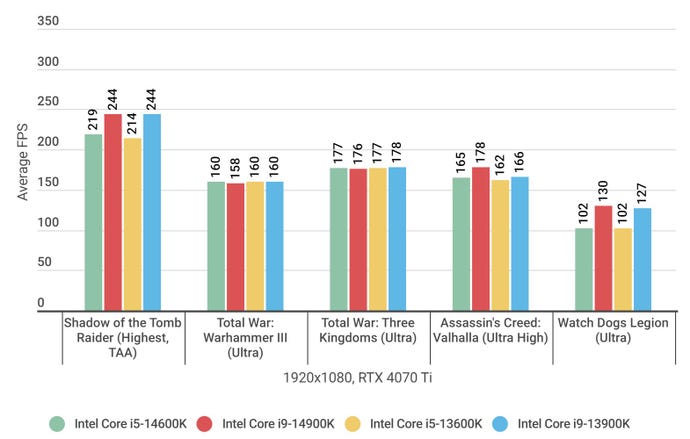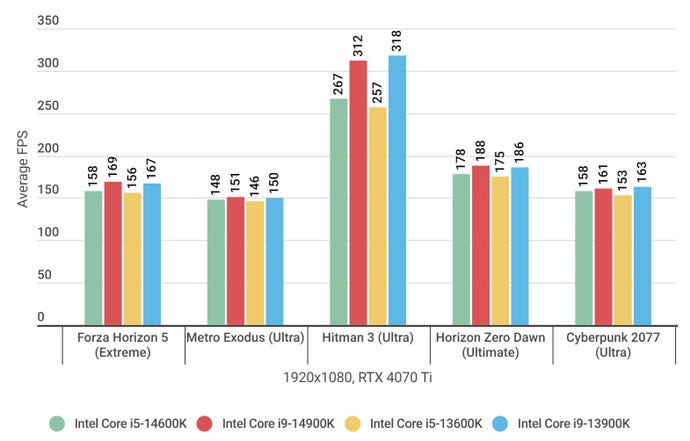 Turns out we don't even need AMD results all that much – Raptor Lake Refresh's lack of meaningful progress means that the Core i5-14600K and Core i9-14900K aren't even clearly better buys than their last-gen versions, let alone anything newer and Ryzen-badged. Averaged across all ten games, the Core i5-14600K is a paltry 1.7% faster than the Core i5-13600K, and the Core i9-14900K is just 0.4% faster than its predecessor. In several cases, they were even a few frames per second slower than the 13th Gen versions – I'd say this was margin of error territory, but these scores didn't improve with repeated benchmark runs.

It also matters little that the Core i5-14600K misses out on the Core i9-14900K's extra, AI-based performance boosters, as these turn out to be duds as well. The first, a new version of Intel Application Optimization, is supposed to tweak how the CPU handles app resources, speeding up that specific app without asking more of the CPU's own cores. Sadly, it only works with two games so far – Rainbow Six Siege and Metro Exodus – and in the latter, it only got that initial 151fps result to 152fps. Not really worth the effort of burrowing into the BIOS to enable it.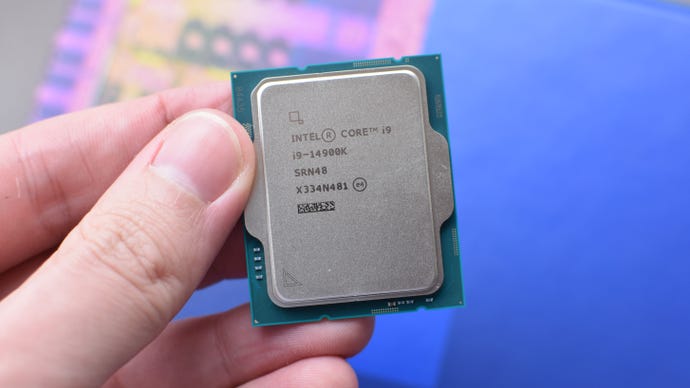 The second is AI Assist, which uses machine learning to serve up a one-click overclock function that's a tad smarter about changing ratios and maintaining stability than Auto OC tools usually are. In fairness, this successfully avoided pushing the Core i9-14900K too far – its P-core temperatures peaked at 82°c while running games, well within safe limits – but AI Assist also failed to produce significant performance gains. Metro Exodus didn't shift at all, still averaging 151fps, while Cyberpunk 2077 only landed 163fps (2fps higher) and Horizon Zero Dawn scored 191fps (3fps higher). It's maybe worth trying if you've got a sufficiently heat-sucking CPU cooler, but doesn't make up for this generation's lack of performance headway.

In fact, the only metric that's on an upwards trajectory is temperature. The Core i5-14600K, in particular, runs hotter than the Core i5-13600K: under a Asus ROG Ryujin II 360 watercooler, the new model's P-cores peaked at 67°c while gaming, up from 58°c. In the Cinbench R20 benchmark, which stresses CPUs a lot more, its 80°c peak was also considerably warmer than the Core i5-13600K's 70°c.

The Core i9-14900K fared better: its gaming peak of 76°c was actually a lot better than the 98°c I once recorded on the Core i9-13900K. In Cinebench, however, it was the newer i9 that more commonly hit the 100°c ceiling, with its E-cores also registering a toasty 85°c.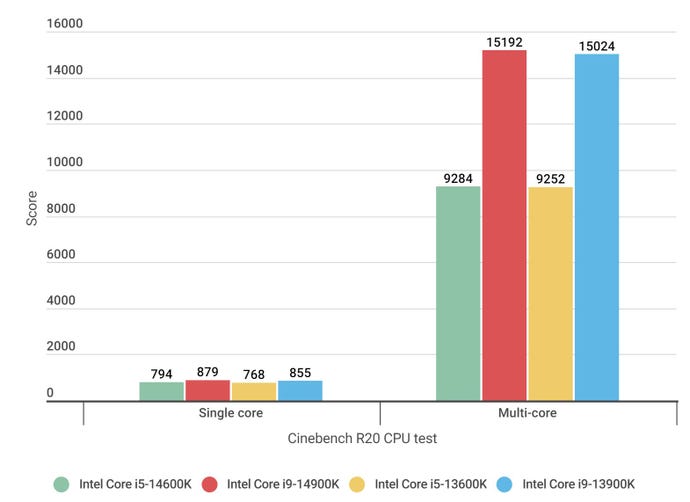 Speaking of Cinebench, at least Raptor Lake Refresh doesn't take any steps backward on multitasking and general desktop zippiness, with the Core i9-14900K's single and multi-core systems forming the highest on record. Only just, but still.

There's also at least one benefit to Intel's low-key refresh approach, in that 14th gen chips can quite happily slot into the LGA 1700 sockets of older 600 and 700 series motherboards – not just the new ones with Wi-Fi 7. Although directly "upgrading" from an Alder Lake or Raptor Lake chip to one of these CPUs would be madness, the backwards compatibility does permit those looking to switch from a much creakier processor/mobo combo to do so without splashing more cash on a brand new chipset. Unlike the Ryzen 7000 series, Raptor Lake Refresh maintains DDR4 RAM support too, further enabling more budget-friendly builds.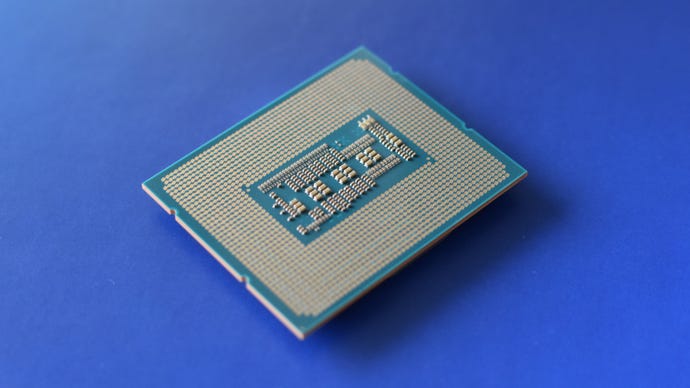 But then, if saving money is a concern, you can get practically identical performance from a 13th Gen CPU, which are surely set for price drops now that their replacements are out. The 12th Gen family stands up in games and is cheaper still, and even if you are willing to splurge the top of the line, the Ryzen 9 7900X3D is available for £500 / $499. That's £80, or $99, less than the Core i9-14900K.

Not every Intel generation needs to be a complete rework, but the Core i5-14600K and Core i9-14900K don't even feel like they really refine the architecture they had to work with. They're hotter without being faster, and their sole innovation is a set of AI features with narrow availability and dubious efficacy. I wouldn't bother, especially with the far greater promise of Meteor Lake on the horizon.


on bbc news
on hindi news
on the news today
on channel 7 news
ôrf news
campo grande news ônibus
ôpera news
campo grande news greve de ônibus
l1 news horário dos ônibus
l1 news ônibus
lago azul news ônibus
news österreich
news österreich heute
news österreich aktuell
news öffentlicher dienst
news österreich corona
news öl
news österreich orf
news ö3
news österreich heute aktuell
news österreich sport
ö24 news
ölpreis news
öbb news
ösv news
österreich news krone
övp news
özil news
öffentlicher dienst news 2023
österreich promi news