I stumbled upon the cabaret club by chance. I was given limited time to play Like A Dragon Gaiden and told to explore thoroughly. But I didn't expect to stumble upon this.

I emerge into a city on a boat, complete with replica Osaka Castle. It's a hedonistic theme park, a Japanese Las Vegas, filled with gambling parlours, women in bunny ears, and a giant clown. Everything is luminous.

I potter around for a bit, eager to find out what awaits me in each building. The Like A Dragon (or Yakuza) series is known for its mini-games: mini car racing, karaoke, club management. Many of these return for Gaiden, including the cabaret club.

That's where we meet. Her name is Kaname and she's a real woman – indeed, that's the actress' real name, I later discover. I can choose from three women for this "date", but the Gamescom demo build I'm playing has only one available. This isn't the first time the series has included live-action mini-games, although it is the first time for this kind of experience. For me, the sudden change from in-game graphics to live-action here is jarring to say the least.

I'm given little option but to flirt as Kaname swoons at me in a skimpy outfit. "I love your nervous energy," I select. She giggles. I follow up with: "You have a nice figure". It's all presented in first-person view for ultimate immersion.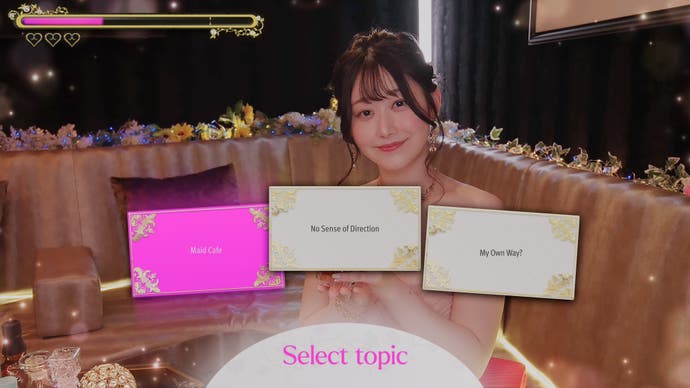 I buy myself a drink, which she pours and hands to me. Naturally, I go for the most expensive option on the game's menu: a magnum of champagne. Hearts in the top corner flutter upwards and an interaction gauge fills. Later I hand her some expensive diamond earrings as a gift, met with just a smile and a thank you – perhaps not the response you might expect considering their real-world cost.

We continue talking. She tells me she used to be a maid but now works as a hostess instead. She loves karaoke. I love karaoke too, I say. We have so much in common! We bond over how singing allows you to convey emotions through song. I wonder what her karaoke song of choice might be.

But our time together is cut short. I failed to meet the requisite heart gauge level to see what would happen. Didn't I please her? Were the earrings not good enough? "I'll be waiting for you," she says and I'm thrown out, back to the blinding lights of the boat city, presumably to try again another time. I head over to the colosseum and let off steam battling bad guys with my agent gadgets: spinning enemies with an impossibly thin wire, or calling in an AI support drone.
The Like A Dragon series thrives on its in-game representation of Japanese culture, of which hostess clubs are a part. But this is a video game, and the switch to live-action here feels slightly disturbing and unecessary.
Indeed, using live-action footage only makes the dates themselves feel more disjointed and robotic. I select options; a pre-recorded video of a woman plays back. It's a clinical exchange that breaks the immersion of interactivity a video game can provide – and of course panders predominantly to the male gaze. It's a baffling switch for a company like Sega to have made.
The choice of women to include in the game was decided via a contest in Japan. Five winners were ultimately chosen, including prominent American-Japanese streamer Kson, a big fan of the series (thanks GameRant).
It should be noted that prostitution is illegal in Japan, so the expectation of any sexual contact with a hostess would not be there for Japanese players. Hostess clubs are often seen as a modern counterpart to geishas and do not include dancing, prostitution or nudity. While the Like A Dragon series has always been authentic to Japanese culture and its global release allows everyone to experience this, Westerners unfamiliar with hostess clubs may go in with differing expectations.

I'm sure the rest of Gaiden will be a return to the action of the series' classic games after the turn-based Like A Dragon, without adding anything too meaningful. This demo at Gamescom just didn't give me long enough to explore that. Kaname may still be waiting, but I don't think I'll be returning to the cabaret club anytime soon.

on bbc news
on hindi news
on the news today
on channel 7 news
ôrf news
campo grande news ônibus
ôpera news
campo grande news greve de ônibus
l1 news horário dos ônibus
l1 news ônibus
lago azul news ônibus
news österreich
news österreich heute
news österreich aktuell
news öffentlicher dienst
news österreich corona
news öl
news österreich orf
news ö3
news österreich heute aktuell
news österreich sport
ö24 news
ölpreis news
öbb news
ösv news
österreich news krone
övp news
özil news
öffentlicher dienst news 2023
österreich promi news