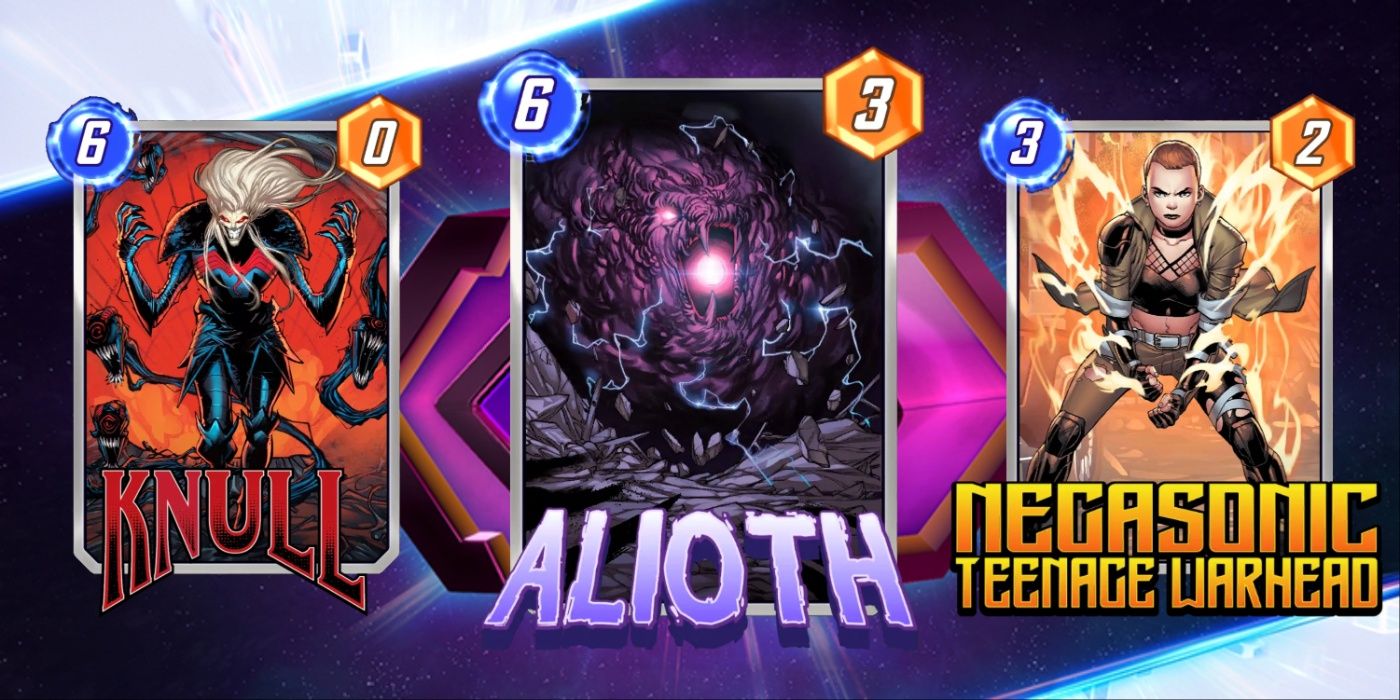 Marvel Snap is entering yet another new season with Higher, Further, Faster celebrating the November 2023 movie The Marvels, and naturally that sets the precedent for the month's card releases. However, as is always true in Marvel Snap's current format, the first week of the season concentrates on the Season Pass card, even if that will be changing in December. Ms Marvel's arrival means that familiar faces will be filling this week's Spotlight Caches, with a particular focus on the many sides of the Destroy archetype.
Alioth may have been nerfed since its destructive and dominating arrival during the Loki For All Time season, but it is still here, leading the way for the Spotlight Cache selection week beginning November 7th. Knull is also back among the Spotlight Caches once again, as is the newly buffed Negasonic Teenage Warhead.
Marvel Snap: How Spotlight Caches Work
Alioth
Alioth was one of the most highly-anticipated releases in the build-up to the Loki For All Time season, and for good reason. Alioth was released as a 6-Cost 5-Power card that destroyed all enemy cards played on its location that turn, whether they were turned over or not. Alioth may have since been nerfed to have only 3 Power, but it still has this devastating ability.
Being able to destroy cards regardless of priority makes Alioth one of the most feared cards in Marvel Snap. Many players will hold off on their ace for a surprise turn 6 reveal, whether it is Silver Surfer, Cerebro or Doctor Doom, and a well-placed Alioth on priority puts an end to these potential plays.
Silky Smooth + Alioth Still Does The Job
Silky Smooth is a reliable staple in Marvel Snap's ever-changing meta, as it is able to adapt and incorporate newly introduced cards. At its core, it needs Silk and Jeff for movement into Kraven, Doctor Doom for Power spread and Alioth for turn 6 disruption and destructive defense. The rest of the deck largely builds itself around Elsa Bloodstone's positive early impressions since her release last month.
| Energy Cost | Card Name |
| --- | --- |
| 1 | Nightcrawler |
| 2 | Angela |
| 2 | Elsa Bloodstone |
| 2 | Kraven |
| 2 | Jeff |
| 2 | Silk |
| 3 | Rogue |
| 3 | Spider-Man |
| 4 | Iron Lad |
| 5 | Vision |
| 6 | Alioth |
| 6 | Doctor Doom |
Spider-Man, Vision and Nightcrawler are additional movement cards that can trigger Angela's Power boost, get extra Power themselves from Elsa, and then move over to Kraven. Iron Lad adds extra versatility to the deck by copying the text of the top card but the twelfth slot of the deck finds itself in a state of limbo. Mobius M. Mobius would normally be in this deck but it was recently nerfed and isn't currently playable. There are plans to get Mobius back to its original state but with a new 3-3 stat line, but until then, Rogue is a satisfactory replacement, ready to steal any opposing Ongoing abilities. Many of these cards have been nerfed in recent weeks and months, but the fact that this deck still works is a testament to the strength of its many moving parts.
Every New Marvel Snap Card & Location In The Halloween Bloodstone Season
Knull
Knull's constant presence in Spotlight Caches is upsetting some more seasoned Marvel Snap players, but it is an objectively cool card. Not only is Knull such an epic Marvel character that it inspires equally cool variants and art styles, but it is one of the main pillars of the Destroy archetype.
Knull is a 6-Cost 0-Power card at its base, but its Ongoing ability grants it the combined Power of all cards that have been destroyed that game, friend or foe. Knull can be countered by the Ongoing hunters of Rogue, Enchantress, and Cosmo, since Armor reduces the number of cards that can be destroyed, but this doesn't change the fact that Knull's potential ceiling is almost impossibly high.
Knull Brings Classic Destroy Together
It took Marvel Snap players some time to truly understand the concept of eliminating their own cards, but Discard and Destroy now stand as two of Marvel Snap's best archetypes. In Destroy's case, there are several directions to take the deck, but the classic list is often better than complex combinations involving Destroyer, Galactus and Nimrod. The classic Destroy deck has three main types of contributors — those that want to be destroyed, those that do the destroying, and then the cards that reap the benefits of the destruction.
| Energy Cost | Card Name |
| --- | --- |
| 1 | Deadpool |
| 1 | Nova |
| 1 | X-23 |
| 2 | Bucky Barnes |
| 2 | Carnage |
| 2 | Wolverine |
| 3 | Killmonger |
| 3 | Venom |
| 3 | Sabretooth |
| 3 | Deathlok |
| 6 | Knull |
| 6 | Death |
Deadpool is currently one of the best and most popular cards in Marvel Snap, and since it doubles in Power every time it is destroyed, this deck is basically made to capitalize on this power. Destroying Nova with Killmonger will help Deadpool reach larger numbers before destroying it as well. With additional destructive contributions from Carnage, Deathlok and Venom, Deadpool can easily exceed 20 Power. Destroying X-23 grants the player extra Energy next turn, while Bucky Barnes turns into the Winter Soldier. Death and Sabretooth can be free plays on the final turn if enough destruction has taken place, and Knull relishes the chaos when he's granted Power matching that of every card destroyed that game.
Marvel Snap Players Will Never Truly Escape This Polarizing Card
Negasonic Teenage Warhead
Until the recent buff, Negasonic Teenage Warhead was one of Marvel Snap's least-used cards and was essentially adrift in limbo. Negasonic had the intriguing premise of destroying the next card played at its location, whether they were friend or foe, but at 5 Power, it just felt like wasted potential. There were still ways to use Negasonic alongside allied cards like Nimrod, but now thanks to the rework, this card only destroys the next opposing card played in its location.
Despite losing 3 Power, Negasonic is looking better than ever, and most importantly it's now actually a fun and useful card to include in most decks. Negasonic seems to finally have found its place in Marvel Snap, and it probably won't be nerfed or buffed again any time soon.
Negasonic Finally Makes Sense In Silver Surfer Decks
Silver Surfer decks are not only among the most fun lists to play, but they have immense versatility and flexibility thanks to Silver Surfer's ability that boosts all 3-Cost cards. Surfer decks can have their own areas of focus, from Disruption and Move, to Patriot and Destroy, but hybrid decks allow the Surfer to thrive in a whole host of different scenarios. This particular Silver Surfer deck list not only celebrates the newly-buffed Negasonic Teenage Warhead but also the recent additions from the Bloodstone season, Nico Minoru and Werewolf By Night.
| Energy Cost | Card Name |
| --- | --- |
| 1 | Nova |
| 1 | Nico Minoru |
| 3 | Werewolf By Night |
| 3 | Maximus |
| 3 | Negasonic Teenage Warhead |
| 3 | Killmonger |
| 3 | Daken |
| 3 | Silver Surfer |
| 3 | Storm |
| 3 | Juggernaut |
| 3 | Polaris |
| 5 | Sera |
Other than Sera, whose discounts allow more 3-Cost cards to be played, and Nova who exists only to be destroyed, all the other cards in this deck have On Reveal abilities, thus providing opportunities for Werewolf By Night to move around and gain Power. Juggernaut and Storm will always be an ideal combination to lock a location down, while Killmonger's destructive tendencies can grant boosts from Nova and Daken's Muramasa Shard. Polaris and Maximus join Negasonic Teenage Warhead on disruption duty, while Silver Surfer waits in the wings to do its thing. Silver Surfer decks used to be at their best with Brood and Absorbing Man, but with Werewolf By Night needing space to move, this new deck list is a terrific alternative that shows off the archetype's versatility.
50 Best Multiplayer Free To Play Games
Marvel Snap will soon be changing how its seasons are structured and the beginning of a season will have both the Season Pass card and a new card in the Spotlight Cache selection moving forward. That means that this week, starting with 11/7/2023 will be the last time that the first week of the season features three existing cards. Alioth, Knull and Negasonic Teenage Warhead may not be the most interesting selection for seasoned Marvel Snap players who already have most of the cards, but for newer players looking to explore the Destroy archetype, all three options add up to a must-have week for Spotlight Cache opening.
on bbc news
on hindi news
on the news today
on channel 7 news
ôrf news
campo grande news ônibus
ôpera news
campo grande news greve de ônibus
l1 news horário dos ônibus
l1 news ônibus
lago azul news ônibus
news österreich
news österreich heute
news österreich aktuell
news öffentlicher dienst
news österreich corona
news öl
news österreich orf
news ö3
news österreich heute aktuell
news österreich sport
ö24 news
ölpreis news
öbb news
ösv news
österreich news krone
övp news
özil news
öffentlicher dienst news 2023
österreich promi news