The first game in the Opus series of visual novels (not to be confused with alchemy-themed puzzle machine game Opus Magnum), The Day We Found Earth, begins 14,000 years in the future, on a starship far from our familiar home planet. The humans in this far-flung future don't even remember their ancestral home – it's just a rumour, a fantasy. Yet that rumour is driving scientist Lisa, as it may be all that humanity has left. Players control a robot, Emeth, trained by the humans Lisa and Makoto to 'find' Earth, in the hope that reconnecting with the past will solve the issues facing humanity in the present.

Opus may lean into the sci-fi aspects with its visuals and setting, but The Day We Found Earth and its sequels, 2018's Rocket Of Whispers and 2021's Echo Of Starsong (which Katharine absolutely loved), are ultimately story-driven games with a human core far warmer than the coldness of space. Sigono announced a new entry, Opus: Prism Peak, earlier this year. "They're narrative adventure titles that have heartfelt stories that always touch on themes of love and self-fulfilment," is what studio co-founder Scott Chen emphasises to me, as we start our conversation on the hectic floor of Bitsummit, Japan's largest indie games event.

Sigono are a Taiwanese-based team founded in mid-2013 using the money the team earned from selling a high-concept Kinect prototype during university. The team focused their early days on the mobile market in their home country (today estimated at $1.2 billion), and, having launched smaller projects to decent interest, found major success with the more premium experience of The Day We Found Earth, targeted at those looking for something different than was typically on mobile at the time. It was also one of the first games to find global success for Sigono, and gave the team the scope to bring the game to more markets and other platforms – including PC.

Talking about the origins of the series, Chen notes that they always wanted to make an explorational experience, and brainstormed good settings for that. "We thought about space, maybe under the sea, because it's all really vast with unlimited possibilities," he says. In the end they picked space because Interstellar was big at the time, but they kept The Day We Found Earth light on the sci-fi aspects of it. "With the second entry we stuck with space because there's so much to use but of course, the scope increased by a lot," Chen explains. "By the third instalment we have this backstory of the whole civilisation and how the different regions and countries find each other, it's so much bigger now."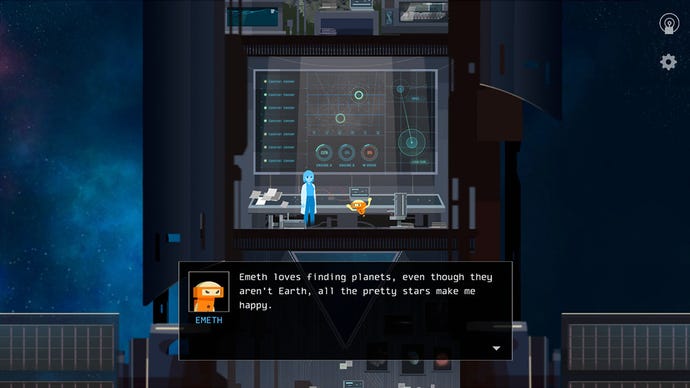 The space setting is really the backdrop for tales about humanity's expansive ideals, simultaneously disconnected and interconnected. "We always start with a story first and build on that," says Chen. "We think about what kind of gameplay mechanics, what kind of art, what kind of music will support this kind of story. I don't want to say it's gameplay second, but we use those mechanics in support of storytelling." They do, of course, also always think about what is fun, and how engaged the player will be with the story, with the latter indicating the former. "If they're playing and getting really invested in the story, we think that makes the game fun because they'll lose track of time, they just don't care anymore and just want to finish it. That's how we make sure there's a good balance between them," Chen explains.
He's been open about his design approach before. Using Echo Of Starsong as an example, Chen discussed level design in a Twitter thread, explaining how interaction and player engagement has to shine. But, crucially, this can't be mindless, and must be in service of the story. Considered together, it ensures players remain invested, even as these games have grown wildly in scope from the 90-minute short story-esque nature of the first game to the much longer experience in the most recent release Echo Of Starsong.

The growth of both the series and its target audience have evolved with the domestic industry. Beyond mobile, over half of the gaming population in Taiwan play games on PC, and with the dominance of free-to-play and IP-driven experiences much of the indie games market has not only expanded on the platform, but received increasing international attention. Yet this also meant shifting considerations of how the game functions, as what worked for mobile players may feel tedious or fragmented to a PC audience – even down to price.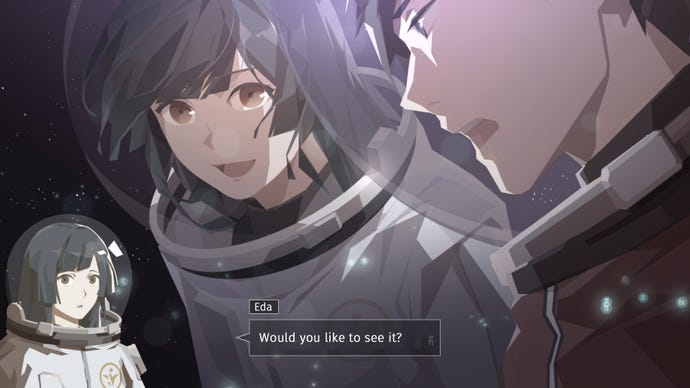 "I think the mobile and PC audiences have absolutely different preferences, so it's really hard when when we started from mobile for the first few games to make the transition, because mobile players like a small experience and they don't really want to pay a lot of money," Chen says. "We have to price games much, much lower [on mobile]. After translating it to PC, however, we can't use the same pricing for the PC audience, so we had to figure out how to make the PC version a superior game that will work at a higher price."

This differed across titles as the series went on. The Day We Found Earth was priced higher on PC than on mobile but remained relatively inexpensive, and benefited from the PC optimisation and the addition of developer insights after completing the game. Echo Of Starsong was released on PC first as a far more expansive title from the get go, with far more to explore and do, catering to the desire for more in-depth games.

Chen notes this multiplatform release schedule still factored into design at all levels, including in story. The story is designed so the longest you need to stay engaged is around 15 minutes – around the same length as a League of Legends game. "For Echo Of Starsong we visit all these different planets and each of them is basically a small story of itself," he says. "You can pretty much go in and experience them on their own, so we purposely designed our stories to be fragmented."
"I think the indie scene in Taiwan has always been really pretty solid."

Opus is one of a few Taiwanese indie titles to break through into international markets in recent years. Games like Behind The Frame and MO: Astray, and Red Candle's Detention and Devotion are just a few more examples of Taiwanese games gaining international attention. Red Candle in particular experienced a wave of both praise and controversy for blending horror tropes with every day life in Taiwan and its bloody history of dictatorship.

"I think the indie scene in Taiwan has always been really pretty solid, though of course recently it's grown excellently," Chen says. "I think the language barrier is really what is blocking us from being more globally successful, but there's been a lot of publishers taking notice at Taipei Game Show and other local game events, more publishers coming in, which is really helping. We also have local publishers who are starting to publish worldwide which really helps too."

SIGONO had always hoped to attract an international audience with OPUS, and the game was marketed on its more universal aspects to appeal to the broadest possible audience. "With Echo Of Starsong for example, we marketed that game to be globally accessible, but at the core of that story it's still based heavily on Asian culture," Chen explains. "We have this idea of feng shui behind the game, but we weren't going to say that out loud or market it that way because many people wouldn't understand it. But if the player really engages with the story they'll hear these words and if they Google them they'll start to understand it."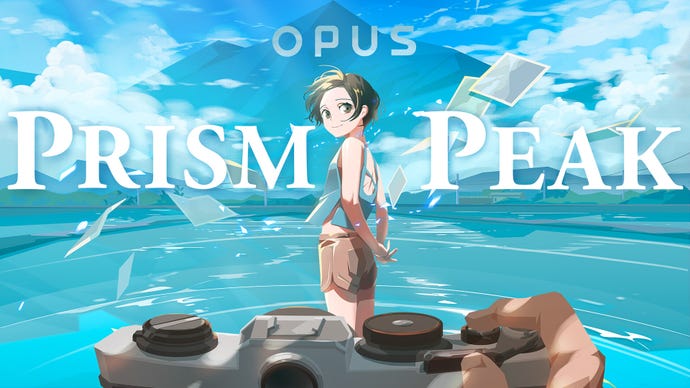 Opus will continue beyond the trilogy of games already released. While Sigono's space at Bitsummit was primarily dedicated to their published work, the team announced the next game in the series with Opus: Prism Peak at the start of this year. Notably, at least from the teaser trailer and screenshots released, the game is a distinct departure from what has come before. Removed from the darkness of space, our story takes place on a planet's surface, focused on an all-new photography mechanic in a sunlit, flooded post-apocalypse.

It's striking but uncharted territory for the franchise. Or is it? "It's still sci-fi, I can say that it's still sci-fi," teases Chen. "What we were doing is, well, the first game is in space, and the second game brought us down to a planet. The third game is back in space again, so for this game we wanted to kind of bring it back down to a planet again."

Still, specifics on this mystery planet are sparse, except for one piece of clarity Chen was all-too happy to provide: it's not Earth. "Of course, this time we also introduced a camera mechanic, and it's going to be a key point in the game," he says. "Throughout the Opus series we think players come to our games because of the story, and it's always been a heartfelt story. It's going to be the same here, most importantly." Chen adds that this time it's "a little bit more contained", but that they want to expand what they do between the characters and the environment around them.

It's unlikely we'll learn any more about the game anytime soon. That being said, what SIGONO have consistently delivered with all the Opus games is a moving story in a grand sci-fi setting. If Sigono keep their commitment to heartfelt storytelling, it's likely this series will continue to touch audiences everywhere – no matter how long we wait for the next entry.

on bbc news
on hindi news
on the news today
on channel 7 news
ôrf news
campo grande news ônibus
ôpera news
campo grande news greve de ônibus
l1 news horário dos ônibus
l1 news ônibus
lago azul news ônibus
news österreich
news österreich heute
news österreich aktuell
news öffentlicher dienst
news österreich corona
news öl
news österreich orf
news ö3
news österreich heute aktuell
news österreich sport
ö24 news
ölpreis news
öbb news
ösv news
österreich news krone
övp news
özil news
öffentlicher dienst news 2023
österreich promi news