Summary
Introvision, a 1980s filmmaking technology that allowed images and backdrops to be used in-camera, created impressive effects in films like Army of Darkness and The Fugitive.
The Volume is a successor to Introvision, revolutionizing filmmaking by using high-definition LED screens to create real-time backdrops. It has become commonplace in Hollywood productions like The Batman and The Mandalorian.
While The Volume has received criticism, Introvision's techniques still hold up today, showcasing the complexity and innovation involved in creating visually stunning scenes.
VFX artists unpack a lesser-known technique that helped filmmakers create backdrops and worlds in-camera in features including Army of Darkness and The Fugitive. The final chapter of Sam Raimi's original Evil Dead trilogy in 1993 saw Bruce Campbell's Ash Williams transported to a medieval realm to face a legion of Deadites. Meanwhile, Andrew Davis' 1993 action thriller The Fugitive saw surgeon Richard Kimble (Harrison Ford) framed for the murder of his wife and hunted across the country by US Marshal Sam Gerard (Tommy Lee Jones).
In a new video, Corridor Crew explains how a piece of 1980s filmmaking technology, Introvision, could create effects similar to what the Volume has done for modern productions. It allowed images and backdrops to be utilized in-camera through a form of "rear-projection" that utilized specially-made Scotchlite screens and beam splitters carefully angled to create backgrounds and foreground objects in-camera. This created sequences where Ford escaped train collisions and Ash took on mini-Ash duplicates. The video below features Corridor Crew's full explanation:
How The Volume Is A Successor To Introvision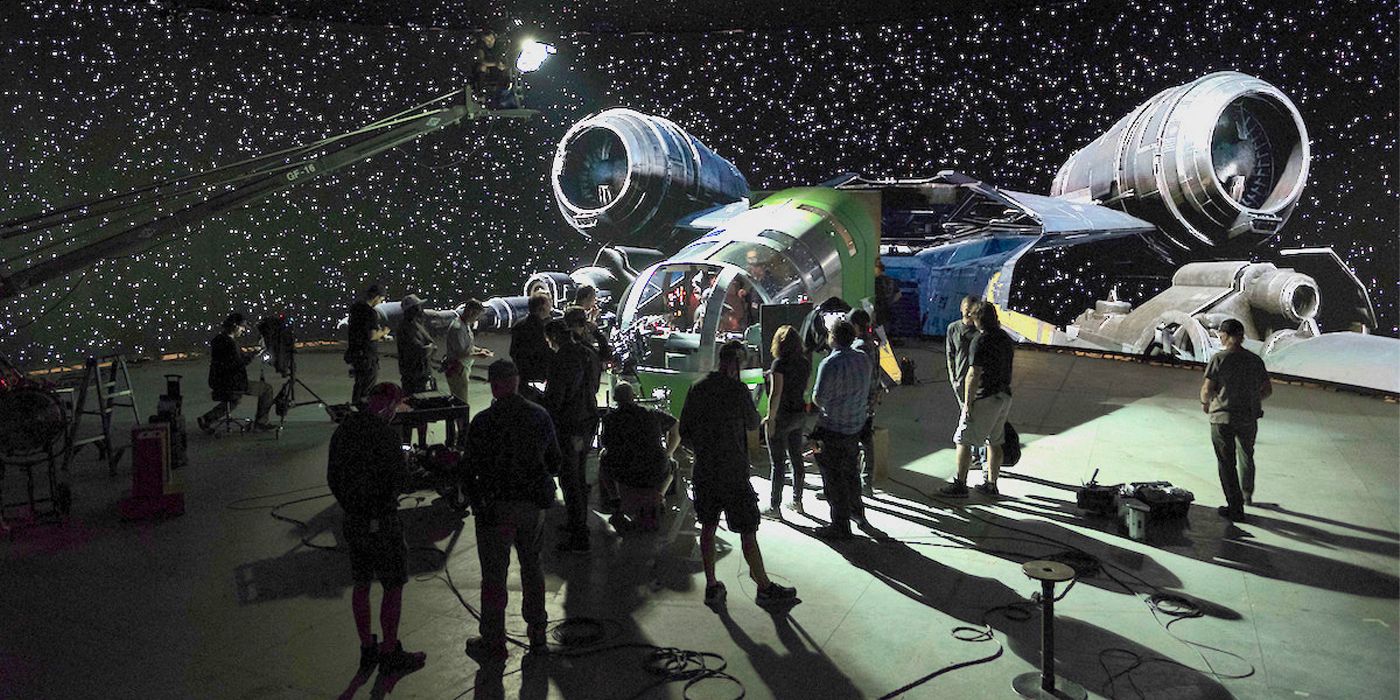 While Army of Darkness and The Fugitive created incredible effects through Introvision, Hollywood soon moved onto inserting actors into CGI environments alongside digitally created characters, often through the use of green screen. Since then, cinematographer Greg Fraiser and ILM helped develop the use of high-definition LED screens to create backdrops that can envision fantastical scenes in real time during filming. Named The Volume, the once-groundbreaking technology has now become commonplace among many Hollywood productions, including The Batman, The Mandalorian, and various Marvel productions.
Marvel projects that have used The Volume include Thor: Love & Thunder, Ant-Man and the Wasp: Quantumania, and The Marvels.
Despite initially astonishing viewers, however, The Volume has gradually become the subject of many criticisms. While the technology can give actors and crews the chance to see digital environments as they work, many feel factors such as lighting and practical elements have been neglected. Nevertheless, the incredible Intovision techniques that helped Army of Darkness and The Fugitive stand out have shown that with time, production teams can find new ways to innovate even what may be familiar and commonplace.
While special effects have advanced since the 1980s, it is hard to deny that the visuals seen in The Fugitive and Army of Darkness still hold up to this day. The Volume may have helped streamline the process, but Introvision's effects can still be appreciated for the amount of complex work placed into creating the scenes. As always, it's fascinating to see how filmmaking has evolved, and only time will tell what comes after The Volume.
Source: Corridor Crew
Release Date:

1993-08-06

Director:

Andrew Davis

Cast:

Joe Pantoliano, Sela Ward, Julianne Moore, Tommy Lee Jones, Harrison Ford

Rating:

PG-13

Runtime:

130 minutes

Genres:

Action, Thriller, Drama, Crime, Mystery

Writers:

David Twohy, Jeb Stuart

Summary:

Dr. Richard Kimble, unjustly accused of murdering his wife, must find the real killer while being the target of a nationwide manhunt led by a seasoned U.S. Marshal.

Budget:

$44 million

Studio(s):

Warner Bros. Pictures

Distributor(s):

Warner Bros. Pictures

Sequel(s):

U.S. Marshals

Release Date:

1993-02-19

Director:

Sam Raimi

Cast:

Bruce Campbell, Ian Abercrombie, Embeth Davidtz, Marcus Gilbert, Richard Grove

Rating:

R

Runtime:

81 minutes

Genres:

Horror, Comedy

Writers:

Sam Raimi, Ivan Raimi

Budget:

$11 million

Studio(s):

Renaissance Pictures, Dino De Laurentiis Corporation

Distributor(s):

Universal Pictures

prequel(s):

The Evil Dead (1981), Evil Dead 2

Franchise(s):

The Evil Dead
on bbc news
on hindi news
on the news today
on channel 7 news
ôrf news
campo grande news ônibus
ôpera news
campo grande news greve de ônibus
l1 news horário dos ônibus
l1 news ônibus
lago azul news ônibus
news österreich
news österreich heute
news österreich aktuell
news öffentlicher dienst
news österreich corona
news öl
news österreich orf
news ö3
news österreich heute aktuell
news österreich sport
ö24 news
ölpreis news
öbb news
ösv news
österreich news krone
övp news
özil news
öffentlicher dienst news 2023
österreich promi news