Summary
Gunner Jensen has killed 59 people in The Expendables movies, using his expertise and intelligence to mow down foes with guns and environmental advantages.
Toll Road, the team's demolition expert, has killed 68 people in The Expendables movies, showcasing his martial arts and marksmanship skills alongside explosives.
Lee Christmas, the Expendables' second-in-command, has the highest kill count at 280.
The characters in The Expendables franchise have racked up one of the highest kill counts in recent memory due to their robust cast of professional gunslingers, demolition experts, knife masters, etc. While The Expendables 4 was a critical and commercial failure, it still continued the franchise's trend of its muscle-bound mercenaries killing their way to victory. Even though the members of The Expendables have seen its membership change through the years, most of the core seven characters who helped make the Expendables movie franchise what it is are still around.
Moreover, each member of the original team's lineup has accumulated way more kills than any of its new members have. Known for its B-movie feel and aesthetic, The Expendables' characters have gone as far as to make a game out of which members can rack up the most kills on any given mission. From The Expendables to The Expendables 4's endingbattle, each main character has innovated ways to keep the kill count high.
7
Gunner Jensen Has Killed 59 People In The Expendables Movie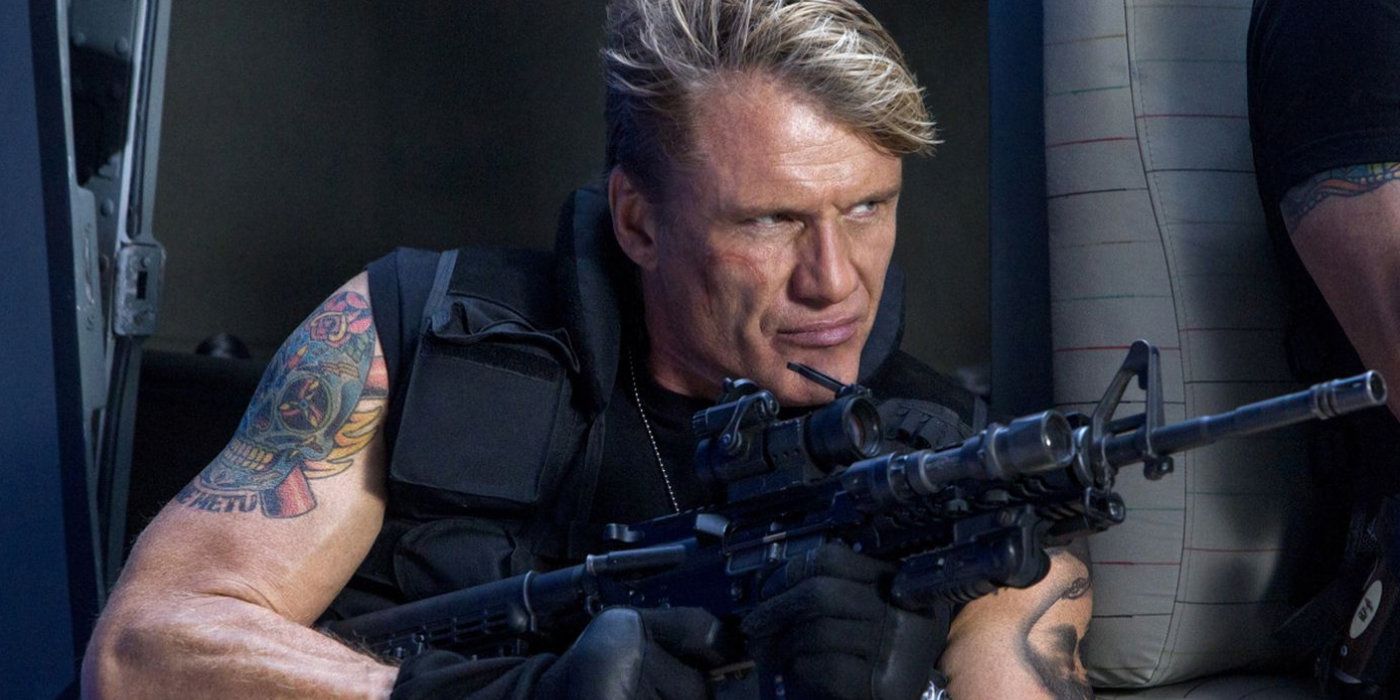 One of the few characters to appear in all four movies, Gunner Jensen is a heavy weapons expert who's typically seen wielding a gun just as big and impressive as his muscular frame. Despite his character's substance abuse, he's able to conquer his demons and regain the trust of his former teammates in the first movie. From there, Gunner is seen relishing in his ability to mow down just about any foe that gets in his way. While Gunner might be a powerhouse of a man, his intellect is another thing that contributed to his kill count.
As seen throughout the franchise, Gunner is also apt to use his environment to take out waves of foes whenever he's out of ammo. This sets him apart from the rest of the team as many of his comrades prefer getting up close and personal during their fights. In another display of intelligence, Gunner is also known to utilize vehicles to help get the job done when things look dire.
6
Toll Road Has Killed 68 People In The Expendables Movies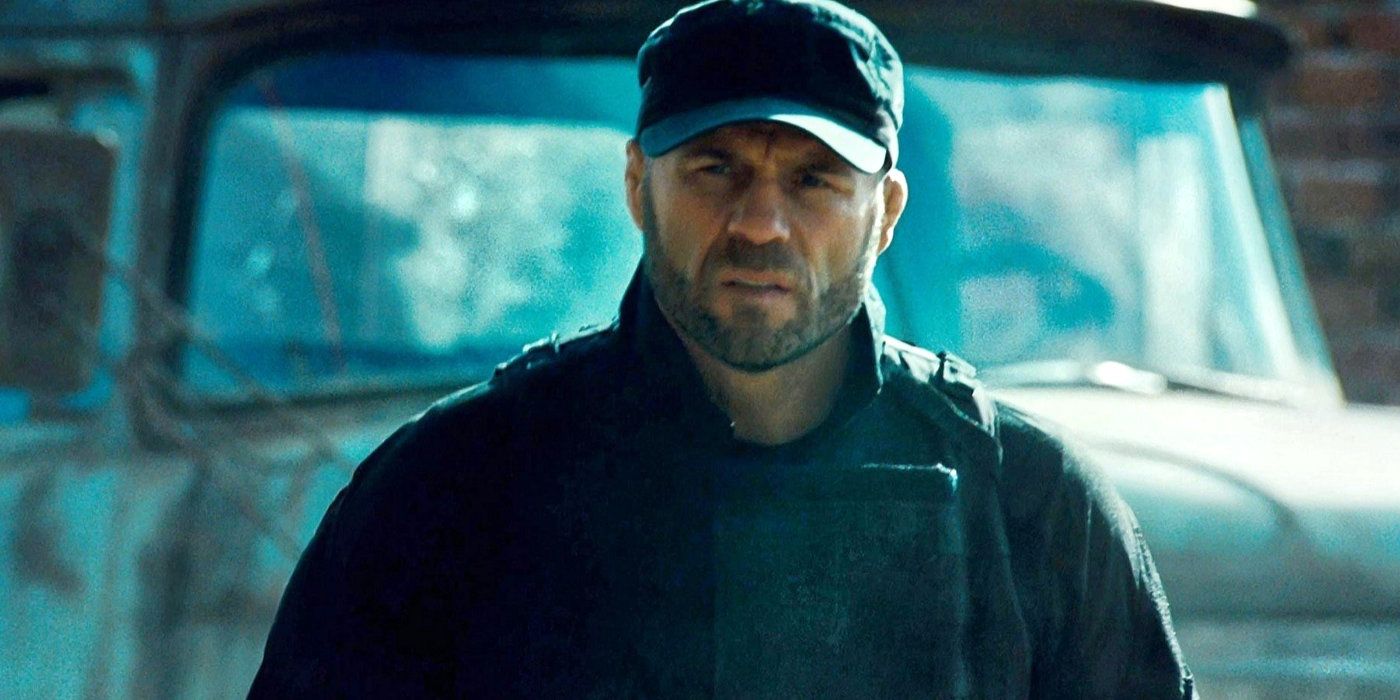 Toll Road is another member of the Expendables to appear in all four movies. Toll Road is the team's demolition expert and utilizes a wide range of explosives to dispatch the team's foes. Additionally, Road is a highly skilled martial artist and is seen on multiple occasions using his assortment of mixed martial arts to kill enemies whenever bombs and bullets aren't an option. Nevertheless, Road is equally skilled with various firearms and sidearms like the rest of his crew and has been seen using his expert marksmanship to rack up his sixty-eight kill count.
5
Yin Yang Has Killed 69 People In The Expendables Movie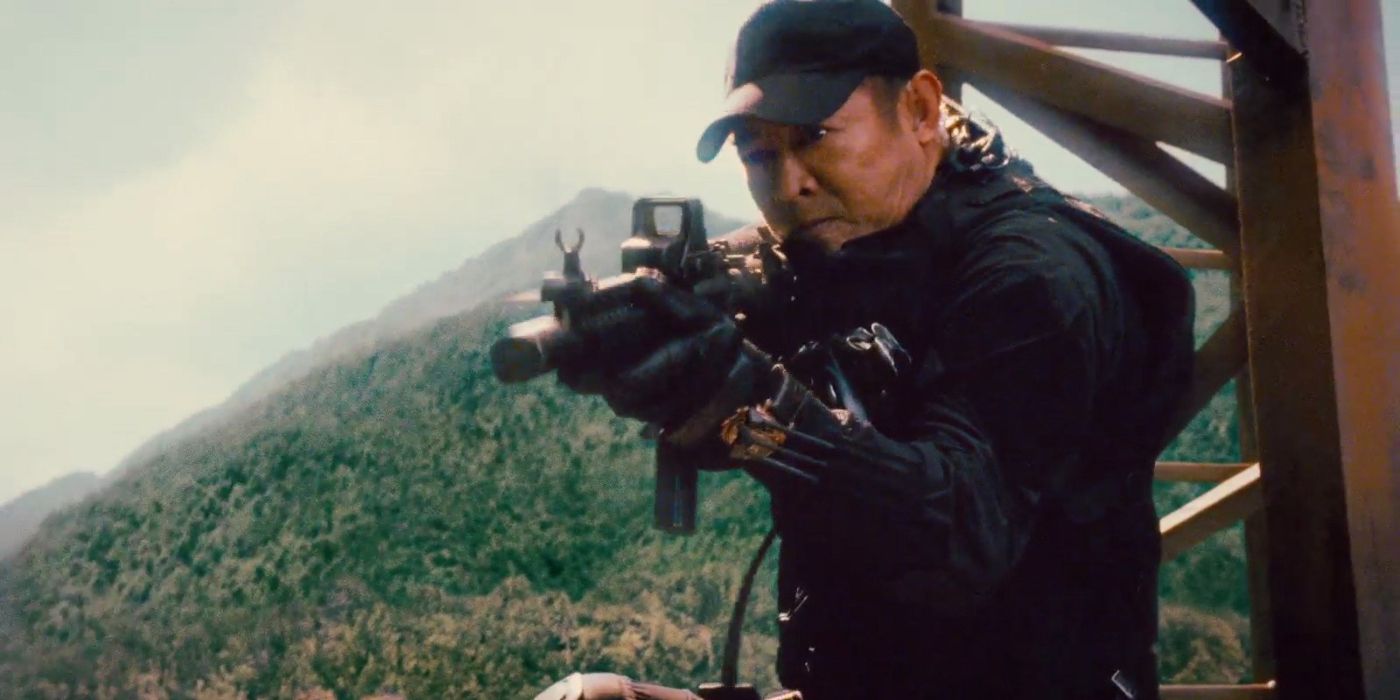 Fast, agile, and deadly, Yin Yang is one of the more capable members of the Expendables as his smaller frame and relatively silent personality make him the perfect man for any stealth-based job. While Yang can often be seen using submachine guns and sidearms to complete the team's various missions, it is ultimately his superb hand-to-hand combat skills that really make him shine among his teammates. Yang and Gunner initially didn't get along well and thus, the two would often engage in friendly yet competitive bets to see who could kill more of their enemies.
4
Doctor "Doc" Death Has Killed 92 People In The Expendables Movie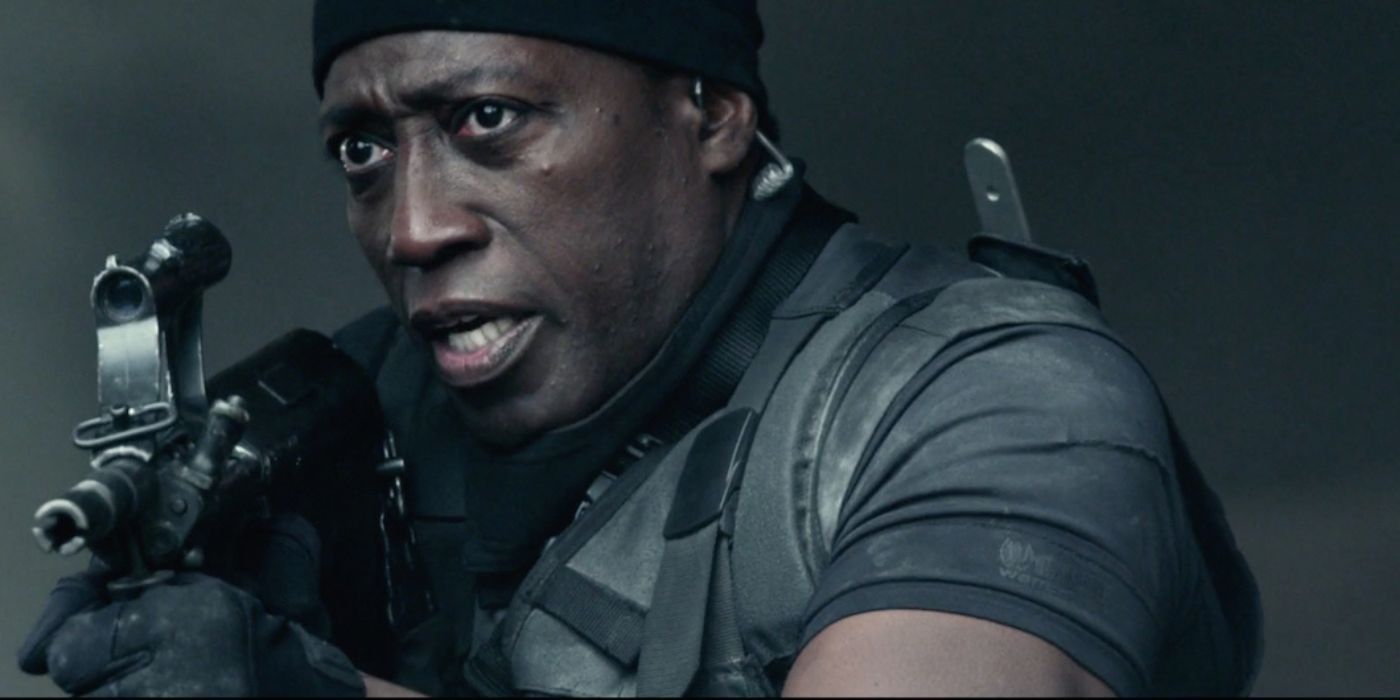 As his name would imply, Doctor "Doc" Death was one of the more prolific killers seen in The Expendables franchise. Although some felt that Wesley Snipes was wasted in The Expendables 3, his performance was still strong enough to leave an impression on viewers. Among his many skills, Doc was the team's medic, martial arts expert, and throwing knife master. Similar to Lee Christmas, Doc would often opt for using a throwing knife to dispatch a foe over a gun.
On account of his proclivities for throwing knives, Doc and Christmas would often engage in friendly competitions throughout The Expendables 3 mirroring the friendly rivalry between Yang and Gunner. Nevertheless, Doc was just as competent and dangerous with firearms as the rest of the crew, and his proof of that was shown to great effect in The Expendables 3. As reduced as Doc's role was, he still nearly racked up 100 kills – primarily with knives, thus cementing his spot on the team.
3
Hale Caesar Has Killed 110 People In The Expendables Movies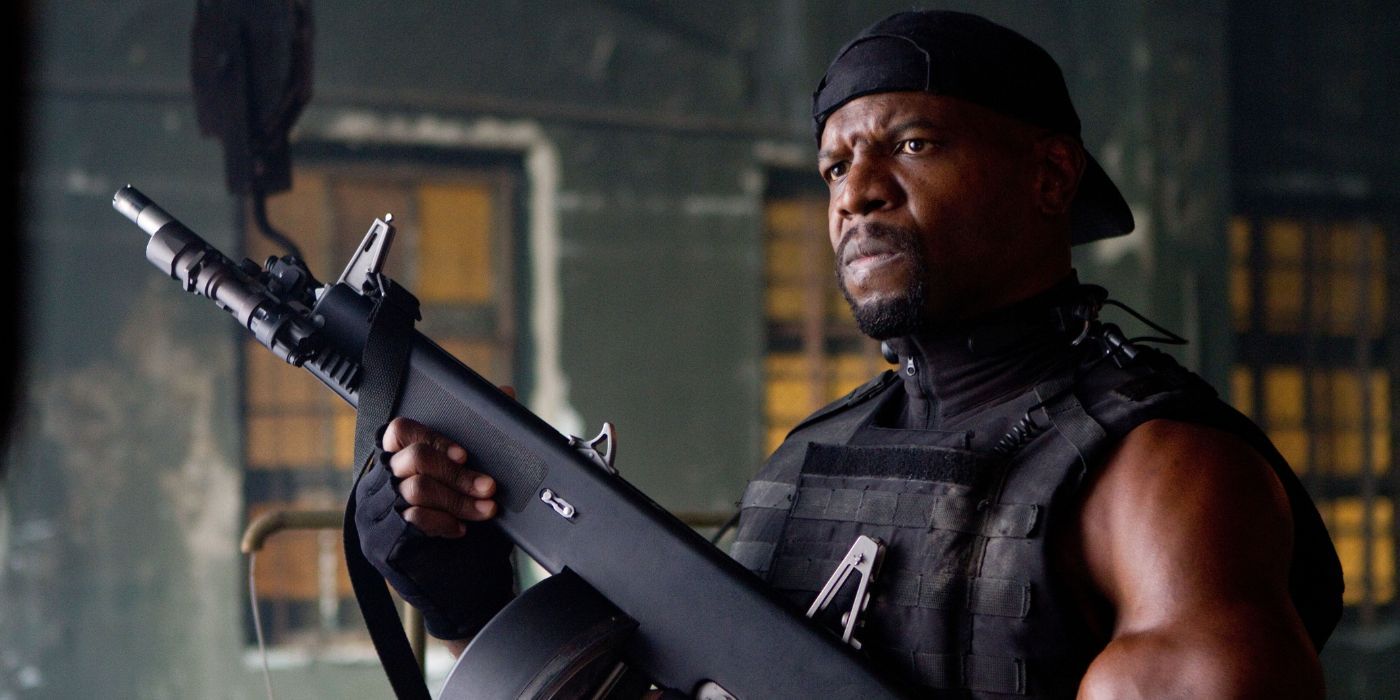 Perhaps the most bombastic member of the team, Hale Caesar is also a heavy weapons expert on the Expendables as well as the heart of the team. The gentle giant was often assigned missions that required great feats of strength thus ensuring he'd always be around no matter what. Of the many weapons Caesar was seen using throughout the franchise, he seemed to be the most proficient with any assortment of shotguns.
In one of The Expendables' funniest scenes, Caesar utilized a unique military shock and awe technique that comprised him flanking enemy lines. The scene was not only funny, but it easily contributed to his 110-person kill count in a matter of mere seconds. Despite his reduced role in future movies, Caesar's affable personality, ironclad loyalty, and expert handling of the automatic shotgun are all standouts.
2
Barney Ross Has Killed 223 People In The Expendables Movie
Stallone's Barney Ross stands head and shoulders above his teammates when it comes to kills at a staggering 223. One of the more seasoned members of the team, Ross is the leader of the Expendables and uses his leadership skills to effectively command his team to victory. Tactical genius aside, Ross displayed early on that he's just as – if not, more dangerous than any man on the squad.
Bare-knuckle brawls, tense shootouts, armored vehicles, explosives, and knives, Ross has displayed not only an aptitude for his line of work but the ability to innovate as well. Even in situations where Ross was out-manned by enemy forces, his ingenuity afforded him the ability to overcome large waves of enemies. While Stallone's reduced presence in The Expendables 4 mitigated his kill count considerably, his prolific work in previous installments more than made up for this reduced role.
1
Lee Christmas Has Killed 280 People In The Expendables Movie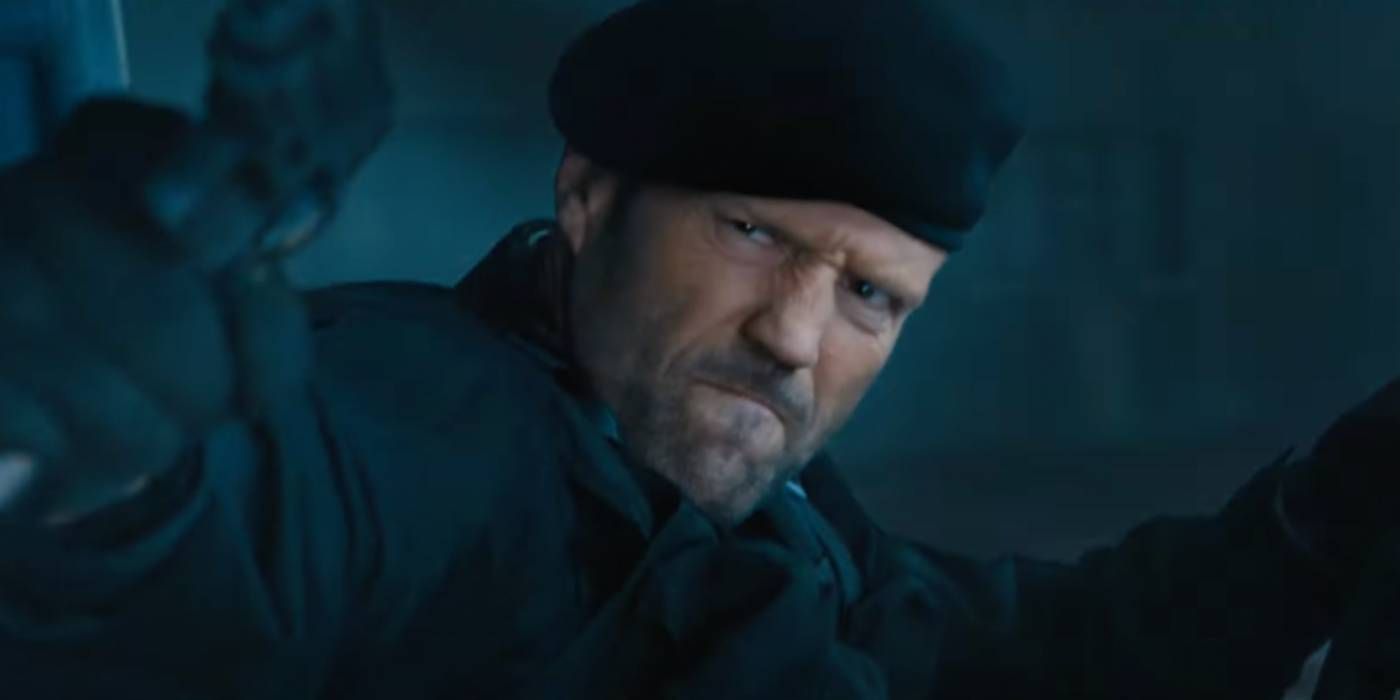 Former SAS soldier and Barney Ross's best friend, Lee Christmas is the Expendables' second-in-command and the current title-holder for the most kills seen throughout The Expendables. As a former soldier, Christmas is an expert in hand-to-hand combat, proficient with various firearms and explosives, and is even highly capable with armored and airborne weaponry. His expertise and competitive personality have easily made him one of the most dangerous men on the team, and it likely explains why he has close to 300 kills.
As seen throughout the franchise, Christmas is one of the few characters seen expertly using an armed aircraft to rescue his friends and kill their foes. Whether on land, underwater, or in the air, Christmas gifts his enemies with a brutal and creative death. Appearing in all four movies, Christmas easily reigns supreme when it comes to the highest kill count in The Expendables.
on bbc news
on hindi news
on the news today
on channel 7 news
ôrf news
campo grande news ônibus
ôpera news
campo grande news greve de ônibus
l1 news horário dos ônibus
l1 news ônibus
lago azul news ônibus
news österreich
news österreich heute
news österreich aktuell
news öffentlicher dienst
news österreich corona
news öl
news österreich orf
news ö3
news österreich heute aktuell
news österreich sport
ö24 news
ölpreis news
öbb news
ösv news
österreich news krone
övp news
özil news
öffentlicher dienst news 2023
österreich promi news