The Big Picture
In 10 Things I Hate About You, Kat has autonomy and control over her choices, unlike Katherina in Taming of the Shrew.
Kat and Patrick's relationship in the modern adaptation is based on mutual respect and understanding, rather than cruelty and abuse.
The film delves deeper into the characters' vulnerabilities and shows a more nuanced understanding of love, challenging outdated societal values.
The 1999 teen drama 10 Things I Hate About You, directed by Gil Junger, is loosely based on William Shakespeare's The Taming of the Shrew. In this romantic comedy, Patrick (Heath Ledger) is paid to date Kat (Julia Stiles) so that other boys from their school can date her younger sister, Bianca (Larisa Oleynik). Just like in Shakespeare's classic, their father has declared that sweet, naïve Bianca cannot entertain suitors until her abrasive, stand-offish older sister Kat (Katherina in Shakespeare) does. Both stories begin with the same premise, but their overall message is different. The Taming of the Shrew is a questionable tale about a man who "out shrews" a woman he married for money and forces her into submission. Ten Things I Hate About You is a heartwarming film about two people who are largely misunderstood by the world coming to love and care for each other.
How Do Kat's Choices in '10 Things I Hate About You' Differ From Katherina's in 'Taming of the Shrew'?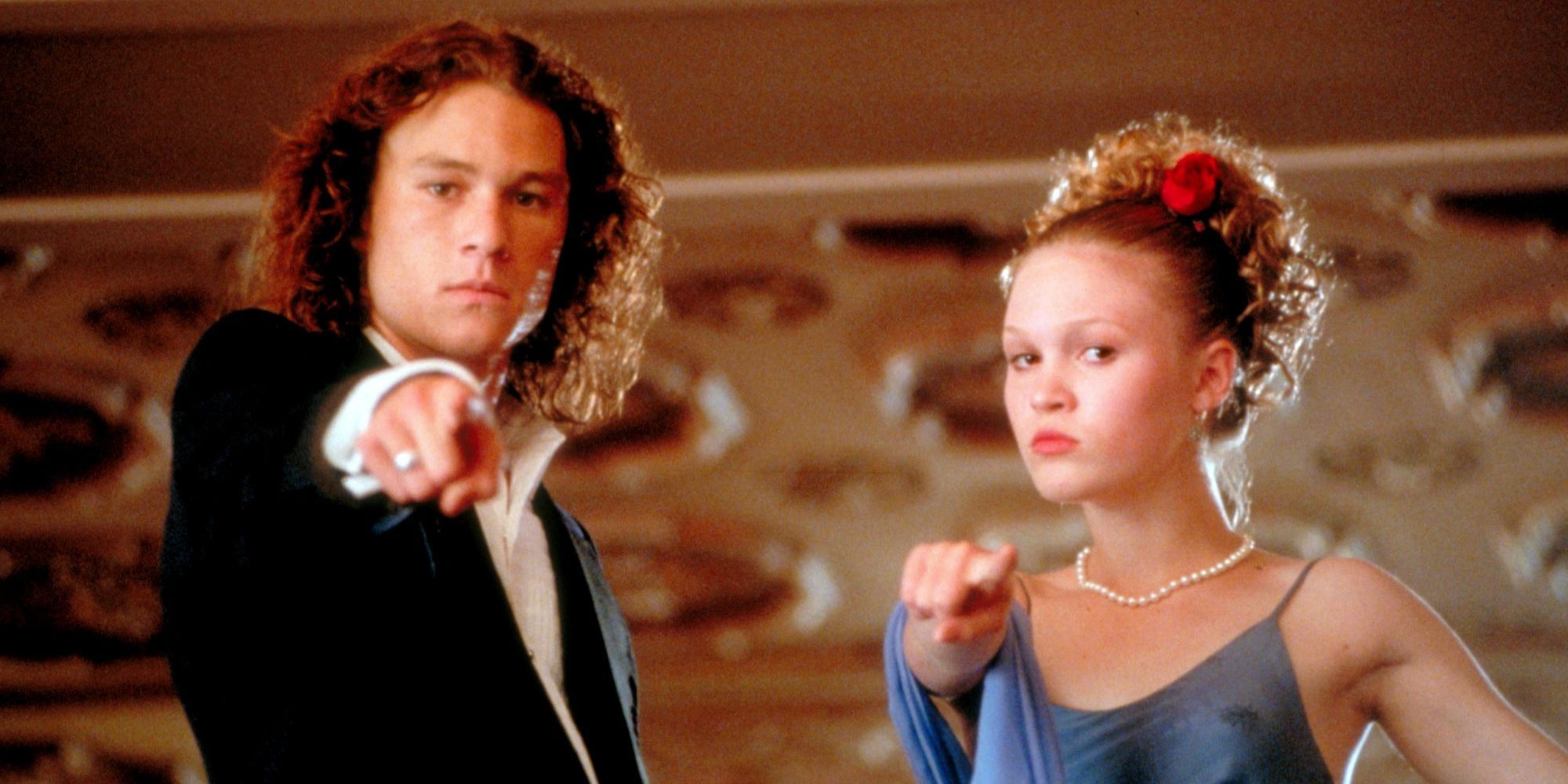 The first major difference between the two stories is Kat's autonomy. In The Taming of the Shrew, despite her father's declaration that Petruchio must "win her love" Katherina never consents to the marriage. Petruchio declares to the audience that he will not take "no" for an answer and he doesn't. Katherina protests to her father while Petruchio tells him she has agreed. Her father is surprised but, does not wait for his daughter to confirm. He prepares for the wedding, presumably glad to hand her off at last.
In 10 Things I Hate About You Kat's father is overprotective and controlling but in the end, he listens to Kat and allows her to make her own decisions. He allows her to date Patrick and pays for her tuition to the college she chose instead of the one closer to home he had chosen for himself. It is noticeably difficult for him to let go and allow her to make her own choices, but he eventually does. This is one of many changes that show a denouncement of the toxic masculinity rampant in the Elizabethan era.
This theme of autonomy is touched on again when Patrick tells Kat "Do what you want." and Kat retorts "You're the only one who thinks I should." Despite Patrick's persistence in asking her out three times before she accepts, the choice is still hers to make. He eventually wins her over by feigning an interest in her favorite band. It may not be honest, but he does not simply force her to go out with him regardless of what she has to say about it.
How Is Kat and Patrick's Relationship Different Than Their Shakespearean Counterparts?
Much like Katherina in The Taming of the Shrew, Kat is sharp-tongued and generally outspoken in her disdain for men. She is also critical of capitalism and social norms and hates doing what others expect. Her scathing retorts keep her peers at bay and her teachers on her case. Patrick, unlike Petruchio, is kind and considerate but leans into his reputation for being dangerous. He allows rumors of an alleged prison sentence to run rampant and even engages in dangerous activities like placing his hand in flames to encourage them.
Like Katherina and Petruchio, Kat and Patrick are both strong-willed and sharp-tongued. In The Taming of the Shrew, this quality pits the two leads against each other. Katherina and Petruchio engage in constant banter and a battle of wills. Kat and Patrick engage in the same entertaining sass, but their mutual frustration for the world eventually becomes a point of connection rather than conflict. They are both generally disliked in their school due to their disdain for conformity and this allows them to bond. Not only are they eventually able to have fun together, but they work together (Kat getting Patrick out of detention) and direct their mischievous natures on the outside world rather than each other.
RELATED:The Best Rom-Coms on Amazon Prime This Month
'10 Things I Hate About You' Gives Us a More Vulnerable Look at Love
In The Taming of the Shrew, Petruchio shows up late to his wedding to humiliate Katherina. He then isolates her by taking her away from her hometown and starves her unless she conforms to his will. Katherina finds that even her sharp wit and quick temper are no match for her husband's shameless spousal abuse. She eventually breaks and tells him that the sun is the moon if he says it is so. From this moment she confesses to love him and behaves as an obedient wife.
The moment when things change for Kat and Patrick is completely different. Kat hits her head at a party and Patrick shows genuine concern for her. He stays with her to make sure she doesn't fall asleep. This moment of vulnerability causes both of their hard exteriors to falter, and they begin to bond. Having the lead show kindness instead of cruelty is a definite improvement that reflects society's improving (though still imperfect) attitude towards women. Patrick "tames" Kat with kindness and respect instead of starvation and isolation.
The audience never learns much about Katherina and Petruchio apart from their quick wit and strong wills. It might be entertaining (to a point) to see them argue and try to foil each other while knowing they have an attraction for one another, but the audience never sees much of what lies beyond the surface.
As Kat and Patrick bond, however, the audience learns more about who they are beneath the surface. Kat became standoffish towards men after being jilted by the self-obsessed Joey (Andrew Keegan). It turns out Patrick was not in jail when he missed all those months of school. He was taking care of a sick family member.
In The Taming of the Shrew Petruchio behaves as obnoxiously and disrespectfully as he can until it wears Katherina down. She stops fighting back. The play ends with Katherina's sharp tongue "tamed" as she submissively does her husband's bidding and chides her sister for not obeying her own husband as absolutely. It is the story of a strong woman being shown her "place" in the world as a subservient wife. In 10 Things I Hate About You Patrick surprises Kat by treating her with respect and kindness. She learns that sometimes it is safe to trust and be vulnerable. The relationship is not perfect. It starts with lies and bribery. Patrick, however, takes full accountability for his mistakes and, unlike Petruchio, is not abusive.
10 Things I Hate About You has all the spice and sass of The Taming of the Shrew, but it shows a deeper, more nuanced understanding of what love is and how society can misunderstand people. Kat and Patrick do not simply argue until one or the other gives in. They get to know each other, get vulnerable, make mistakes, and ultimately work through those mistakes. The setting is not the only thing that is updated in Gil Junger's version of Shakespeare's classic. The outdated Elizabethan values are too.
on bbc news
on hindi news
on the news today
on channel 7 news
ôrf news
campo grande news ônibus
ôpera news
campo grande news greve de ônibus
l1 news horário dos ônibus
l1 news ônibus
lago azul news ônibus
news österreich
news österreich heute
news österreich aktuell
news öffentlicher dienst
news österreich corona
news öl
news österreich orf
news ö3
news österreich heute aktuell
news österreich sport
ö24 news
ölpreis news
öbb news
ösv news
österreich news krone
övp news
özil news
öffentlicher dienst news 2023
österreich promi news