The Big Picture
House of the Dragon made changes to the story from the original book, including cutting out Laena's friendship with Rhaenyra, which could have added more drama and depth to the show.
Laena and Rhaenyra share multiple relationships, including blood and marriage ties, but their close friendship is neglected in the series, depriving Laena of a more substantial role.
The friendship between Laena and Rhaenyra could have been used to amplify the rivalry between Rhaenyra and Alicent, as well as to explain Rhaenys' betrayal and Rhaenyra's marriage to Daemon. It could have also shed light on Rhaenyra's sexuality. Overall, House of the Dragon missed an opportunity to showcase this important friendship.
House of the Dragon retells one of the many stories in George R.R. Martin's Fire & Blood, but as with any adaptation, the two versions don't look exactly the same. HBO made several changes to the story adjusting and cutting out parts as they saw fit. The result is a series that skips through the years leading up to the Targaryen civil war and drops many plot points from Martin's original story. While some of the changes benefit the story, others do it a disservice. For one thing, while the show has many different characters, few have the time they deserve. The leads, Rhaenyra (Emma D'Arcy), Alicent (Olivia Cooke), Daemon (Matt Smith), and Viserys (Paddy Considine), are explored in depth, but the secondary characters are often forgotten. For example, Laena Velaryon (Nanna Blondell) often appears but does very little. Many of the skipped plot points involve Laena, from her willful ways as a child to her claiming the dragon Vhagar.
Certainly, the show needed to make cuts, but one thing that shouldn't have been ignored is Laena's friendship with Rhaenyra. In the book, these two women were close in the years following their marriages, often spending time together along with Daemon and betrothing their children from a young age. While the series focuses on female friendship, it cuts this one out completely when Laena and Rhaenyra's closeness could tie in with the theme and add more drama between Alicent and Rhaenyra. This relationship would also give Laena a more substantial part and provide more of a reason for Laena's family to feel betrayed by Rhaenyra and Daemon's hasty marriage. Yet the series removes the storyline, hardly letting Laena and Rhaenyra speak to each other.
'House of the Dragon' Cut Laena and Rhaenyra's Close Relationship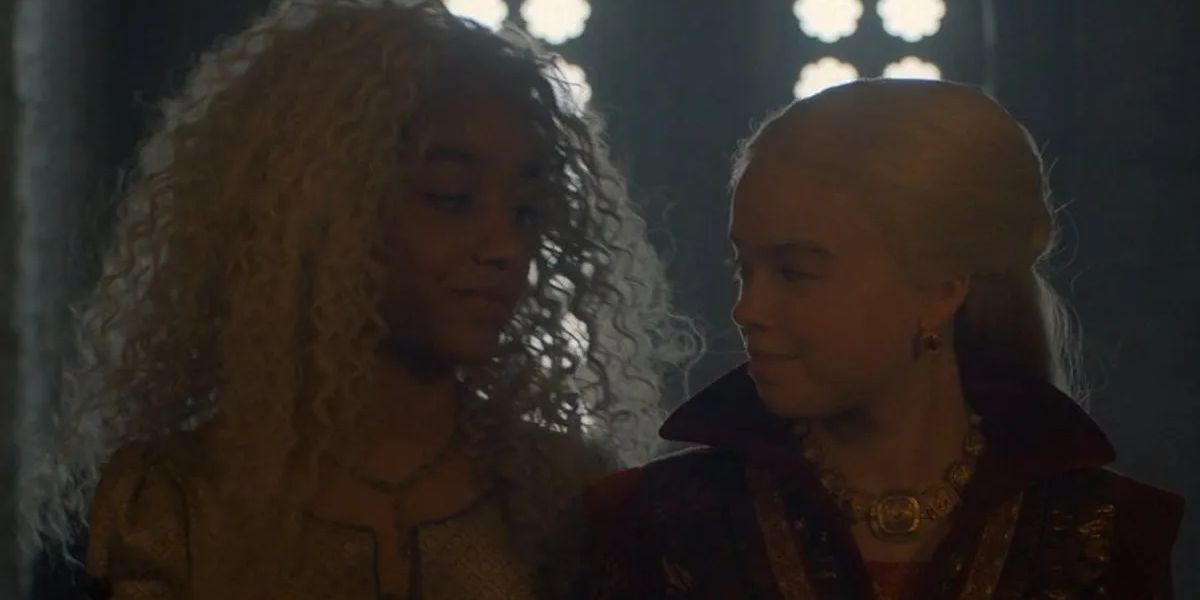 Although Laena isn't a large part of the show, she and Rhaenyra are connected in many ways. First, her mother, Rhaenys (Eve Best), is a Targaryen and the cousin of both Rhaenyra's parents. Rhaenyra also marries Laena's brother, Laenor (John MacMillan), making at least three different ways these women are related, which isn't uncommon for Targaryens. Daemon married both women at different times, connecting them even more closely. With their children betrothed and Rhaenyra seemingly a loving stepmother to Laena's daughters, it is impossible to deny that these two are innately tied together, though they share precious little screen time.
But Fire & Blood shows their relationship to be more than blood or marriage. They were close, and in the years after their marriages, they often spent time together, along with Daemon. Though the show has Laena's daughters and Rhaenyra's sons betrothed, this is agreed on after Laena's death with Rhaenys making the deal, while Fire & Blood includes it long before with Laena's approval, though as the mother, she didn't get to make the choice herself. Though, even in Fire & Blood, Laena and Daemon spent time in Essos after their wedding, they didn't live there nearly so long, moving to Driftmark when their daughters were born, which is only a short dragon ride away from Dragonstone. There, Rhaenyra often visited, fostering this friendship. The show changes Laena's death, making it fast as she takes control of the situation. Yet, in the book, it lasted for days, and Rhaenyra was present, even bringing her Maester from Dragonstone in a desperate hope of saving her friend. As the show includes so many time jumps, it was impossible to portray this friendship, to the detriment of Laena's character.
Laena's Friendship With Rhaenyra Would Fit 'House of the Dragon's Story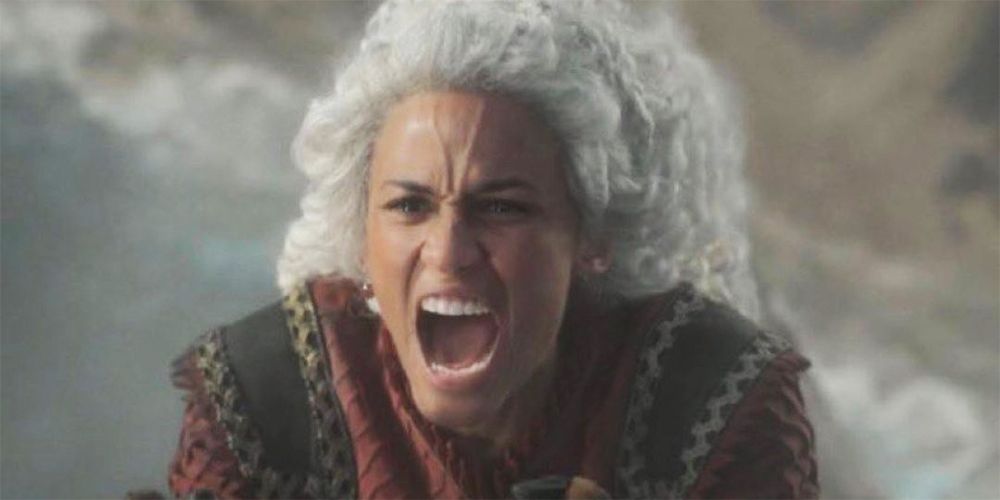 What's so interesting about cutting this friendship is that it could have benefited the show. House of the Dragon added focus on female relationships by making Alicent and Rhaenyra friends before they fall out and become rivals. Laena's relationship with Rhaenyra could have been placed perfectly as a replacement for the princess's friendship with Alicent, sparking even more jealousy between the two. The rocky dynamic of Alicent and Rhaenyra drives the series as they turn their families into enemies, which leads to an all-out war for Westeros. If Rhaenyra developed a new friendship with her cousin and sister-in-law while Alicent was alone, it could create more resentment and continue the slow build that eventually boils over. Laena's funeral is already the scene of their most dramatic confrontation after the children of all three women get into a fight. Laena could have been a significant part of this situation. Instead, she's shoved to the side.
If the series wanted to highlight powerful women, Laena would have fit right in. She was an adventurer, uninterested in marriage in her youth, and rides the oldest living dragon. Instead, House of the Dragon shows her father, Corlys (Steve Toussaint), using her as a marriage pawn, first with Viserys and then with Daemon. Most of her scenes revolve around her unhappy relationship with Daemon, taking away the strength she has in the book. If Laena's story stayed closer to Fire & Blood, or even if she got more time in the show, she would be a more well-rounded and interesting character.
RELATED: The Most Terrifying Dragon of 'House of the Dragon' Isn't Vhagar
How Could 'House of the Dragon' Have Used This Relationship?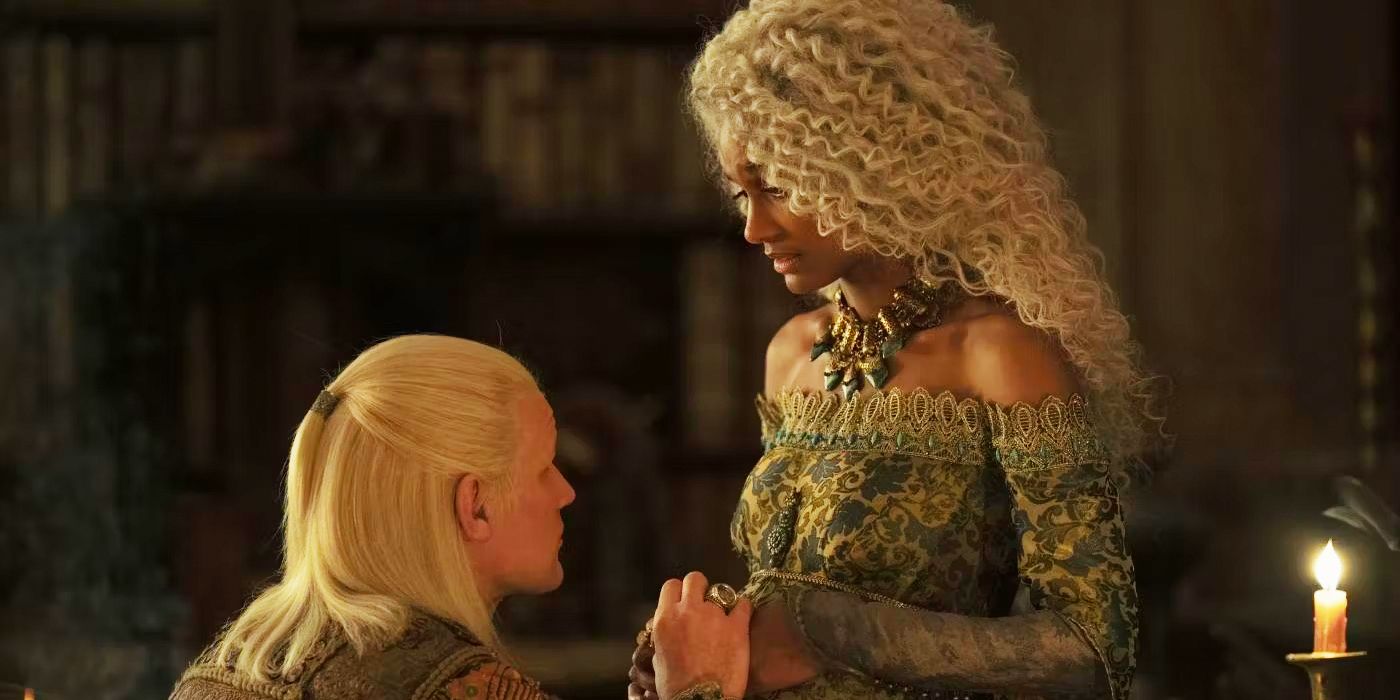 Laena and Rhaenyra's friendship could have done more than amplify the divide between Alicent and Rhaenyra. It could have helped to explain Rhaenys' betrayal by Daemon and Rhaenyra's marriage. They marry so close to Laena's passing and Laenor's (faked) death that it's already reasonable that Rhaenys would be suspicious of the union. But Rhaenyra marrying her best friend's husband would take it a step further. In Westerosi culture, it's unlikely that either would remain unmarried long after the death of a spouse. Even then, it's clear that war is coming for Rhaenyra, and she needs support, and Daemon doesn't yet have a son. Rhaenys shouldn't be surprised that they wanted to marry again, yet Laenor's sudden death gives her doubts. If there were a sense of Rhaenyra betraying her dear friend, this could make Rhaenys' reaction larger.
Less tragically, the relationship could have been used to clarify Rhaenyra's sexuality. Many suspect a romantic element to Alicent and Rhaenyra's relationship in the series, and this isn't the only time Rhaenyra is suspected to be bisexual. Though unconfirmed, some of the book's narrators hint that Laena and Rhaenyra could have been more than friends. The show could have explored a new side of Rhaenyra with this relationship while making Laena a more significant part. Whatever direction it would have gone, Laena should have gotten more time in House of the Dragon, and her already-established friendship with the show's lead would have been the perfect way to do this. If Laena had more time, the audience would be even more affected by her tragic death. But, since Laena is several years dead by the end of the season, House of the Dragon misses the opportunity to show this friendship.
on bbc news
on hindi news
on the news today
on channel 7 news
ôrf news
campo grande news ônibus
ôpera news
campo grande news greve de ônibus
l1 news horário dos ônibus
l1 news ônibus
lago azul news ônibus
news österreich
news österreich heute
news österreich aktuell
news öffentlicher dienst
news österreich corona
news öl
news österreich orf
news ö3
news österreich heute aktuell
news österreich sport
ö24 news
ölpreis news
öbb news
ösv news
österreich news krone
övp news
özil news
öffentlicher dienst news 2023
österreich promi news