Calvin and Hobbes continues to have an impact on readers decades after its ending. Telling the story of a six-year-old boy and his stuffed tiger, the strip involved everything from monstrous snowmen to strict babysitters to adventures in the woods with a sled and a dream. Every character in the strip has true development and an excellent sense of humor.
One character in particular, however, stands out from the rest. Hobbes, the lovable stuffed tiger with a big personality, always manages to leave his mark on the story. His love for tuna and hatred of bedtime make him memorable, and his best moments highlight why he's such an iconic character.
RELATED: A Complete Guide to Reading Calvin and Hobbes
10
The Faucet Incident
Calvin and Hobbes always cause chaos wherever they go, but their interactions are at their best when the two best friends are not entirely aligned. Whenever Hobbes steals the show, it's because he takes the moral high ground over his more impulsive friend. It's also because he has the wisdom that Calvin lacks.
As wise as Hobbes is, however, he also happens to be smug. It's always hilarious whenever Hobbes warns Calvin away from action, Calvin ignores him, disaster strikes, and Hobbes demands an apology. The faucet incident saw Calvin completely flood his bathroom, while Hobbes is smug all the while. It's completely hilarious and just shows why Hobbes is such a great character.
9
Tiger Food

Sometimes, it's easy to forget that Hobbes is a tiger. Given that he spends most of his time eating tuna fish and lazing in the sun, he feels like little more than a particularly precocious cat. His friendship with Calvin certainly leans into that angle. Sometimes, though, Hobbes' tiger instincts stand out.
This strip, wherein Calvin questions his purpose on Earth before Hobbes threatens to make him "tiger food", is one of those instances. Hobbes' gigantic grin shows off his ferocity, while also serving as a reminder that he still has human-like qualities. Calvin's sudden suspicions also help to heighten Hobbes' sense of accomplishment. It's a great strip that makes its point quickly and easily — just as Hobbes likes to do.
RELATED: Calvin & Hobbes 10 Most Beloved Stories
8
The Butterfly

When Hobbes isn't threatening Calvin or teasing him about Susie, he happens to be one of the more philosophically-minded characters in the strip. He strongly believes in connecting to nature, and his animal instincts compel him to believe in protecting the natural world. He even serves as an ethical check for Calvin.
So when Hobbes discovered that Calvin was caging a butterfly, he immediately set about resolving the issue with a quick comment. His outside perspective enabled him to question human beliefs, and it changed Calvin's outlook. This may not be the funniest strip, but it's an emotionally impactful one that easily resonates. It's why Calvin and Hobbes still holds up today.
7
A Big Sunny Field

Hobbes is the sort of character who understands what he wants. He never has any great need to wish for riches the way that Calvin does. Instead, he just wants an easy life filled with tuna fish and relaxation. It's a sharp contrast with Calvin, and it shows a very different way of living.
Hobbes' dedication to living the simple life is often a hilarious element, but it leaves Calvin questioning his own desires. After all, if Hobbes can be satisfied with nothing more than a big sunny field, what should Calvin hope for? It's a moment that captures the essence of childhood summer and puts it at odds with Calvin's ambitions.
6
Teaching Friendship

As much as Hobbes often goes along with Calvin's plans, one of the best parts of his character is that he's willing to put his foot down where necessary. When Calvin oversteps his boundaries, he is always happy to step up and stand his ground.
When Calvin attempts to develop a friendship contract for Hobbes, the tiger refuses. It's an excellent show of ethical determination, while also proving his deep-seated love for his friend. He wants to be Calvin's friend, no matter how much Calvin gets on his nerves. It's great, because he helps his six-year-old friend grow without being overly harsh.
RELATED: 9 Weirdest Details From Early Calvin And Hobbes Comics
5
Giving Good Advice
As much as Hobbes regularly stands up against Calvin, there are times when the human wins. One of those instances came when Calvin decided to take Hobbes sledding down a steep hill. Calvin was questioning the nature of good and evil, and Hobbes was just proving that he understands the stakes better than his friend does.
By remaining in the here and now, Hobbes actually proves that he pays more attention to reality than the overly-imaginative Calvin. His desperation to avoid impacting the tree is realistic, as is Calvin's refusal to listen to him. That he then manages to tie it back to Calvin's philosophical questions makes this one of the funniest Calvin and Hobbes strips, while also being a great moment for Hobbes.
4
Ends Justify The Means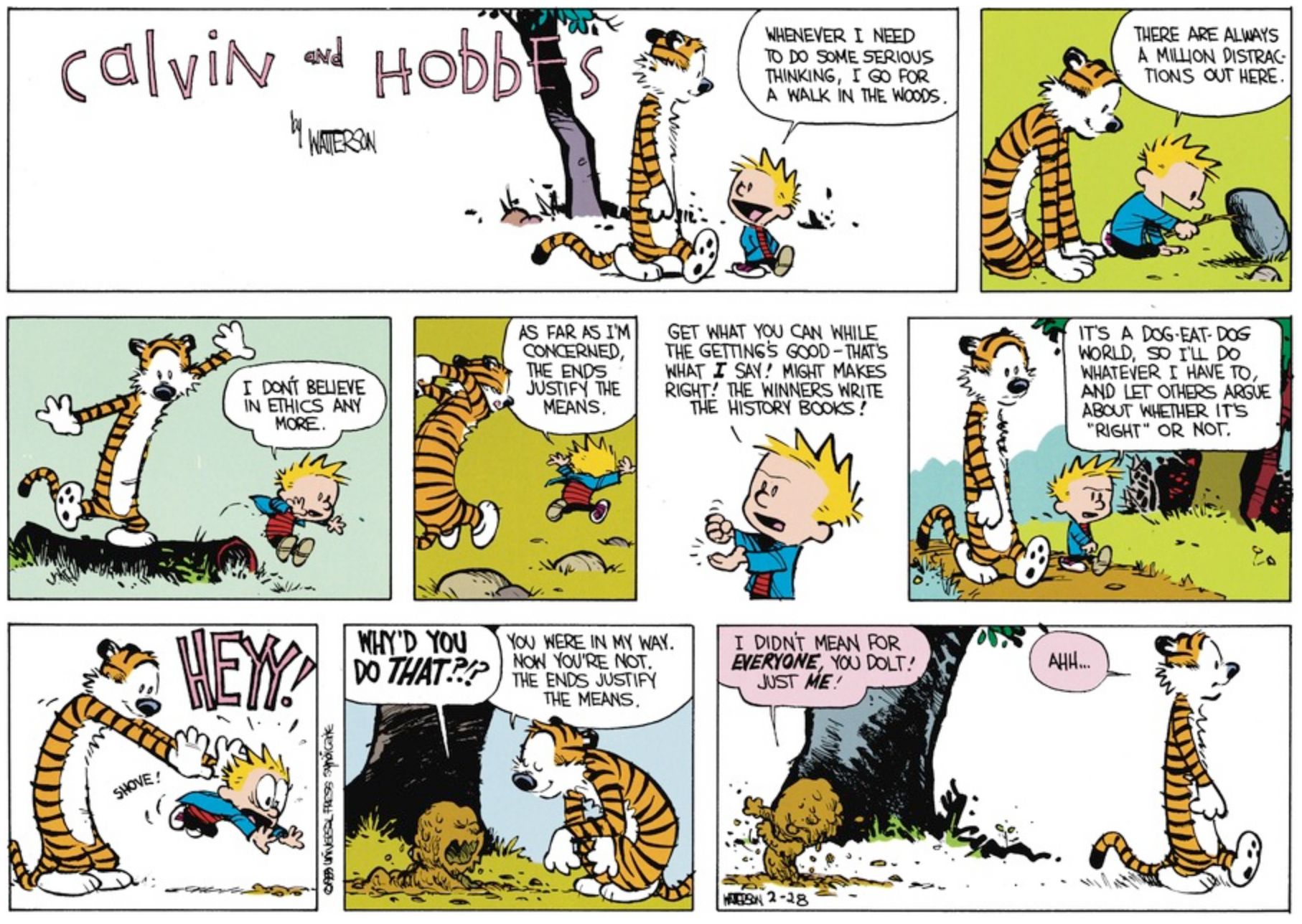 Hobbes and Calvin often have fights wherein Hobbes throws himself at his friend. They love to roughhouse together almost as much as they love to ponder philosophy. So Hobbes responding to Calvin's philosophy with roughhousing is an instant way to produce a truly clever comic strip that tackles both issues at once.
Hobbes disputes Calvin's point about life being set in a dog-eat-dog world by showing him that no one actually abides by that philosophy. When Calvin gets in his way, he doesn't just bury him in the dirt. It's a perfect way to send that message without being hamfisted about the meaning, and Hobbes was the perfect resource for Watterson to do it through.
3
The G.R.O.S.S. Smooching Meeting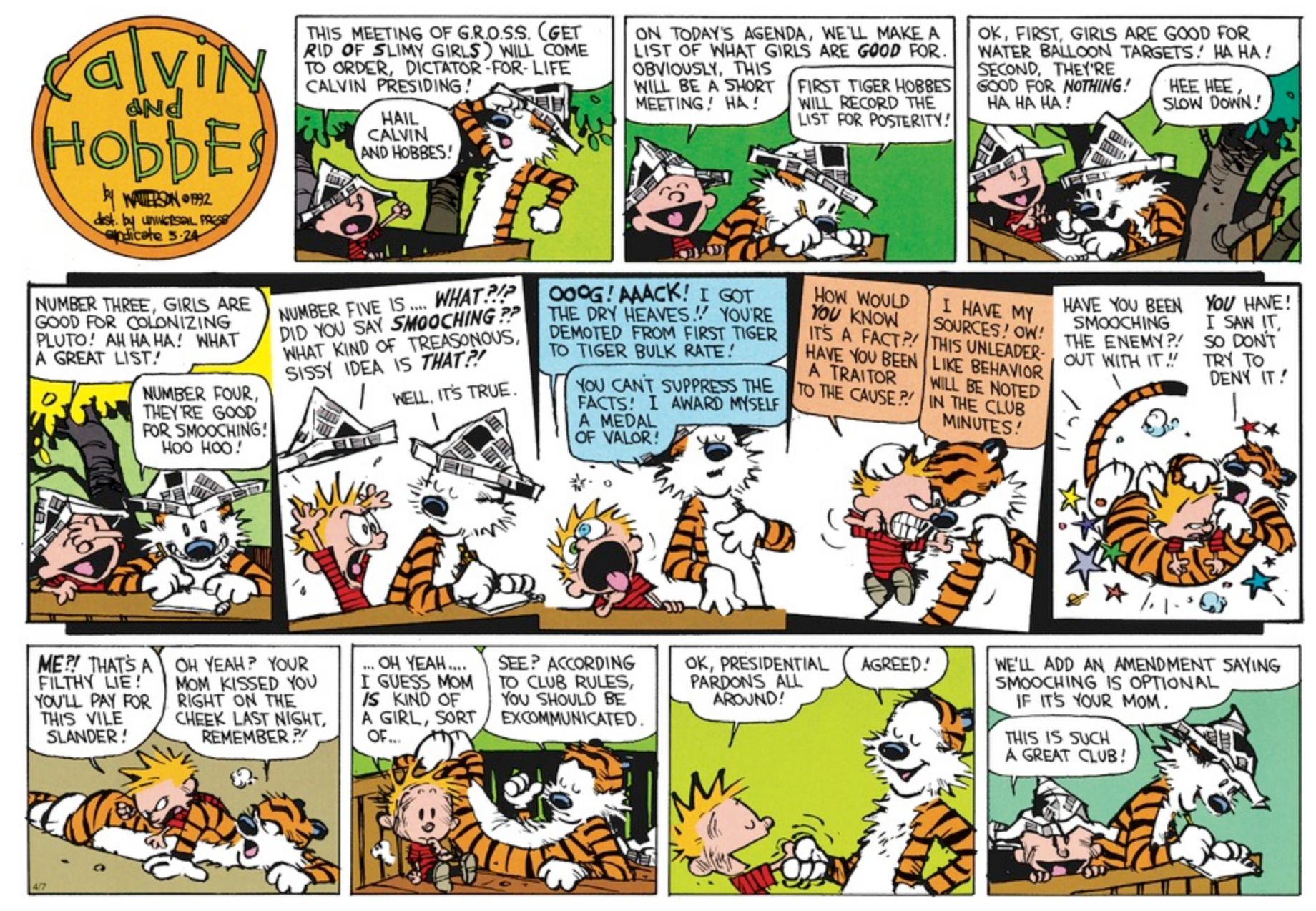 Calvin and Hobbes are at their best when they really feel like two kids exploring the woods together. That was best exemplified in the middle of their G.R.O.S.S. meeting, as they struggled with the idea of whether kissing girls should be permitted in their fort. They fight relentlessly over it before they realize that Calvin's mom kisses them both on the cheek.
It's a great moment that proves just why Calvin and Hobbes are such good friends. It also shows Hobbes' more permissive nature, while Calvin tends to be more bound by the rules. Hobbes' love for Calvin's mom also echoes through the pages, and it's a sweet moment that makes Calvin and Hobbes such a heartwarming strip.
2
Instinctual Math Skills

As the imaginary friend of a six-year-old, Hobbes is hardly going to be blowing the world away with his academic knowledge. So whenever Calvin comes to him for homework help, Hobbes is always ready to support him but his answers are never quite right. For instance, he explains the need to use calculus to solve a simple addition problem, and his answers involve eleventeen and thirty-twelve.
That alone would have been funny enough, but Hobbes' tiger pride is what throws this strip into the ranks of the best Hobbes strips. Proclaiming that natural tiger instincts help him with imaginary numbers is brilliant, and it's exactly the sort of logic that a six-year-old would have. It's also one of many moments where Calvin and Hobbes really do feel like a six-year-old talking to a stuffed tiger.
RELATED: 10 Best Calvin & Hobbes Comic Strips Of All Time
1
The Poem

Hobbes' best moment came in a strip that he barely even appears in. While Calvin lays in bed besides the stuffed version of Hobbes, Calvin hands the tiger's poem to his father for the man to read. It's a completely absurd poem about how great tigers are, compared to the rest of the animal kingdom, and it literally goes on for pages.
It's a hilarious poem that shows the brilliance of Hobbes. He doesn't even need to be active in a scene to truly leave his mark. Instead, his self-assured pride bleeds through the page and adds humor to every panel. It also shows just how much Calvin's dad puts up with in honor of respecting Calvin's stuffed tiger. It's a great moment that shows just why Hobbes is so lovable.
on bbc news
on hindi news
on the news today
on channel 7 news
ôrf news
campo grande news ônibus
ôpera news
campo grande news greve de ônibus
l1 news horário dos ônibus
l1 news ônibus
lago azul news ônibus
news österreich
news österreich heute
news österreich aktuell
news öffentlicher dienst
news österreich corona
news öl
news österreich orf
news ö3
news österreich heute aktuell
news österreich sport
ö24 news
ölpreis news
öbb news
ösv news
österreich news krone
övp news
özil news
öffentlicher dienst news 2023
österreich promi news