Summary
Heart of Stone's opening scene faced numerous weather challenges, including blizzards and extreme temperatures, making its production a daunting task.
The sequence involves multiple chases and stunts, including a daring zipline and snowmobile stunt performed by Rachel, showcasing the thought and effort put into the scene's creation.
Despite weather obstacles, the movie offers more thrilling action beyond the opening scene, such as a skydiving sequence and intense confrontations, leaving room for potential sequels with even more electrifying action.
Director Tom Harper reveals that Heart of Stone's opening scene was met with weather challenges. The Netflix movie premiered on August 11 and follows Rachel Stone (Gal Gadot), an intelligence operative seeking to prevent a hacker from obtaining a dangerous weapon known as "The Heart." In addition to Gadot, the spy thriller stars Jamie Dornan, Alia Bhatt, Sophie Okenedo, and Matthias Schweighöfer.
During an interview with TheWrap, Harper explained that before Heart of Stone began filming, there was a blizzard at one of its locations. When it came to the opening sequence, in which characters race down a mountain, the director revealed there were other complications, related to altitude and inclement temperatures. Noting the filming time, he shared: "You still get that alpine glow, which meant a lot of rehearsal, and then when the light was right everyone just went hell for leather." Read Harper's comments regarding Heart of Stone's weather challenges below:
"On our tech scout, when we went up there to look to the location with all the crew before we started shooting, it was blowing a blizzard. It was terrifying actually. It was like the apocalypse. The snow was coming in hard and fast… I remember thinking, 'I don't know how we're going to pull this off.'… There's three chases happening at the same time. You've got the cable car and you've got Rachel going down the mountain… The producers looked at each other and me like, 'Oh my God, we're insane. What on earth are we doing here?' There's a lot of things to consider. It's very dangerous up there for obvious reasons. Altitude sickness was an issue, the low temperatures. We had to have a whole team of mountain safety surrounding us."
Why Heart Of Stone's Opening Scene Is Impressive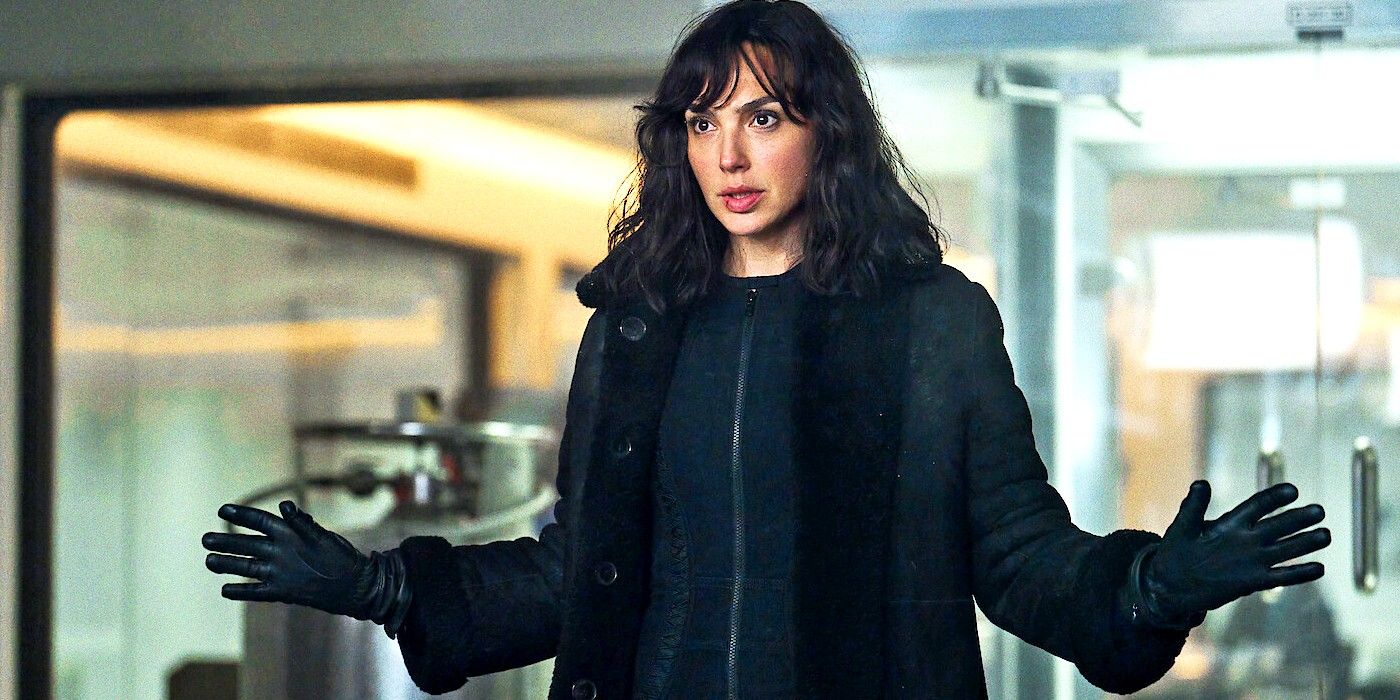 In Heart of Stone's first few minutes, Rachel and the MI6 team attempted to a remove notorious arms dealer Mulvaney from a ski lodge in the Italian Alps. However, their plan goes awry and, in an effort to reach the cable cars before Mulvaney's men, Rachel jumped over a steep ledge, utilizing both a zipline and snowmobile to get downhill. It's impressive that the entire scene got made, considering how much of a factor weather became, and Harper's comments about the filming process reveal just how much thought was behind it.
Heart of Stone's stunt coordinator Jo McLaren previously discussed the sequence with Screen Rant, revealing how fun, yet risky, shooting on the mountain was, while also making note of the freezing temperatures. Other action taking place during the opening scene involved Parker (Dornan) and Mulvaney, who faced off inside the cable car as a gunman fired at the lift. Yang (Jing Lusi) and Bailey (Paul Ready) were also speeding downward, alongside Rachel, in a regular vehicle to catch up with Parker.
Beyond its opening sequence, the movie contains a lot more excitement, including one scene where two of its characters fell from a helicopte in a high-stakes skydiving sequence reminiscent of Point Break and the recent Mission: Impossible movies. Despite the impressive stunt work, though, Heart of Stone received poor critical reception, marking Gadot's second straight critical flop with Netflix. It will be interesting to see, should a potential sequel get made, where the movie goes next and what kind of action it could involve.
Source: TheWrap
on bbc news
on hindi news
on the news today
on channel 7 news
ôrf news
campo grande news ônibus
ôpera news
campo grande news greve de ônibus
l1 news horário dos ônibus
l1 news ônibus
lago azul news ônibus
news österreich
news österreich heute
news österreich aktuell
news öffentlicher dienst
news österreich corona
news öl
news österreich orf
news ö3
news österreich heute aktuell
news österreich sport
ö24 news
ölpreis news
öbb news
ösv news
österreich news krone
övp news
özil news
öffentlicher dienst news 2023
österreich promi news