Sad news vis-a-vis playing Starfield on the Steam Deck: it runs like a slug, even on the lowest possible settings. And if you were planning to get it through PC Game Pass, that's another issue, as Game Pass games are locked down behind the fully Deck-incompatible Universal Windows Platform system. If the wonder of space depends on the it being a borderless infinity realm of endless possibilities, nobody told Microsoft.
There is a way, however, to sidestep both problems. Xbox Cloud Gaming will let you play Starfield on the Steam Deck at a steady (enough) 30fps, by streaming the game from Microsoft's cloud network direct to your screen – no Proton GE or Lutris launcher required. It still takes some setting up, but luckily, you've already clicked onto a step-by-step guide on how to do it.
Before we start, know that playing Starfield over Xbox Cloud Gaming won't have all the conveniences that come with native Steam Deck play. Or would have done, if it ran decently. The cloud gaming method might save on microSD card space, but you'll need a fast internet connection at all times, so don't expect to stream some Starfield on your next bus ride. You also can't tinker with the in-game graphics settings, so the performance you get is the performance you get.
Most importantly, your Game Pass account specifically needs to be a Game Pass Ultimate account. Even though Starfield is available to standard PC Game Pass holders, access to Xbox Cloud Gaming is currently limited to those who shell out for Ultimate. This is £13 / $17 per month, up from £8 / $10 per month for a standard account, though it naturally becomes a better deal if you end up streaming other Game Pass games on your Steam Deck besides Starfield.
If you're willing to live with these caveats, then read on for the full guide. Since it involves delving into the Deck's desktop mode, which can be fiddly without a mouse and keyboard, I'd recommend doing this with a dock or USB-C hub to connect those peripherals. Our best Steam Deck accessories guide has some good'uns.
How to play Starfield with PC Game Pass on the Steam Deck
Step 1: Hold down the Steam Deck's power button to bring up the power menu, then select "Switch to Desktop".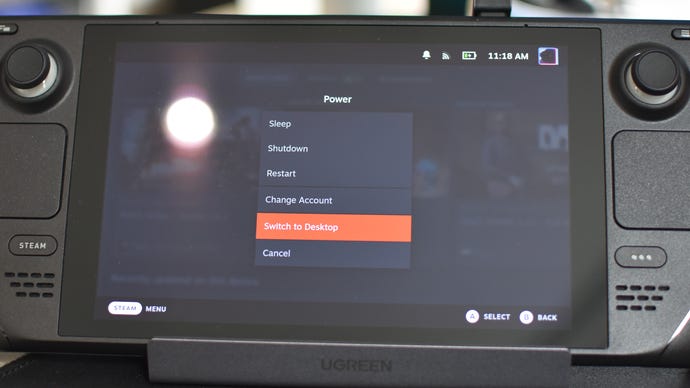 Step 2: Once you're in desktop mode, click the Discover Software Center icon in the taskbar. It's the blue shopping bag.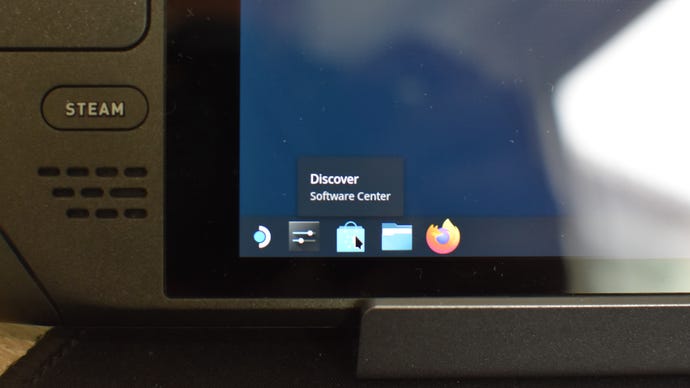 Step 3: Search for, then install, Microsoft Edge. Yes, we are installing Edge by choice. No, this will not work on other browsers, including the pre-installed Firefox. It's Edge or nowt. Don't worry, though, this won't take much actual browsing.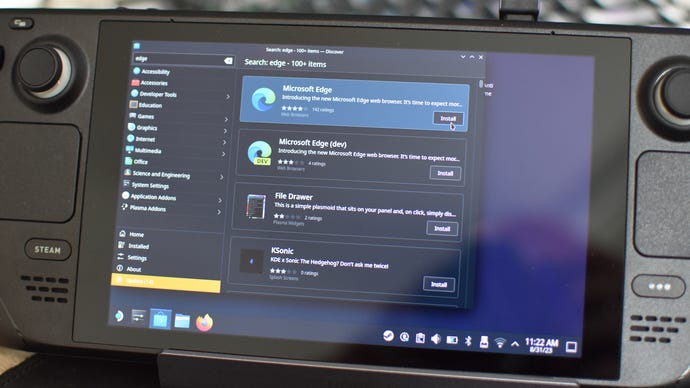 Step 4: Once Edge is installed, click the Steam Deck icon in the very bottom-left of the screen to open the Application Launcher. Click the Internet tab, then right-click on Microsoft Edge and select "Add to Steam". To make sure it does, you can launch the Steam app – still in desktop mode! – and find Microsoft Edge in your library.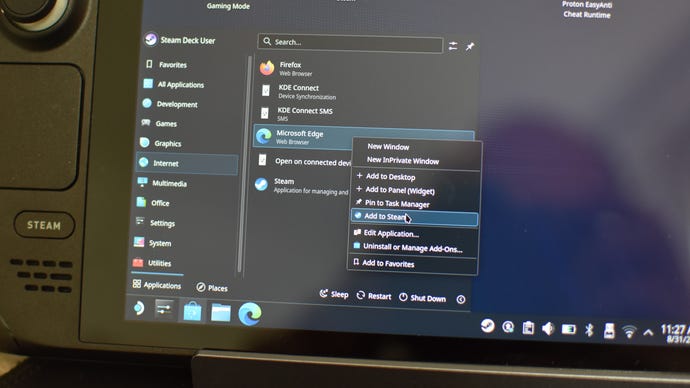 Step 5: Open the Applications Launcher again click on the System tab. From here, open Konsole.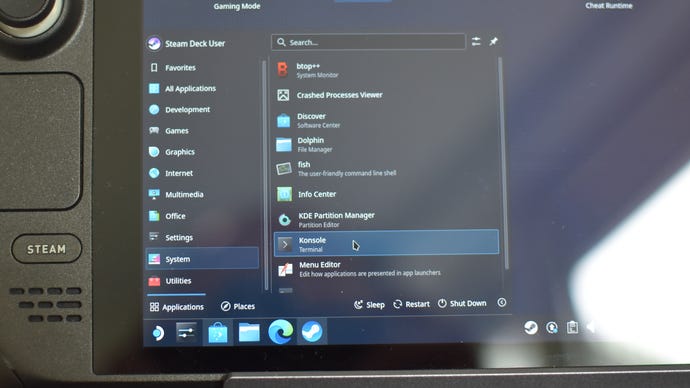 Step 6: In Konsole, type or paste the following:
flatpak –user override –filesystem=/run/udev:ro com.microsoft.Edge
Hit Enter, then close Konsole.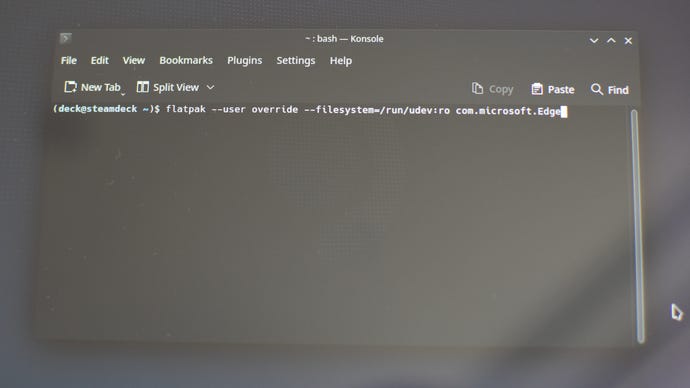 Step 7: In the Steam app, find Microsoft Edge in your library, right-click on it, and select "Properties".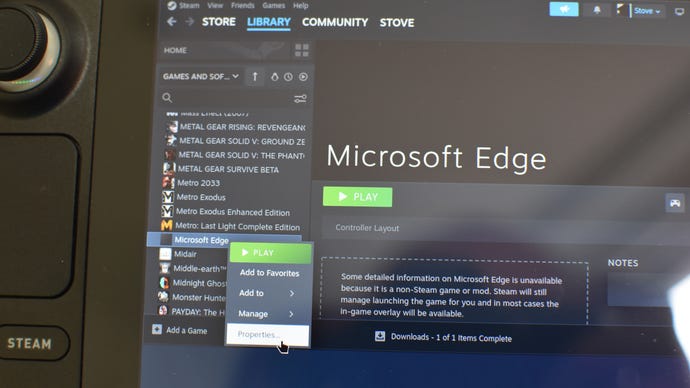 Step 8: Scroll to the end of the text jumble that's already already occupying the Launch Options field, then add a space. Then, type or paste the following, taking care not to delete any of the existing text:
–window-size=1024,640 –force-device-scale-factor=1.25 –device-scale-factor=1.25 –kiosk https://www.xbox.com/play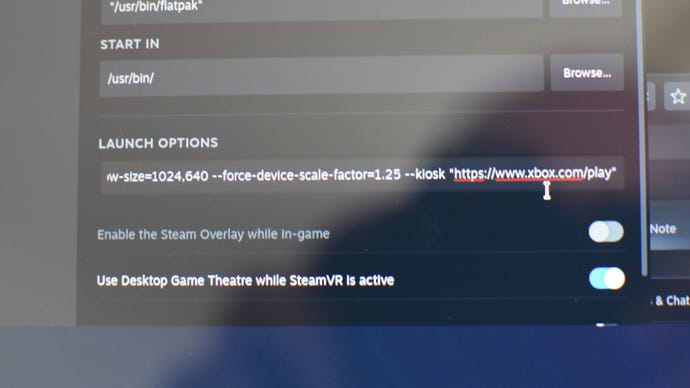 Step 9: Close the Properties window, right-click on Edge in Steam again, then select "Controller layout". Click where it says "Web Browser" at the top of the window.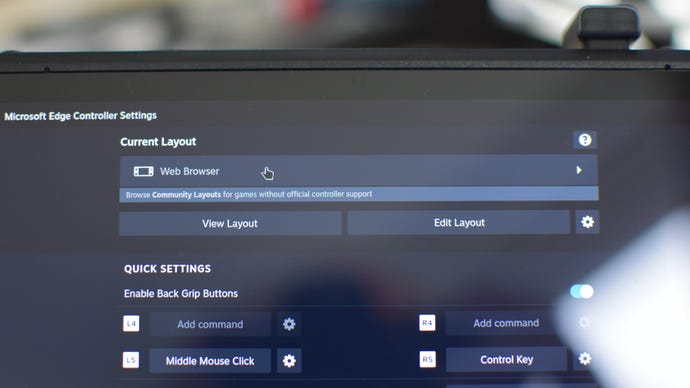 Step 10: Click "Gamepad with mouse trackpad", then "Apply layout".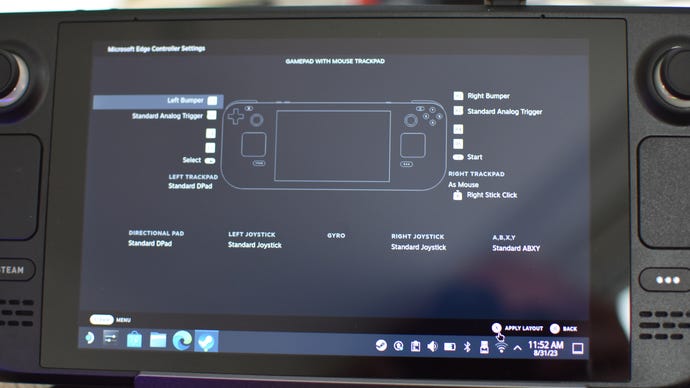 Step 11: You're basically good to go, but since launching the Edge app will not immediately launch it onto the Xbox Cloud Gaming, you can optionally rename it to something more suited to its purpose. If you want to, go back to Edge's Properties menu in Steam, delete "Microsoft Edge" in the top field and call it something like… well, why not "Xbox Cloud Gaming"?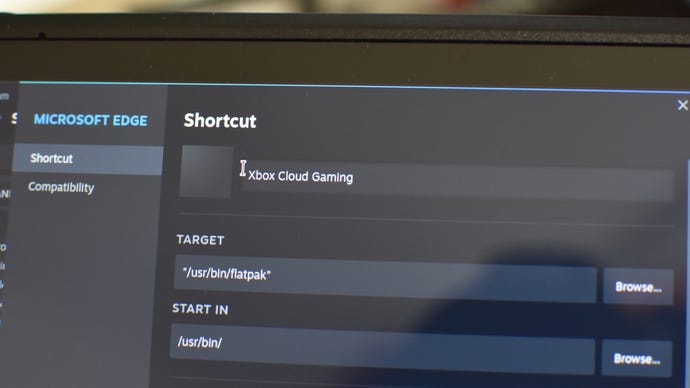 Step 12: Close the Properties menu and restart your Steam Deck back into Gaming mode. You'll find Edge, or whatever you've renamed it, in the Non-Steam Games section of your library. Launch it, and you'll find yourself right there on the Xbox Cloud Gaming homepage. Simply log into your Game Pass Ultimate account, and Starfield – or any other Game Pass game that the cloud service has to offer – is yours.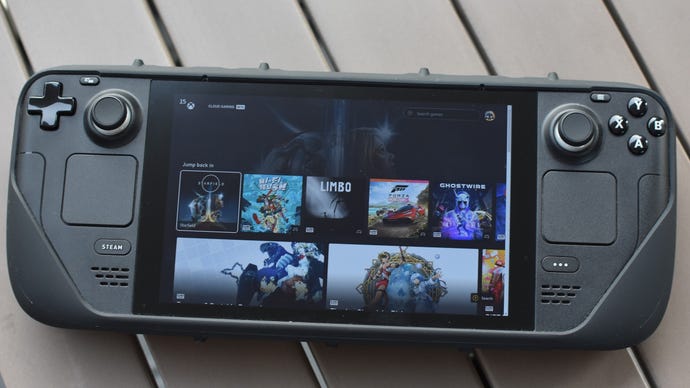 on bbc news
on hindi news
on the news today
on channel 7 news
ôrf news
campo grande news ônibus
ôpera news
campo grande news greve de ônibus
l1 news horário dos ônibus
l1 news ônibus
lago azul news ônibus
news österreich
news österreich heute
news österreich aktuell
news öffentlicher dienst
news österreich corona
news öl
news österreich orf
news ö3
news österreich heute aktuell
news österreich sport
ö24 news
ölpreis news
öbb news
ösv news
österreich news krone
övp news
özil news
öffentlicher dienst news 2023
österreich promi news