The world of keyboards has been on an interesting trajectory recently, with a trend towards maximalist designs from mainstream and boutique brands alike that pack in a huge number of features and eye-catching flourishes – many of which don't really improve the overall typing experience.
It's into this backdrop that keyboard maker Filco launches their Majestouch 3 keyboard, the long-awaited successor to the 'gold standard' keyboard of 2011 that adds PBT keycaps and media controls via the Function row. At £170/$149, this is a premium option – yet there are no real bells or whistles in sight, with a focus on the core typing experience rather than RGB lighting, hot-swappable switches, wireless connectivity or indeed any visual departures from your standard office-friendly black plastic keyboard. It's certainly the approach we'd expect from the famously conservative Japanese firm, but does it hold up in 2023?
Before we answer that, let's take a closer look at the Maj-3. Despite its pedestrian appearance, the full-size board weighs a comforting 1.4kg, far more than your average membrane keyboard, and this focus on build quality is enhanced by the new PBT keycaps. This thicker and slightly rougher material feels better to type on than the more common ABS and features double-shot legends, rather than the printed letters on the first two Majestouch keyboards that wore off over time. Combined with a more matte appearance of the case itself, and the Majestouch-3 is handsome if far from flashy.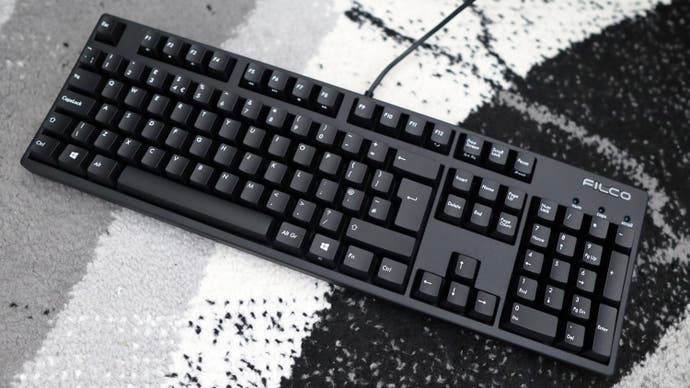 Unlike some similarly-priced keyboards we'll discuss later, the Majestouch 3 does without enthusiast-level accoutrements such as hot-swappable switches or case foam for sound dampening. Filco has decided to offer some factory-lubricated Costar stabilisers however, in the name of reducing rattle on the larger keys like space and enter. This works well, although there is some ping on the space bar if you push down harder. The lack of a hot-swappable PCB is a bit of a shame if you're not a fan of Cherry MX Brown, Blue or Silent Red switches. As much as they may get a bit of hate from the community, I opted for Browns in the name of offering a snappy yet soft tactile typing experience.
In day-to-day use, the MX Brown switches offered their usual blend of a sharp tactile bump alongside a lighter keypress to offer an especially comfortable typing and gaming experience. At first, they can feel a tad scratchy compared to some pre-lubed equivalents, but once they're broken in, they're a lot smoother, and feel a lot more responsive. I've never had any issues in my years of using Browns in varying keyboards, and the Majestouch 3 feels suitably excellent with them in.
Interestingly, the Majestouch 3 is a better board for gaming than its predecessor, as it now supports full n-key rollover over USB (meaning the keyboard can correctly register any combination of keys being pressed at once, compared to many non-mechanicals which can struggle with as few as three keys being pressed at the same time). The Maj-2 maxed out a six simulataneous keys over USB, although anyone still using the legacy PS/2 connector could reach the full NKRO.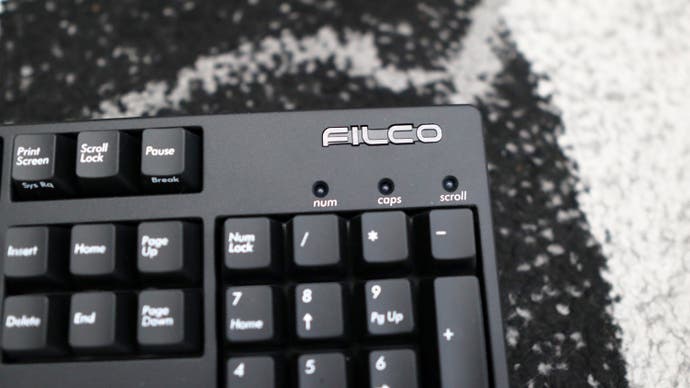 The Majestouch 3 comes with the addition on multimedia keys on select keys on the F-row, which is a handy upgrade over the previous generation, but otherwise features no other notable features – no RGB lighting, no software or hardware macro buttons, and certainly nothing like analogue key switches, OLED screens or volume knobs that we're seeing in a wide range of mainstream keyboards these days.
With this in mind, the Majestouch 3 is a bit of a hard sell, whether you compare to it other premium typing keyboards or feature-filled gaming models. In an ever changing world of mechanical keyboards, £170 for a keyboard that offers only modest upgrades over its predecessor seems a little over the top.
For context, Keychron's wired Q1 keyboard offers a great typing experience and a long feature list – including hot-swappable switches, an entirely aluminium case, and the joys of a multi function knob for £164, while wireless Pro model is £169. For a more basic typist's keyboard, there are a slew of options from Ducky in varying colour combinations with a variety of Cherry MX switches at a similar price. For instance, the DF-recommended Ducky One 3 in a full-size Matcha configuration is £135.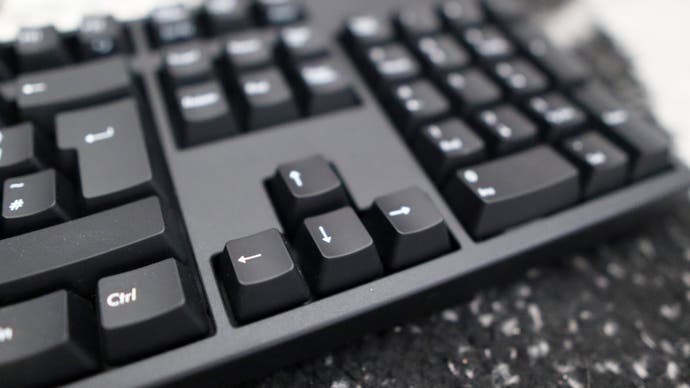 For the gamers in the audience, the DF-recommended Corsair K100 (with MX Speed switches) is £156 at the time of writing and offers basically every gaming feature available, while the full size Logitech G915 Lightspeed is stylish, powerful and £180. It may be a little more expensive, but brings with it more features, including low profile switches, some excellent wireless connectivity, and a magnesium alloy top plate that looks great, too. It doesn't really matter whichever way you cut it, the Majestouch 3 is an expensive keyboard.
So, who is this really designed for? Well, that's a bit of a tough question. Of course, first and foremost, it's for those who want a no-frills mechanical keyboard that's well made, offers an excellent typing experience, and little else. This is, first and foremost, a typist's keyboard. However, what seems odd also is that Filco's own last generation, the Majestouch 2 is available for £120/£125 depending upon layout, and gives you 95 percent of the feature set, albeit without full NKRO over USB and with cheaper ABS keycaps, for a much lower price. If you so choose, you can also get it with side-printed keycaps for an extra price, or in other colour combinations, such as pink, white and green, even with a skull case. For those people, they may choose to stick with the older keyboard.
If you've got the luxury of having a sizeable keyboard budget and desire one of the most reliable models money can buy, then the Filco Majestouch 3 is a dependable option that provides some nice improvements over its legendary predecessor – especially in the US where its price is slightly more reasonable. However, for almost everyone else there are cheaper alternatives that offer its best features – and equally pricey options that go far beyond what Filco is delivering here. That puts the Majestouch 3 in a tough position, and even though I loved using this keyboard it's hard to see it gaining even niche adoption.

on bbc news
on hindi news
on the news today
on channel 7 news
ôrf news
campo grande news ônibus
ôpera news
campo grande news greve de ônibus
l1 news horário dos ônibus
l1 news ônibus
lago azul news ônibus
news österreich
news österreich heute
news österreich aktuell
news öffentlicher dienst
news österreich corona
news öl
news österreich orf
news ö3
news österreich heute aktuell
news österreich sport
ö24 news
ölpreis news
öbb news
ösv news
österreich news krone
övp news
özil news
öffentlicher dienst news 2023
österreich promi news