Summary
Point Lookout is one of the best expansions for Fallout 3, taking players to a creepy new area with cultists, serial killers, and Lovecraftian horrors.
The expansion features a sizable open-world area with its own side quests and opportunities for exploration, adding to the immersive experience.
Point Lookout has a haunting setting and atmosphere, with unsettling environments, terrifying foes, and a sense of dread throughout, transforming Fallout 3 into a horror game.
Fans of Fallout 3 already know that the game's list of downloadable content is a mixed bag in terms of quality. Some expansions amounted to little more than drawn-out shooting galleries while the controversial Broken Steel add-on locked the game's true ending behind a paywall. On the other hand, Fallout 3's best expansions ventured into unexplored parts of the post-apocalyptic wasteland, often leading to creative stories that couldn't exist in any other setting. No other expansion demonstrates this better than Point Lookout.
Set in a settlement of the same name, Point Lookout takes players to a creepy new area that hosts cultists, serial killers, and Lovecraftian horrors. Unlike the other add-ons for Fallout 3, Point Lookout features a sizable open-world area, complete with its own side quests and opportunities for exploration. Although it features Fallout's signature blend of dark comedy and occasional shootouts, the expansion's unsettling environments and terrifyingly tough foes create a uniquely tense experience that became one of the best parts of Fallout 3.
RELATED: What Other Games Can Learn From Cyberpunk 2077's Leveling System
Point Lookout Delivers Intriguing Mysteries Within a Haunting Setting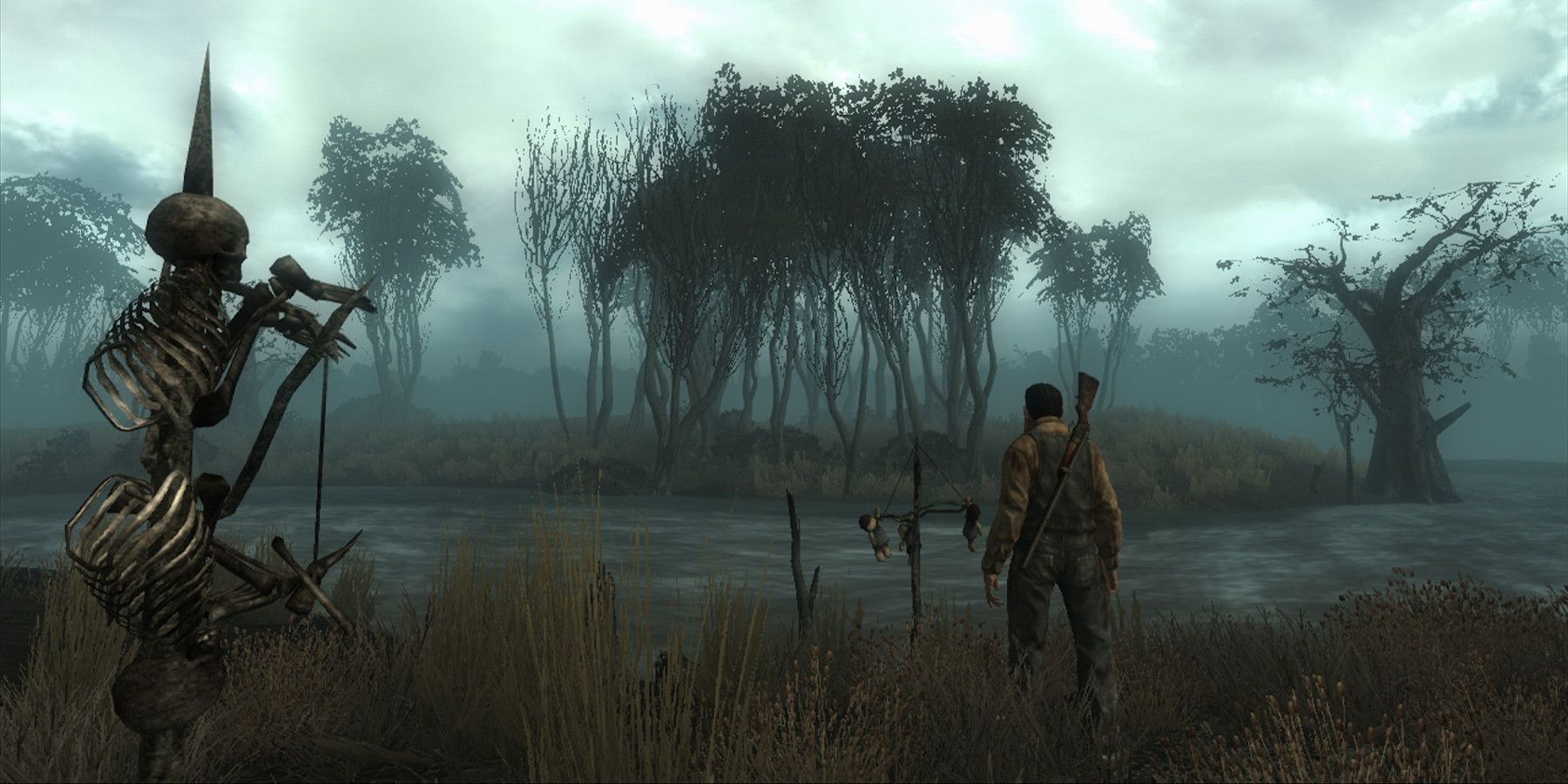 Point Lookout begins with players boarding a riverboat to the titular region in search of a missing woman. However, what starts as a simple rescue mission quickly leads players into joining a mysterious cult and winding up in the middle of a 200-year feud between former spy Desmond Lockheart and his nemesis, Professor Calvert. The expansion's main story doesn't take long to complete and lacks choices apart from a few different endings, but it features enough twists and entertainingly wicked characters to keep players engaged for a few hours.
The real star of Point Lookout is its newly added area. Immediately upon entering the new map, players will find themselves on a long-abandoned boardwalk that contains various offices and warehouses, a boarded-up motel, and dilapidated attractions like a bumper cart arena and a Ferris wheel. However, taking the time to explore these locations will gradually unveil multiple mysteries relating to Point Lookout's past. One room in the motel contains human remains from a bloody ritual, with some clues suggesting that the grisly scene was the work of a serial killer. Players can also stumble upon records related to Wan Yang, a pre-war spy who operated in Point Lookout, leading to a quest line that involves unraveling the tale behind her doomed mission and following the trail to the location of a hidden bunker.
Outside the boardwalk, Point Lookout contains hostile swamplands occupied by mutated hillbillies, radioactive ghouls, and a few other types of creatures. While this part of the map may not be as scenic or densely packed as its entrance, there's still plenty to discover among its decaying trees and irradiated waters. Throughout the journey through Point Lookout, players can discover a shipwrecked vessel that once served as the base for a shady research expedition, the remains of a military-owned detention camp, and even rituals conducted for an eldritch deity known as Ug-Qualtoth.
From the horrendous acts of the pre-war era to the sinister practices that continue in the most hidden corners of the region, every mystery in Point Lookout sheds light on the settlement's tragic history. Players rarely see events as they unfold, instead spending most quests investigating the aftermath of long-forgotten conflicts. While this often leaves players feeling separated from the characters and incidents that define the setting (especially since most of these stories are delivered through data logs) the process of slowly unveiling these truths can be just as intriguing as some of Fallout 3's best quests. Point Lookout may be a small part of the series' expansive world, but it's still capable of captivating players with its seemingly endless rabbit hole of horrific secrets.
RELATED: Starfield's Setting is Its Greatest Strength
This approach to storytelling wasn't new for the Fallout series. Plenty of major locations throughout each game feature computer terminals or environmental clues that answer how they met their downfall. On a broader scale, the wasteland of every Fallout game illustrates how the mistakes of the past can leave lasting repercussions for the future. However, Point Lookout brought this theme to a setting that hadn't been fully devastated by nuclear fallout. The region wasn't directly impacted by bombs, but instead brought to its knees by the greed and malice of its residents (along with some radiation-induced decay). Because of this, most of its buildings and landmarks are still standing even centuries after the war that nearly destroyed Fallout's world, but this only makes the crimes of Point Lookout's past even clearer.
In many ways, Point Lookout's story stands out from other Fallout tales. It isn't a dramatic depiction of society's reformation or a send-up to the franchise's retro sci-fi inspirations. Instead, Point Lookout delivers a quiet and atmospheric autopsy of its own desolate setting. It explores how a region that miraculously survived the apocalypse ultimately became a monument to the atrocities of its past and present, somehow ending up worse than cities that had been reduced to rubble. Whereas Fallout often portrays humanity's struggles and efforts to rebuild the future, Point Lookout is a glimpse into a small part of the world that lost all hope of restoration.
RELATED: The Philosophy of Video Games: Final Fantasy 9 Was About Making Peace With Mortality
Point Lookout Transforms Fallout 3 Into a Horror Game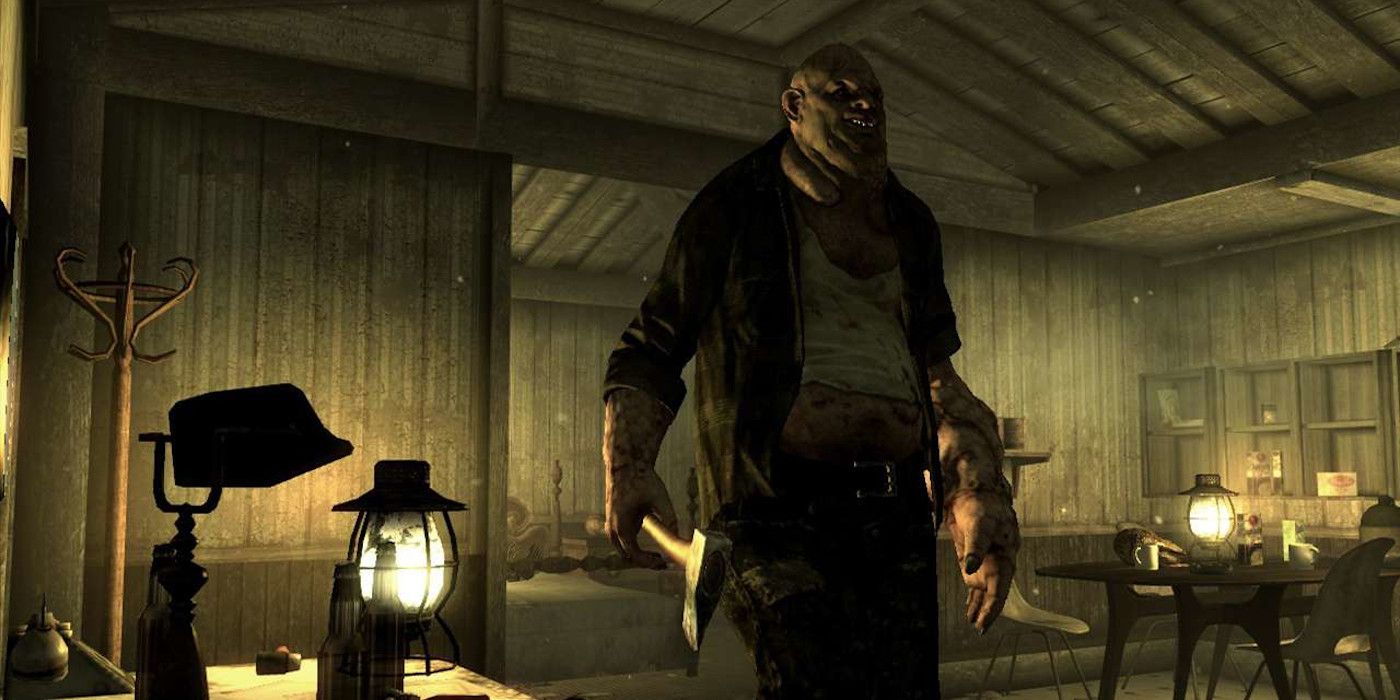 Apart from its subtle storytelling, Point Lookout is best remembered for its tense atmosphere. While this isn't obvious at first, as the boardwalk and motel seem like many of Fallout's other abandoned locations, the swamplands are one of the unsettling areas in the series. The entire region is shrouded in a thick layer of fog, leaving nothing but the towering silhouettes of dying trees to be visible from a distance. Scattered throughout the swamp are dolls hung from trees or impaled on wooden spikes, hinting towards the presence of the local rituals. The sense of unease that these visuals evoke is only reinforced by the foreboding, melancholic instrumentals that accompany the moments of calm. The swamps of Point Lookout are equal parts disturbing and disorienting, permeating Point Lookout with a creepy, almost dreamlike atmosphere that's easy to get lost in.
Point Lookout's horror wouldn't be as effective without the intimidating threats that populate its surface. Within the foggy swamps resides an intimidating new type of enemy known as the swampfolk, a group of mutated humans that will attack outsiders on sight. They appear in a variety of forms, with some wielding powerful firearms while others outclass deathclaws in their raw strength. Each of them can prove to be a genuinely fearsome foe, and their tendency to hide in the fog or ambush the player in groups gives exploration a constant source of tension. Additionally, the expansion takes plenty of opportunities to surprise the player by placing explosive traps in seemingly innocuous areas or spawning hordes of enemies out of nowhere.
RELATED: What Makes A Great Video Game NPC (& Why They Matter)
Fallout is full of similarly harsh and violent places, but the horror of Point Lookout makes it clear that every part of the region — from its inhabitants to the environment itself — serves to keep its existence hidden and its secrets buried. It transforms Fallout 3's immersive world and freedom of exploration into a surprisingly effective tool for creating suspense and terror. There's still an undeniable excitement that comes with finding a new location or pursuing one of the many mysteries, but Point Lookout's haunting environments and intimidating foes lend an underlying sense of dread to each discovery.
Fallout has occasionally experimented with macabre concepts and spooky settings on multiple instances, but Point Lookout was the closest the series had ever come to fully embracing its horror elements. The expansion features everything that fans loved about Fallout 3 with its open-ended environments, satisfying new weapons, and memorable quests, while still taking the series into excitingly scary new territory. For those who wanted to see a darker side of Fallout or simply hoped for more of the same, Point Lookout managed to satisfy both crowds. It's one of the best additions to the Fallout franchise and a thrilling horror experience in its own right.
on bbc news
on hindi news
on the news today
on channel 7 news
ôrf news
campo grande news ônibus
ôpera news
campo grande news greve de ônibus
l1 news horário dos ônibus
l1 news ônibus
lago azul news ônibus
news österreich
news österreich heute
news österreich aktuell
news öffentlicher dienst
news österreich corona
news öl
news österreich orf
news ö3
news österreich heute aktuell
news österreich sport
ö24 news
ölpreis news
öbb news
ösv news
österreich news krone
övp news
özil news
öffentlicher dienst news 2023
österreich promi news