This article contains historical images of racial caricatures. George Herriman was a Black cartoonist but that doesn't lessen the impact his work had on others.
Often viewed as one of comics' earliest masters, Krazy Kat's creator George Herriman was born in New Orleans, LA, in 1880, within spitting distance of the end of the American Civil War. However, in 1890, his family took a life-changing trip across the country to California. In the process, the Herriman family took advantage of the era's poor record-keeping and changed some of the facts surrounding their lives. These changes had a huge effect on young George; they opened up his future and gave the comic medium a true genius.
George Herriman went on to have a sterling career, marked by artistic and financial success, and changing the comic medium. However, if Herriman had played by the twisted rules of his era, none of this could have happened. He and his family made difficult choices and George Herriman was able to live the life of his dreams, but only by leaving his family and heritage in New Orleans far behind him.
RELATED: 10 Things Fans Don't Know About The Mutt And Jeff Comic Strip
10
Herriman Was (Secretly) Comics' First Major Black Creator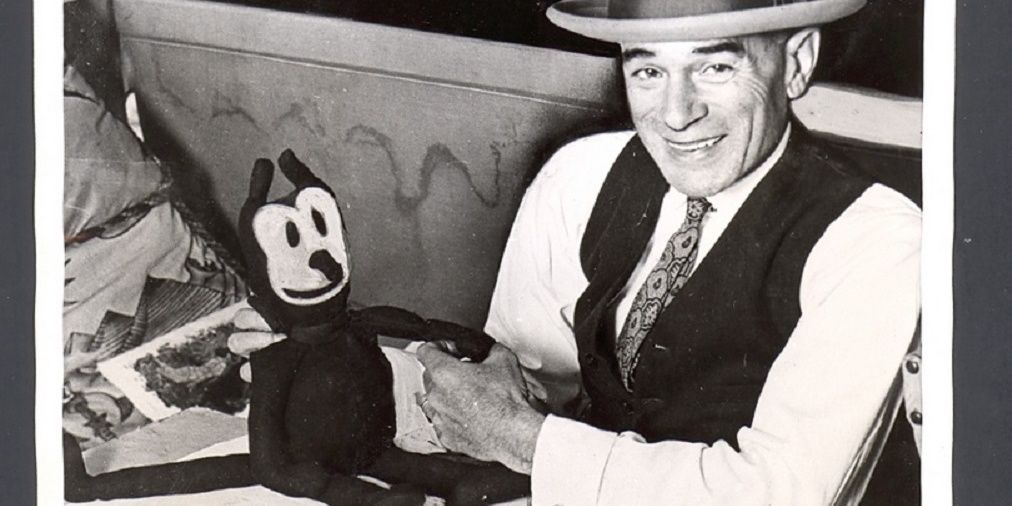 While George Herriman's birth certificate listed him as Black, when his family moved across the country when he was ten, they made a big decision on his behalf. The light-skinned Herriman family began to pass as white, possibly French or Greek, and every subsequent census recorded their new identity.
While self-identified Black cartoonists like Wilbert Holloway and Jay Jackson emerged in the 1920s and '30s, Herriman's comic strip career began in 1902. Even Herriman's most influential creation, Krazy Kat, premiered in 1913. Under the laws of the time, written and unwritten, he wouldn't have been able to write and draw for major outlets like the Hearst Syndicate and the Pulitzer newspapers and his career never could have gotten off the ground.
9
Herriman Constantly Reinvented Himself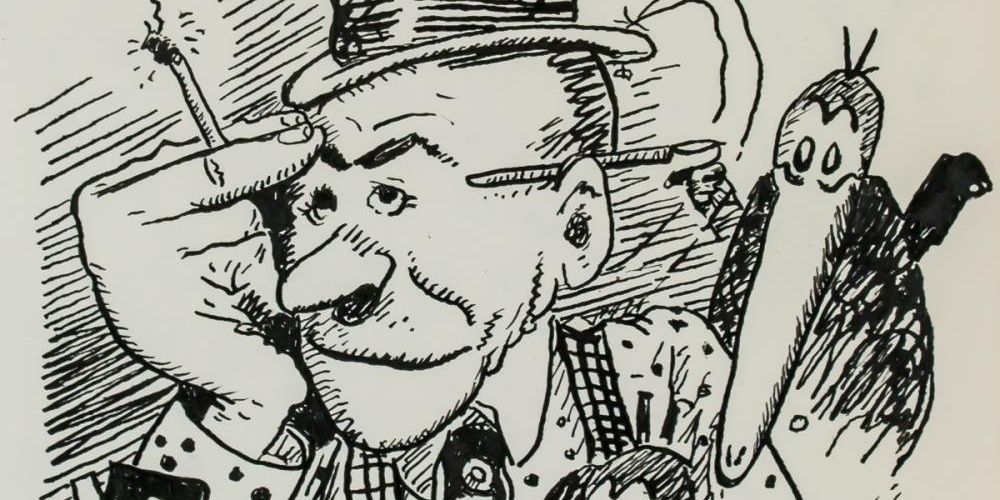 The most romanticized version of Herriman's life story involves tidbits like how he traveled across the country in a box car to get to New York City and started his career there as a Coney Island carnival barker. These facts are unsubstantiated but not impossible; that said Herriman had learned the lesson underlying his family's cross-country migration: in a new town, he could be anyone.
When Herriman began his career as a newspaper cartoonist, often illustrating and reporting sports stories, he let his colleagues define his new identity for him. His longtime friend Tad Dorgan nicknamed Herriman "The Greek," and he retained the nickname to help explain his olive skin, and wore hats to conceal his hair. He also sometimes referred to himself as 'Black Irish,' and later even claimed to have been born in France and not New Orleans.
RELATED: 10 Calvin & Hobbes Strips That'll Make You Miss Summer Vacation
8
Musical Mose, Herriman's First Comic Strip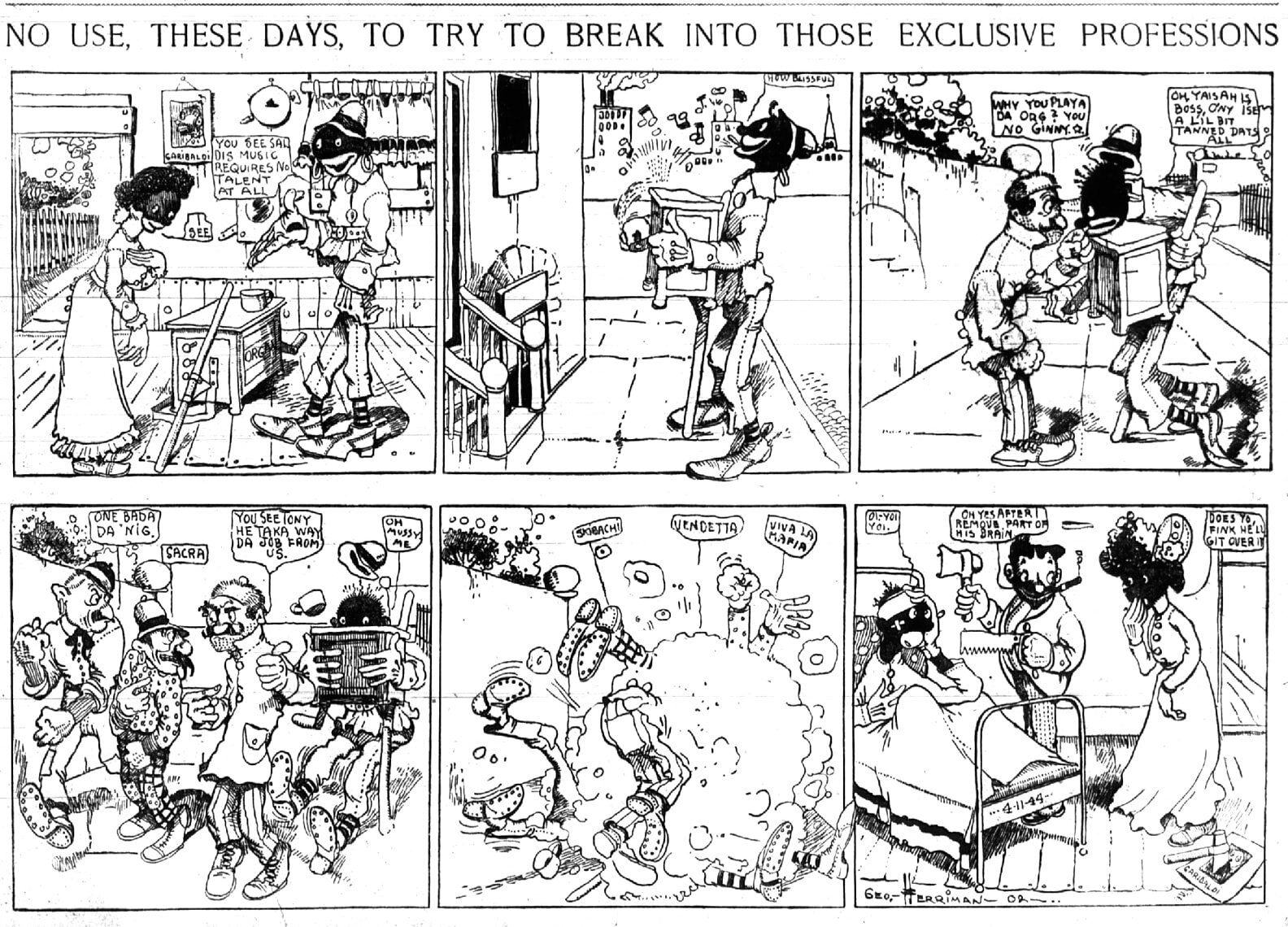 Herriman's first comic strip, Musical Mose, consisted of three strips that ran in the Pulitzer newspapers in 1902. It wasn't successful but it was significant. It wasn't just an important learning opportunity for the young cartoonist, it also established Herriman's habit of laughing at an unjust world in clandestine ways.
On the surface, Mose was invoking the racist Minstrel tradition that was, unfortunately, extremely popular at the time. However, Mose's formula, revolving around a talented Black musician who tried to impersonate various white ethnicities and was beaten for his trouble subtly mocked American racism and ignorance. It both represented the fact that Herriman was hiding in plain sight and Herriman's fears about what would happen to him if the wrong people discovered his Creole background.
7
Herriman Created At Least 24 Comic Strips

While Krazy Kat is by far George Herriman's most enduring work, he created comic strips for decades while he labored as a sports writer and political cartoonist for various publications. Krazy Kat appeared in 1913, it was preceded by titles like Acrobatic Archie, Baron Mooch, and Major Ozone's Fresh Air Crusade. Most of these titles were surprisingly one-dimensional, and of his early work, only the fantastical funny animals in Gooseberry Sprig hinted at Herriman's future.
Even though Krazy Kat was an almost incomprehensible success, Herriman continued creating new strips for 15 years after its premiere. Baron Bean and Stumble Inn were both modest successes that ran for several years. Herriman's last creation, Embarrassing Moments, was the comic strip equivalent of a fail video. It ran from 1928-1932.
6
Krazy Kat Premiered In A Different Comic

The Dingbat Family, quickly retitled The Family Upstairs, was Herriman's biggest success prior to Krazy Kat. It was a family comedy about a hapless household living in an apartment building and didn't offer many surprises until, on July 11, 1911, a mouse threw a brick at the family cat. The unlikely pair continued their adventures in a separate narrative underneath The Family Upstairs.
In 1912, Herriman sent the Dingbats on vacation and temporarily retitled the comic Krazy Kat and I. Mouse. While the comic duo weren't identical to the versions of Krazy and Ignatz Herriman's fans learned to love, they were true fan favorites. Krazy Kat itself debuted on October 28, 1913.
5
Herriman's Life In Hollywood
William Randolph Hearst was a great Herriman supporter, and he secured Krazy Kat's prestigious place at his King Features Syndicate by guaranteeing a $750-a-week salary for Herriman, big money in the lead-up to the Great Depression. When Herriman moved back to Los Angeles with his wife and daughters, they first landed in Sierra Bonita, but in 1930 they purchased a mansion on Maravilla Drive.
The house looked like something out of Herriman's Magic Mesa cartoons, incorporating the Navajo art and Spanish architecture Herriman loved. Extraordinarily, its purchase made him famed director John Huston's next-door neighbor. As a quiet-but-social animal, Herriman also spent much of his work time at the Hal Roach Studios, in his friend "Beanie" Walker's office. Working alongside other former newspapermen, he may have contributed uncredited jokes to the Our Gang and Harold Lloyd films the studio was known for at the time.
RELATED: 15 Best Comics Strips Of All Time
4
Krazy Kat's Incredible Fan Base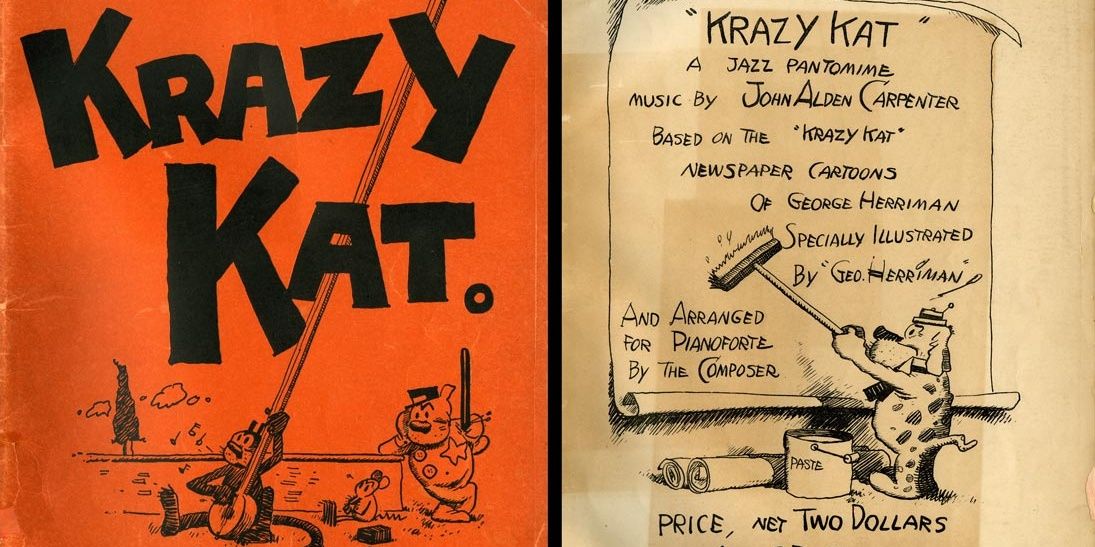 While Krazy Kat's mass popularity had petered out by 1935, it still had a vocal and powerful fan base that included William Randolph Hearst, President Woodrow Wilson, author E.B. White, and critic Gilbert Seldes. This inspired Seldes' Vanity Fair piece, "Golla, Golla, The Comic Strip's Art," probably the first piece of "serious" comics criticism ever published.
Herriman also inspired a Krazy Kat jazz ballet in 1922, and deeply influenced art and pop culture well into the 21st Century. Not only have cartoonists as diverse as Walt Kelly, Charles Schulz, Chris Ware, and R. Crumb cited him as a major influence, but even luminaries like Jim Henson loved his work. He was immortalized in comics history when the Small Press Expo named its Ignatz Awards after his antagonistic mouse in 1997.
3
Herriman Never Stopped Drawing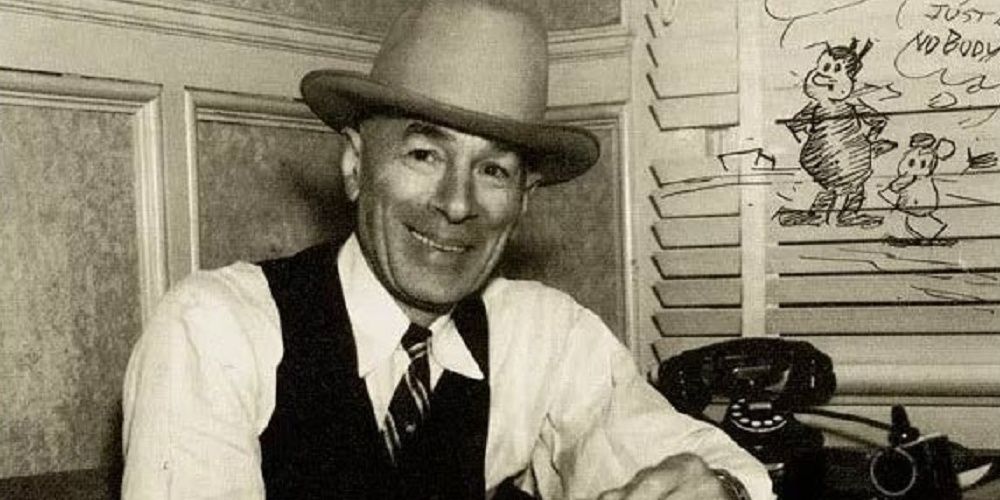 When Herriman died in 1944, there was an unfinished Sunday strip on his drafting table. It was the end of a career that spanned more than four decades. While he took a break for ten weeks in 1938, convalescing after kidney surgery, the cartoonist loved his work and it defined him. Although at the time it was considered normal for syndicates to hand off popular strips to new artists almost without a second thought, Hearst and King Features recognized that Herriman was special. Two weeks later, they worked through Herriman's backlog and ran the final Krazy Kat strip.
Even when Herriman managed to build up a large enough backlog to take a vacation, he spent his time in the Arizona mountains and Navajo country for inspiration. Herriman based much of Krazy Kat's Magic Mesa and his magical realist version of Coconino County on Monument Valley and the Enchanted Mesa. He did his best to honor them in his thousands of strips.
2
Herriman's Death Certificate Lied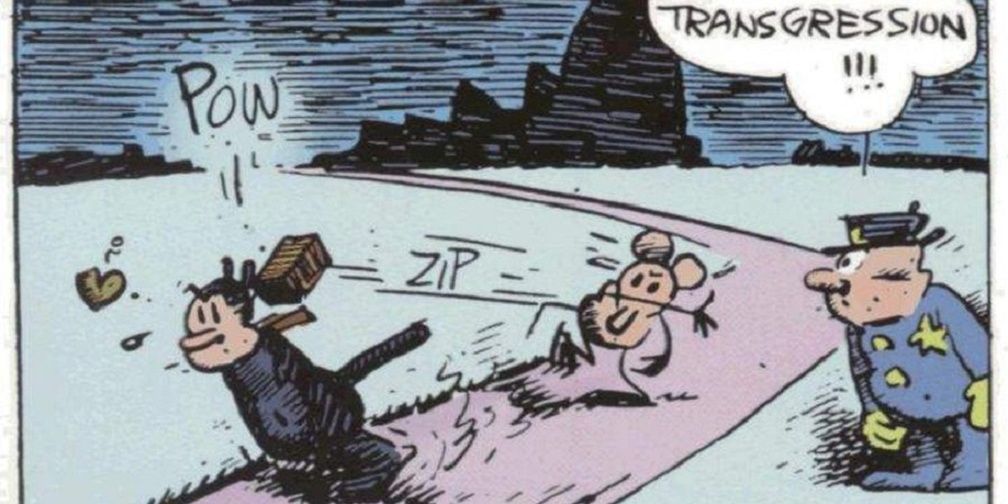 When George Herriman died, his oldest daughter Mabel made several key mistakes on his death certificate. According to her, her father was "Caucasian," and had been born in France's Alsace-Lorraine region before immigrating to the United States. It's impossible to tell what Herriman's family knew about his origins in New Orleans but it's at least possible that neither his wife nor his children knew the complicated reality underlying his background.
It's also possible that Mabel was knowingly continuing the narrative Herriman had laid the groundwork for, decades earlier. Like their father, his children had a lot to lose if they admitted their racial background in 1940s America. He may have simply decided it was easier for them to not know their secret, so they could never accidentally reveal it to anyone.
RELATED: Comics College — George Herriman
1
Herriman Fought Racism, But Also Lived With It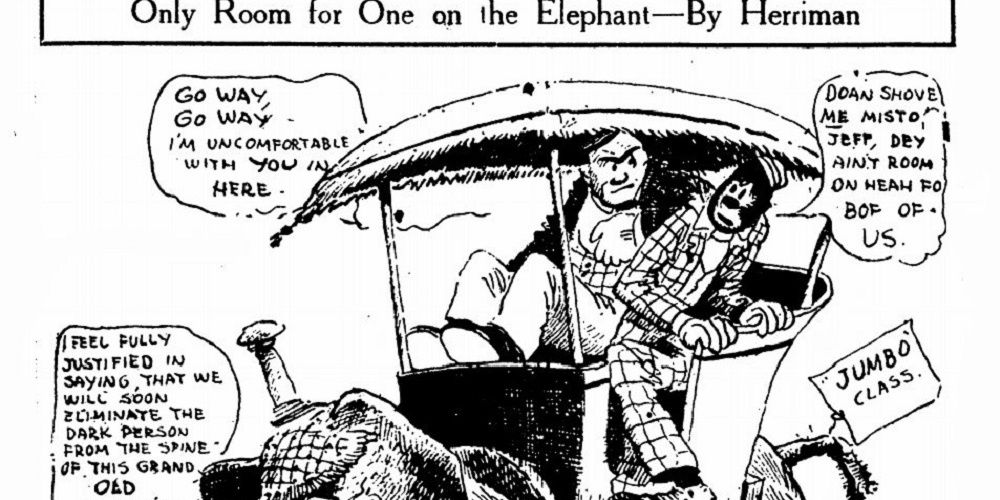 While George Herriman was hardly an activist, he still found ways to speak up for basic human rights, long before the Civil Rights Era came to pass in the US. In addition to Musical Mose, Herriman also managed to play with race in his other strips, including Krazy Kat. The fact that his angelic, nonbinary, little black cat faced unreasoning hatred from a white mouse wasn't lost on at least some readers, and if he sometimes switched their color schemes, that quietly raised a few eyebrows as well.
Even as early as 1910, Herriman made his mark as a sports cartoonist by commenting on the upcoming boxing match between the white World Heavyweight Champion, Jim Jeffries, and his Black challenger, Jack Johnson. While many sports cartoonists were happy to caricature Johnson as a Minstrel character, Herriman set his sights on Jeffries as a coward who hid behind the color line that protected his heavyweight title. Unfortunately, Herriman was trapped by the cartooning conventions of his time, and his depictions of Black boxers were still rooted in racial stereotypes. Herriman's racial background complicates this discussion but it doesn't absolve Herriman of wrongdoing here. He was an artistic genius but he was still living inside a corrupt system's rules. He had a strong desire to make people uncomfortable but he didn't want to threaten his family's livelihood.
on bbc news
on hindi news
on the news today
on channel 7 news
ôrf news
campo grande news ônibus
ôpera news
campo grande news greve de ônibus
l1 news horário dos ônibus
l1 news ônibus
lago azul news ônibus
news österreich
news österreich heute
news österreich aktuell
news öffentlicher dienst
news österreich corona
news öl
news österreich orf
news ö3
news österreich heute aktuell
news österreich sport
ö24 news
ölpreis news
öbb news
ösv news
österreich news krone
övp news
özil news
öffentlicher dienst news 2023
österreich promi news