US author and artist Bill Willingham has rather dramatically announced that he is placing the Fables comicbook property in the public domain, including all Fables spin-offs and characters. This means that – pending a judgement from third-party legal experts, anyway – anyone can now create art of any kind set in the Fables universe. "What was once wholly owned by Bill Willingham is now owned by everyone, for all time," the author wrote on his Substack. "It's done, and as most experts will tell you, once done it cannot be undone. Take-backs are neither contemplated nor possible."

You might recognise Fables as the universe in which Telltale's The Wolf Among Us is set. It's a grubby noir fairytale world in which bedtime story characters like Snow White and Prince Charming live discreetly among regular humans, aka Mundies, having been driven from their homelands by a mysterious Adversary. I confess I've not read any of the original comics – I've only ever played the Telltale adaptation, which I enjoyed. I feel guilty about that in hindsight, because Willingham seems to have a pretty dim view of Telltale's work, though that's partly to do with what he considers to be his longstanding unfair treatment by Fables publisher DC Comics.

In an extended account, Willingham discusses various conflicts that arose during his 20 years of working with DC Comics. Some of these were "smaller matters", like neglecting to ask his opinion on artists for new stories, and late reporting or under-reporting of royalty payments to Willingham. But in recent years, the author feels that DC Comics have been trying "to strong arm the ownership of Fables from me", describing how (in his view) legal negotiators have attempted to subtly recast Fables as DC's own property during contract discussions for new comicbook issues to mark the setting's 20th anniversary.

"More recently, during talks to try to work out our many differences, DC officers admitted that their interpretation of our publishing agreement, and the following media rights agreement, is that they could do whatever they wanted with the property," he writes.

"They could change stories or characters in any way they wanted. They had no obligation whatsoever to protect the integrity and value of the IP, either from themselves, or from third parties (Telltale Games, for instance) who want to radically alter the characters, settings, history and premises of the story (I've seen the script they tried to hide from me for a couple of years). Nor did they owe me any money for licensing the Fables rights to third parties, since such a license wasn't anticipated in our original publishing agreement."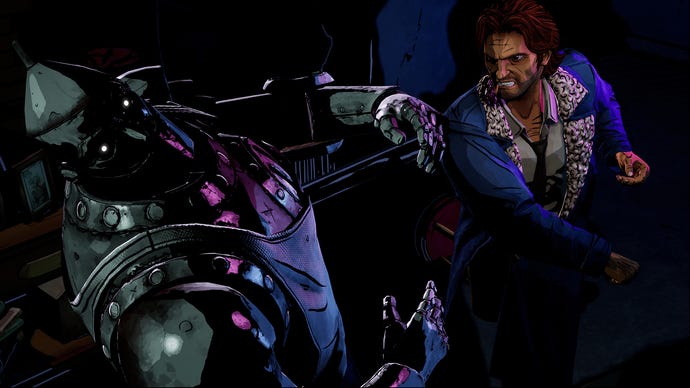 According to Willingham, DC's negotiators eventually agreed to pay him monies owed for licensing Fables to Telltale, but later "reneged on their word" by offering the outstanding sum as a "consulting fee" and thus "avoiding the precedent of admitting that this was money owed", while including a non-disclosure agreement "that would prevent me from saying anything but nice things about Telltale or the license."

Willingham says he can't afford to sue DC over their disagreements, and in any case, "even winning such a suit would take ridiculous amounts of money out of my pocket and years out of my life (I'm 67 years old, and don't have the years to spare)." Instead, he's "decided to take a different approach, and fight them in a different arena, inspired by the principles of asymmetric warfare. The one thing in our contract the DC lawyers can't contest, or reinterpret to their own benefit, is that I am the sole owner of the intellectual property. I can sell it or give it away to whomever I want."

"I chose to give it away to everyone. If I couldn't prevent Fables from falling into bad hands, at least this is a way I can arrange that it also falls into many good hands. Since I truly believe there are still more good people in the world than bad ones, I count it as a form of victory."

The decision also reflects the "radical transformation" of Willingham's stance on trademark and copyright law in the USA in recent years. "The current laws are a mishmash of unethical backroom deals to keep trademarks and copyrights in the hands of large corporations, who can largely afford to buy the outcomes they want," he writes.

"In my template for radical reform of those laws I would like it if any IP is owned by its original creator for up to twenty years from the point of first publication, and then goes into the public domain for any and all to use. However, at any time before that twenty year span bleeds out, you the IP owner can sell it to another person or corporate entity, who can have exclusive use of it for up to a maximum of ten years. That's it. Then it cannot be resold. It goes into the public domain. So then, at the most, any intellectual property can be kept for exclusive use for up to about thirty years, and no longer, without exception.

"Of course, if I'm going to believe such radical ideas, what kind of hypocrite would I be if I didn't practice them?" the post goes on. "Fables has been my baby for about twenty years now. It's time to let it go. This is my first test of this process. If it works, and I see no legal reason why it won't, look for other properties to follow in the future. Since DC, or any other corporate entity, doesn't actually own the property, they don't get a say in this decision."

Willingham says he has given DC Comics "years to do the right thing", including offering to renegotiate publishing contracts "from the ground up, putting everything in unambiguous language", or failing that, "to simply tear up our contracts, and we each go our separate ways", but has been ignored.

His contracts with DC remain in force, meaning he can't publish Fables comics, authorise an adaptation such as a film, or license merchandise through anyone but DC Comics. "And they still have to pay me for the books they publish. And I'm not giving up on the other money they owe. One way or another, I intend to get my 50% of the money they've owed me for years for the Telltale Game and other things."

"However, you, the new 100% owner of Fables never signed such agreements," the post concludes. "For better or worse, DC and I are still locked together in this unhappy marriage, perhaps for all time. But you aren't.

"If I understand the law correctly (and be advised that copyright law is a mess; purposely vague and murky, and no two lawyers – not even those specializing in copyright and trademark law – agree on anything), you have the rights to make your Fables movies, and cartoons, and publish your Fables books, and manufacture your Fables toys, and do anything you want with your property, because it's your property."

I have no idea what this means for Telltale, whose follow-up series The Wolf Among Us 2 has been delayed out of 2023 so that developers don't have to crunch on the project.

Willingham isn't the first to make such a move. Julian Gough, the author of Minecraft's ending poem, placed his creation in the public domain in December 2022 – the culmination of a long-held grievance against Mojang and Microsoft. Back in 2014, John Walker (RPS in peace) wrote a personal editorial for these hallowed pages about why older games should enter the public domain.

on bbc news
on hindi news
on the news today
on channel 7 news
ôrf news
campo grande news ônibus
ôpera news
campo grande news greve de ônibus
l1 news horário dos ônibus
l1 news ônibus
lago azul news ônibus
news österreich
news österreich heute
news österreich aktuell
news öffentlicher dienst
news österreich corona
news öl
news österreich orf
news ö3
news österreich heute aktuell
news österreich sport
ö24 news
ölpreis news
öbb news
ösv news
österreich news krone
övp news
özil news
öffentlicher dienst news 2023
österreich promi news