Superman is experiencing a creative renaissance the character hasn't had in ages now. Thanks to writers like Tom Taylor and Philip K. Johnson, both the character and the world of Metropolis feel like the best part of the DC Universe for fans of sci-fi superheroics.
After returning from Warworld, it seems impossible, but Superman is more powerful than ever, and taking on even greater responsibilities. He's gathered all the members of the Superman Family around him, resulting in an expansion of the Superman line of titles. While it's still easier to keep up with Superman than Batman, that's still a lot of comics for fans to read.
Every Batman Comic Currently Running (& Their Most Recent Issue)
Current Superman Comics
Steelworks #5 Reveals Why Steelworks Has So Many New Enemies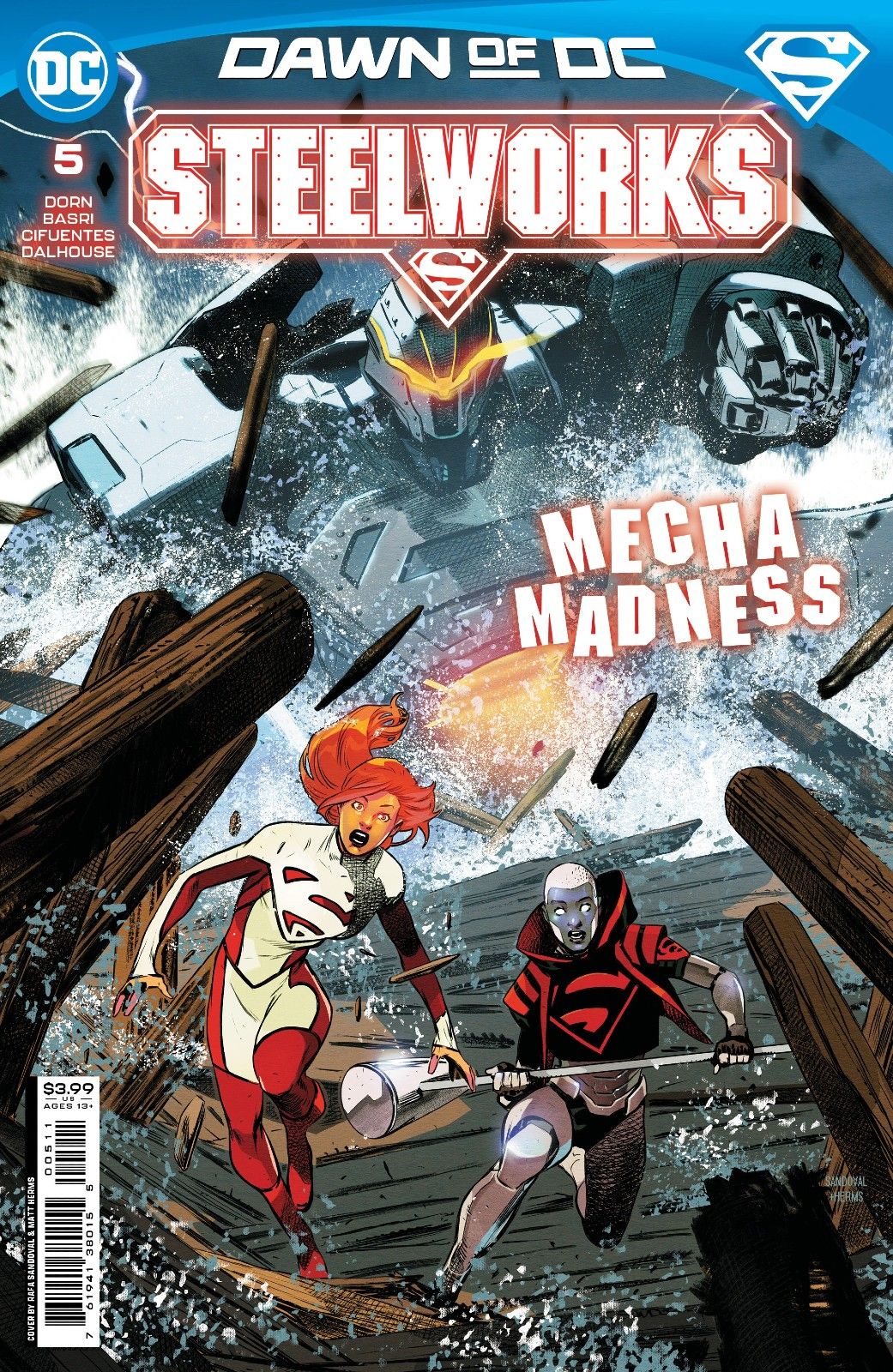 | | |
| --- | --- |
| Date Published: | October 24th, 2023 |
| Type: | Limited Series |
| Status: | Active |
| Creative Team: | Michael Dorn, Sami Basri, Vicente Cifuentes, Andrew Dalhouse, and Rob Leigh |
Steelworks: Michael Dorn Forges a Bright Future for the Real Man of Steel
Steelworks has been one of the better comics following one of DC Comics' B-List heroes. This issue delves into the backstory of both of the main villains for the miniseries. Both have their roots in John Henry's past. In fact, John's former employer Charles Walker is the head of Amertek. Irons walking out on Walker inadvertently led to the downfall of Amertek Industries, which also ruined Shawn Kerry's life.
With Charles Walker finally stealing the zero-point orb, he uses it to attack Metropolis with a giant robot. Making things more complicated, the robot runs off energy that causes Kryptonian powers to go haywire, meaning the other members of the Superman Family can't assist. Instead, only Steel and his niece Natasha can fight against it.
Superman: Lost #7 Features Superman Finally Accepting He Needs Help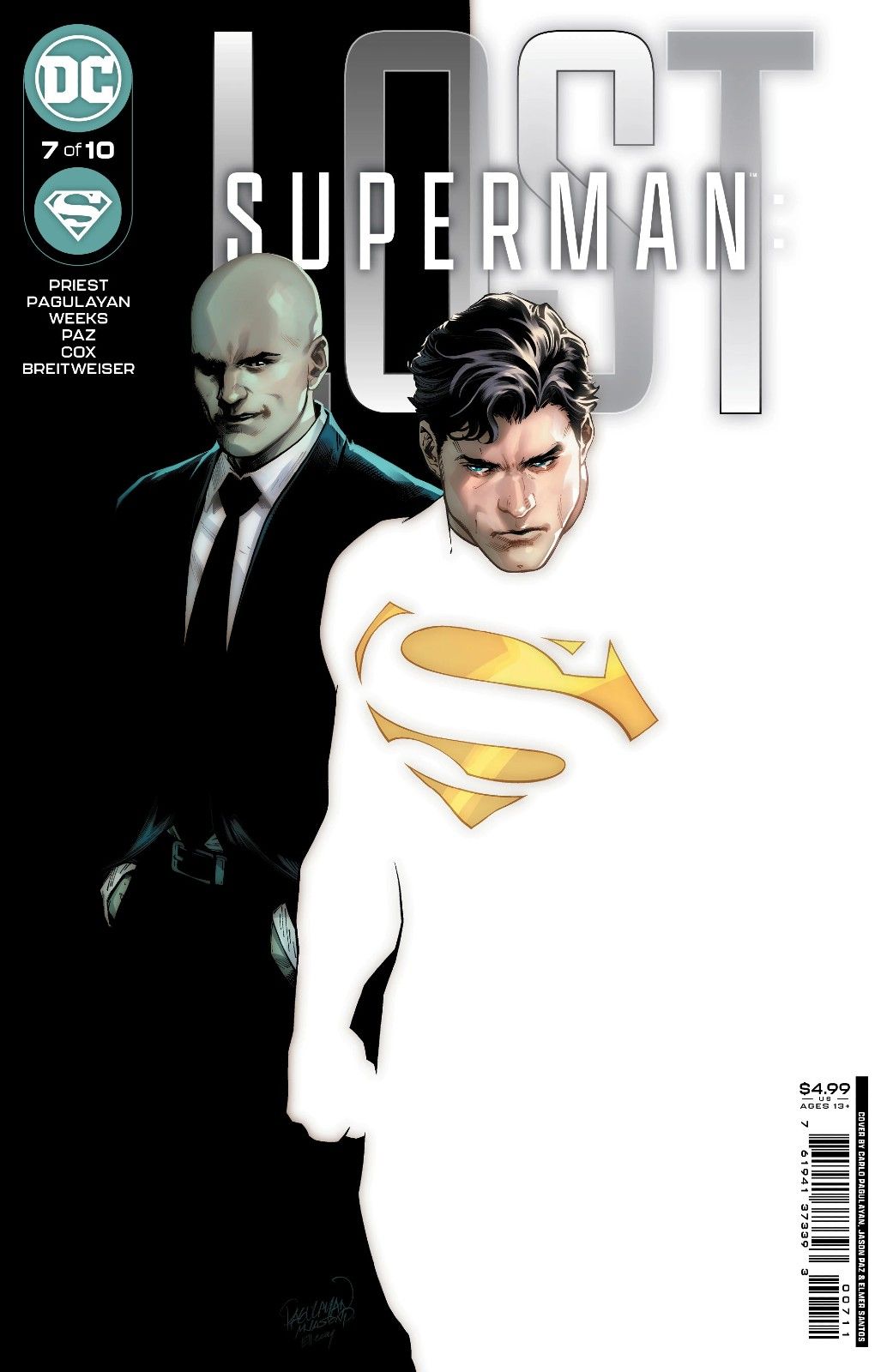 | | |
| --- | --- |
| Date Published: | October 10th, 2023 |
| Type: | Limited Series |
| Status: | Active |
| Creative Team: | Christopher Priest, Carlo Pagulayan, Lee Weeks, Jason Paz, Elizabeth Breitweiser, Jeromy Cox, and Willie Schubert |
REVIEW: DC's Superman: Lost #1 Makes the Legacy Hero Feel More Alienated Than EverSuperman: Lost has been one of DC's best Superman stories in the last decade, portraying how even one of DC's strongest characters can struggle with feeling lost and out of sync with the rest of the world. After narrowly escaping a planet seemingly doomed by its own actions, Superman awakens inside a gravity well. There, he meets an older version of himself who warns him what will happen if he chooses to leave.
Though the older Superman tells a convincing story about him losing his powers, in the end Clark is unconvinced and escapes the well, leaving his fate in the hands of Adam Strange. In the present, Superman decides he's willing to do anything to get back to normal, while Lois realizes the same. Clark admits his need to go to therapy, while Lois seeks Lex Luthor for advice, leading to a troublesome situation for her.
Batman/Superman World's Finest #20 Reminds Readers Even Superman Can Fail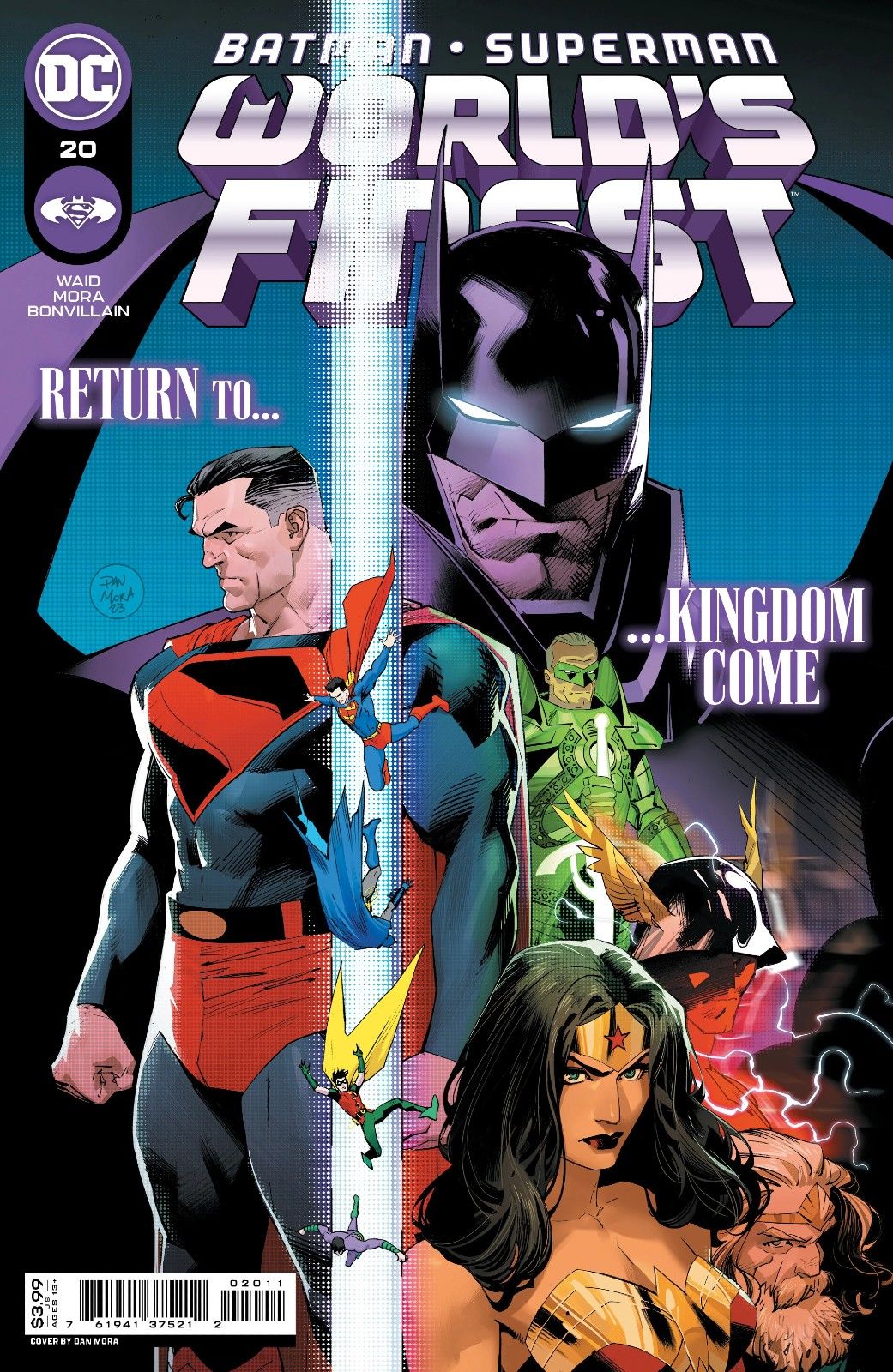 | | |
| --- | --- |
| Date Published: | October 17th, 2023 |
| Type: | Ongoing Series |
| Status: | Active |
| Creative Team: | Mark Waid, Dan Mora, Tamra Bonvillain, and Steve Wands |
REVIEW: DC's Batman/Superman: World's Finest #6In World's Finest, readers get to return to Earth-22 as Superman and Batman continue their search for Boy Thunder. After Flash discovers a glimpse of Boy Thunder, he gives Superman and Batman a trip to the world of Kingdom Come.
After visiting both the world's present and its past, Superman finds himself disgusted that a version of himself could let down the world in such a fashion. Later, the two finally confront an older Boy Thunder, who's become a far more violent hero. Though Superman believes it's a happy reunion, "Thunderman" seizes the opportunity to try and end Superman's life.
Superman (Vol. 6) #7 Makes Some Massive Changes To Lex Luthor's History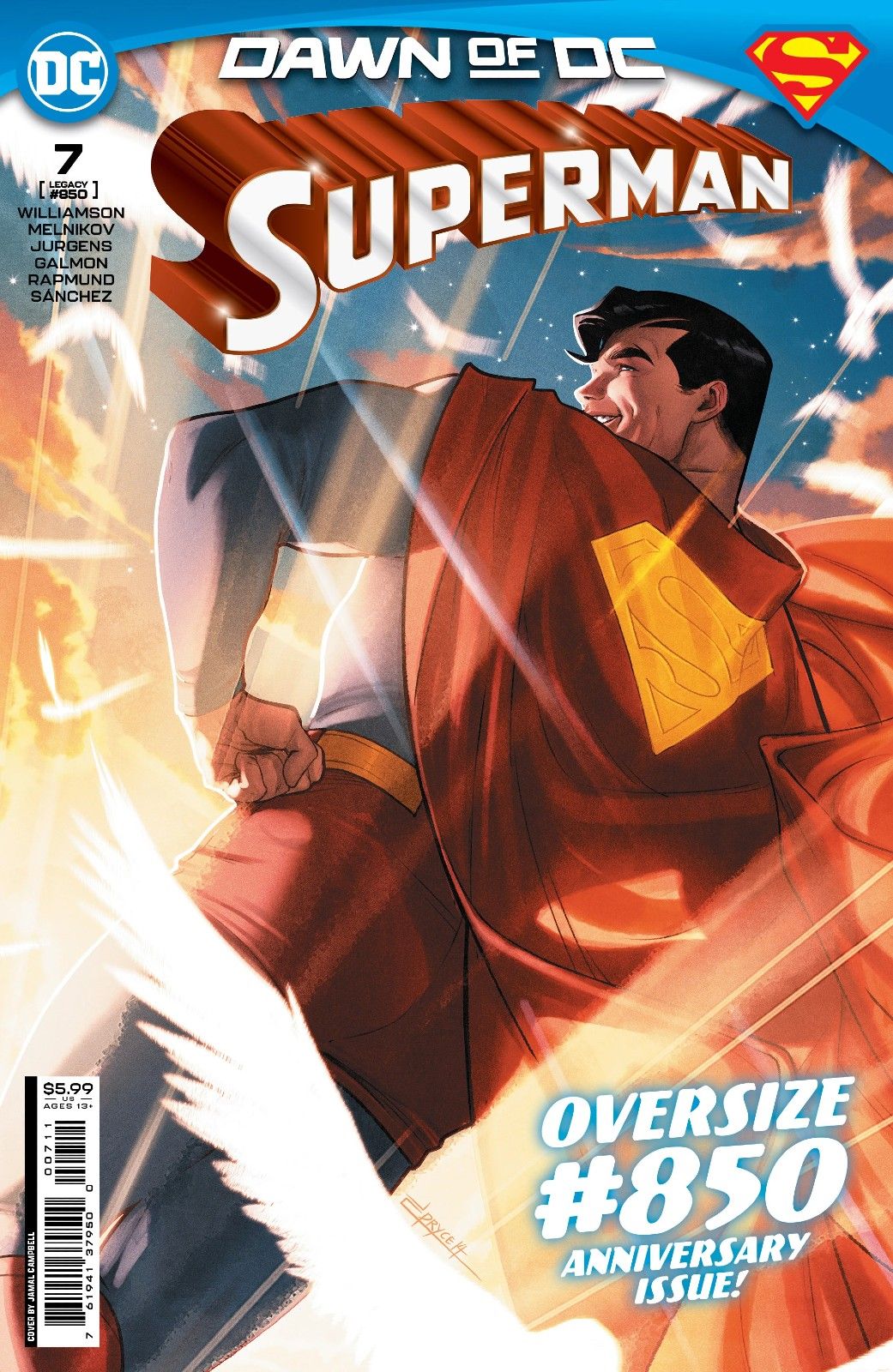 | | |
| --- | --- |
| Date Published: | October 17, 2023 |
| Type: | Ongoing Series |
| Status: | Active |
| Creative Team: | Joshua Williamson, Gleb Melnikov, Edwin Galmon, Dan Jurgens, Norm Rapmund, Alejandro Sanchez, and Ariana Maher |
Joshua Williamson's Superman has gradually become the "main" Superman book, offering the most fleshed out glimpse of Metropolis since the '90s. Superman #7 is an extra-sized issue as it celebrates 850 issues of the Man of Steel's solo comic. The issue begins with Perry White starting his campaign for mayor, until new villain The Chained arrives to destroy Metropolis.
Though the Super-Family fights back to protect the city, The Chained's powerful tactile telekinesis proves to be their match. Fortunately, Superman uses his own powers to break out of The Chained's former prison. Elsewhere, Lois sits down with Luthor to discover the reasoning behind his attempts to help Superman, only for Lex's mother and daughter to arrive with plans of their own. Finally, Brainiac's control over a new population of Czarnians is let loose on the planet Braal, the home of future Legion of Super-Heroes leader Cosmic Boy. The next big "Superman" event focused on Brainiac is one month closer to its beginning.
Action Comics #1058 Features Superman Defending Himself Against A Power Thief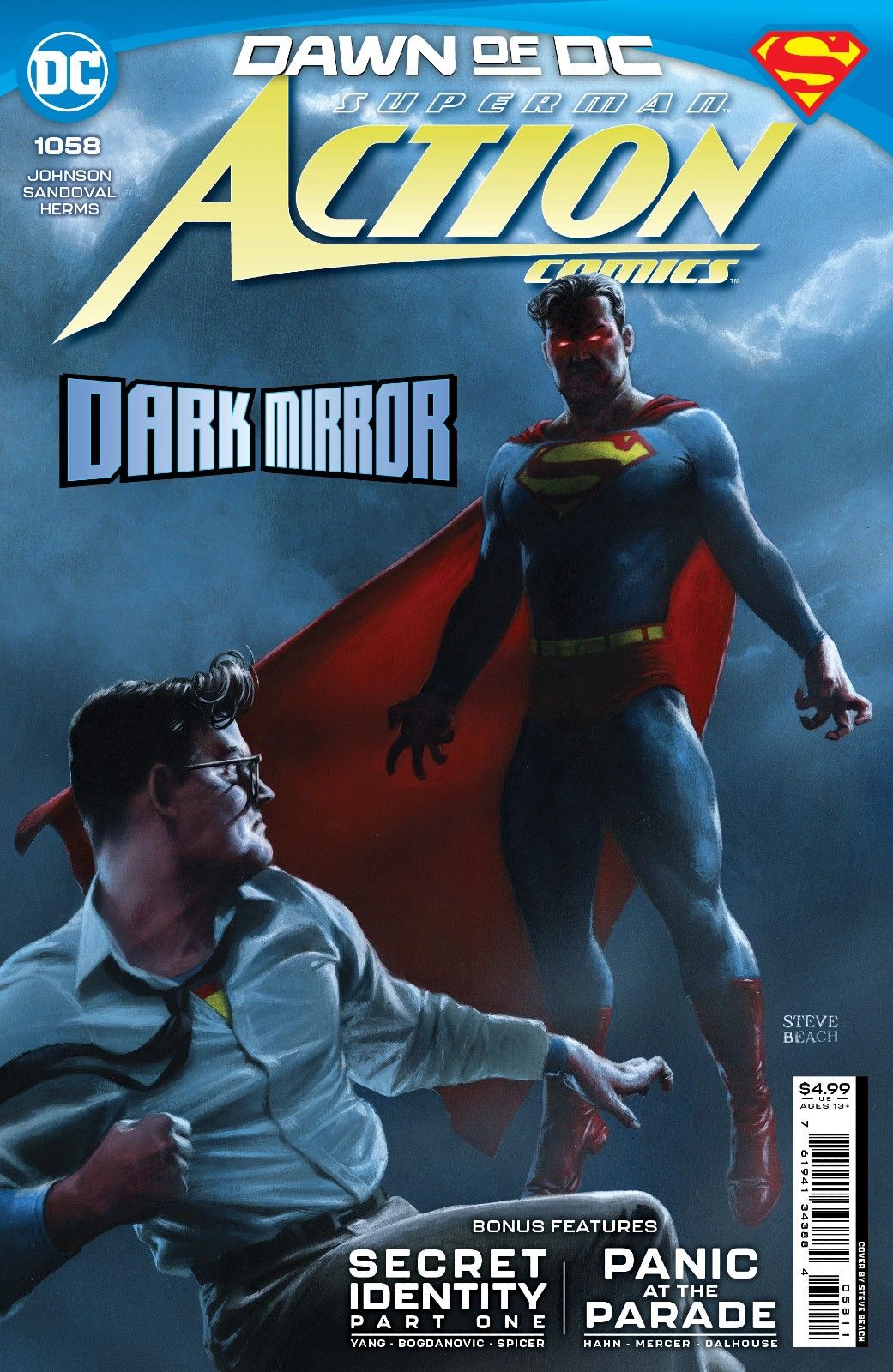 | | |
| --- | --- |
| Date Published: | October 24, 2023 |
| Type: | Ongoing Series |
| Status: | Active |
| Creative Team: | Phillip Kennedy Johnson, Rafa Sandoval, Matt Herms, Dave Sharpe, Gene Luen Yang, Viktor Bogdanovic, Mike Spicer, Greg Hahn, Travis Mercer, and Andrew Dalhouse |
REVIEW: DC's Action Comics #1051
After finishing up his day job interviewing Norah Stone, Superman comes face to face with an enemy capable of stealing his powers. Though battling an enemy without his powers is difficult, he makes it through by relying on knowledge of his own abilities… and a little help from SuperCorp's inventions. While Superman manages a victory, Norah Stone reveals there's a potential mystical connection for her. The end of the main story involves Superman taking up a new armor to help protect himself while his powers recover.
Action Comics #1058 also features two back-ups. One focuses on Kenan Kong, and his attempt to discover Superman's real identity, causing the entire Super-Family to learn about a different mystery. The second back-up features Bibbo Bibbowski taking Otho and Osul to their first parade in Metropolis.
Power Girl (Vol. 3) #2 Takes Power Girl Across The World For A Dangerous New Mission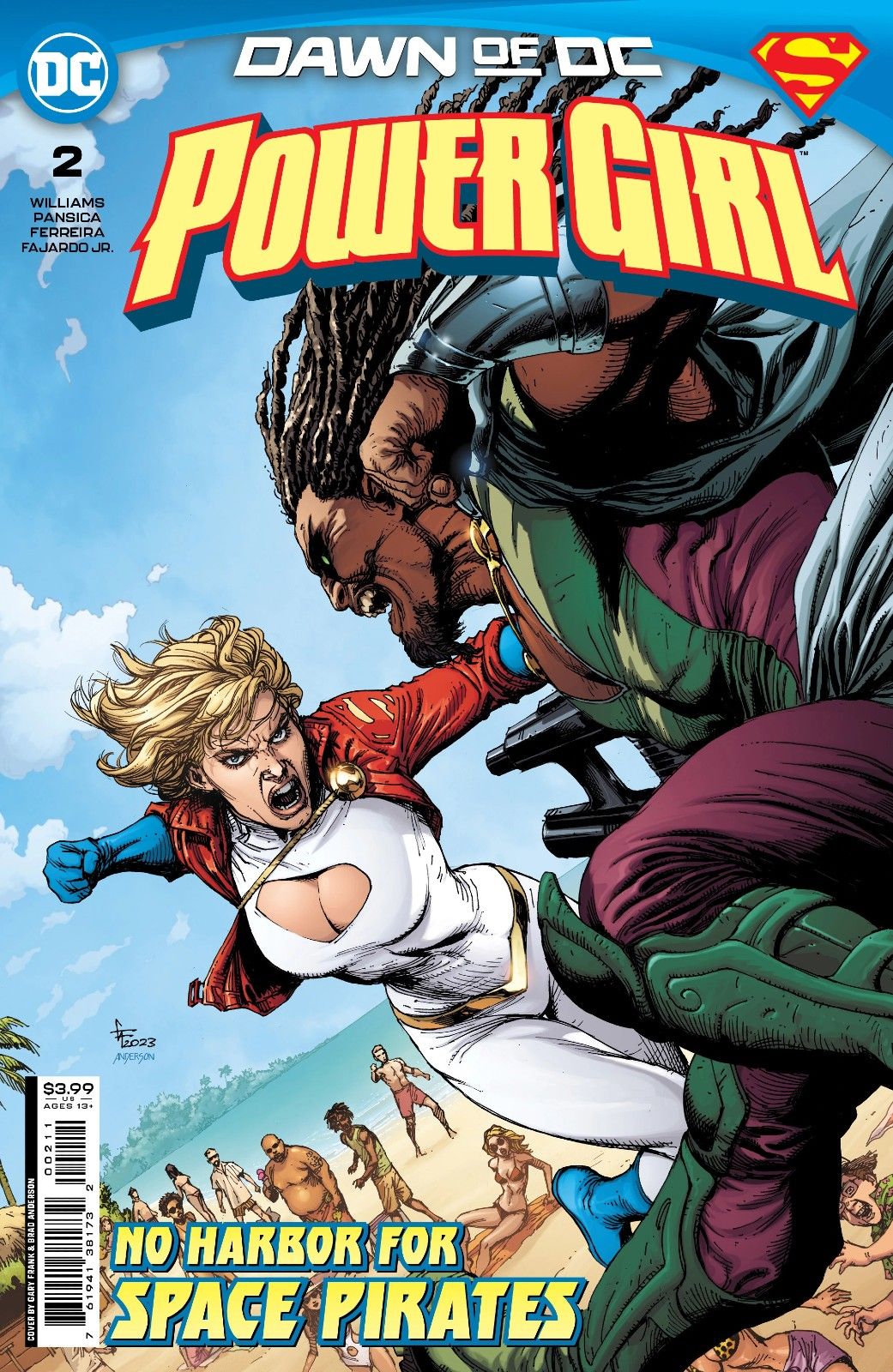 | | |
| --- | --- |
| Date Published: | October 24, 2023 |
| Type: | Ongoing Series |
| Status: | Active |
| Creative Team: | Leah Williams, Eduardo Pansica, Julio Ferreira, Romulo Fajardo Jr., and Becca Carey |
Leah Williams and Eduardo Pansica continue the new direction for Power Girl in the second issue of her solo ongoing. In this issue, fans get to see more of Paige's new civilian identity, where she works under Lois Lane as a journalist covering science-based stories. Later, she's sent on a mission across the globe where she gets to set up in a new Fortress of Solitude located in Bermuda.
Asked to discover what Kryptonian illness is infecting humans, Power Girl begins investigating with the local citizens. It isn't long though before she runs into her enemy Karnak again, only this time he's taken on an entirely new personality. Though they have an even fight, in the end, their battle allows the real Karnak to take over. After ripping out the parasite inside him, Karnak warns Paige before sacrificing himself. While this is different from some of the best Power Girl comics, it's worth Superman fans checking for to keep current.
Supergirl Special #1 Features Supergirl And Power Girl Working Out Their Issues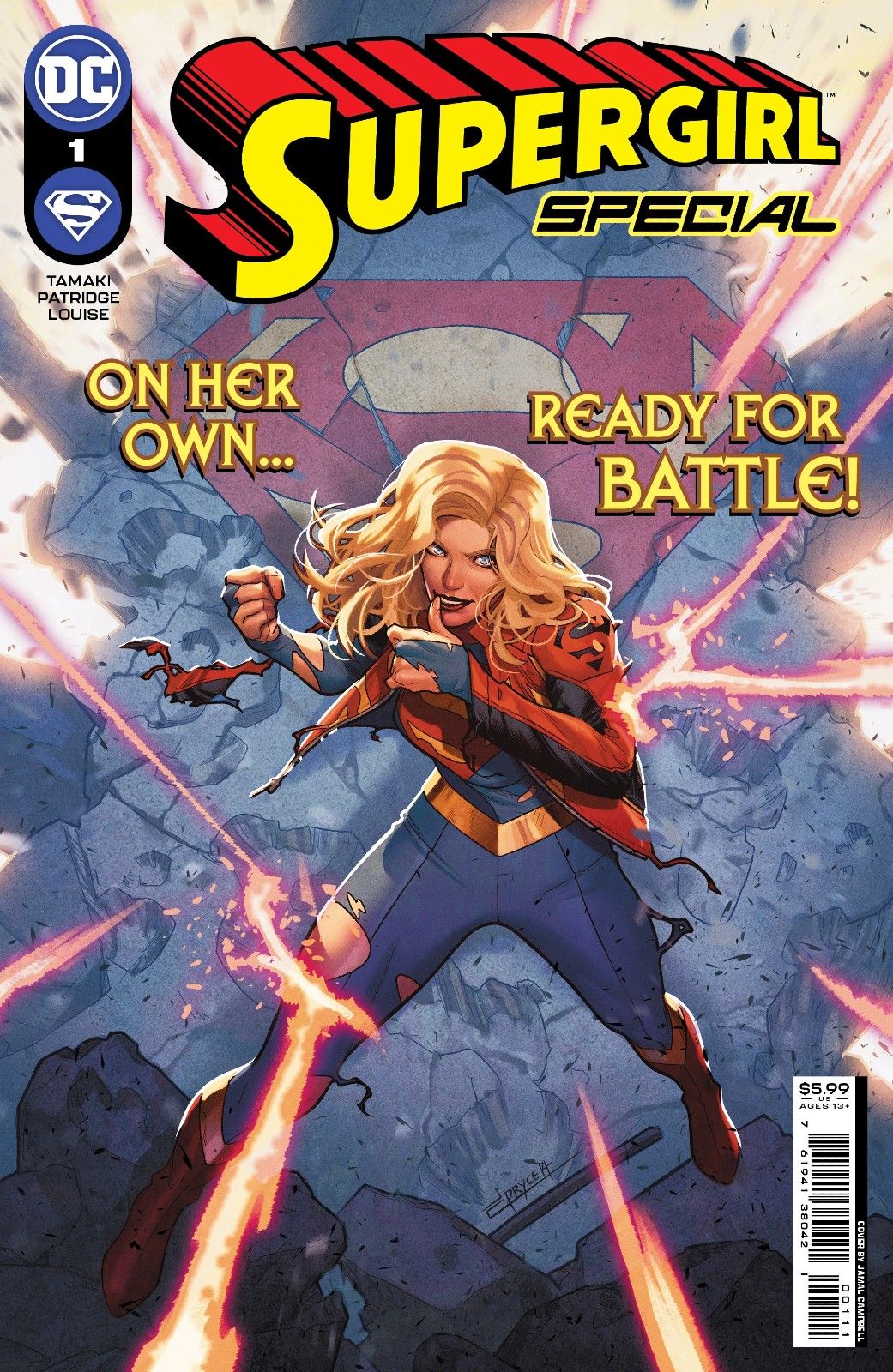 | | |
| --- | --- |
| Date Published: | October 31st, 2023 |
| Type: | One-Shot |
| Status: | Complete |
| Creative Team: | Mariko Tamaki, Skylar Patridge, Marissa Louise, and Becca Carey |
REVIEW: DC's Supergirl Special #1Supergirl Special deals with the elephant in the room: how do Supergirl and Power Girl get along? Most of the issue follows Supergirl, who's preoccupied by her fading connection to Krypton, along with the frustration realization that she never felt good enough before she attained her powers.
The second half of the issue focuses on Kara's insecurities as a hero, dating back to when she was on Krypton as just a normal teenager. Finally, the issue allows Paige and Kara to talk for a bit, helping both of them to come to a mutual understanding and find respect for one another.
The Return of Superman 30th Anniversary Special #1 Takes A Nostalgic Glimpse Back At Reign Of The Supermen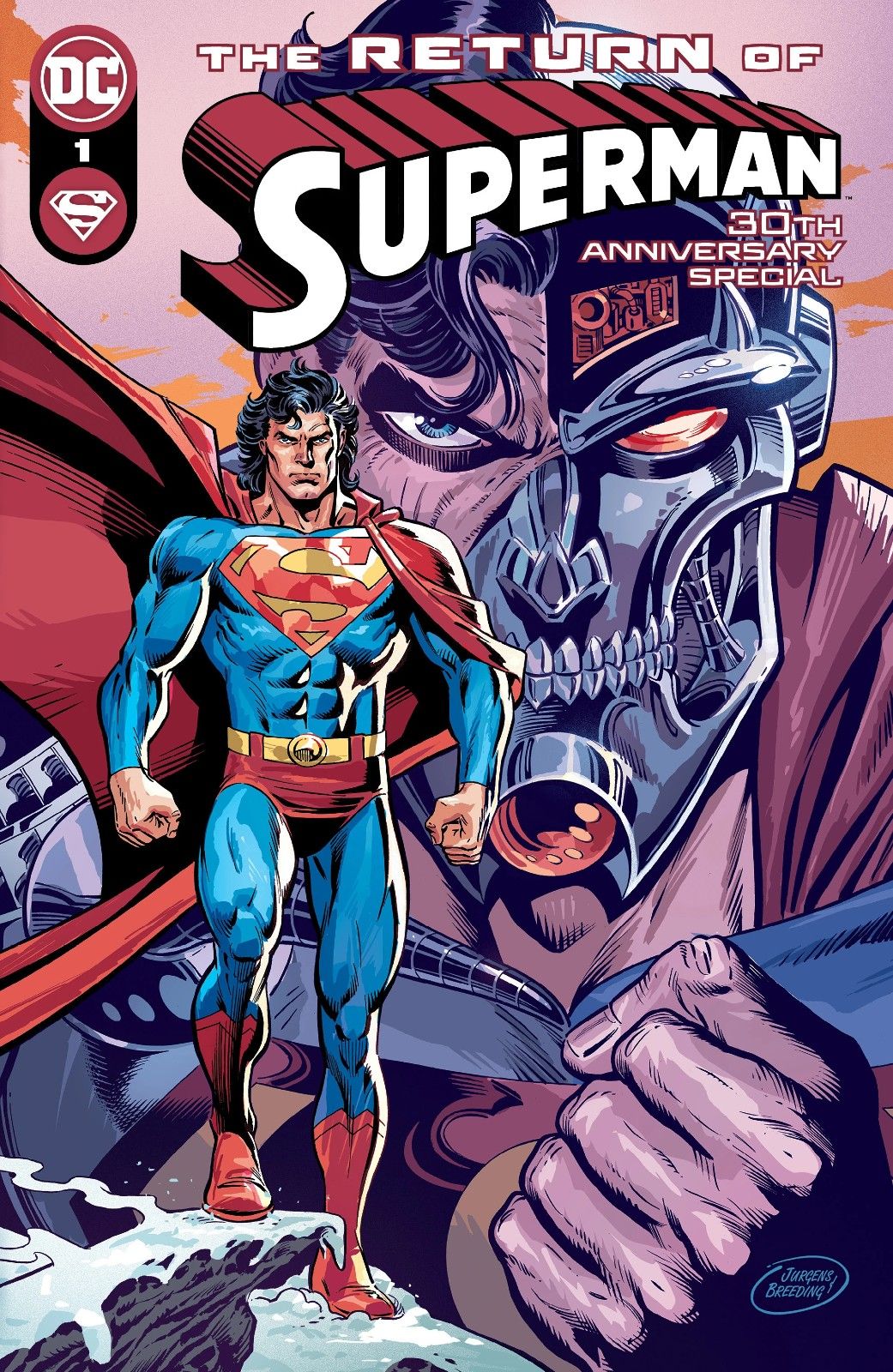 | | |
| --- | --- |
| Date Published: | October 31st, 2023 |
| Type: | One-Shot |
| Status: | Complete |
| Creative Team: | Dan Jurgens, Travis Moore, Denis Rodier, Adriano Lucas, Rob Leigh, Louise Jones Simonson, Jon Bogdanove, Glenn Whitmore, Richard Starkings, Jerry Ordway, Karl Kesel, Tom Grummett, Doug Hazlewood, Brett Breeding, Elizabeth Breitweiser, Butch Guice, Daniel Sampere, Alejandro Sanchez, Pete Woods, Dennis Janke, Kerry Gammill, and Jose Luis Garcia-Lopez |
The Return of Superman 30th Anniversary Special gives both new and old fans a chance to look back at one of the biggest DC events of the 90s. Rather than focusing entirely on Superman, the special centers on Reign of the Superman. Keeping things interesting, it comprises key stories from the creators involved with the Superman comics that ran during the original event.
The main story in The Return of Superman 30th Anniversary Special features Cyborg Superman tearing his way through Metropolis in an attempt to steal information from STAR Labs. Meanwhile, Steel, Superboy, and the Eradicator all try to stop him, as Lois re-reads some of Perry White's notes about all four "Supermen" from when they first appeared.
Superman '78: The Metal Curtain #1 Has Superman Confront A Familiar Enemy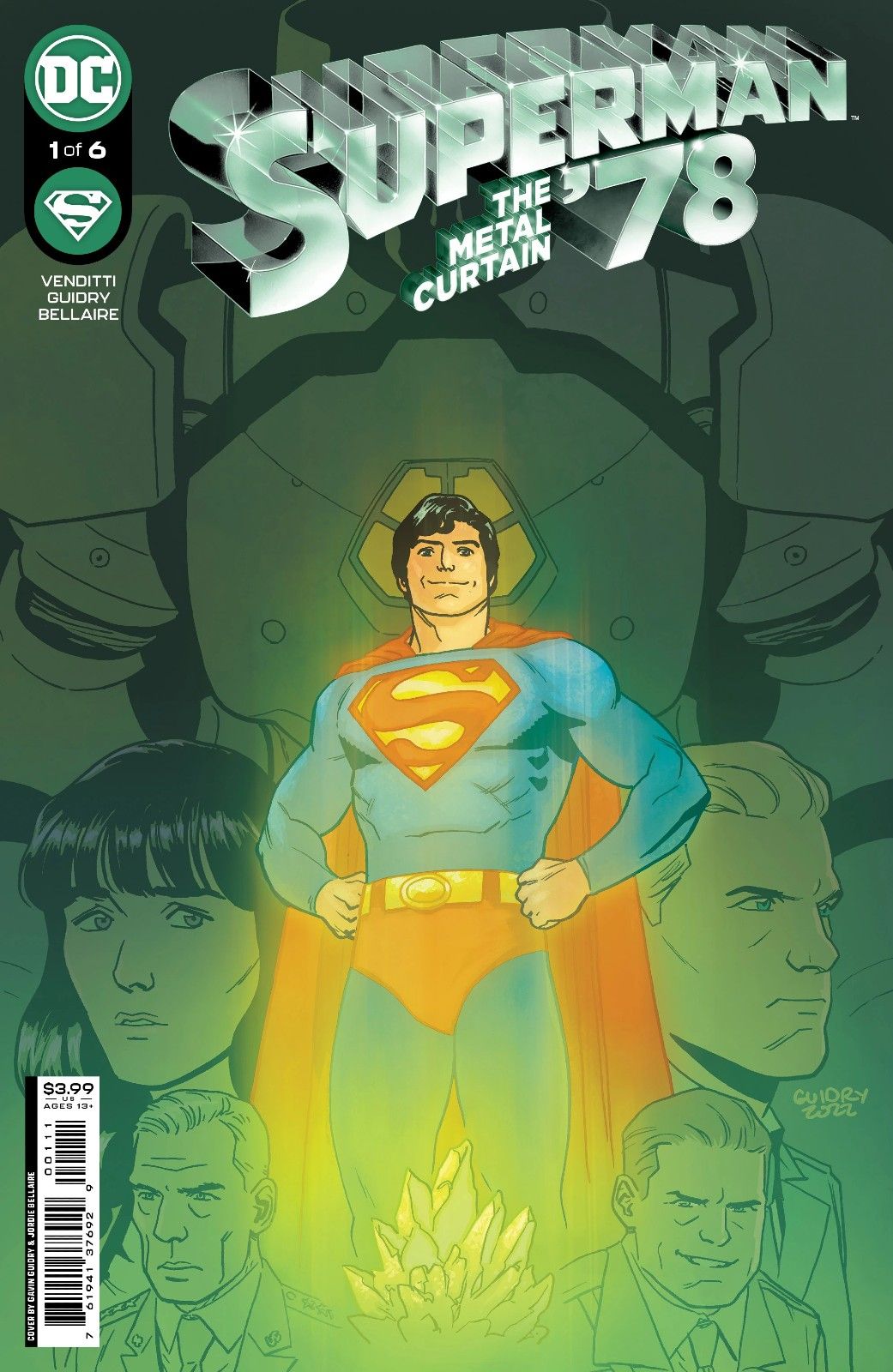 | | |
| --- | --- |
| Date Published: | November 7th, 2023 |
| Type: | Limited Series |
| Status: | Active |
| Creative Team: | Robert Venditti, Gavin Guidry, Jordie Bellaire, and Dave Lanphear |
REVIEW: DC's Superman '78: The Metal Curtain #1
DC's charming comic book version of Superman '77 continues with Superman '78: The Metal Curtain. After battling enemies like Lex Luthor and even General Zod, Superman's battle shifts to another familiar foe. The latest threat begins with an illegal arms deal between American military officials and other private sources, caught on tape by Lois Lane.
Though Lois is captured, Superman manages to save her just in time. In the USSR though, the successful mission allows for a new goal: the creation of a new weapon, powered entirely by Kryptonite. While Superman remains unaware, the Soviets create a new weapon to destroy America's individualist hero: a being known as Metallo.
New Superman Comics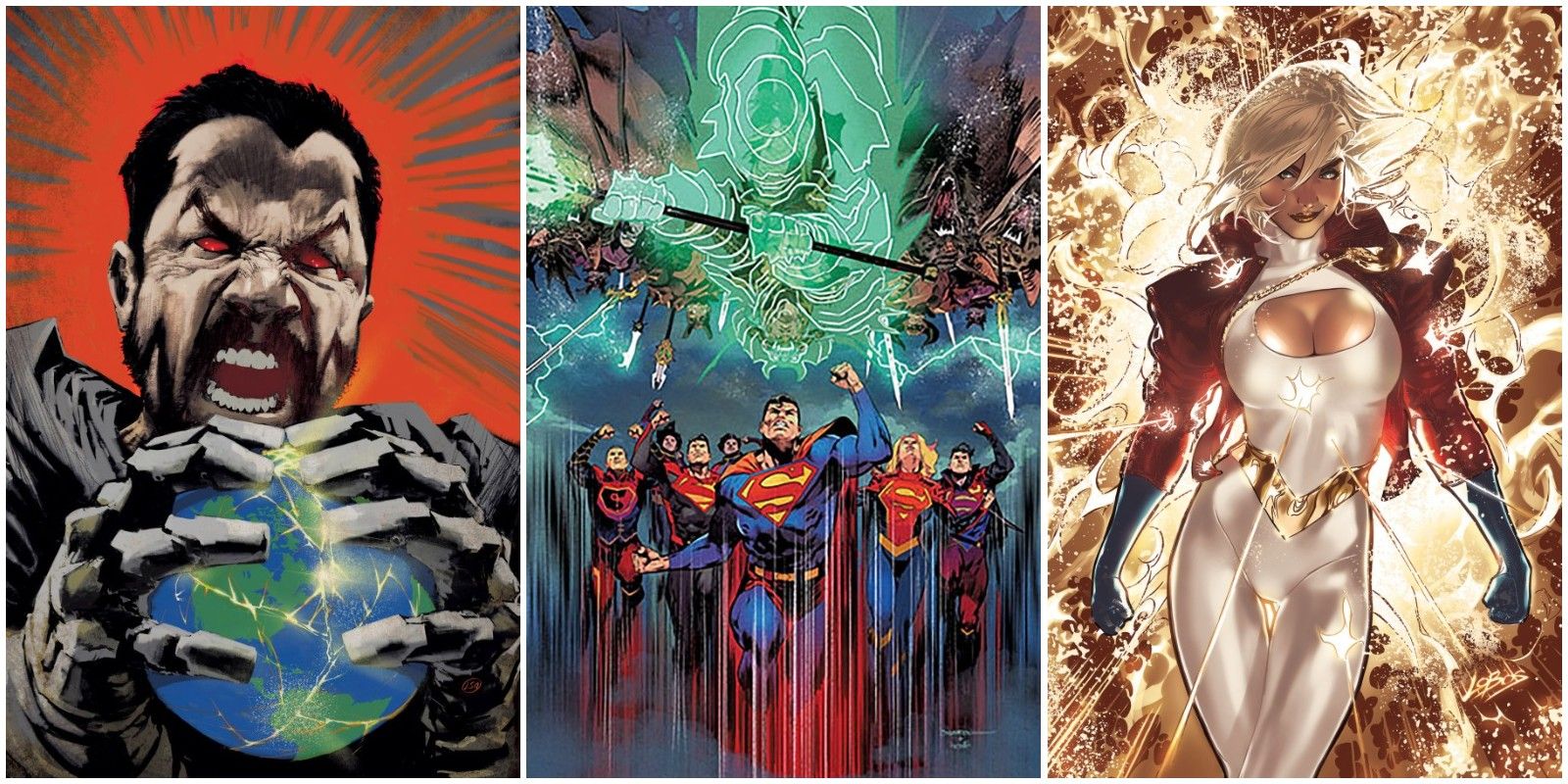 December, 2023:
Action Comics Annual #2 – December 26th. 2023
January, 2024:
Kneel Before Zod #1 – January 2nd, 2024
Power Girl Uncovered – January 30th, 2024
on bbc news
on hindi news
on the news today
on channel 7 news
ôrf news
campo grande news ônibus
ôpera news
campo grande news greve de ônibus
l1 news horário dos ônibus
l1 news ônibus
lago azul news ônibus
news österreich
news österreich heute
news österreich aktuell
news öffentlicher dienst
news österreich corona
news öl
news österreich orf
news ö3
news österreich heute aktuell
news österreich sport
ö24 news
ölpreis news
öbb news
ösv news
österreich news krone
övp news
özil news
öffentlicher dienst news 2023
österreich promi news