With the license gone this is the beginning of a new era, but it feels like business as usual – for better and for worse.


In 1993, EA Sports released FIFA International Soccer, on the Sega Mega Drive. The matches unfolded on a fuzz of green pixels, as though the players were bounding over squares of baize. The teams were all national, no clubs, and the licence did not yet extend to names, kits, or stadiums. But, despite the game nearly being branded "Team USA Soccer" in North America, the name stuck. Just. In an interview with MCV in 2014, Neil Thewarapperuma, the head of marketing at EA Sports in the nineties, put it delicately: "EA didn't give a shit about FIFA." Thirty years on, with the release of EA Sports FC 24, the developer has parted ways with the organisation that lent the series its licensed heft. Last year, FIFA president Gianni Infantino gave his humble appraisal of the split: "The constant is the FIFA name and it will remain forever and remain THE BEST." Thus it's now for EA Sports to prove that the constant is not in the name. It's in the game.

The proving is understated, and steeped in something dubbed "HyperMotionV Volumetric Technology," which sounds like the active ingredient in a sports-formulated shampoo. Indeed, the version of Luka Modrić that I unwrapped in Ultimate Team appeared to have been lathered in the stuff; his hair, which bore a lunar-silver tint, shook and shivered with a hyper motion all its own. What this jargon means, essentially, is motion capture – not just the flickers of anger or elation that gust across the faces of the stars, but the style of their movements, too.

Modrić, for example, is a low-centred flurry of legs, and his passes are charged with the proper chop and loft; stab a long pass through to a winger, and the oomph will leak off the ball just as it curls neatly to its target. Hover over Modrić's player profile, and you will see that he boasts a string of little badges: Whipped Pass, Incisive Pass, Long Ball Pass, Technical, and Trivela. These are known as PlayStyles and are a way to summarise each player's gifts, outside of raw numbers. Whereas you or I might be proudly studded with the likes of Procrastinate, Caffeine Reliance, or Indolente, Kylian Mbappé happens to possess Rapid, Flair, and a golden stamp, filed under PlayStyles+, called Quick Step. All of which means that he is able to explode into locomotion, with a full head of steam, and billow through the bars of an opposing defence.

On top of these baubles, we have a couple of nifty features. There is the orbit dribble, which lets you to swivel your player around the ball without touching it, the better to gain a propitious angle for attack or evasion. We also have the precision pass – apply a dab of extra zip to any pass or cross, and you get a pleasing buzz in the controller and a sharper line described by the ball. The promise, and the brief, of every new entry in EA Sports' series is akin to that of a fresh James Bond: this time it's more grounded, in clammier proximity to reality, and with added weight. And it usually is, until it's not. Each game is broken in and patched up like a pair of boots, the polish dulls, and the audience is laced tight to the lows and highs of the meta.

It's not that each game isn't an improvement on the last so much as it's a response to it; this is why older entries, dug out of a forgotten disc wallet, can feel so rusted and jammed, without the lubricant of context – only to oil themselves smooth after five minutes in your hands. It's easy to lose the through ball, so to speak, to mark the general upwards trajectory of these games, as you're only ever twelve months from the last pass. There are sometimes bad years, years rich in infamy for their over-attentive goalkeepers, their hyperactive embrace of the overhead kick, etc. But there is always some advance on the gripes of yesteryear. EA Sports FC 24 may be the best approximation of football – convincing, slower-paced, rewarding of skill – that EA Sports has put out, but next year's will feel better. That's the curious constant of the annual sports game: it will remain forever and remain the best.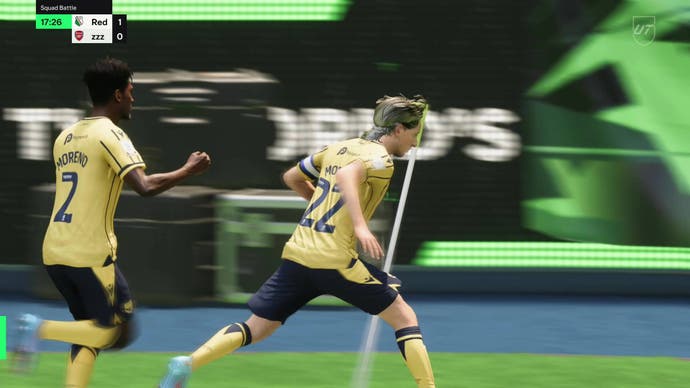 And so to Ultimate Team, the mode that is either your reason for shelling out every twelve months, or the reason you feel a pang of guilt for doing so. The premise of this ugly mode, in EA Sports FC 24, is as it always was: you assemble a mutant supergroup of footballers, using packs of digital cards, and take them online to battle. It's one part Football Manager to one part Pokémon. And you might reasonably look at this potent blend of mechanics and argue that you have to give EA Sports credit. Then again, that is what many would argue is the problem: you have to give EA Sports credit. Real money can be fed into the game, in exchange for packs of random cards – loot boxes, in other words. Some countries have banned this practice, considering it gambling, Britain is yet to rule it out, and EA is quick to argue that (a) it isn't really gambling, because you can't cash out, and (b) you don't have to spend real money.

True enough, you can accrue in-game currency by playing matches, but you won't know if the person you're kicking off against has drained their credit card to gather the cream of football's elite. Whether you find Ultimate Team a fitting reflection of the sport, which itself suffers no shortage of pay-to-win mechanics, or you see it as something of a warped joke is down to every player to decide.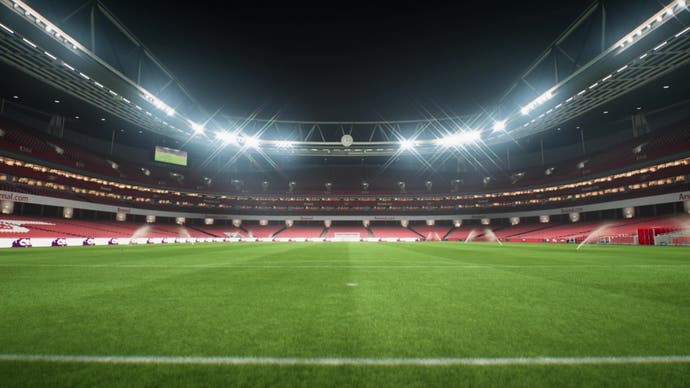 What troubles many is that, though they are aware of its murky side, they can't deny the fun they have with it. I will make a terrible confession to you. I don't actually enjoy Ultimate Team. It's garish, the menus lag, and, despite this year's innovations (competitors from the women's game have joined the rosters, and you can improve players, by completing certain objectives, with a feature called Evolutions), the squads are silly. I have always had a preference for regular teams – minted by reality, monetary limitation, and morally compromised financial regulation. Hence the breathy relief in the way that Kick Off is described on the main menu: "The shortest distance between you and the pitch."

If that is the distance you prefer to cover, then this year's game is a fine forwards step. Plus, the usual fittings and fixtures are in place. The ghost of FIFA Street lives on in Volta Mode. The Career Mode is here if you wish to mend a club's fortunes and ferry it to glory. And if your poison is Ultimate Team, then you will find it present and correct, with some good tweaks. There are improvements, and there are problems – business as usual. The era of EA Sports' FIFA may be over, but the game goes on.


To see this content please enable targeting cookies.



on bbc news
on hindi news
on the news today
on channel 7 news
ôrf news
campo grande news ônibus
ôpera news
campo grande news greve de ônibus
l1 news horário dos ônibus
l1 news ônibus
lago azul news ônibus
news österreich
news österreich heute
news österreich aktuell
news öffentlicher dienst
news österreich corona
news öl
news österreich orf
news ö3
news österreich heute aktuell
news österreich sport
ö24 news
ölpreis news
öbb news
ösv news
österreich news krone
övp news
özil news
öffentlicher dienst news 2023
österreich promi news