Dream Scenario, the latest Nicolas Cage vehicle worthy of theatrical viewership, features the actor as Paul Matthews, a tenured professor whose quiet work in ant studies goes unnoticed by the world and those within his immediate academic circle. To say that Paul's life is a disappointment is a disservice to the many simple things he has going for him; it's just very bland. One day, however, he finds himself at the center of social media and local news attention for appearing in people's dreams. Unsure of the cause but willing to use the opportunity to boost his profile, Paul sets about on a comic romp, though tinged with deep sadness, through a defamiliarized version of modern living.
Written and directed by Kristoffer Borgli (Sick of Myself), Dream Scenario is a wily and unpredictable patchwork film that pulls from many disparate influences to create a vividly realized adjacent reality that feels as grounded as any "serious" drama, despite having, at its core, one of the goofier premises of recent years. Unlike such films as, say, Beau Is Afraid, Dream Scenario is mostly played straight, without superfluous stylistic/budgetary pyrotechnics to distract from its deeply humane core. Where Sick of Myself was eager to hold a mirror up to the ugliest sides of phone-addled attention seekers, Borgli's latest is an earnest odyssey of finding oneself at the heart of a viral craze despite not asking much from life other than an opportunity to take care of the work one desires.
RELATED: 25 Movie Endings That Make No Sense Even On A Rewatch
As we enter the world of Paul, we find that compounding the issue of remaining utterly anonymous in an already relatively not mainstream field, his ideas have found their way into a peer-reviewed scientific journal, ripped off by a former colleague. Paul's home life, on the other hand, is just fine. His two teenage daughters don't hate him (which is saying enough), and his wife, played by Julianne Nicholson (Mare of Easttown, Planet Janet), seems to just enjoy being around him. That is to say, when Paul's students begin to whisper about their professor's inexplicable appearance as a benign presence in dreams, he's taken aback but eager to see where it goes.
It's not long before more people piece together that the figure who always observes and never interferes (even in hilariously rendered life-or-death scenarios) is Paul, that plain, entirely unnoteworthy man who doesn't even get invited to dinner parties because he's just so boring. Add to the mix the ever-connected world and opportunistic marketing agencies, and Dream Scenario offers, scene by scene, a film that evades being pigeonholed as a simplistic moral fable.
Dream Scenario takes more than a pinch of inspiration from an internet hoax stemming from the website ThisMan.org, which provided the headline, "EVER DREAM THIS MAN?" that launched in the mid-aughts.
Later revealed to be a guerilla marketing stunt by marketer Andrea Natella, the website garnered "real" write-ins from various people who claimed to have had nocturnal encounters with the same ominously milquetoast character featured in a black-and-white composite photo on the website.
Testament to Borgli's inventiveness, Natella's marketing stunt did some of the groundwork for at least vaguely planting the concept in the mind of the internet-savvy public over 10 years ago. Capitalizing on the investment, Borgli's film takes the conceit and twists it into a small-scale, high-concept anomaly that has irrefutable notes of the Spike Jonze/Charlie Kaufman collaborations, Being John Malkovich, and the Nic Cage-starring Adaptation. But Borgli is also someone who has been carefully crafting online-ready content for a long time, including an inventively twisted Letterboxd interview to promote his last film, Sick of Myself.
Whereas Jonze and Kaufman are happy to spelunk in the naval with existentially jarring absurd comedies, Dream Scenario utilizes the bizarre, fictional setup to probe real-world questions that have marked much of the last several years of popular culture and how these questions have seeped into every aspect of how we engage with society — from the tinged language of everyday conversation to doom-scrolling social media for the next thing. But far from being rotely polemic, there's a real story about being just OK as a person, not particularly noteworthy and being happy with that. Paul's inept navigation of various systems reveals that his wants and needs have mostly to do with being respected in his vocation. Only through the relentless pursuit of co-opting his image and contorting it to suit the needs of the many does his sense of self become muddled.
RELATED: 10 Movies That Made Nicolas Cage A Meme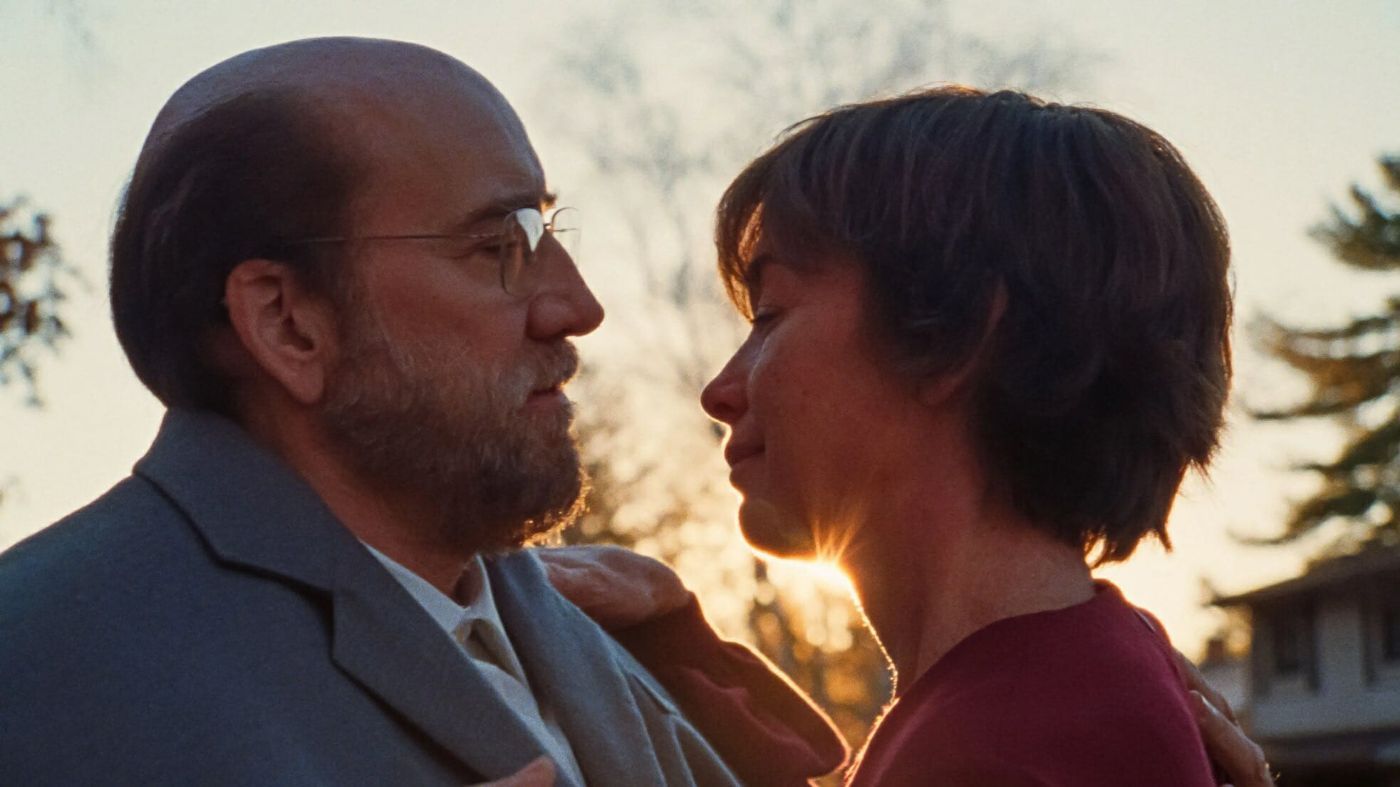 It's a commendable effort by Borgli et al. to discuss these things, such as knee-jerk reactions to discomfort and witch-hunting the next viable target for critical reappraisal. Thankfully, Dream Scenario doesn't devolve into a feature-length treatise on its concerns and instead remains faithful to the absurdity of its premise.
For the past several years, Nicolas Cage has been meme'd to death in much the same way as Bill Murray and Jeff Goldblum, whose ubiquity has done much to dispel any notions of them being charming. Whereas both Murray and Goldblum pretty much remain within a specific milieu, Cage has released dozens of films over the past few years — many of which are direct-to-video — that throw everything at the wall to see what sticks. But Cage has also done films that are heavy, delicately honed character studies that put him in a different gear. Sure, there's the actor we know can monologue about his wooden hand, or there's the guy who can dress as a priest and steal another man's face.
With Adaptation., Cage introduced us to a nebbish, fear-of-doing-type character who could rouse sympathy from an audience familiar with and possibly more eager to see the walking powder keg as he set off in pursuit of his next over-the-top outburst. Since that 2002 film, Cage has only added to his repertoire of chosen tics and nuances, but it's with Dream Scenario that he seems like he's calibrated to the point of relaxation. An overwhelming calm and deep kindness is the film's most rewarding feature. It's the true testament of range to be able to subdue the need for going large when a quick succession of nods will do the trick.
Benjamin Loeb, cinematographer on Sick of Myself, returns for Dream Scenario, filming the proceedings — from the painfully mundane to the more awe-inspiring — with a soft, fly-on-the-wall approach. This delicate touch underlines all of the intimate moments between Paul and his wife, providing the emotional fulcrum for the onslaught of curveballs. The autumnal earth tones and lived-in, somnambulic interiors add subdued warmth and, more importantly, keep the film from veering off into a needlessly bombastic final act.
While certain audiences will expect a film with Dream Scenario's premise to crescendo into some nightmarish, burn-through-the-budget grand finale, this is not that film. It's got a few well-placed scares, but its droning undercurrent of terror comes from being elected for the limelight, only to have that send everything else hurtling towards certain ruin.
Dream Scenario is a mature, assured follow-up to Sick of Myself that finds sympathy with its main character. As Paul endures the trials and tribulations of the modern world, the audience can see he's not unlike anyone who fosters a private, niche interest that will never garner critical acclaim. There's a lot on Borgli's mind to write such a potently off-kilter examination of how we live in contemporary America, but his real talent is taking all of these interests and turning them into something that anyone can see and feel for a couple of hours, and then wake up.
Dream Scenario is now in theaters.
Dream Scenario
A hapless family man finds his life turned upside down when millions of strangers suddenly start seeing him in their dreams. When his nighttime appearances take a nightmarish turn, Paul is forced to navigate his newfound stardom.
on bbc news
on hindi news
on the news today
on channel 7 news
ôrf news
campo grande news ônibus
ôpera news
campo grande news greve de ônibus
l1 news horário dos ônibus
l1 news ônibus
lago azul news ônibus
news österreich
news österreich heute
news österreich aktuell
news öffentlicher dienst
news österreich corona
news öl
news österreich orf
news ö3
news österreich heute aktuell
news österreich sport
ö24 news
ölpreis news
öbb news
ösv news
österreich news krone
övp news
özil news
öffentlicher dienst news 2023
österreich promi news