Summary
"Gamma #2's Resolve" falls short compared to the previous chapter, lacking original material and not building upon the foundation of Dragon Ball Super: Super Hero.
Gotenks' fusion fails, serving mostly as comic relief, but still contributing to the overall fight against Cell Max.
Krillin plays a fundamental role, utilizing his signature techniques to support the heroes and temporarily blind Cell Max, while Piccolo's giant transformation provides a significant challenge.
The following contains spoilers for Dragon Ball Super Chapter 98, "Gamma #2's Resolve," by Akira Toriyama and Toyotarou, Caleb Book, and Brandon Bovia, available in English from Viz Media.
Dragon Ball Super Chapter 98, "Gamma #2's Resolve," continues the series' ongoing battle against Cell Max. Unfortunately, these theatrics largely fall flat in this chapter and come across as a step backwards in comparison to the heights of Chapter 97, "Rampaging Cell Max." The biggest drawback in "Gamma #2's Resolve" is that it doesn't add enough original material that builds upon Dragon Ball Super: Super Hero's foundation. There's plenty of action that gets many supporting players into the mix, but it's likely to frustrate those who have already seen Dragon Ball Super's latest feature film.
Cell Max has been around since Chapter 96, "Saiyamen, On the Scene!", so it's not as if the battle against him has been particularly long or gratuitous. However, "Gamma #2's Resolve" brings the least to the table and largely feels like it could be combined with the previous installment. Some big events go down, but the heroes are arguably no closer to their goal than when the chapter begins.
RELATED: Dragon Ball Super Chapter 97 Recap & Spoilers: Rampaging Cell Max
Gotenks Becomes A Fused Failure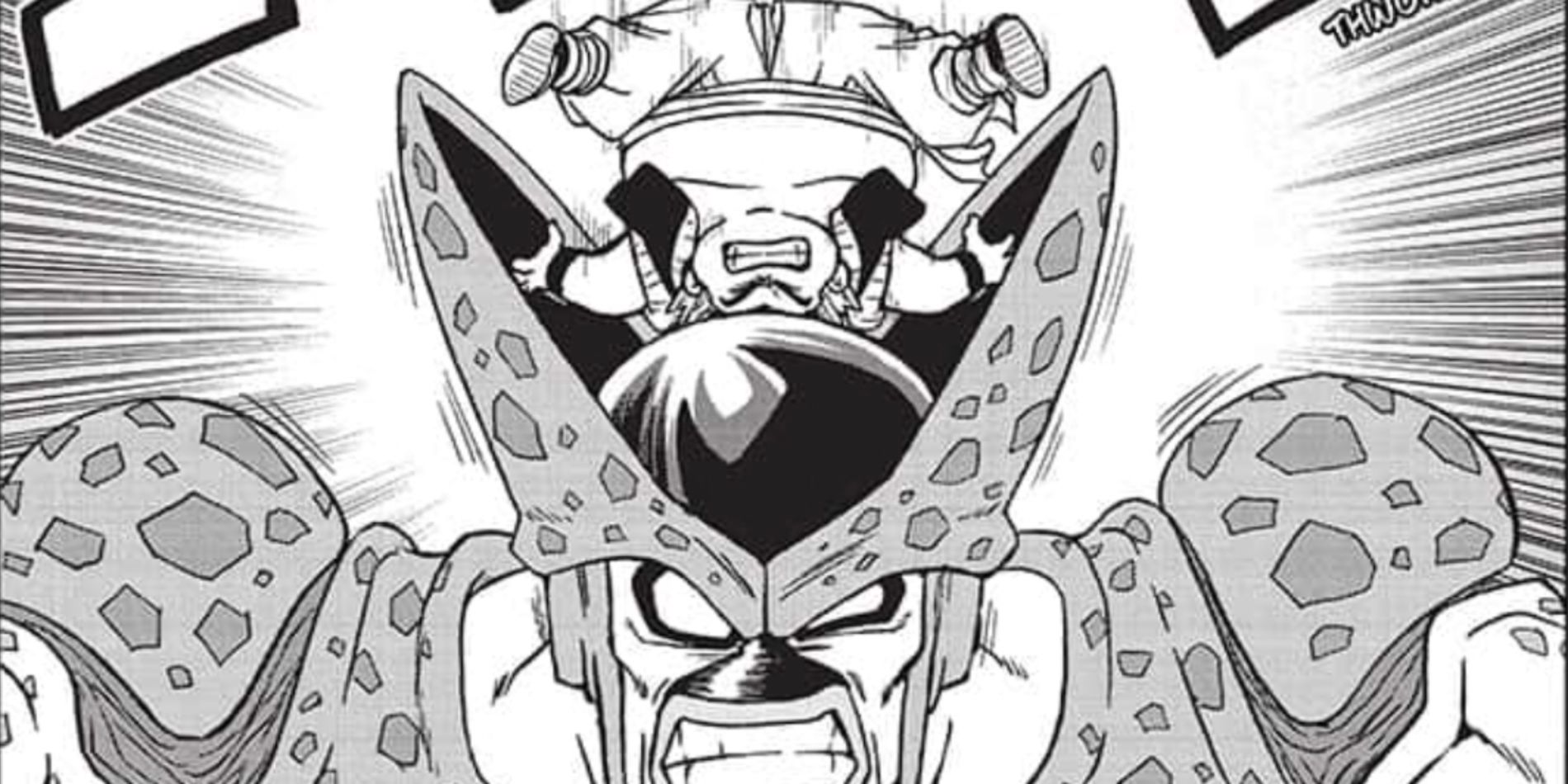 Goten and Trunks were one of the previous chapter's highlights, but they aren't able to contribute much this time around as Gotenks. "Gamma #2's Resolve" largely sticks to the events of its corresponding feature film in the sense that Goten and Trunks' malformed Gotenks gets reduced to comic relief. Android 18 argues that even a failed fusion can serve a helpful purpose, which in this case results in Gotenks getting swatted at Cell Max like he's a volleyball. This isn't particularly surprising, but it's a harsh reality for the duo after a solid chapter of success.
Gotenks' individual attacks don't amount to much, but he's able to properly help as part of the greater whole. As the chapter's title indicates, "Gamma #2's Resolve" is really the Android's time to shine. In order to pull off his ultimate attack, Gamma 2 will need cooperation from everyone while they launch a tandem energy attack that will temporarily distract the berserking behemoth. This strategy gets teased at the end of the previous chapter and Gamma 1 once again warns Gamma 2 about the dangers of such a procedure. Genuine stakes are felt in this moment and Gamma 1's protective nature over his Android peer really connects.
RELATED: Dragon Ball Super: How Long Will the "Super Hero" Arc Last?
Krillin Joins The Fray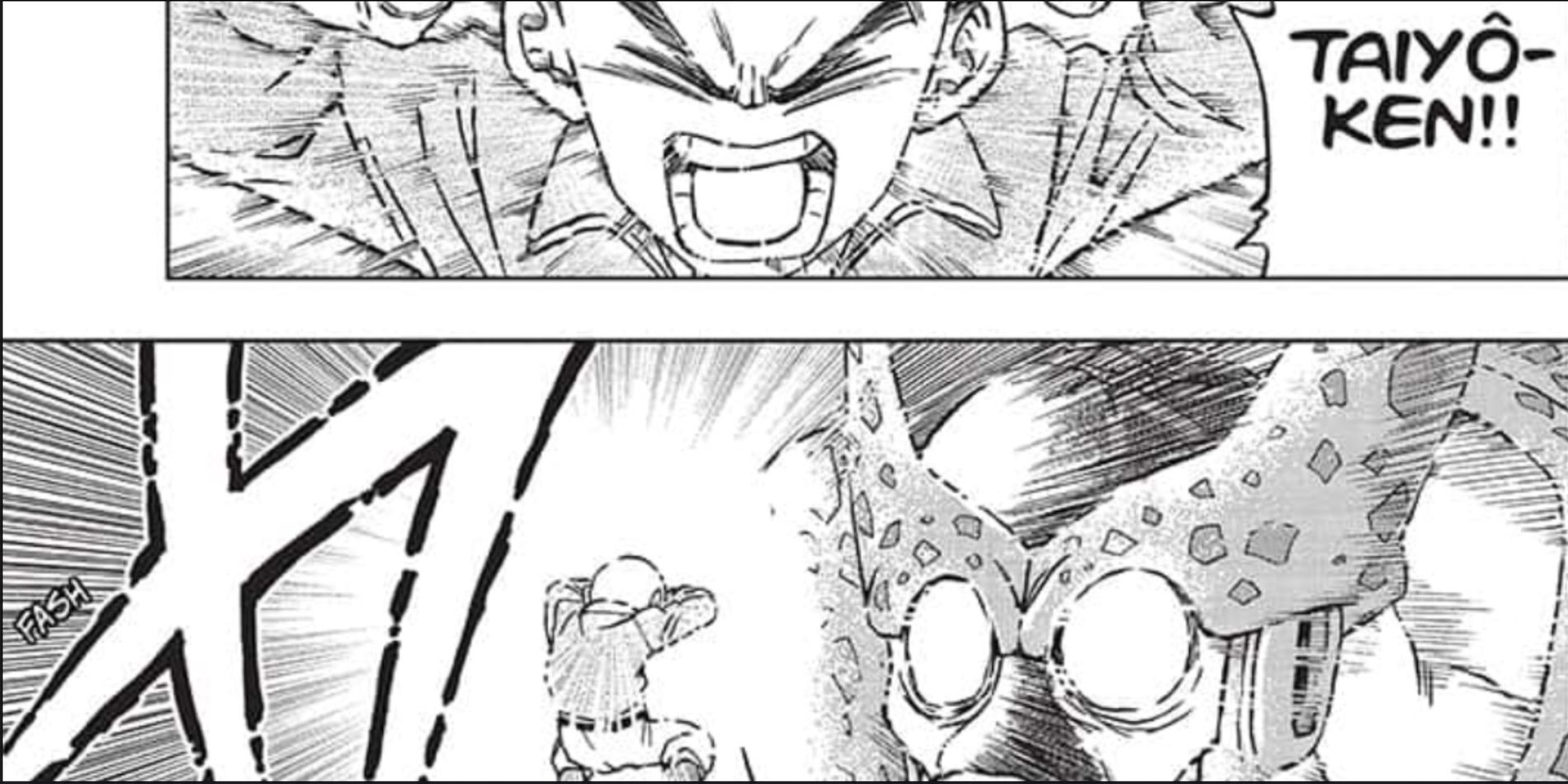 Gamma 2 is the chapter's MVP, but there's a strong case to be made for how fundamental Krillin is to the equation. Krillin so often gets neglected in Dragon Ball Super that his inclusion here conjures memories of vintage Dragon Ball Z. Krillin turns to all of his signature techniques here as he starts off with a well-timed Destructo Disc that saves Android 18 and then pivots towards a Solar Flare that momentarily blinds Cell Max and buys the heroes a little more time. Krillin supports Gohan, Piccolo, Android 18, and Gotenks as they all bombard Cell Max with blasts. Meanwhile, Gamma 2 launches a head-on collision that he executes from above the Earth's atmosphere like a meteor of hope. It's a thrilling spectacle that plays out across multiple pages. It might be the heroes' best shot at victory, but it doesn't entirely go according to plan.
Gamma's cataclysmic collision strike slightly misses its mark and severs Cell Max's arm rather than connecting with his weak spot. The evisceration of Cell Max's arm is a grisly moment and Dragon Ball Super really focuses on this severed appendage. The chapter's decision to highlight that this arm is still around might be foreshadowing something big in the future. Cell Max is prematurely awakened, which means that his regeneration skill should be out of the question. However, it'd be fascinating if Dr. Hedo (who's protected by Gamma 1 during these incidents) takes Cell Max's arm and attempts to clone the villain into a hero. Dragon Ball Super could engage in some really creative storytelling if it pits Cell Max against Black Frieza in an upcoming battle.
RELATED: Dragon Ball Super: Super Hero Subtly Deconstructs Western Heroes and Villains
Orange Piccolo Becomes A Gigantic Challenge For Cell Max
Piccolo's new Orange transformation has become one of the most rewarding elements of this Super Hero story arc. Orange Piccolo makes a satisfying return in "Gamma #2's Resolve" and the character's history with Gamma 2 comes full circle when he uses his transformation to save his new Android ally. "Gamma #2's Resolve" recreates many of the amazing visuals from Orange Piccolo and Cell Max's fight in the movie. There's also an abundance of mouth blasts, which is a trend that Cell Max starts, but gets mimicked by Orange Piccolo.
Piccolo's gigantification power, something that he hasn't used since the original Dragon Ball's 23rd World Martial Arts Tournament, allows him to give Cell Max a target that's his own size. In the feature film, Orange Piccolo's giant transformation is suggested by Krillin, which in turn happens in "Gamma #2's Resolve." This would have been a good opportunity for Dragon Ball Super to change this sequence of events so that it's Piccolo who remembers his people's signature skill instead of a human who's seen it once. It's still a clunky execution, but Dragon Ball Super's manga at least creatively uses its medium to convey the enormity of this feud. Numerous splash panels are used to emphasize the fight's magnitude and how much space these giants occupy. It's a detail that was slightly absent in the previous chapter.
RELATED: The Dragon Ball Super Manga Is Losing Momentum – And Fast
Gohan's Comeback Depends On A Senzu Bean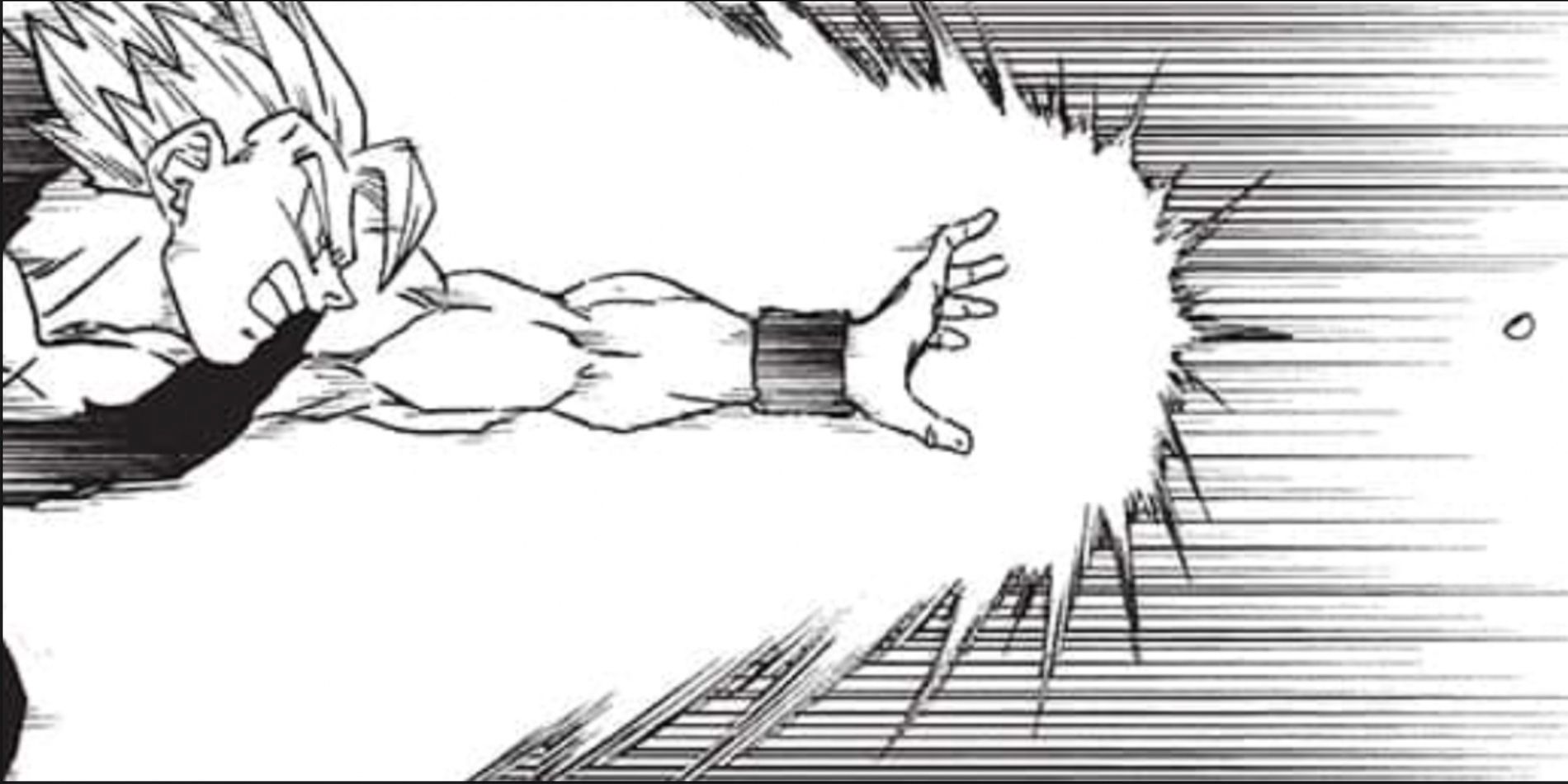 Piccolo's giant status means that Cell Max no longer towers above him. However, Piccolo reiterates that greater size doesn't equate to greater strength. It's actually harder for him to competently fight when he's such a huge size. This means that the pressure shifts over to Gohan. There's only one Senzu Bean left, which means that the planet's fate may rest on who makes use of this magical healing tool. Piccolo boosts Gohan's confidence and tells his former pupil that he and he alone has the potential to be "the world's strongest." Piccolo urges Gohan to show his true power and "use it to save the world," which is exactly the type of inspiration that he needs to hear in order to fact.
"Gamma #2's Resolve" creates some artificial tension when Cell Max's attacks cause Gohan to nearly lose the Senzu Bean and leave them all doomed. This Senzu chase adds a little more action to the chapter and beautifully dovetails with Pan's first flight. Pan becomes airborne for the first time and it's genuinely sweet that she's the one who catches the Senzu Bean and helps out Gohan. As the chapter comes to a close, Gohan is encouraged by both his mentor and daughter to be his best self. The Saiyan prepares to launch a Kamehameha to end all Kamehamehas at Cell Max as he holds nothing back and listens to his loved one's kind words.
RELATED: The Dragon Ball Super Manga Has a Chance to Fix Gohan's New Form
Facing The Future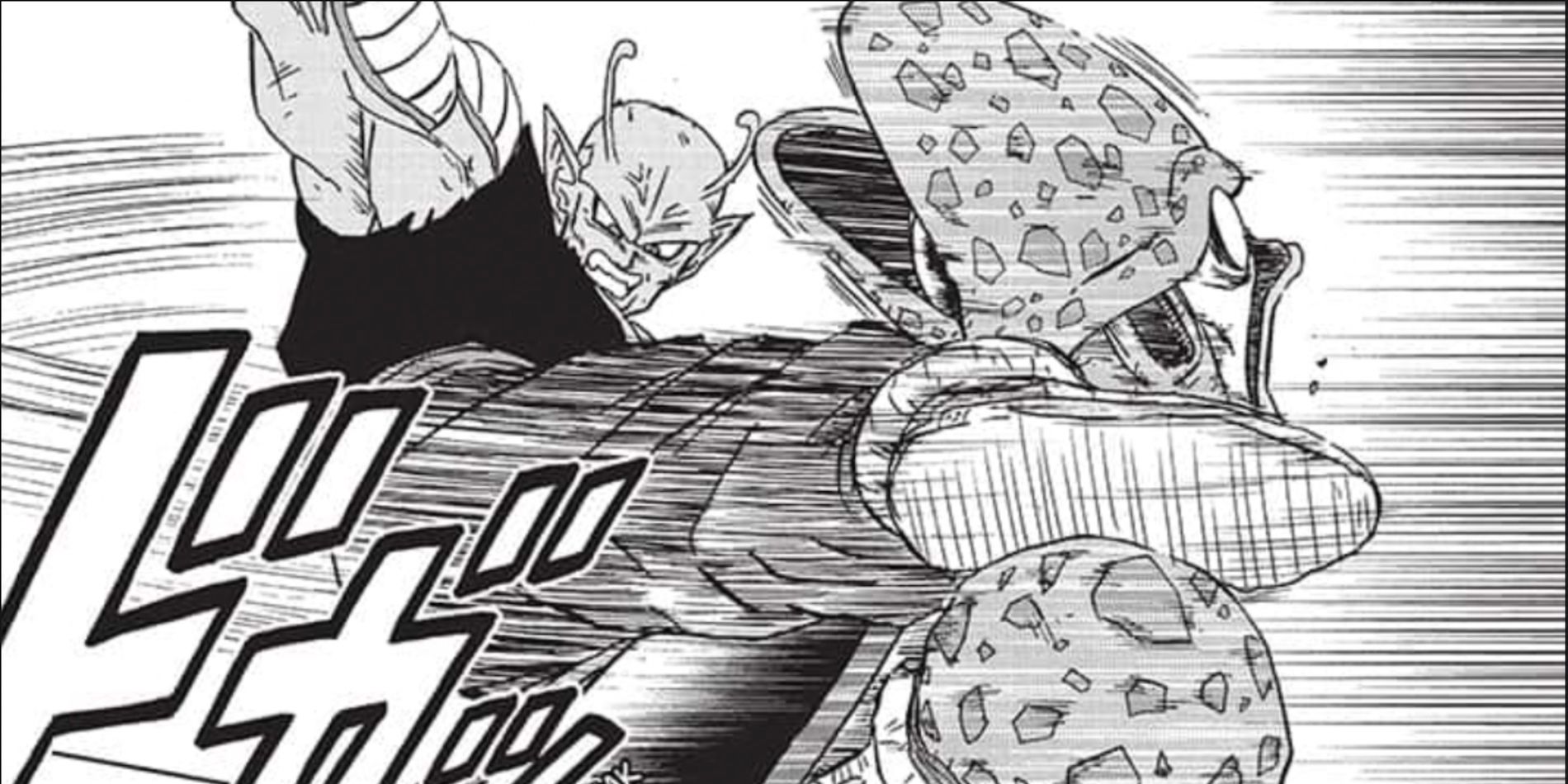 "Gamma #2's Resolve" effectively moves Dragon Ball Super's story along, but it concludes with an incredibly anticlimactic finish that doesn't exactly leave audiences on the edge of their seats until Chapter 99. Cell Max is still on the loose, which is nothing new, and any progress forward is incremental at best. There was speculation that this chapter might end with Gohan's eyes turning red as he begins to experience the start of his totemic Gohan Beast transformation. That would have certainly made for a more thrilling conclusion, especially for those who have never seen Dragon Ball Super: Super Hero.
Gohan Beast's manga debut is imminent, but the lethargic pacing of Chapter 88 means that Super Hero's events will likely last for two or three more chapters. Fans were hopeful that Dragon Ball Super's momentous 100th chapter would mark the start of a brand-new story arc. That now seems considerably less likely and a slight disservice to the series that such an important milestone will be lost on a story arc that's already been told. If nothing else, the Gohan Beast reveal may be a fun way to celebrate Chapter 100 even if it's predictable. Audiences will need to wait a few more months until its Dragon Ball Super: Super Hero adaptation is over and done with, but its conclusion draws closer.
on bbc news
on hindi news
on the news today
on channel 7 news
ôrf news
campo grande news ônibus
ôpera news
campo grande news greve de ônibus
l1 news horário dos ônibus
l1 news ônibus
lago azul news ônibus
news österreich
news österreich heute
news österreich aktuell
news öffentlicher dienst
news österreich corona
news öl
news österreich orf
news ö3
news österreich heute aktuell
news österreich sport
ö24 news
ölpreis news
öbb news
ösv news
österreich news krone
övp news
özil news
öffentlicher dienst news 2023
österreich promi news