Bungie has given Destiny 2's next expansion, The Final Shape, a thorough unveiling, confirming it'll whisk players to the "infinite, vast, unknowable" Pale Heart within the Traveler when it launches for Xbox, PlayStation, and PC on 27th February next year.

As per Bungie's info-heavy reveal livestream, The Final Shape – described as "the last expedition of Destiny's first saga" – will see players entering the Traveler via the portal opened at the end of this year's Lightfall expansion for a showdown with current big bad, the Witness. It's an adventure Bungie says will "answer questions on a grander scale" while also giving players the opportunity to connect with familiar companions on a more personal level.

That, of course, includes the formerly deceased fan-favourite Cayde-6, played by Nathan Fillion, who appears to be making a return as a Virgil-style guide manifested by the Pale Heart itself. Seemingly, this world inside the Traveler has reality shaping power that the Witness is attempting to use to refashion the universe in a vision of frozen perfection – the Final Shape of the title – but, as the Guardians enter the Pale Heart, it shifts to reflect their experiences too.

As such, the expansion's story campaign kicks off in something like a "place of safety", among verdant fields of green in the shadow of Destiny 1's Tower. However, as players push onward through the Pale Heart – described as the "first linear destination in Destiny's history" – and draw closer to the Witness' monolith, things get considerably weirder and wilder, with familiar geometry being pulled apart and reassembled in strange new ways.

Within the Pale Heart, players will encounter a new enemy type known as Subjugators. These come in two new variants – one a master of Strand, the other of Stasis – and bring a new "element of control" to the battlefield as they lend support to other enemies, tangling Guardians up with their powers.

Naturally, The Final Space also gives players new tools of their own to deal with this emerging threat, including three new Supers and Aspects designed to make them feel like an "offensive powerhouse" while simultaneously benefiting allies in a support capacity. Warlocks, for example, get the Song of Flame Super, enabling them to toss scorching projectiles at enemies in first-person, supercharging ally weapons at the same time. It's paired with an Aspect that can create a Solar Soul capable of setting "entire enemies ablaze from a distance".

Titans, meanwhile, get Twilight Arsenal, a ranged one-off offensive Super that sees them leaping into the air to fling out giant Void axes, which allies can pick up and use on enemies. Its corresponding Aspect lets Titans consume a grenade to create a moving shield that protects them and their allies, while also absorbing enemy attacks and releasing that energy in a massive area-of-effect blast. Finally, Hunters get Storm's Edge, a throwable knife, executable up to three times, enabling them to instantly teleport to the position it lands at. It arrives alongside an Aspect that'll let Hunters consume their ability class while airborne to shoot into the air, Jolting and damaging enemies, and Amplifying themselves and nearby allies.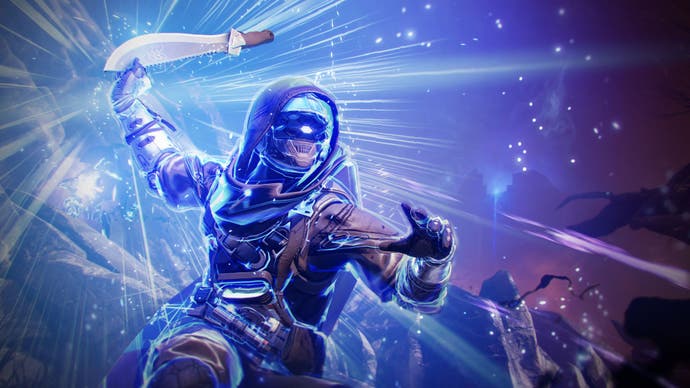 As far as new weapons go in The Last Shape, Bungie has only highlighted a few so far, including Tesselation, an Exotic pyramid fusion rifle that can adapt to a Guardian's current damage type and also "reshape" grenades, sucking them in and firing out a single, super destructive projectile. Players can also expect the return of some Destiny 1 weapons (including the Dragon's Breath Exotic rocket launcher, Khvostov Exotic auto rifle, and Red Death) all with a Destiny 2 twist, as well as a rocket pistol, and a support rifle capable of healing allies.

And lastly for the Final Shape, Bungie says there'll be plenty more to do after its story campaign is complete, when the previously linear Pale Heart opens up revealing more secrets and activities, including challenging bosses. Perhaps most notable is a new raid pitting players directly against the Witness in an attempt to break his hold on the area.

The Final Shape's 27th February launch is still some way off, of course, but there'll be more Destiny 2 to keep players busy in the interim, starting with the Season of the Witch, beginning today, 22nd August, and running until 28th November.

It's a bit of a Hive-themed season, this one, bringing a deck-building twist to Destiny 2 via Eris' new Deck of Whispers – a pack of magic cards players can use to create "amazing synergies" with build craft meta, buffs, and more. These can be put to use in two new seasonal activities: Altars of Summoning and Savathun's Spire – the latter being a reliquary for magical experiments that hosts a new three-player offensive with a high amount of combatant density and additional random encounters. Altars of Summoning, meanwhile, is designed to be a more flexible activity time-wise, challenging three players to kill enemies and fill a tithing bucket with progressively more rewards, which can then be collected whenever players want to cash-out.

Elsewhere, Season of the Witch introduces the Exotic Mission Rotator – which include Presage, Vox Obscura, and Operation: Seraph's Shield at launch today – and a new Vex Network PvP map promising a "really tight gameplay experience" heavily focused on combat. There's also a new tactical PvP mode all about relics – specifically, the shield from Vault of Glass, spear from Season of the Risen, and the scythe from Season of the Haunted – which sees players whizzing around and trying to claim relic dispensers. Finally, this season's Raid reprisal is Crota's End.

Notably, Season of the Witch will be one of Destiny 2's final seasons, with 2024 bringing a significant shake-up to the way content is delivered. From March next year, Bungie is launching Episodes, trading four annual updates for three "larger, content-packed" ones. 2024's Episodes are titled Echoes, Revenant, and Heresy, all offering standalone stories dealing with the aftermath of The Final Shape. The idea, says Bungie, is to make content easier to follow even if you haven't been playing along previously, and each Episode will feature more frequent story beats split across three Acts, each launching approximately every six weeks.

Acts will include new story elements, quests, and rewards, as well as a new Exotic weapon and corresponding Exotic Mission, new Legendary weapons, and additional Artifact perks. Players can also expect 200 Pass ranks with each new Episode, split across its three Acts – 100 in Act 1 and 50 each across subsequent Acts.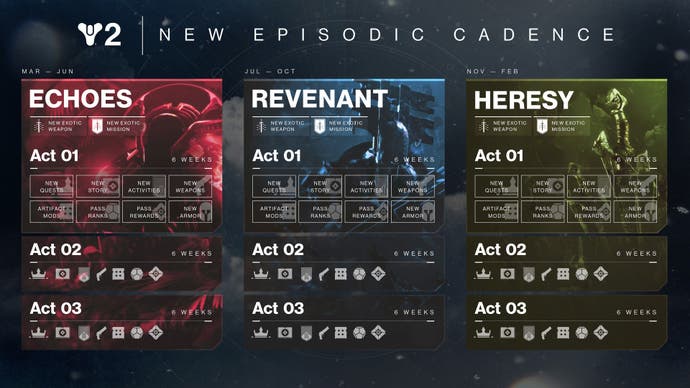 And finally, Bungie has highlighted a number of other changes it's making in an attempt to provide a more welcoming experience for players. Starting in today's Season of the Witch, players can experience new Timeline Reflections – short playable missions giving newcomers the chance to catch up on Destiny 2's ongoing narrative, and veterans an opportunity to relive pivotal moments from the past; they include end-of-mission rewards for all.
Elsewhere, Bungie has made changes to Power level requirements so all players can experience campaigns and free roaming destinations regardless of level, with activities scaling to a player's current Power level so they "always feel fair and exciting". Similarly, a new "Fireteam Power" level has been introduced, temporarily boosting everyone in a fireteam to match the highest Power level in the group, so friends can still effectively play together, even in activities they might ordinarily struggle with due to their lower level.

You'll find a few more details in Bungie's reveal livestream and subsequent developer roundtable, as well as a slightly more succinct blog post.

on bbc news
on hindi news
on the news today
on channel 7 news
ôrf news
campo grande news ônibus
ôpera news
campo grande news greve de ônibus
l1 news horário dos ônibus
l1 news ônibus
lago azul news ônibus
news österreich
news österreich heute
news österreich aktuell
news öffentlicher dienst
news österreich corona
news öl
news österreich orf
news ö3
news österreich heute aktuell
news österreich sport
ö24 news
ölpreis news
öbb news
ösv news
österreich news krone
övp news
özil news
öffentlicher dienst news 2023
österreich promi news