Throughout the course of DC Comics' Knight Terrors, fans have seen nearly every major hero and villain confront their innermost fears. Miraculously, Boston Brand, better known as Deadman, has both escaped that fate and been at the heart of the terrifying action from the start. Better yet, finally coming to terms with his worst fear has given Deadman not just the chance to beat the villain behind the DC Universe's most recent dire event, but to step away from the fight against evil for the first time in his history.
After Insomnia's legion of twisted nightmares beings invaded the waking realm, the heroes of Knight Terrors: Night's End #1 (by Joshua Williamson, Howard Porter, Giuseppe Camuncoli, Stafano Nesi, Travor Hairsine, Rain Beredo, and Troy Peteri) were forced to take drastic measures to defeat the villain. While the Sandman unleashed the powers of the Dream Stone on Insomnia, Deadman emerged from the nightmare he had been trapped in to take hold of the menacing Nightmare Stone. Unsurprisingly, wielding this immense power against Insomnia came at a great cost, although it was one that Deadman was more than happy to pay. By the time the dust had settled, the heroes were not only nightmare-free, but Deadman was free from everything that was holding him back from simply slipping away into the afterlife.
RELATED: Knight Terrors Explores the Inherent Contradiction of Wonder Woman
How Deadman Became DC's Most Depressing Superhero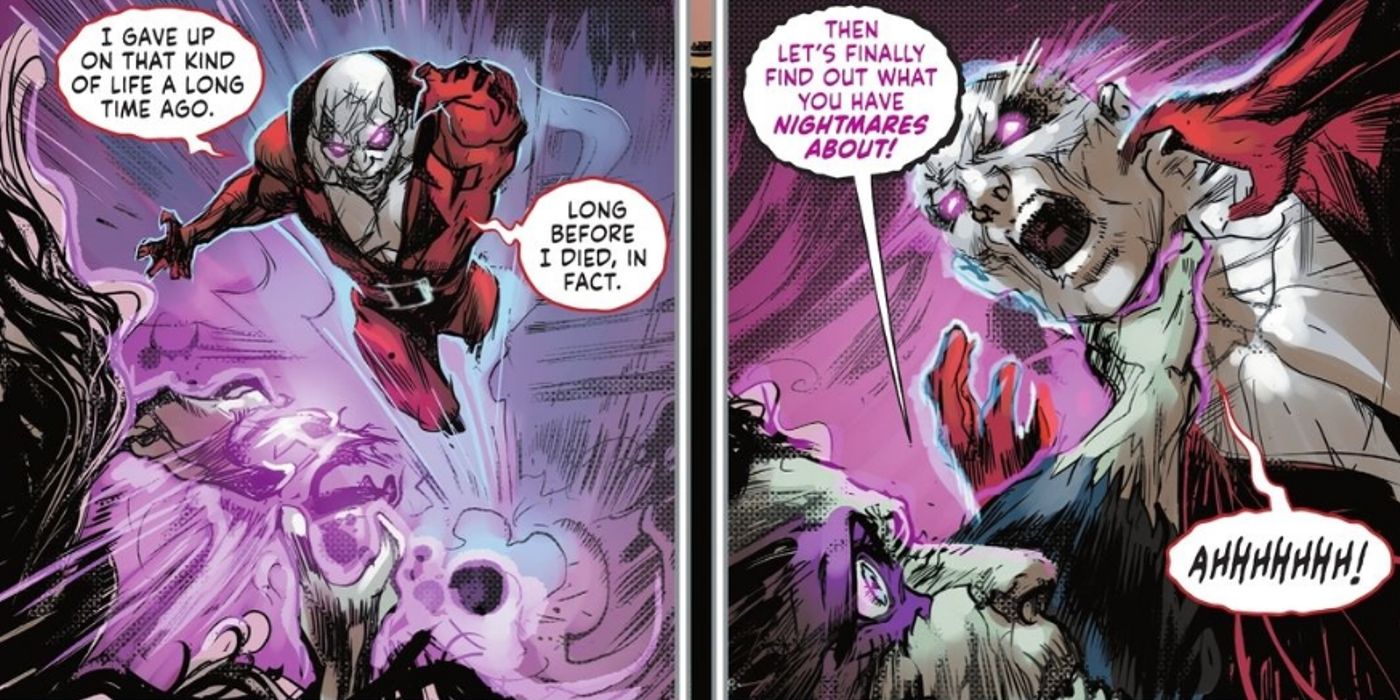 Introduced all the way back in 1967's "Who Has Been Lying In My Grave?" (by Arnold Drake and Carmine Infantino, from the pages of Strange Adventures #205), Boston Brand was an extraordinarily talented trapeze artist cut down in his prime during an otherwise ordinary high-flying circus act. When the ancient divinity Rama Kushna offered Boston the chance to avenge his own demise rather than stepping into the light, he took the offer without question. With that, Deadman was born, and a decades-long career of spectral crime-fighting ensued. Without a body, Deadman possesses numerous abilities that would be expected of such a hero, though none have been more important than his power to take control of the living.
Although Deadman has played a key role in numerous DC Comics storylines, not to mention coming to terms with his role as a specter after catching his own killer, none of his achievements have been able to make up for the life he lost. In spite of everything he had available to him as a hero, none of that really mattered when all Boston actually wanted was a chance to live, love, and be loved in turn. He's met various love interests as Deadman, but his existence as a spirit hasn't afforded him the opportunity to genuinely embark upon any meaningful relationships. As bad as that is, it somehow still isn't the worst of Boston's experiences as a specter, as DC's Knight Terrors has made abundantly clear.
RELATED: Knight Terrors Revived A Beloved Internet Meme To Explore Nightwing's Psyche
Knight Terrors And Deadman's Career As A Hero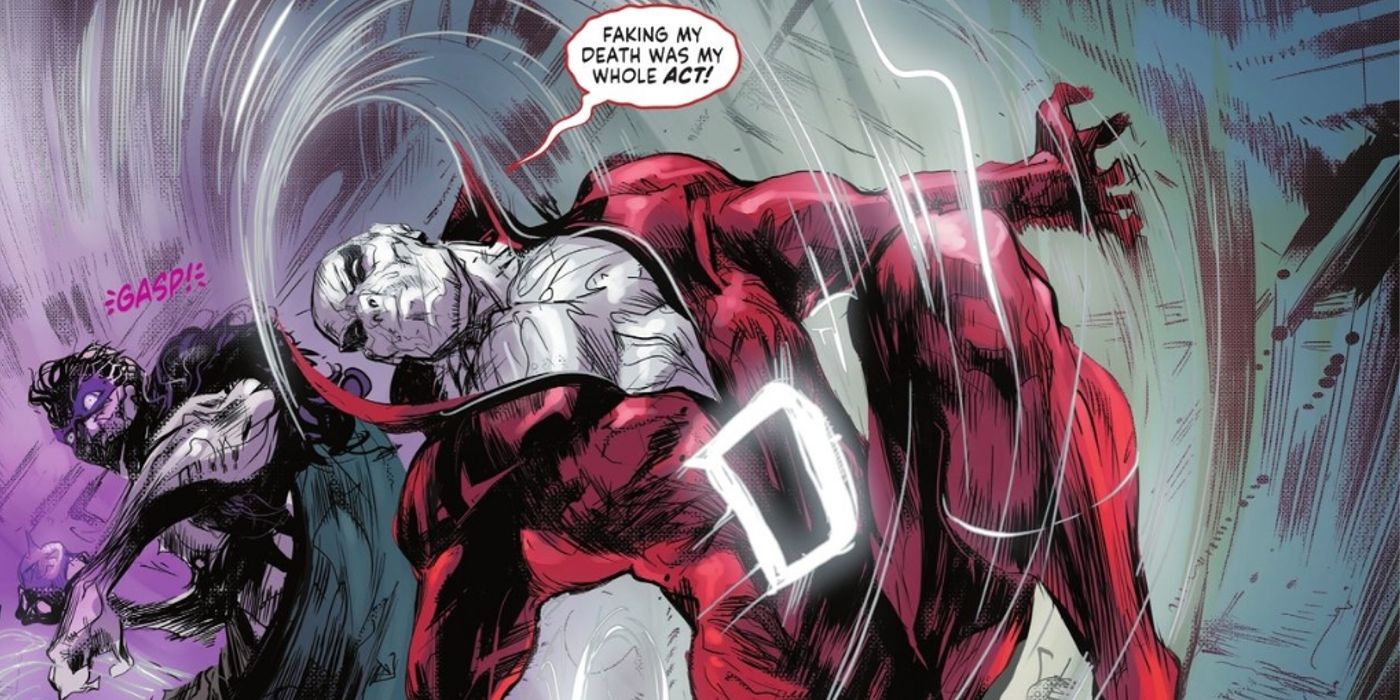 Apart from the romantic tragedies of Deadman's existence, the most devastating aspect of Boston's afterlife has easily been being relegated to the role of a spectator. As a circus performer, Boston reveled in being celebrated and applauded for his talents. As Deadman, however, he has only been able to watch most events, even when he was in the thick of things himself. Possessing someone like Batman may give him the chance to fight his own battles, but he still isn't really doing anything as himself, at least not in any way that matters. Whatever recognition Boston gets from his fellow heroes, he frequently feels like an inconvenience to them, while the rest of the world doesn't even know he exists.
Boston has never felt like his time as Deadman matters on any level the lives he helps or saves through his unseen influence. That isn't nothing in the grand scheme of things, and Boston absolutely realizes that fact, yet it also doesn't leave him with any genuine sense of personal fulfillment. By being relegated to his role as a supernatural audience participant, Deadman constantly felt like the best that the universe would ever have to offer him had been stolen away with his murder. This makes it all the more poignant that Deadman has finally shed his time in the DC Universe as fans know it to move on to whatever comes next, and with any luck, he won't be coming back.
RELATED: Harley Quinn May Be DC's Fourth Pillar, But She Doesn't Want to Be
Why A DC Universe Without Deadman Is A Good Thing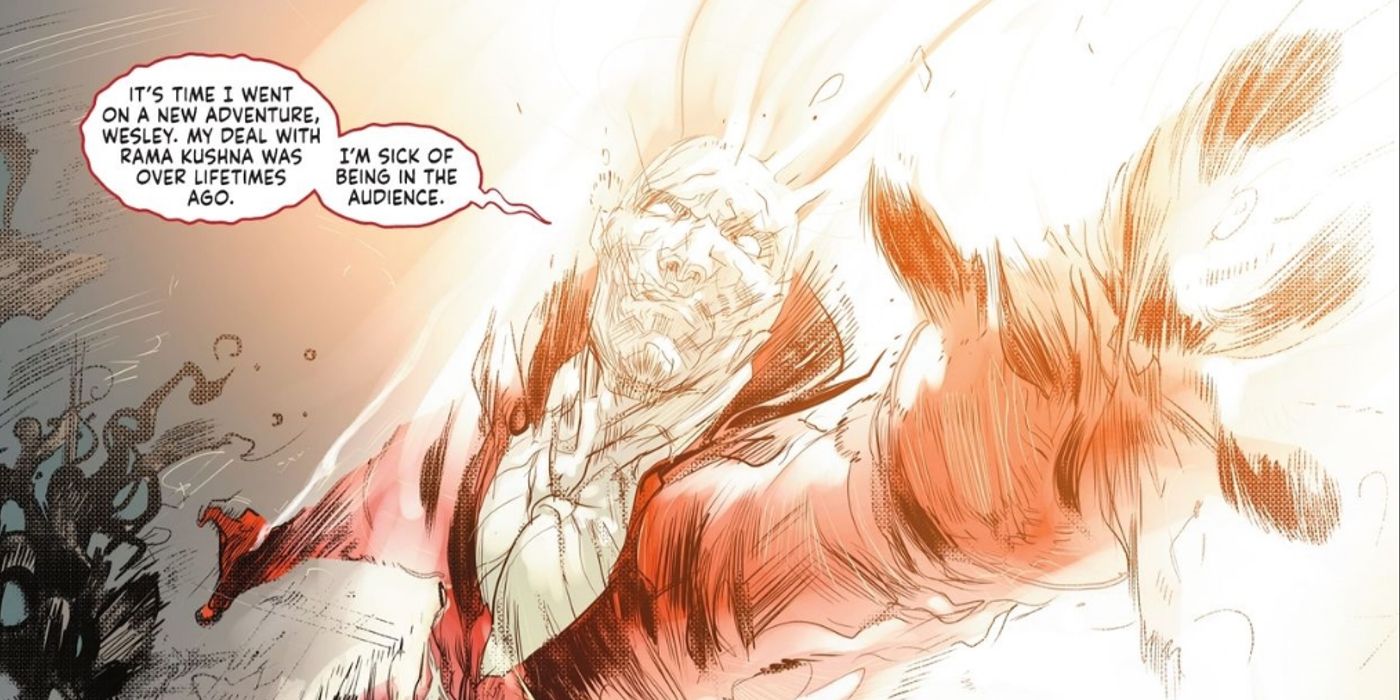 Whereas so many other DC heroes have fought their way back from the brink of death and even returned to the land of the living, Deadman's spent his comic book career trying to do the exact opposite. The simple, heartbreaking truth is that Deadman only ever wanted to stick around long enough to bring his killer to justice, but the little glimpses of real life he got to experience along the way were too comforting for him to walk away from. Now that he has come face-to-face with that reality under Insomnia's short-lived reign, Deadman no longer has to worry about what could have been, especially not when what could be is finally within reach.
Death might not typically mean much in the realm of comic books, and it rarely sticks for very long, but in the case of Deadman, letting the character slip away into finality is a perfect ending. This is remarkably similar to the circumstances of the Golden Age Sandman's recent resurrection which, while both exciting and fitting, was never meant to last. Seeing Wesley Dodds back in action was fun, yet seeing him slip back into his grave to rejoin his loved ones on the other side was heartfelt in a way that few other DC stories can manage. Although Deadman has stepped into the light after all these years of walking away from it, it gives his character a sense of completion that's rare in DC Comics.
on bbc news
on hindi news
on the news today
on channel 7 news
ôrf news
campo grande news ônibus
ôpera news
campo grande news greve de ônibus
l1 news horário dos ônibus
l1 news ônibus
lago azul news ônibus
news österreich
news österreich heute
news österreich aktuell
news öffentlicher dienst
news österreich corona
news öl
news österreich orf
news ö3
news österreich heute aktuell
news österreich sport
ö24 news
ölpreis news
öbb news
ösv news
österreich news krone
övp news
özil news
öffentlicher dienst news 2023
österreich promi news