The following contains spoilers for Blue Beetle #1, now available from DC Comics.
Summary
Writer Josh Trujillo blindsided fans by killing off the fan-favorite second Blue Beetle, Ted Kord, in the new Blue Beetle #1
Ted Kord's died numerous deaths in DC Comics. It's hard to make his latest demise matter
Ted Kord's first death in Countdown to Infinite Crisis showcased his heroism and felt like it mattered but each of his subsequent deaths felt progressively less significant.
Writer Josh Trujillo just blindsided fans in the newest Blue Beetle comic series by killing off the fan-favorite second Blue Beetle, Ted Kord, when the mysterious new supervillain 'Blood Scarab' made his debut and impaled the hero in his lab. As shocking as this is, Ted Kord is no stranger to death.
Each time a superhero dies, it matters a little less. Ted Kord has died numerous times in DC Comics. While Kord's latest demise is obviously meant to bring some emotional weight to the new Blue Beetle series, it's hard for it to really matter after Maxwell Lord killed him in 2006. Comic book deaths are always associated with diminishing returns. When a supposedly carefree hero like Blue Beetle has died so many times, it makes it hard for fans to care.
RELATED: DC's Former Editor-In-Chief Shows Off His Blue Beetle Shirt
Why Blue Beetle's First Death Mattered
Ted Kord's most impactful death, unsurprisingly, was his very first during the 2005 one-shot story Countdown to Infinite Crisis (by Geoff Johns, Greg Rucka, Jesús Saíz, Judd Winick, Ed Benes, Ivan Reis, Rags Morales, Phil Jimenez, Michael Bair and Moose Baumann). The comic issue was a tribute to Ted Kord's character and countered the common perception that Blue Beetle was a goofy C-list Justice Leaguer. By putting him right in the middle of a major conspiracy involving the secret organization Checkmate, DC Comics forced readers to take him seriously for the first time in decades.
Blue Beetle's investigation uncovered how the former manager of the Justice League International, one Maxwell Lord, had betrayed them and taken over Checkmate in an effort to slaughter Earth's superhumans. Maxwell Lord attempted to persuade the second Blue Beetle to join his scheme, promising him the respect he's due. However, Blue Beetle refused Lord's proposal, remained true to his convictions, and cursed the villain as he shot the hero in the head.
Ted Kord's death in Countdown to Infinite Crisis was fantastic because of how it combated his reputation. Both within the DC Universe and in the real world, Ted was often considered inept because of his tendency to crack jokes and act more juvenile than his contemporaries. Yet even when his fellow Justice Leaguers abandoned him and his old friend Max offered him a chance to reinvent himself, Ted proved that he truly was a hero despite his reputation. His death was also not in vain, as he was able to send information about Checkmate to Batman, leading to Lord's eventual downfall in the OMAC Project storyline (by Greg Rucka, Jesús Saíz, Rachel Gluckstern, and Joan Hilty).
RELATED: How Blue Beetle Is Tied To The Most Important Comic Book Ever
Blue Beetle's Second Death In Injustice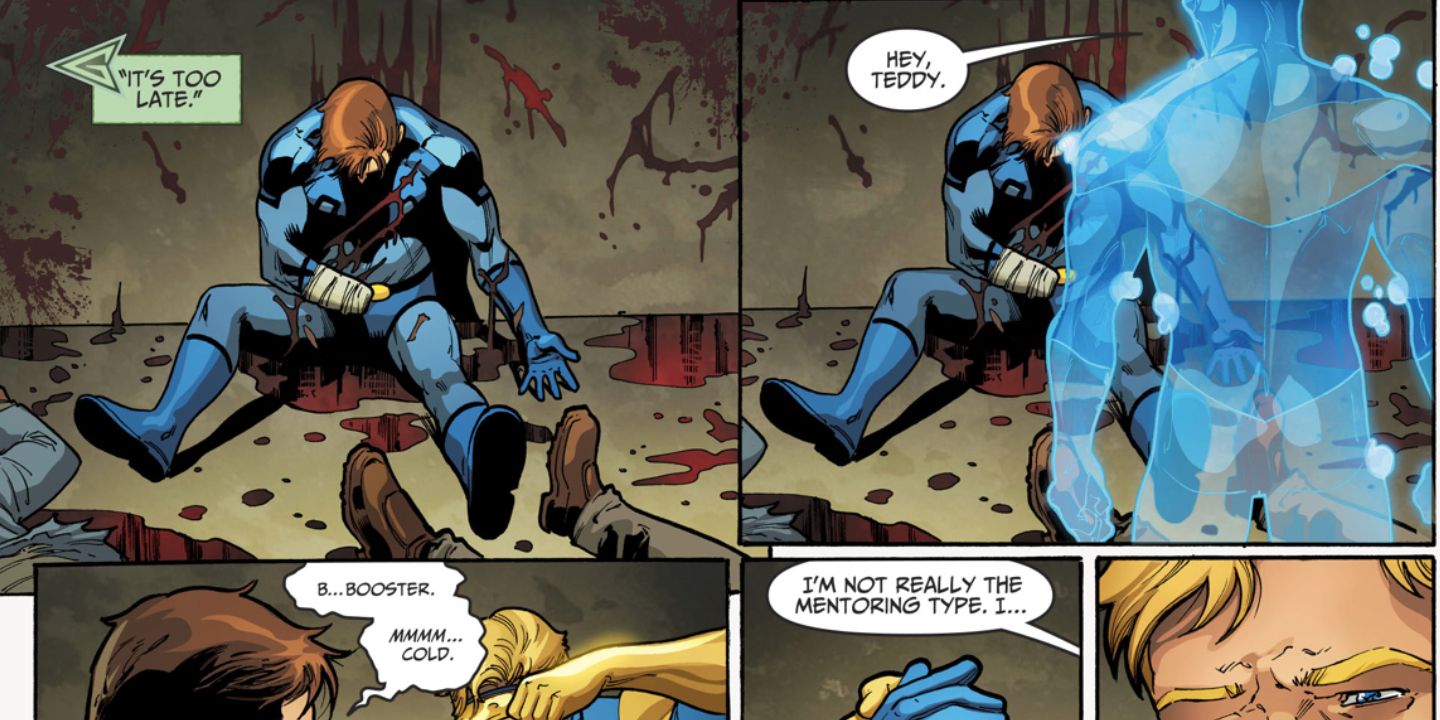 Despite not being a part of the main DC Comics timeline, the Injustice comic series (set in the alternate universe Earth-49) provided another incredibly impactful death for the second Blue Beetle. During Injustice 2 #5 (Tom Taylor, Rex Lokus, Bruno Redondo, Vicente Cifuentes and Wes Abbott), Ted and his employees at Kord Industries were kidnapped by notorious Batman villain Ra's Al Ghul, who proceeded to broadcast their capture and mauling at the hands of Killer Croc and Orca live. The majority of the recently reformed Justice League concluded that Blue Beetle was dead, except for Ted's best friend, Booster Gold, who broke into Ra's' stronghold to save him.
What followed was an incredibly heart-wrenching scene where Booster Gold found the incredibly wounded Blue Beetle, who was left by Ra's to slowly bleed to death in his cell. Mortally wounded, Blue Beetle made Booster promise to take the aspiring third Blue Beetle Jamie Reyes under his wing and train him. While hesitant at first, Booster upheld his friend's last wish and they had one last mocking conversation together until Ted died midway through their banter. While this Blue Beetle death isn't canonical, Injustice 2 #5 gave Ted a dignified and emotional send-off worthy of the hero, which his future deaths didn'.
RELATED: The First Blue Beetle Has Been Completely Overshadowed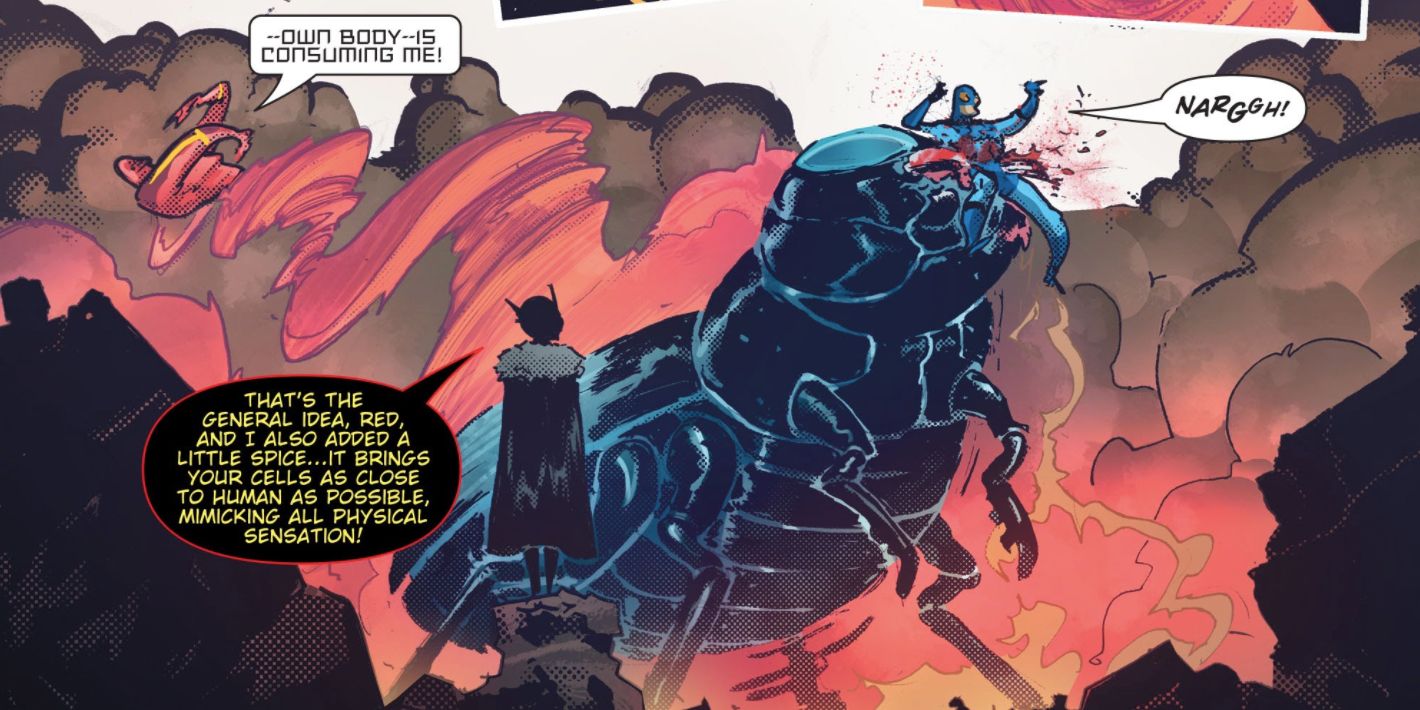 The first of Ted Kord's more anticlimactic deaths was during 2020's Dark Nights: Death Metal event, which saw a multitude of superheroes murdered in increasingly gruesome manners. In the tie-in comic Dark Nights: Death Metal Robin King #1 (Peter Tomasi, Riley Rossmo, Rob Leigh and Ivan Plascencia), Ted led a small team that included Red Tornado and Animal Man to save Batman and Wonder Woman from the extradimensional entity known as the Robin King. While initially taking the Robin King by surprise, the murderous villain quickly killed off Blue Beetle's allies and summoned a giant blue beetle to devour Ted.
While this was a creative and disturbing death for the kind-hearted hero, he was treated as an inconsequential side character here, as DC's Trinity of Batman, Superman, and Wonder Woman hogged the spotlight for the rest of Dark Nights: Death Metal. Not only was Ted's death meaningless in the story, he was ultimately resurrected by Batman in Dark Nights: Death Metal #6, driving home the fact that his demise was literally meaningless.
RELATED: DC's Best Blue Beetle Comic Run Began In 1986
Blue Beetle's Death At Blood Scarab's Hands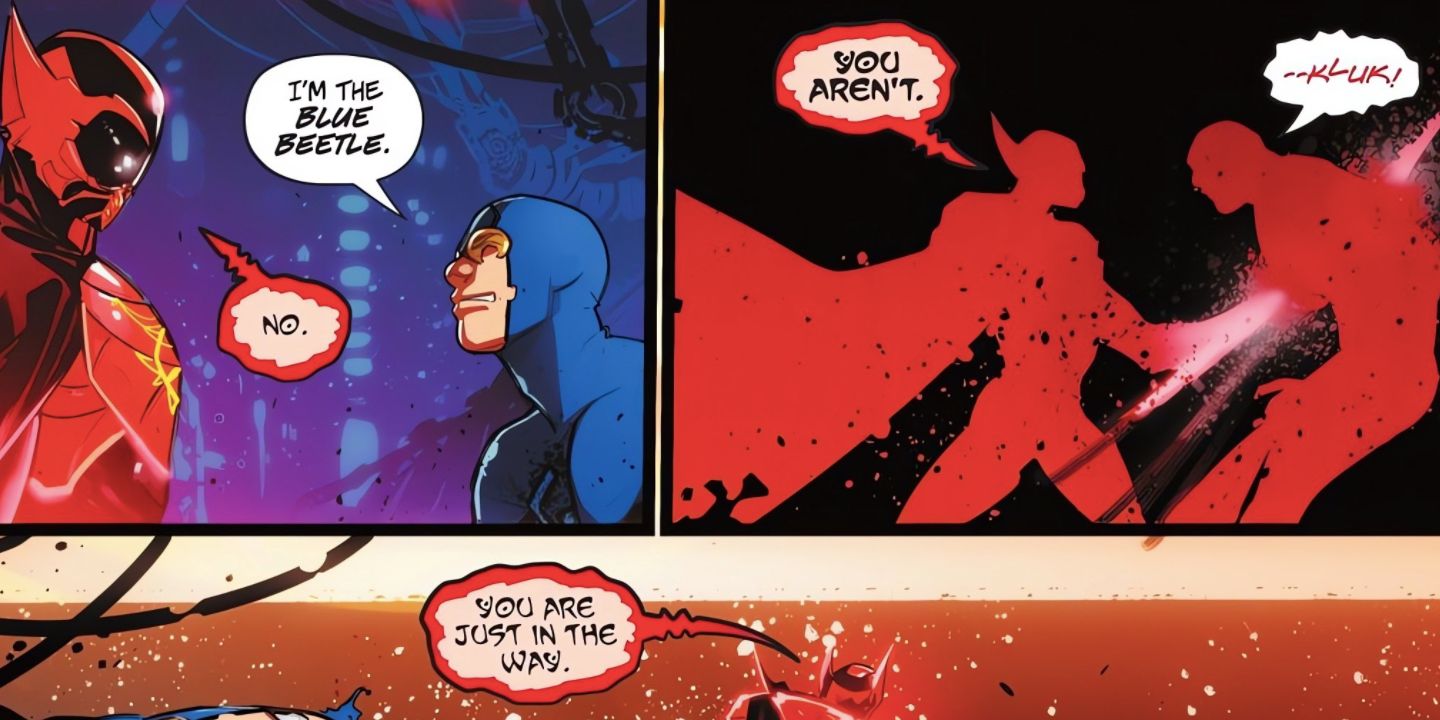 While Blue Beetle was working in his lab during Blue Beetle #1, Blood Scarab ambushed him. After an impressive display of ingenuity, where Ted used every gadget in his superhero arsenal to wound or incapacitate Blood Scarab, the alien supervillain managed to impale Blue Beetle through the chest. Ted Kord was last seen bleeding out in a haunting final panel at the end of the issue. Although Ted could still conceivably make it out of this story alive, this was clearly supposed to feel like a death for the second Blue Beetle.
While seeing Ted Kord die in the first issue of Josh Trujillo's Blue Beetle run is surprising, fans have already watched him die numerous times since 2005. When Maxwell Lord executed the affable Azure Avenger, fans were genuinely broken-hearted. However, Ted's recent death at Blood Scarab's hands had more shock value than tragedy in it. Superheroes are already known for their constant deaths and resurrections but killing Ted Kord four times in under two decades has turned his demise into a trope. Hopefully, he'll be back again soon since this would be an underwhelming send-off for a beloved superhero.
on bbc news
on hindi news
on the news today
on channel 7 news
ôrf news
campo grande news ônibus
ôpera news
campo grande news greve de ônibus
l1 news horário dos ônibus
l1 news ônibus
lago azul news ônibus
news österreich
news österreich heute
news österreich aktuell
news öffentlicher dienst
news österreich corona
news öl
news österreich orf
news ö3
news österreich heute aktuell
news österreich sport
ö24 news
ölpreis news
öbb news
ösv news
österreich news krone
övp news
özil news
öffentlicher dienst news 2023
österreich promi news