The Big Picture
David Harbour delivers his best performance to date in Steven Soderbergh's No Sudden Move, playing a character who is a stark contrast to his previous roles.
Harbour portrays a wimpy dad in the 1950s setting, highlighting the flaws and shortcomings of traditional masculinity during that era.
Harbour's comedic and buffoonish portrayal fits perfectly into the style of director Steven Soderbergh, making him the standout in the stacked cast of No Sudden Move.
In 2016, David Harbour hit the big time as an actor with his work as Sheriff Jim Hopper on Stranger Things. Immediately, Harbour became an A-list figure that audiences immediately recognized the world over. Of course, Harbour has had a long career beyond the confines of Stranger Things, including countless character actor roles in movies. For a good while, Harbour was a go-to figure to play tough guy bruisers in supporting roles in movies like Black Mass, A Walk Among the Tombstones, and Sleepless. In the wake of Stranger Things, Harbour has shifted over to taking on more prominent roles in movies like Black Widow, Violent Night, and Gran Turismo. One of the more obscure movies he's shown up in since that breakout Netflix hit, though, sees the actor give his best performance to date. That feature is the 2021 Steven Soderbergh title No Sudden Move.
It's understandable why No Sudden Move has languished in obscurity since its release. Dropped on HBO Max back in July 2021 with no promotion, the film was barely viewed by streaming audiences (garnering roughly 20% of the viewership of fellow July 2021 streaming movie The Tomorrow War, per Samba TV). Though it was given a physical media release in July 2022, that premiere was also given no promotion. No matter what format it's premiering on, Warner Bros. has no interest in pushing No Sudden Move. That's a shame since it's a great Soderbergh yarn and a terrific vessel for actors like David Harbour to show off their talents.
David Harbour Plays Against-Type in 'No Sudden Move'?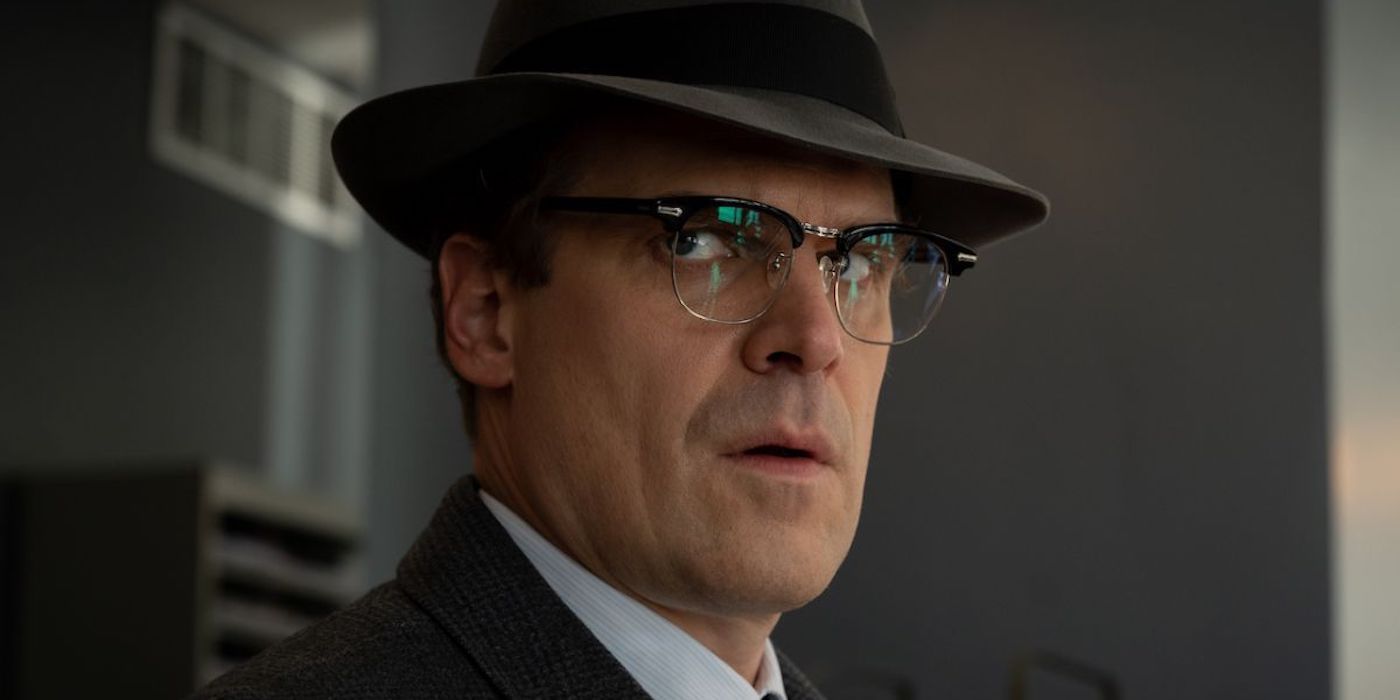 The plot of No Sudden Move is a bit on the labyrinthine side, so let's compress things. Set in 1954 Detroit, Michigan, the protagonist of this feature is Curt Goynes (Don Cheadle), who is sent along with two other criminals to the home of accountant Matt Wertz (Harbour). Wertz has a document that the employer of Goynes needs, so it's time to take this meek suburban guy hostage and get that paper. A cacophony of mayhem ensues after Wertz tricks the criminals into securing false documents and one of the criminals Goynes is working with threatens to shoot Wetz's family.
Endless double-crosses and conspiracies unfold, all of which are eventually revealed to be in the service of Soderbergh providing commentary on car companies wanting to avoid suppressing pollution. Ed Solomon's screenplay intentionally delivers an avalanche of information and complicated lore only to reveal that the entire proceedings have hinged on rich people not wanting to suffer consequences for their actions. In the middle of all this is Matt Wetz, a character who stands in stark contrast to other characters David Harbour has portrayed in the wake of Stranger Things. Typically, Harbour has opted to portray guys who are clearly middle-aged and schlubby, but who can still take a punch when the time comes. This archetype was quite apparent in Black Widow and Violent Night, while even his mentor racer role in Gran Turismo relied on Harbour initially appearing jaded before turning out to still have hope in his soul.
RELATED: David Harbour Thinks 'Gran Turismo' Director Neill Blomkamp's Style Is Nuts: "He's Taking Risks"
In the case of Matt Wertz, Harbour is playing a guy whose everything he appears on the surface. He's totally overwhelmed when these criminals randomly appear in his home, but that's not to conceal that he's actually a meticulous badass like he's Bob Odenkirk in Nobody. Even his scheme to hand over false papers to the crooks doesn't buy him or his family much additional time, it's just a temporary distraction. Every time Wertz tries to do something, he just trips over himself. He's a buttoned-up buffoon who could've been played by Philip Seymour Hoffman in another timeline, which is a tremendous compliment to Harbour's performance.
David Harbour Plays A Wimpy Dad and That's A Good Thing!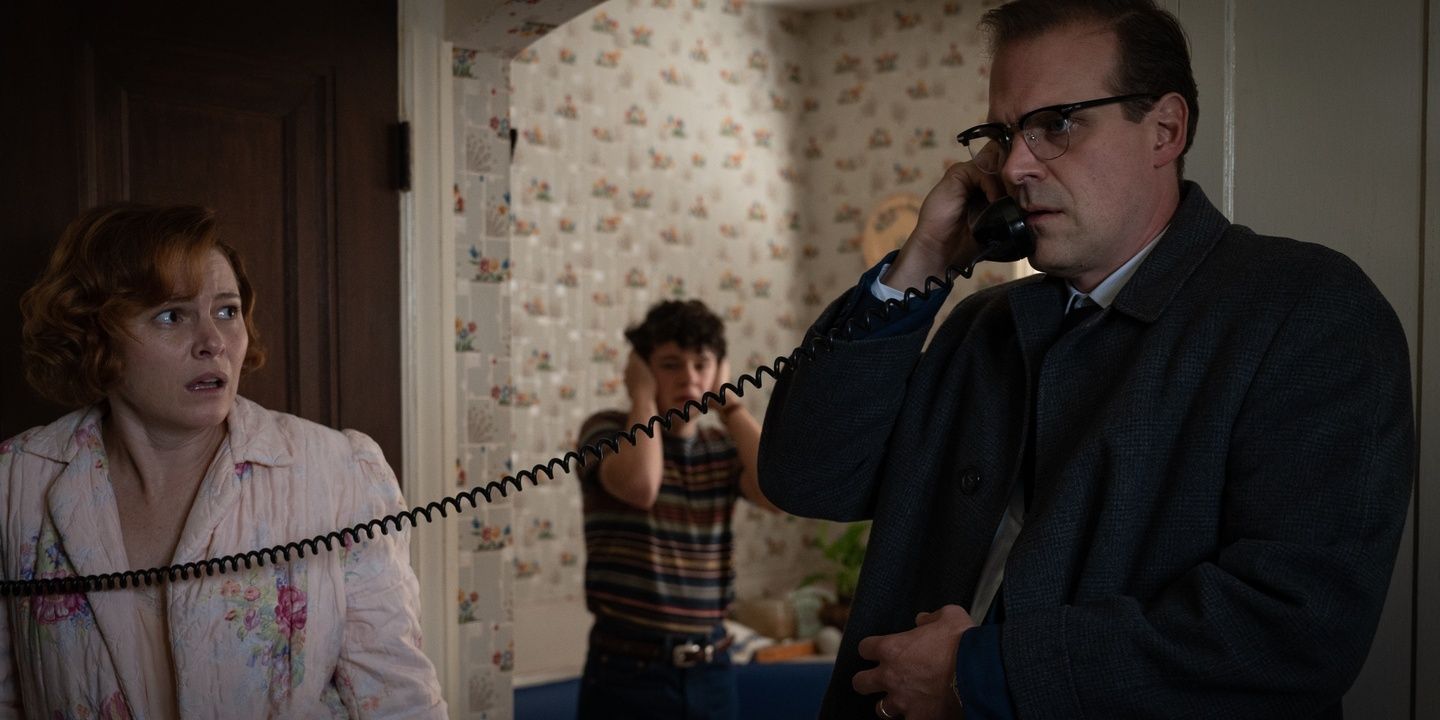 David Harbour's commitment to depicting Matt Wertz as a sad-sack benefits No Sudden Move greatly, especially in how well this character plays as a contrast to protagonists Goynes and Ronald Russo (Benicio del Toro). Goynes has seen it all in his criminal career while Russo is a terrifying loose cannon. On the total opposite end of the spectrum is Wertz, a guy who gets flummoxed by a sharp breeze. It's incredibly and consistently amusing to see Harbour play opposite these guys while it's also fun to see him get to flex his comedy muscles after he had to play the straight man in Stranger Things.
Plus, Harbour's performance as Matt Wertz accentuates No Sudden Move functioning as a quiet indictment of America in the 1950s. This was an era in the country's history where traditional roles were greatly emphasized everywhere, including what kinds of parts men were supposed to occupy in "typical" households. Dads had all the answers, they should be idolized in every means imaginable. No Sudden Move, meanwhile, depicts Wertz as a microcosm of how dads in this era didn't carry an easy response to any situation that crossed their desk. They were flawed creatures capable of all the shortcomings the 1950s portrait of masculinity was supposed to erase from the minds of the general populace. David Harbour's unabashedly wimpy performance encapsulates this concept beautifully.
David Harbour's Performance Fits Perfectly Into a Steven Soderbergh Movie
Even better, Harbour's work here is in keeping with a tradition of comically buffoonish guys in Steven Soderbergh movies. This filmmaker just knows how to make dim-witted dudes that tickle your funny bones, it's why Logan Lucky is such a riot or why The Informant! has so many amusing sequences. These Soderbergh characters aren't necessarily himbo's or aspirational man-children. They're often just dorks who, save for the quietly wise leads of Logan Lucky, are never as smart as they think they are. Soderbergh knows how to direct these kinds of characters in his sleep, so it's no wonder David Harbour ends up being the MVP of No Sudden Move's stacked cast.
This particular performance even demonstrates how well David Harbour works in ensemble casts. Harbour can come in, steal a scene, and inspire hearty laughs in the viewer, but then glide right off-screen and let other characters take the spotlight without making audiences feel like something's missing when they're absent. It's a talent ingrained into Harbour's lengthy career in fleeting roles in projects like Revolutionary Road and it serves him well in the dense cast of No Sudden Move. Unsurprisingly, Steven Soderbergh is able to craft yet another entertaining crime movie, but the real joy of this underrated project is how it's home to David Harbour's best performance as an actor.
on bbc news
on hindi news
on the news today
on channel 7 news
ôrf news
campo grande news ônibus
ôpera news
campo grande news greve de ônibus
l1 news horário dos ônibus
l1 news ônibus
lago azul news ônibus
news österreich
news österreich heute
news österreich aktuell
news öffentlicher dienst
news österreich corona
news öl
news österreich orf
news ö3
news österreich heute aktuell
news österreich sport
ö24 news
ölpreis news
öbb news
ösv news
österreich news krone
övp news
özil news
öffentlicher dienst news 2023
österreich promi news