One of the quests seen in Cyberpunk 2077's Phantom Liberty DLC is "Heaviest of Hearts," which offers different rewards for choices made as V attempts to infiltrate a nightclub covertly. Offered during a gig you receive as you explore the new area of Dogtown, this mission tests your stealth skills as you negotiate with some heavy hitters in Night City. Those looking to earn some sweet eddies will want to tackle this task carefully.
You will be given this task by Mr. Hands as a Gig side quest that appears toward the central parts of Dogtown close to the Pacifica area. This doesn't occur until you unlock different story endings in Cyberpunk 2077's DLC after completing the tenth main story mission, "Firestarter." Once you travel to the gig location, Mr. Hands will call you to begin the mission with a cautionary tale about the son of a recent client.
Related: There's One Cyberpunk 2077: Phantom Liberty Side Quest You Should Do ASAP
Meet With Michael Maldonado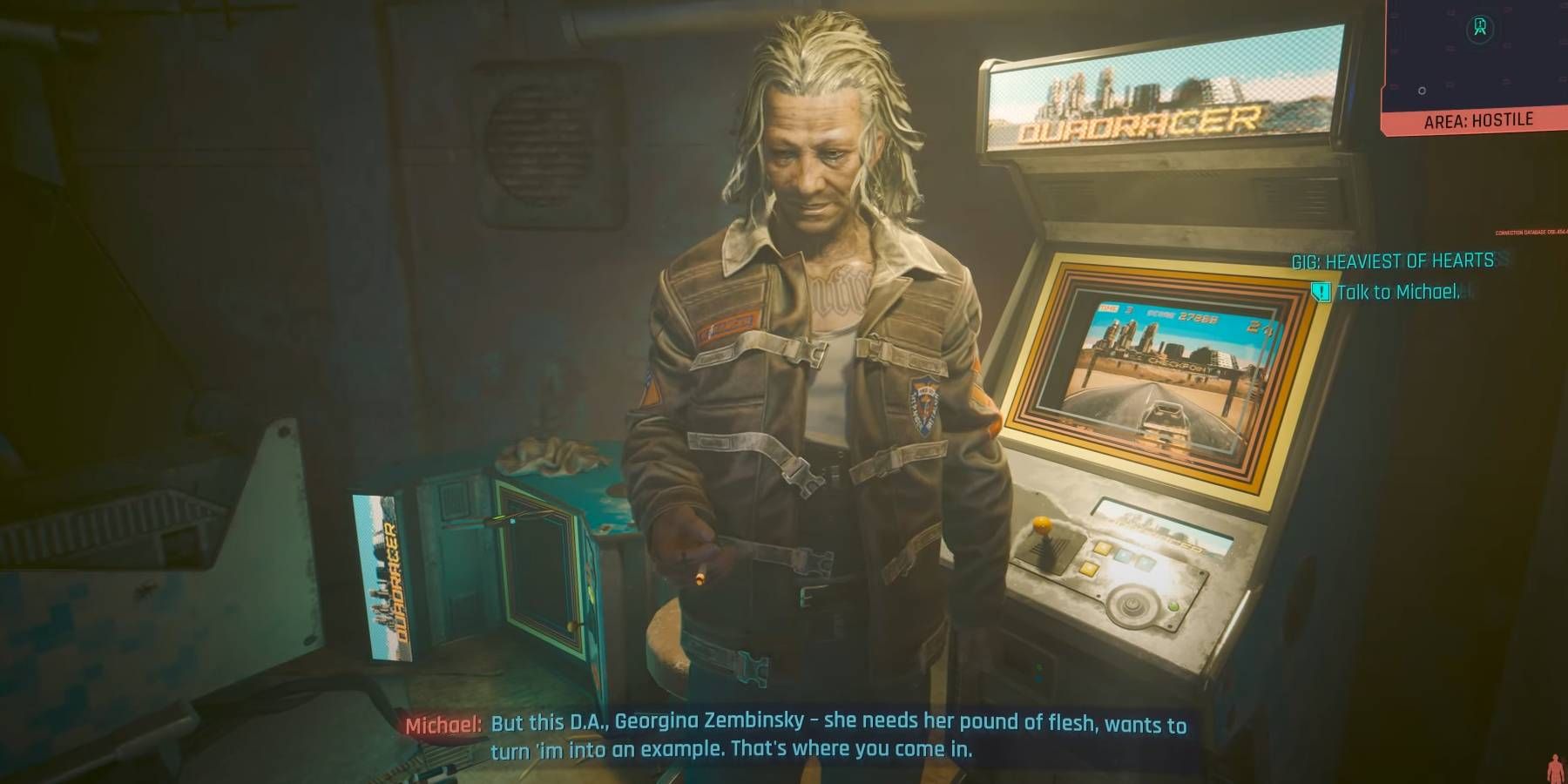 The first part of this quest requires you to travel to the previously mentioned spot in Dogtown to meet with Michael Maldonado, the client Mr. Hands spoke of over the phone. The fixer has apparently spoken highly of V, leading Michael to request your services directly in Cyberpunk 2077. Talking to the man reveals that his son, Eric, has been targeted to be made an example of by the law despite the legitimate business he runs in Night City.
Apparently, an officer from the D.A.'s office named Georgina Zembinsky has been trying to bring down a crime kingpin named Hector Sacristán and forced Michael to testify against Eric. According to Michael, Eric has info that could incriminate Sacristán, which explains why Georgina wanted to put them in a place where he could testify so badly. Michael asks you to talk to Georgina and convince her not to send Eric to jail for this mission in Cyberpunk 2077.
Go To The Heavy Hearts Club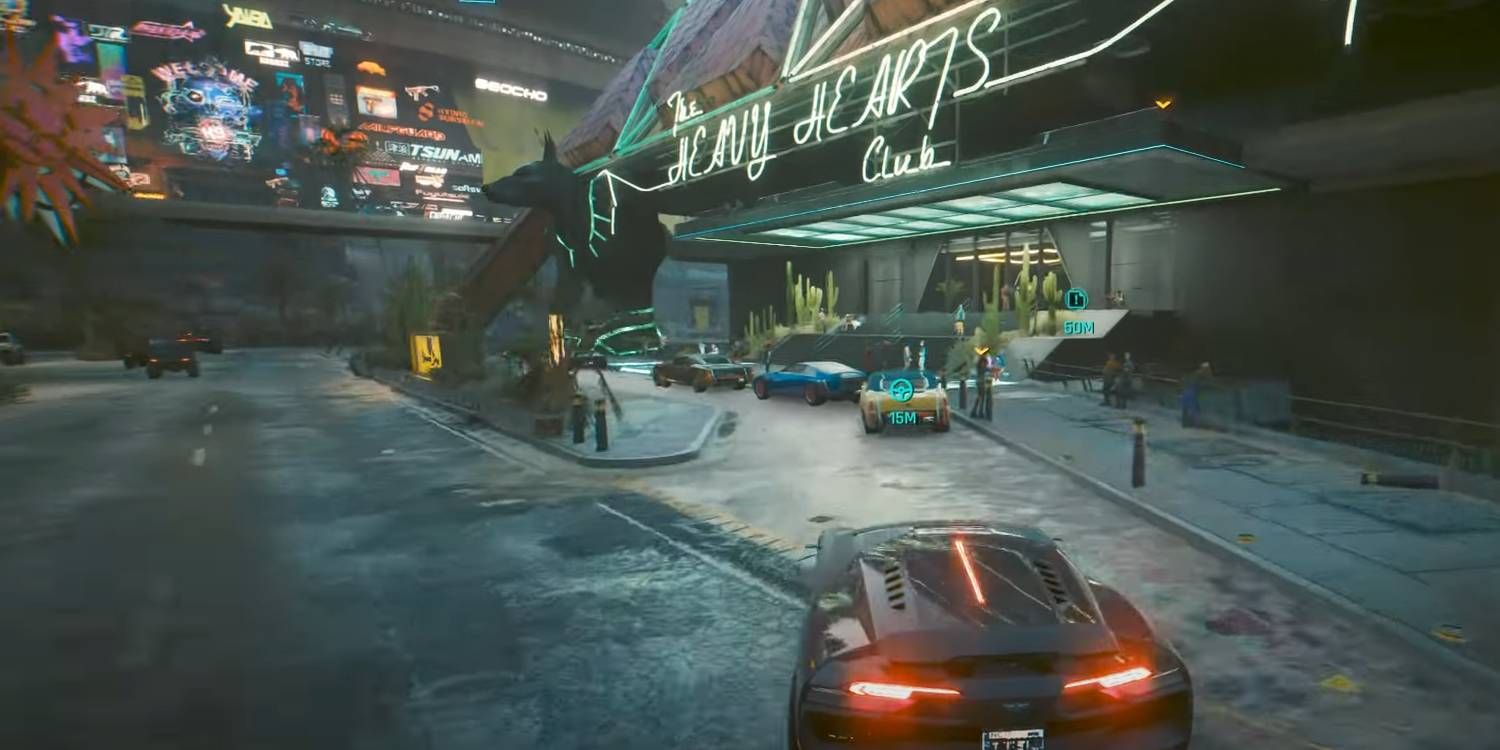 Michael lets you know that Georgina can be found at the Heavy Hearts club, the same place where he was beaten to testify against his son in Cyberpunk 2077. One of the optional goals here is to avoid raising the alarm while at the club, making this a stealth mission for those who want bonus rewards. To remain as hidden as possible, speak to the bartender and ask them about Georgina.
The bartender will say that the D.A. officer is likely in the VIP booth and to meet with a person named Jack in the bathroom for more information. You'll catch Jack in the middle of some sort of deal; go ahead and kindly interrupt him to find Georgina for you in Cyberpunk 2077. For a small price of 550 Eddies, you can get Jack to immediately contact his sources and confirm your target's location in the club.
Jack also happens to be a vendor that you can purchase multiple items from, including several items such as weapons in Cyberpunk 2077 that could help during this mission if you run into any trouble.
Get Into the VIP Area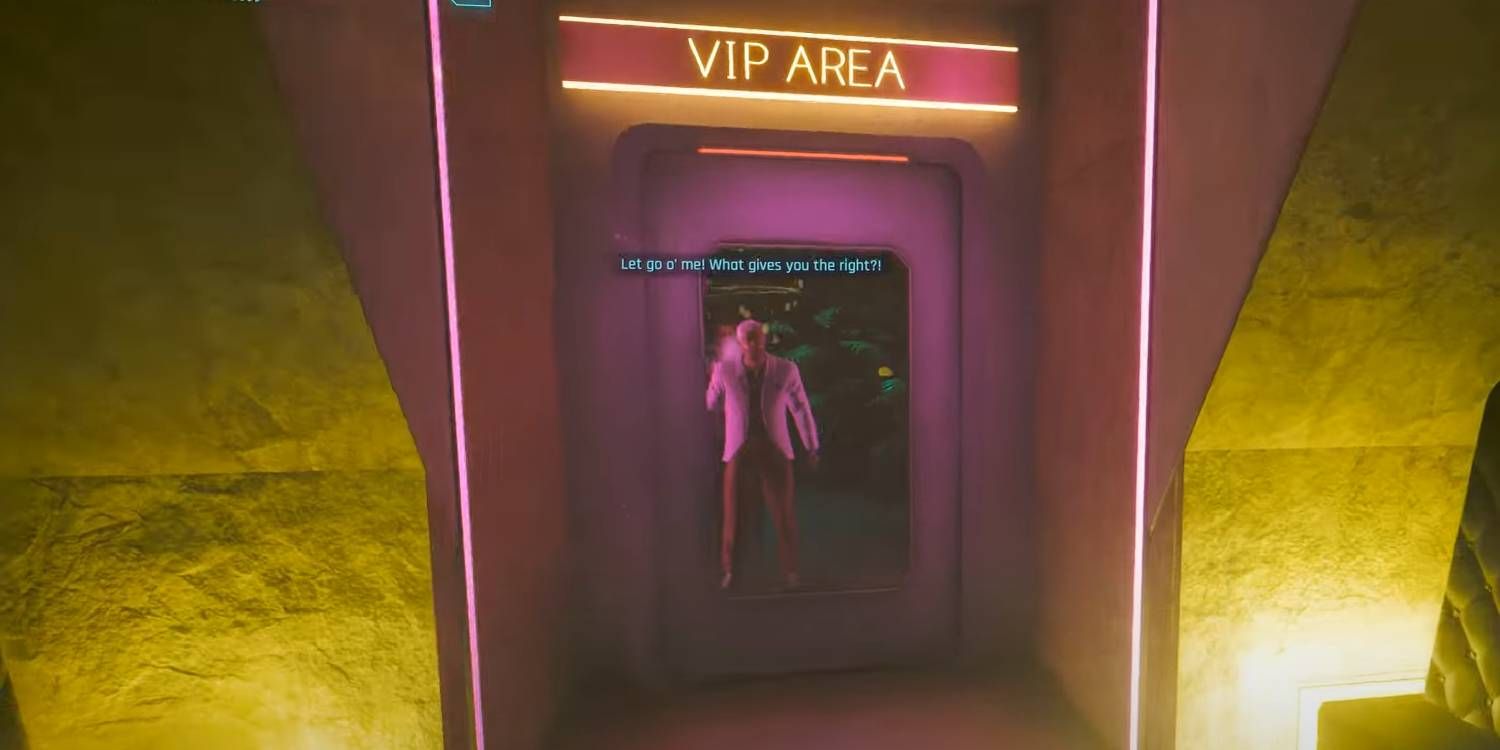 The moment you reach the VIP section, you will quickly realize that you aren't allowed in to reach Georgina, making it challenging to keep sticking to stealth. You might find Markus, an NPC that gets thrown out of the VIP section in Cyberpunk 2077 right as you're arriving, but you do not need to talk to him. Go up the stairs leading to the VIP space, but remember that you are in a hostile area where enemies could attack if you get caught.
Enemies have to be looking in your general direction for you to be spotted, making it easy to get to VIP Rooms 1-3. To make it to the higher number areas, though, you need to hack and disable the security cameras on the ceiling to make it to Georgina.
Make your way to Room 4, where Jack mentioned friends of Georgina were who would know her location. However, if you want to grab a special weapon, head down to Room 6 without getting spotted to retrieve the Crimestopper weapon in Cyberpunk 2077. Found in a suitcase within the room, this powerful gun lets you lock onto an additional enemy and immobilize targets when fired as a tool not found in any black markets in the Phantom Liberty DLC.
Even if you aren't interested in the Crimestoppers, an Attorney in Room 4 will direct you to Georgina in Room 6 anyway. Continue to disable security systems and use the bars as cover to move stealthily through the VIP lounge until you reach this private space. The room is locked, so you must travel down the stairs at the end of the area to find a fusebox in Cyberpunk 2077 past some guards that can open a secret path.
Talk To Georgina Zembinksy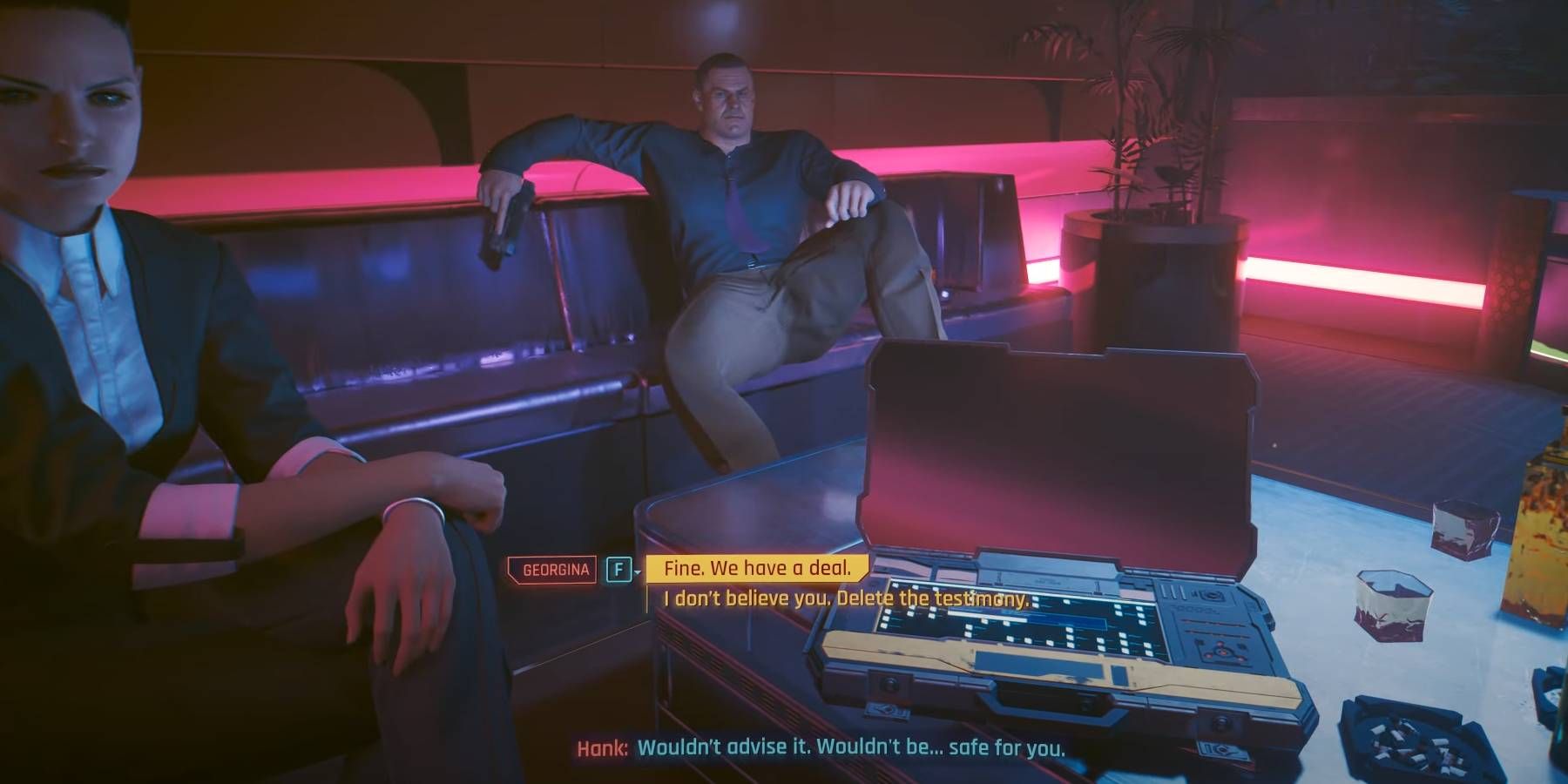 Similar to the end of the "Push it to the Limit" quest in Cyberpunk 2077's Phantom Liberty, the last part of this mission is simply talking, leading to an interesting decision. No matter what you did to open the hidden path from the fusebox, it will lead to VIP Room 6 on the right. Here, you may finally speak to Georgina, who is flanked by a bodyguard named Hank, who makes the situation far tenser.
During this conversation, Georgina will show V the whole confession from Michael, claiming that the father wasn't harmed and simply sold out his son for some quick money in Cyberpunk 2077. She offers you a deal to let her submit the testimony from an anonymous source so that Michael can be safe from Eric's anger. You can either take the deal or force Georgina to delete the footage if you don't entirely trust her story.
Agreeing to the deal makes both parties happy, but refusing leads to Hank attacking V unless you have enough Body Attributes to intimidate him. Both decisions end the mission, opening up a passage that leads back to the club's first floor. For either choice, you gain 2,000 Eddies from Michael and another 6,000 credit bonus if you remain hidden for completing the "Heaviest of Hearts" mission in Cyberpunk 2077's Phantom Liberty DLC.
Franchise:

Cyberpunk

Platform(s):

PlayStation 4, Xbox One, PlayStation 5, Xbox Series X/S, Microsoft Windows

Released:

2020-12-10

Developer(s):

CD Projekt Red

Publisher(s):

CD Projekt

Genre(s):

Action RPG, First-Person Shooter

Engine:

REDengine 4

ESRB:

M

Summary:

Cyberpunk 2077 is an action RPG/FPS game set in the universe created by Mike Pondsmith in 1988. Players play as V, a customizable main character who is given an augment that slowly attempts to re-write his memories with those of a dead celebrity played by Keanu Reeves. The two need to work together to keep the protagonist alive. Players will immerse themselves into the neon-lit, crime-ridden environment of Night City as they complete tasks, augment themselves for improved mobility, and customize their weapons to face the foes that inhabit the open city. An expansion pack for the base game, Phantom Liberty, will be released sometime in 2023.

Platforms:

PlayStation 5, PlayStation 4, Xbox One, Xbox Series X and Series S, Microsoft Windows, Google Stadia

Publishers:

CD Projekt RED, CD Projekt

Expansion Packs :

Phantom Liberty

Release Date :

10 December 2020

Mode:

Single-player

Rating:

7/10 Steam; 9/10 IGN
on bbc news
on hindi news
on the news today
on channel 7 news
ôrf news
campo grande news ônibus
ôpera news
campo grande news greve de ônibus
l1 news horário dos ônibus
l1 news ônibus
lago azul news ônibus
news österreich
news österreich heute
news österreich aktuell
news öffentlicher dienst
news österreich corona
news öl
news österreich orf
news ö3
news österreich heute aktuell
news österreich sport
ö24 news
ölpreis news
öbb news
ösv news
österreich news krone
övp news
özil news
öffentlicher dienst news 2023
österreich promi news