Despite bearing the name of Marvel's most bloodthirsty symbiote, Cult of Carnage: Misery hasn't been the most gruesome story up to this point. In fact, at times it's been downright campy. The miniseries by Sabir Pirzada, Francesco Mortarino, Java Tartaglia, Dono Sánchez-Almara, Fernando Sifuentes and Joe Sabino has introduced several ideas that feel cartoonish, albeit in the best possible way. The headlining character, Misery, is a combination of Anti-Venom and Carnage fused to Spider-Man supporting character Liz Allan, and issue #4 changes pace considerably, confronting the namesake of its main character in a shocking reexamination of Spider-Man history.
In the latest issue, Liz Allan and her new symbiotic partner take a look back at the lingering effects of her painful past and the trauma she's endured. This jarring change in tone recontextualizes the history of the former wife of Harry Osborn, but it's not unwelcome. At its heart, the comic perfectly encapsulates the traits that have made symbiote stories so memorable over the past three decades. In short, Cult of Carnage: Misery is a transformative character study that balances themes of personal problems with colorful action and bombastic ideas.
RELATED: Three of Marvel's Symbiote Hosts are Kids — Which Raises Concerns
The Creation of Marvel's New Misery Symbiote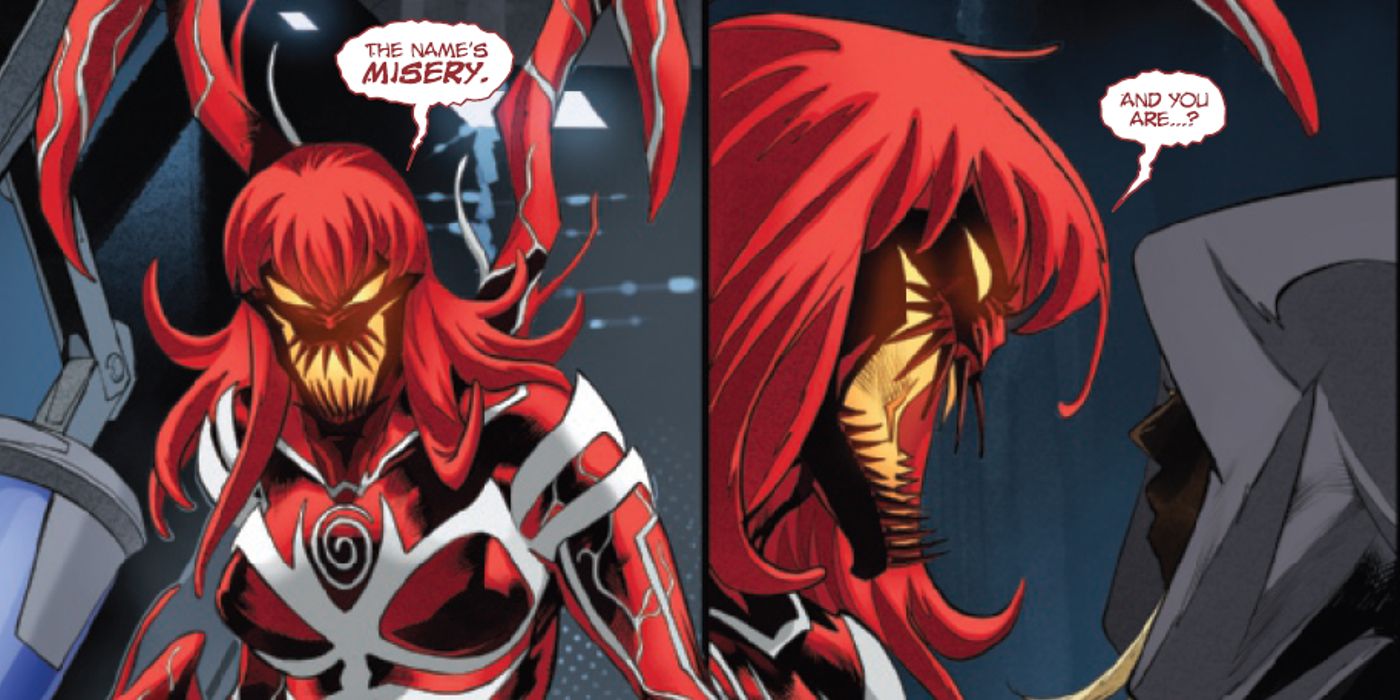 Cult of Carnage: Misery shines a spotlight on classic Spider-Man cast member Liz Allan, widow of the deceased Harry Osborn and former high school classmate of Peter Parker. Allan's come a long way since her introduction, giving birth to Normie Osborn and taking in Harry's complicated lovechild Stanley. Liz has also built an impressive business resume in recent years, and currently serves as the CEO of Alchemax. While she's fully capable of the job, Liz is stressed by the burden it places on her family as well as her own inability to move past her relationship with Harry. At the start of the miniseries, the former Mrs. Osborn is steeped in the remains of her departed husband, discovering his Green Goblin armory and a secret phone that still receives calls.
While grappling with her personal struggles, Liz oversees secret research exploring potential use of Symbiotes to cure diseases. Following the events of Extreme Carnage, Alchemax possesses the five Life Foundation Symbiotes, along with Toxin and samples of both Carnage and Anti-Venom. The symbiotes are stolen by former Guardsman Corwin Jones, who wounds Liz during his escape. Allan's strains of Anti-Venom and Carnage fuse with her to create the new hybrid Symbiote Misery. While Allan is capable of great power and regenerative abilities, she's still no match for Jones' new strength. The former soldier uses the stolen Symbiotes to become a hybrid creature known as Madness, tearing Allan to shreds and bringing her to Life Foundation CEO Carlton Drake.
RELATED: Death of the Venomverse is Too Much Venom, Not Enough 'Verse
Liz Allan's Transformation Into Cult of Carnage's Misery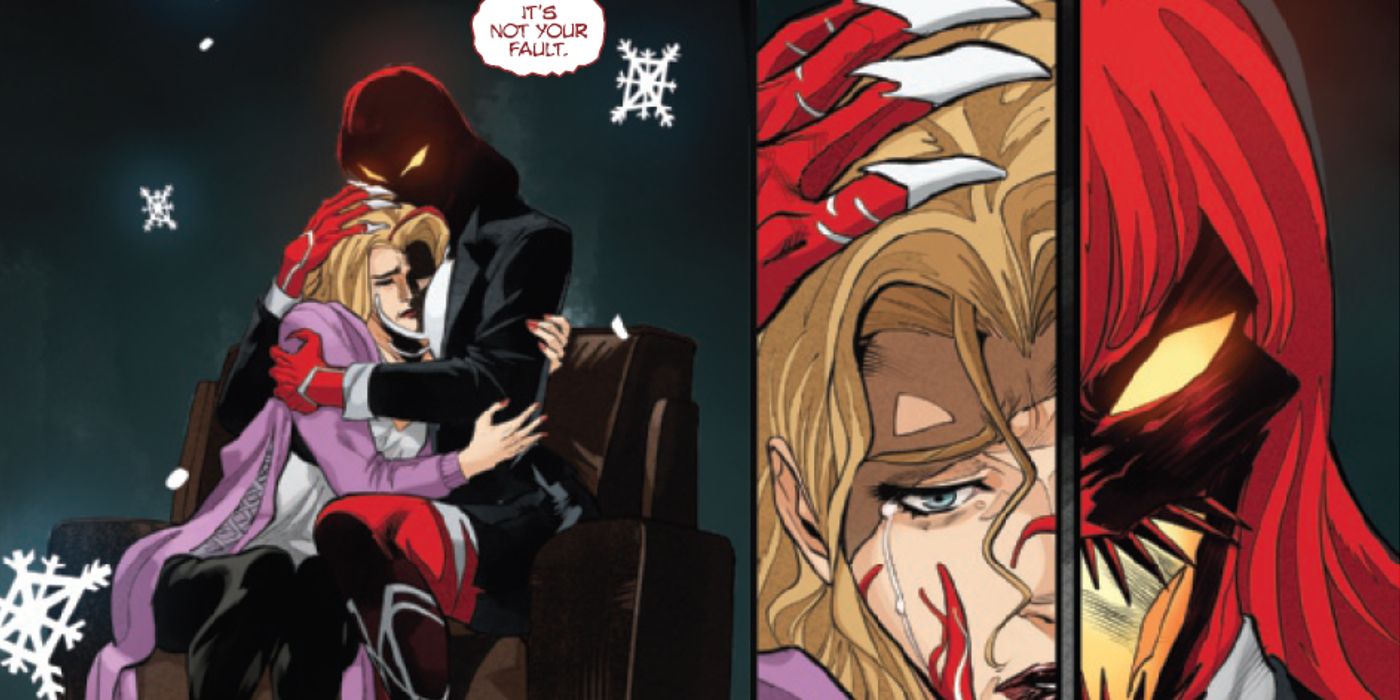 While trapped in the Life Foundation's hold, Misery forces Allan to face herself. Cult of Carnage: Misery #4 brilliantly pulls from the annals of Liz's history to recontextualize the character's past and the trauma it created. Liz is painted as fatally helpful, unable to pull herself out of a situation where she feels she can assist. Misery forces Allan to confront how this tendency exacerbated her frightful situation with Harry Osborn, keeping her at his side well past the point when her family's safety was at risk. Allan insists Harry's actions as the Green Goblin weren't representative of his true self or their relationship, blaming side-effects of the Goblin serum, but the Symbiote disagrees.
Misery helps its host see that regardless of intent or circumstance, Harry Osborn abused Liz. Allan had previously refused to admit this, believing she had deserved Harry's treatment and repressing the truth. Because of this, she denied herself any new relationships and by extension any chance for the children in her care to have a father figure. The Symbiote assures Liz she was innocent, and that she can wallow in her misery or become it. Embracing her new identity, Allan breaks free of her captivity, literally and metaphorically. Her triumph is short-lived, however, as she's quickly approached by another figure of her family's sordid past: Lily Hollister, Stanley's mother, who is also the vigilante known as Queen Cat.
RELATED: Carnage Is Getting Too Strong For Marvel's Own Good
Cult of Carnage: Misery Returns to Basics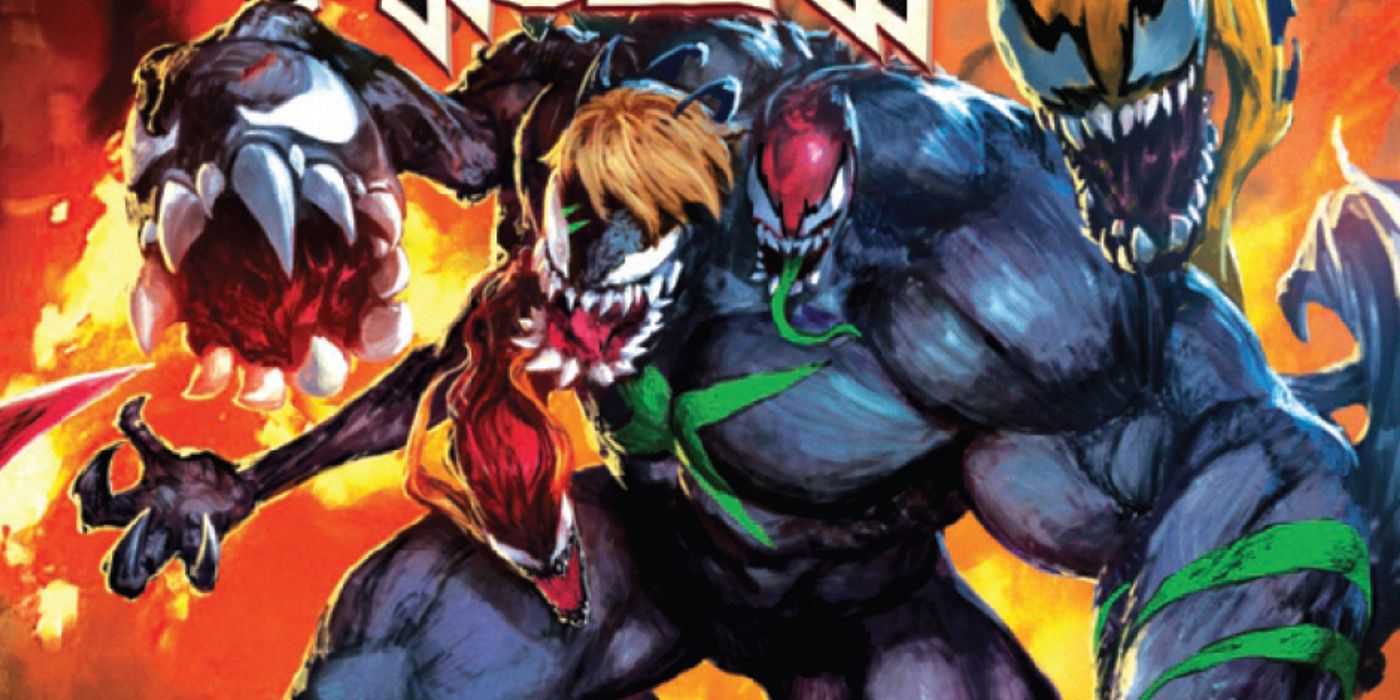 Cult of Carnage: Misery delves into mature themes through a story that begins as an exercise in campiness but ultimately serves as a surprising reflection on abuse. Everything about mercenary Corwin Jones feels ripped from the 90s, from his mullet hairstyle to the blood-streaked Guardsman helmet he wears with a black tank top. Symbiote-powered cyborg soldiers known as Symbiotechs feel like they were made to fill the villain slot of an old Toy Biz series. Even Misery herself initially comes across as goofy, combining Carnage and Anti-Venom like complimentary paint colors. But while it may sound like the tonal whiplash between cartoonish action and Allan's well-thought-out emotional turmoil is detrimental to the story, the truth is that it's an incredibly welcome change of pace.
Recent years have seen the Venom family mythos bogged down by heavy continuity, frequent identity changes and cosmic lore that distracts from the race's most compelling narrative function. The best Symbiote stories use the creatures to explore themes of heroism, self-control and self-improvement with violent, over-the-top alien action. Characters like Hybrid and Toxin were simple and felt compelling because the Symbiotes served the narrative function of their hosts, not vice-versa. Cult of Carnage: Misery brings the race's most neglected characters back to stories of inner conflict and colorful monsters where they've always thrived. The miniseries is capable of pleasing fans of both 2003's introspective The Hunger and 1994's melodramatic Separation Anxiety, and has the potential to finish in the upper echelon of Symbiote comics.
RELATED: How Venom and the Symbiotes Evolved Across The Marvel Universe
Four issues into its five-issue run, Cult of Carnage: Misery has been a breath of fresh air in the Symbiote world. Its simple but effective use of the alien race and focus on relatably human themes has arguably resulted in the best Carnage-branded series in years. Its exploration of historic character Liz Allan through a modern lens, however, makes it even more unforgettable.
With the impending team-up between the newly formed Misery and her deceased husband's former lover, the series is likely to end on a high note. There's plenty here to attract fans of Spider-Man and the franchise spawned from his most notorious costume change, and the conclusion will undoubtedly be worth reading.
on bbc news
on hindi news
on the news today
on channel 7 news
ôrf news
campo grande news ônibus
ôpera news
campo grande news greve de ônibus
l1 news horário dos ônibus
l1 news ônibus
lago azul news ônibus
news österreich
news österreich heute
news österreich aktuell
news öffentlicher dienst
news österreich corona
news öl
news österreich orf
news ö3
news österreich heute aktuell
news österreich sport
ö24 news
ölpreis news
öbb news
ösv news
österreich news krone
övp news
özil news
öffentlicher dienst news 2023
österreich promi news