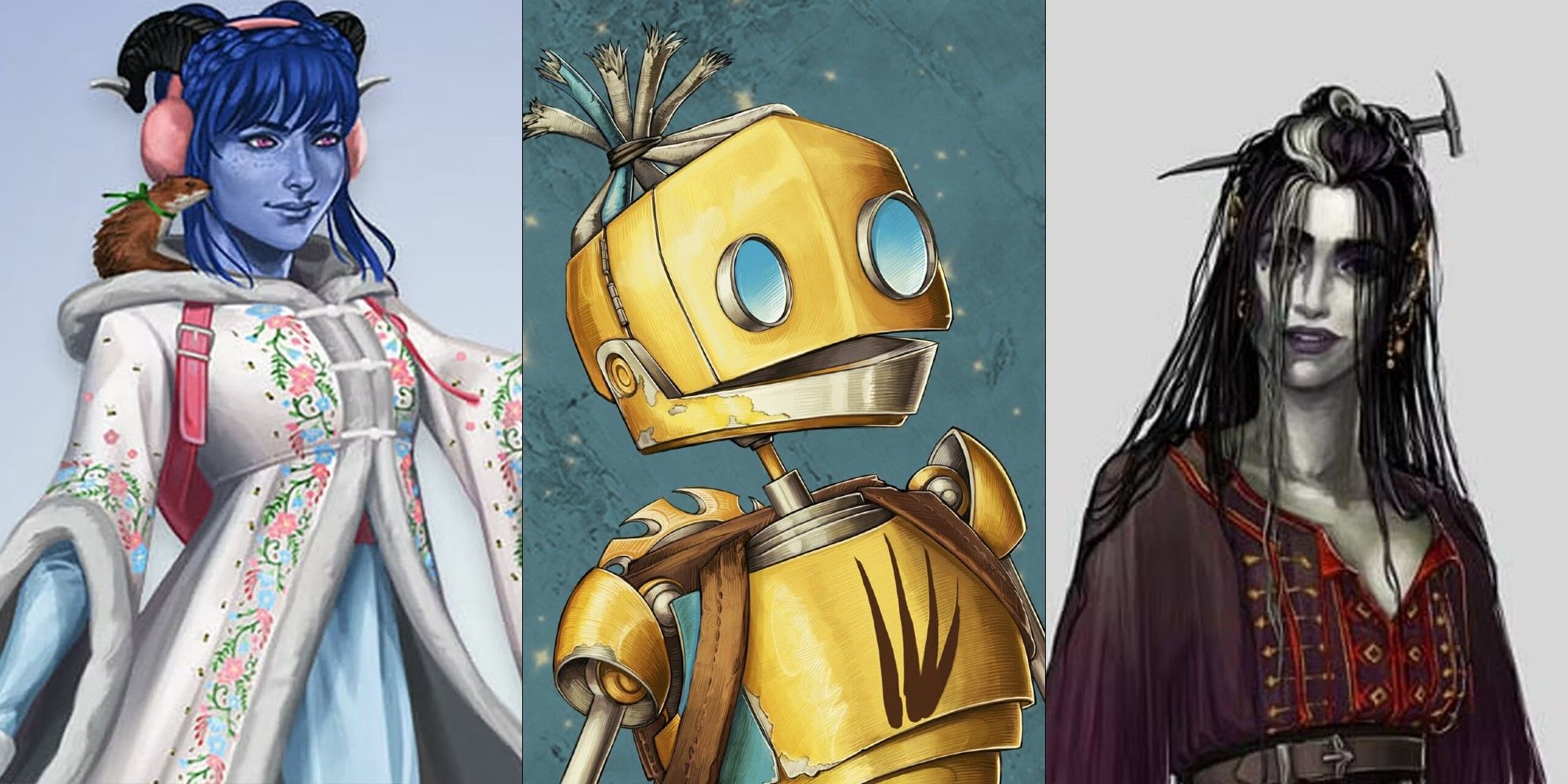 Critical Role characters fall into many different archetypes. Both the players and Dungeon Master Matthew Mercer have created Dungeons & Dragons characters who are brooding, quirky, impressive, comedic, and many other aspects they choose to play up. Cuteness is an ever-reliable choice for a character type that is usually popular with fans.
All three Critical Role campaigns have characters whose cuteness is either their defining aspect or a prominent part of their image. This can range from physical charm, with a character who provokes sympathetic reactions with their appearance, to a more emotional and empathetic appeal.
Critical Role's Most Powerful Player Characters
10
Velora Vessar Has Her Siblings' Charm
Campaign One
Velora Vessar is the half-sister of Vex'ahlia and Vax'ildan in Critical Role's first campaign. She only briefly appears throughout the story, but her innocence and sheer likability are her defining traits. Velora is a young elf, giving her an inherently adorable design that openly charms the players around the table.
Everything else about Velora is meant to be sweet as well. She looks up to Vex and Vax with open admiration and is always happy to see them. Her young childlike tendency to pick up adult language and repeat it lends a lot of comedy to Critical Role's heavy scenes with the twins' family. Notably, both Vex and Vax adore Velora despite disliking their father.
9
Jester Lavorre Is One Of The Sweetest Player Characters
Campaign Two
Laura Bailey's Best Moments In Critical Role
Jester Lavorre is Laura Bailey's Critical Role character in Campaign Two. She's a D&D 5e Trickery Domain cleric who lives to indulge her relatively innocent vices, ranging from eating sweet things to meeting new people to playing pranks. Jester combines physical cuteness with an appealing personality, being sweet and mischievous in equal measure.
There is far more than cuteness to Jester in Critical Role. She's also one of the Mighty Nein's most valuable party members and a fierce combatant in her own right. She can even be somewhat sinister at times. Nonetheless, she has charmed Critical Role players and fans, many of whom consider her one of Critical Role's most adorable party members.
8
Taryon Darrington Is Heartwarming Deep Down
Campaign One
Taryon Darrington replaces Scanlan Shorthalt as Sam Riegel's player character for a brief time in Critical Role. He's an egotistical young heir and wannabe adventurer who joins Vox Machina and almost immediately clashes with them. Taryon's pompous and selfish nature initially causes tension in some of Critical Role's funniest scenes.
However, character development helps Taryon shed his most unlikable aspects and reveal his genuine heart deep down. He reveals himself to be a sheltered, naive, and genuinely benevolent young man who wants to help people and improve himself. Taryon's sweetest moments in Critical Role include his genuine sibling-like friendship with Vex'ahlia and his slow acceptance of his sexuality.
7
Laudna Manages To Be Cute Despite Everything
Campaign Three
Laudna is simultaneously one of Critical Role's creepiest characters and its cutest. She's quasi-undead, and it shows through in her design and abilities. Laudna looks similar to a corpse and has many moments of body horror. For example, she summons her Hound of Ill Omen ability through her ribcage. At the same time, Laudna's personality helps her come off as cute.
Laudna is overly enthusiastic, fiercely loyal, and surprisingly gentle. Her more creepy traits are usually played for laughs in Critical Role, as is her off-kilter, sweet personality. The dissonance can be off-putting for some Critical Role fans, but it's marked her out as appealing and cute to many others.
6
Twiggy Charms Everyone In A Short Appearance
Campaign Two
The Most Heartwarming Critical Role MomentsTwiggy is a gnome who joins The Mighty Nein for a short arc in Critical Role's second campaign. Her small size and excitable personality mark her out as one of the show's cutest guest characters, even enough to give the beloved Jester Lavorre a run for her money. Twiggy combines this with remarkable effectiveness, combining several of The Mighty Nein's skillsets and even slaying a dragon.
There is an undeniably odd edge to Twiggy's cuteness in Critical Role. A lot of her charming personality is implied to be her relief at having company after a long period of isolation. She also has an unexplained backstory with some unusual and unrevealed details. However, this doesn't most of the cast and guests from finding her adorable.
5
Trinket Is A Much Pet As Warrior
Campaign One
Trinket is Vex'ahlia's ranger animal companion in Critical Role's first campaign. On paper, he's an additional fighter for Vox Machina who is a fearsome warbear. However, he rarely ends up contributing practically to combat. The D&D 5e ranger's questionable balance, coupled with Vox Machina's high-stakes fights, means Trinket either sits fights out or goes down early.
As a result, Trinket is more of a mascot and pet in Critical Role. Most of Vox Machina spend time playing with, decorating, or sleeping on Trinket as part of their downtime. His questionable luck in combat and antagonistic relationship with Scanlan also give him a put-upon aspect that helps his cuteness for many Critical Role fans.
4
Kiri Is Almost A Baby
Campaign Two
Kiri is a young kenku who The Mighty Nein encounters as a random encounter on the road in Critical Role. She's a young girl with no family left, so the Mighty Nein takes her in as a part of their ramshackle family. They quickly become attached to her, both due to her need for protection and her benevolent and charming personality.
Kiri's sweetness also blends with comedy. As a kenku, she can pick up any sound and mimic it exactly. This leads to many sweet and funny scenes where characters inadvertently or deliberately teach her rude words just to hear her say them. She leaves the Mighty Nein after a short time but still remains one of the most iconic NPCs in Critical Role's second campaign.
3
Lyra Plays Up Cute Tropes
Campaign One
The Funniest Critical Role Moments, RankedLyra is one of the first guest player characters in Critical Role history, appearing during the Vasselheim arc. Her player, Felicia Day, makes sure to play up how adorable and quirky Lyra is. She's naive, often misguided, and physically clumsy, all of which she combines with an upbeat personality and a desire to make something of herself.
Lyra is more than just a collection of sweet tropes put together in one wizard. However, there's no denying that Day emphasizes Lyra as a slightly quirky girl meant to be immediately likable. Everything from her initial introduction in Critical Role to her attempts to lead to her misguided attempts at speaking giant endears her to the cast and fans.
2
Fresh Cut Grass Is A Quirky Robot Cleric
Campaign Three
Sam Riegel prefers to play seemingly throwaway or comedic characters in Critical Role who have a much more tragic edge underneath them. This holds true for Fresh Cut Grass, his cleric in Critical Role's third campaign. However, Fresh Cut Grass has hit fewer poignant notes with his character arc while being more comedic upfront.
Fresh Cut Grass is a friendly, polite, and extroverted aeormaton with an incongruous Midwestern accent. His odd behavior, tendency to go out of his way to help his friends, and questionable grasp on certain social situations all lend him a cute air. Even his more dramatic turns, such as reverting to a murderbot, often include comedic moments like listing hyper-specific annoyances with his teammates.
1
Grog Strongjaw Is A Sweetheart Deep Down
Campaign One
Grog Strongjaw may not initially seem cute in Critical Role. He's the party's Berserker barbarian who enjoys fighting and carousing more than anything else in the world. However, Grog's softer side comes out more and more over Critical Role's first campaign until it overrides his more aggressive and violent side.
Grog's straightforward way of thinking and questionable grasp on logic all give him a sweet air that deflates a lot of malice he might seem to have. His genuine devotion to his friends, sibling-like relationship with Pike Trickfoot, and more frequent expressions of open affection all contribute to his appealing image.
on bbc news
on hindi news
on the news today
on channel 7 news
ôrf news
campo grande news ônibus
ôpera news
campo grande news greve de ônibus
l1 news horário dos ônibus
l1 news ônibus
lago azul news ônibus
news österreich
news österreich heute
news österreich aktuell
news öffentlicher dienst
news österreich corona
news öl
news österreich orf
news ö3
news österreich heute aktuell
news österreich sport
ö24 news
ölpreis news
öbb news
ösv news
österreich news krone
övp news
özil news
öffentlicher dienst news 2023
österreich promi news