Summary
Breaking Bad creator Vince Gilligan views the decision to include the opening scene of season 5 as "the dumbest thing" he ever did.
Despite this, the scene inadvertently set the stage for a great ending by introducing the machine gun and creating suspense.
The machine gun ultimately plays a pivotal role in the finale, allowing Walter White to seek revenge and free Jesse Pinkman, resulting in a bittersweet but satisfying conclusion.
Breaking Bad creator Vince Gilligan reflects on season 5's opening scene and calls it "the dumbest thing" he ever did. The fifth and final season of Breaking Bad begins with a flash-forward to ragged and bearded Walter White who, living under a different identity, has a depressing breakfast at a Denny's on his 52nd birthday. After leaving the restaurant, he opens the trunk of a Cadillac containing an M60 machine gun before the cold open ends on a cliffhanger.
In an interview with Variety celebrating the 10th anniversary of the series finale, Gilligan reflected on the opening scene of Breaking Bad season 5. Because he didn't know what Walt was going to do with the machine gun when he wrote the scene, the creator and showrunner called the decision "the dumbest thing" he ever did. Read his full comments below:
The biggest single fear we had was what to do with that damn machine gun. At the beginning of the final run of 16 episodes, we had Walt buy a machine gun in the trunk of a Cadillac. That was the thing I remember freaking us out the most because we did that, I committed to that. One of the dumbest things I've ever done in my career was committing to the idea of Walter White buying a machine gun when we did not know what he was going to do with it. We had no clue. There were literally months on end when I was completely freaked out. We'd be in the writers room' for a full day, and I'd be slowly banging my head against the wall — not enough to hurt myself but just enough to jar the ideas loose. And everybody was kind of worried about me.

Once we figured out this machine gun, that was when the dam broke and things started slowly to click together. It was after that point that we figured he's got to win. He's lost everything because of his hubris and his pride and his ego. He's lost his family, he's lost his soul. But he's got to win on some level. He's at least got to deliver that money to his family. How the hell does he do that once the world knows who he really is? When we figured out that Gretchen and Elliott could be the mechanism by which Walt wins and gets that money to his family, that was a good day.

It was the dumbest thing I ever did. I was like, "Let's start off this season with a bang." It's Walt's 52nd birthday, let's do the thing with the bacon and he's all alone in a Denny's. And he looks like hell. He looks like the Unabomber. What's he at a Denny's for? Well, he's buying a machine gun, of course! It was self-evident that Walt's story should not end well, so the idea of him looking like the cancer had returned felt right. But you just kind of feel your way through. We didn't know where it was going. It's astounding how little we knew. There was a little bit of hubris on my part thinking we would figure it out.

"We've got 16 episodes until the end. We'll get there!" We were still six or seven episodes away from the end and we still hadn't figured out where we were going with the machine gun. I remember saying, "Just for a thought experiment, let's pretend we never did that thing with the machine gun." I got really scared, but my writers kept me honest. They held my feet to the fire and said we needed to deal with the machine gun. But we made it up as we went. What does this character want right now? What obstacle is in his way? To anyone reading this who fancies a career as a showrunner, don't do it that way! It's painful and scary.
Breaking Bad Season 5's Opening Flash-Forward Set The Stage For A Great Ending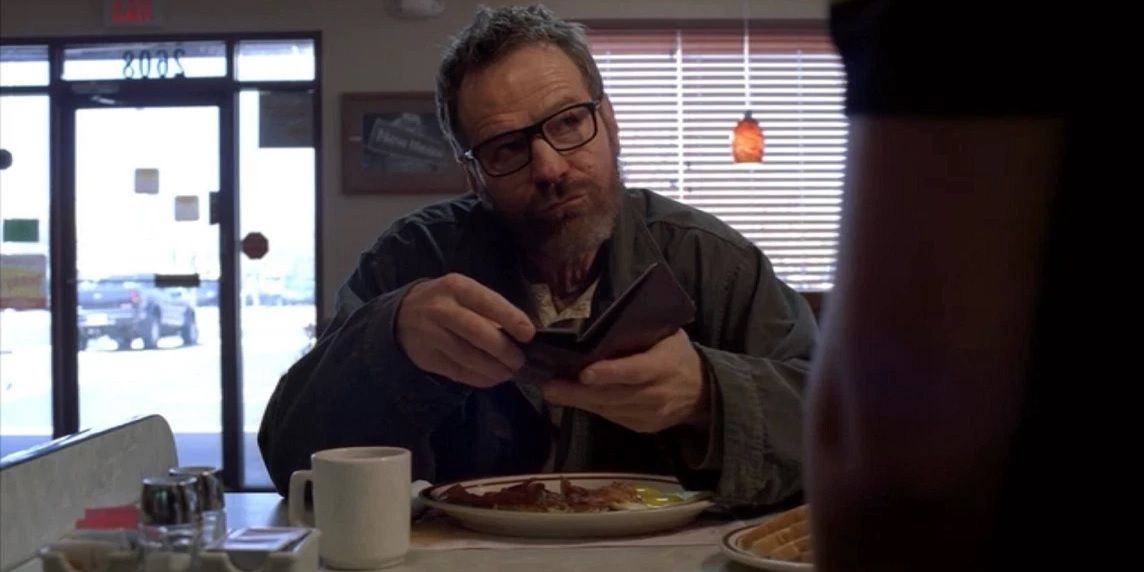 Even though Gilligan didn't know what Walt was going to do with the machine gun and now considers the decision "the dumbest thing" he ever did, it inadvertently set the stage for a great ending. As Gillian says, figuring out what Walt was going to do with the gun was the key to crafting the perfect ending. In the end, Walt uses the weapon to exact revenge against Jack who murdered his brother-in-law Hank and stole much of his money. By using the machine gun against Jack and his Neo-Nazi gang, Walt is also able to free an enslaved Jesse.
Related: What Happened To Every Character After Breaking Bad: All Confirmed Details
Breaking Bad season 5 sees Walt suffer various losses, including his family and fortune. However, before he goes out in a blaze of glory, he threatens Gretchen and Elliot into funneling what's left of his meth empire to his estranged son, Walter Jr., and wife, Skyler. Though he's lost almost everything because of his hubris, the ending includes several small wins for Walt, as Gilligan notes, resulting in a perfectly bittersweet conclusion. Perhaps it wasn't dumb, but a brilliant decision for Gilligan to write himself into a corner since it resulted in one of the greatest finales ever.
Source: Variety
on bbc news
on hindi news
on the news today
on channel 7 news
ôrf news
campo grande news ônibus
ôpera news
campo grande news greve de ônibus
l1 news horário dos ônibus
l1 news ônibus
lago azul news ônibus
news österreich
news österreich heute
news österreich aktuell
news öffentlicher dienst
news österreich corona
news öl
news österreich orf
news ö3
news österreich heute aktuell
news österreich sport
ö24 news
ölpreis news
öbb news
ösv news
österreich news krone
övp news
özil news
öffentlicher dienst news 2023
österreich promi news