System: Switch
Release Date: September 19, 2023
Developer: Falcom
Publisher: NIS America
---
In The Legend of Nayuta: Boundless Trails, Nayuta is a young lad returning home from studying abroad. Summer vacation is to be spent back with your friends, after all. Getting back to his home of Remnant Isle, Nayuta and his best friend Cygna decide to spend their summer starting their old business back up. Sort of jacks of all trades, the two gallivant as handymen, taking on any kind of job thrown their way with glee. Eventually their work leads them to a mysterious set of ruins, and it is there that they find that they've perhaps stumbled upon the most daunting job yet. While Nayuta and Cygna start out hanging around for a simple summer vacation, a fateful encounter with the mysterious fairy Noi sparks a lot of questions and a lot of discovery. Exploring the ruins, Nayuta soon discovers an entire other world – Lost Heaven.
Falcom's storied RPG series belovedly known by fans simply as "Trails" spans over many years, following various linked characters across a war-torn timeline. While Nayuta's tale is both a spin-off title and a port of a game that originally first appeared on Sony's PSP, it still possesses quite a bit of the charm that players have come to appreciate from the franchise. As an action-oriented game more in-line with Ys than the turn-based games, players may be more familiar with from the more recently-released Trails titles, The Legend of Nayuta takes from another of Falcom's respected formulas.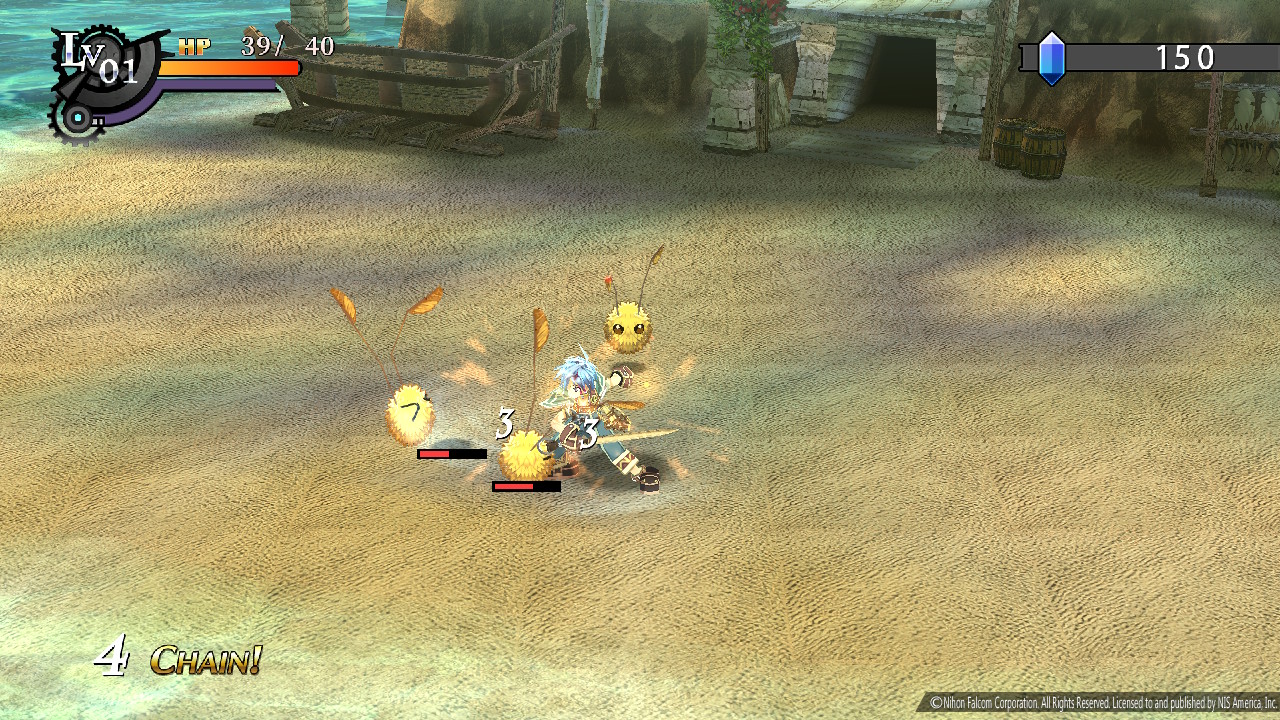 In this story you'll take control of Nayuta and be able to explore open 3D environments, do a bit of platforming, and hack and slash your way through enemies to progress through the tale. Combat shines in its simplicity and doesn't throw too much at the player, resulting in satisfying gameplay. You'll be able to dodge, jump, and have your adventuring partner help out against monsters, but for the most part the system's lack of complexity is a boon. As you do take down monsters you will level up and gain stat points, with the player simply being able to move on without having to manage point allocation or ability acquisition manually. Since the game's main gameplay loop involves taking on its various standalone stages, you can go back through them and grind to your heart's content if you find yourself getting into a tough spot throughout the story. Leveling up Nayuta a couple times should be enough if you encounter a struggle-filled boss fight.
While you may not have to juggle stat points and skill trees, you do still have to worry about equipment management and learning new moves from Master Orbus who hangs out on the beach in town. Collecting money from jobs and completing stages is a very important part of strengthening Nayuta in order to bash in the skulls of tougher baddies. The town shop will take your hard-earned currency and give you whatever sharp object you prefer in exchange. Starting out, you can simply opt to go for a cheap upgrade, or grind out the 2500 Mira for the strong Legion Sword. Do bear in mind that grinding for money will also mean grinding EXP, so if you want to have a challenging run and not end up overpowered its best to simply do the stages in order and only repeat them or the games sidequests when you find yourself between a rock and a hard place.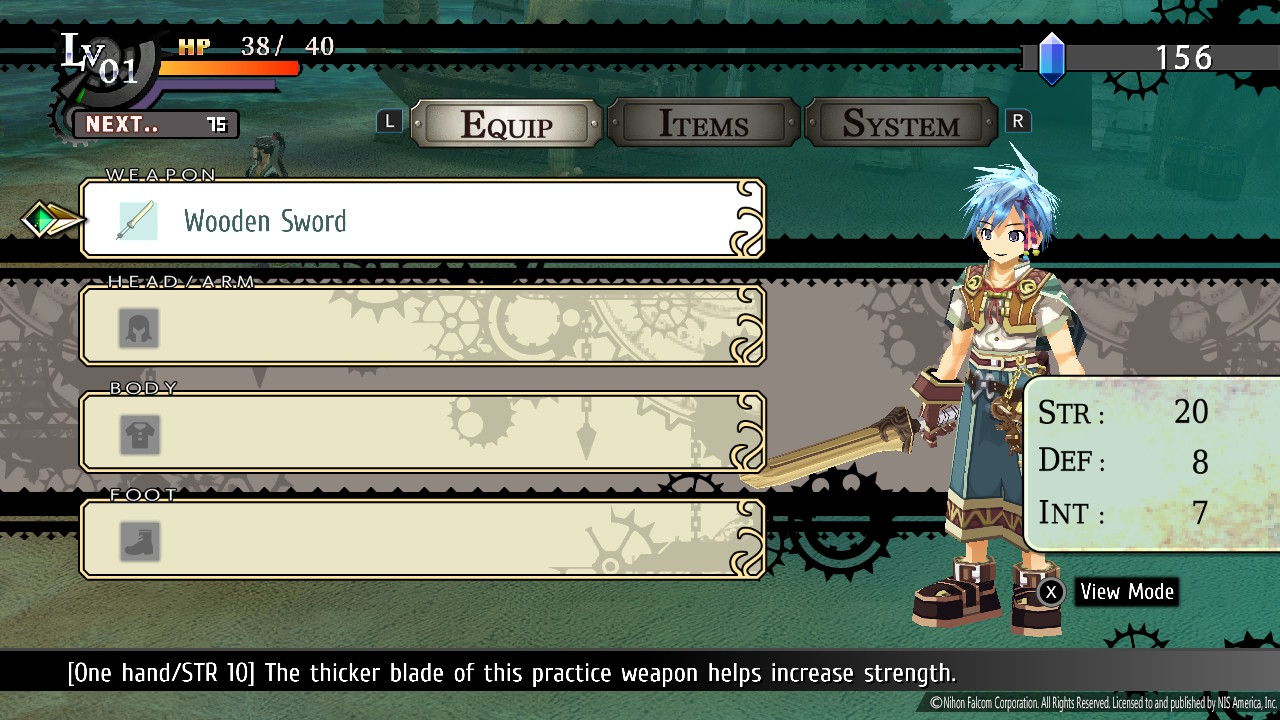 Noi begins to accompany Nayuta through stages and can also have her skills upgraded through the general store back in the village. Making sure to keep up with both character's skills will help you make short work of whatever happens to stand in your way. Though Noi isn't controlled directly, her magical attacks can be quite strong and help out quite a lot, especially when you open up attacks that hit more than one enemy on screen. The more you use a skill, the more experience the skill itself receives, leveling it up alongside the character to deal more damage.
Like most of Falcom's games, The Legend of Nayuta is filled to the brim with fantastically written characters and myriad side quest content. The various NPC's encountered have a substance and depth that the developers have become known for, with each NPC having a unique design and feeling rather alive. If you find yourself short on Mira, engaging with the townsfolk and completing their requests is a lucrative way to spend some time between story stages. With many quests rewarding high-value items, equipment, or even cooking ingredients that can be used for crafting recipe's taught to the player by his sister Eartha. Eartha's introductory quest is mandatory for story progression, so don't worry, as you won't be able to accidentally miss it.
Cooking is an integral part of gameplay for Trails of Nayuta. The player can manage character health most easily by eating various items while exploring a stage, the most common kinds being drops from monsters, lunchboxes from your inventory, or cooking. When a recipe has been learned, Nayuta will be able to craft it if the player has the materials on hand. Cooking restores a lot of health and even can grant Nayuta EXP for leveling up. Later-acquired Advanced Recipes will even include temporary buffs like an increase in Mira dropped by monsters, or a slight increase in Nayuta's strength so he can deal more damage to foes. Collecting cooking materials is definitely a good idea in order to easily maintain HP and buffs.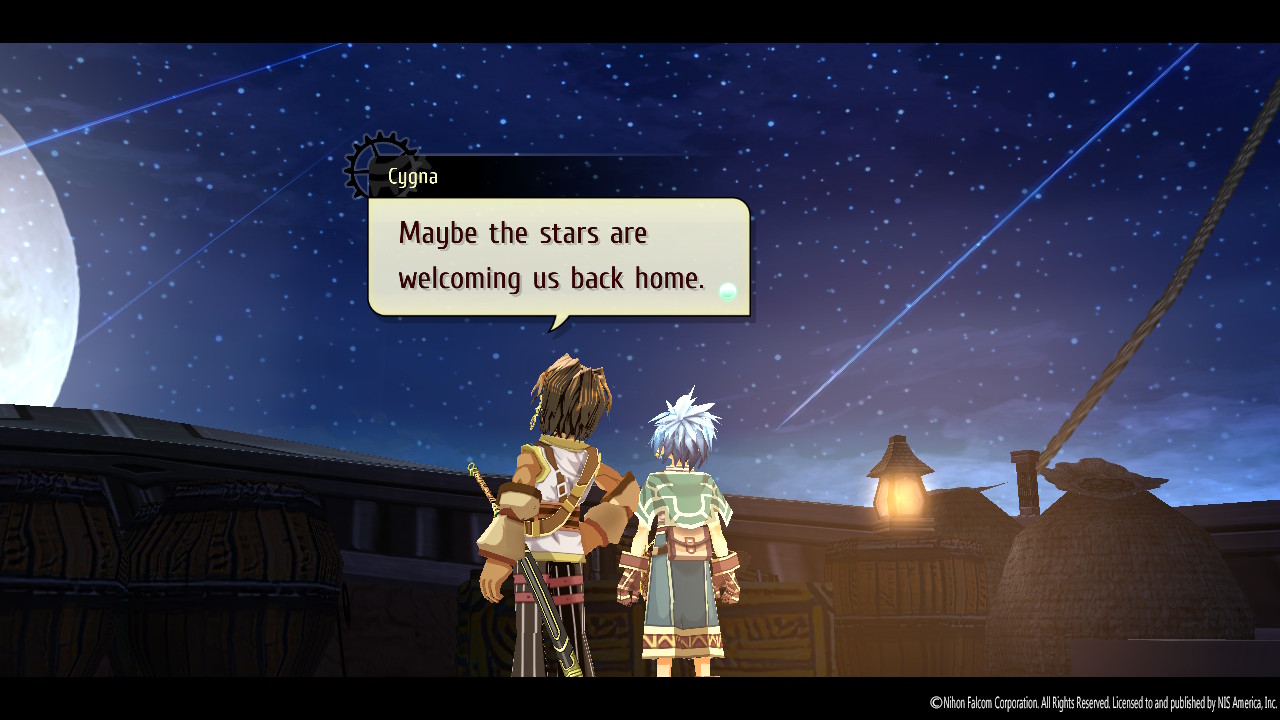 If there is a weak point at all for Boundless Trails, it would have to be the story. I don't say this because I disliked it at all, or even that I find anything wrong with it – more that I was simply  content to focus on side content and grinding because I enjoyed that particular content more as a player. While Nayuta's narrative does have a lot of intrigue involving the death of his parents that he attributes to the ruins, it's more the story being driven by exploring the Four Continents of Lost Heaven that just feels a lot like a take on a popular series that used to focus on four crystals of varying elements that you had to seek out – resulting in it feeling a bit tropey rather than generic, and still an overall good, if short experience.
Boundless Trails is a little over twenty hours of run time if you progress the story and don't spend a lot of time grinding for Mira or repeating quests for rewards. This includes completing most of the side quest content as well. Additionally, there is a fair amount of post-game content that has the player experience old levels in a new way, and even New Game+ feature that has additional content. For a shorter RPG, it's an absolute blast and while it may begin as a simple story about two friends trying to enjoy their summer vacation, it ended with me lovingly remembering many of my own summer nights spent playing classic games like Secret of Mana, Lunar, or the first Kingdom Hearts at my childhood home.
---
The Verdict

---
As an unconnected entry in the Trails universe, The Legend of Nayuta is a fantastic pickup for anyone who has been a little intimidated by how many games there are and where to start without spoiling anything for yourself. With beautifully updated 3D levels, hack and slash gameplay that doesn't feel like a chore, and platformer-style exploration, this new-to-us Trails experience is an exciting starting point for anyone looking to see why so many fans sing such high praises for Falcom's work. For the first English official release, I have absolutely nothing negative to say about The Legend of Nayuta: Boundless Trails, and I hope you can enjoy it.
---
The Legend of Nayuta: Boundless Trails copy provided by the publisher for the purposes of this review.
Related
on bbc news
on hindi news
on the news today
on channel 7 news
ôrf news
campo grande news ônibus
ôpera news
campo grande news greve de ônibus
l1 news horário dos ônibus
l1 news ônibus
lago azul news ônibus
news österreich
news österreich heute
news österreich aktuell
news öffentlicher dienst
news österreich corona
news öl
news österreich orf
news ö3
news österreich heute aktuell
news österreich sport
ö24 news
ölpreis news
öbb news
ösv news
österreich news krone
övp news
özil news
öffentlicher dienst news 2023
österreich promi news