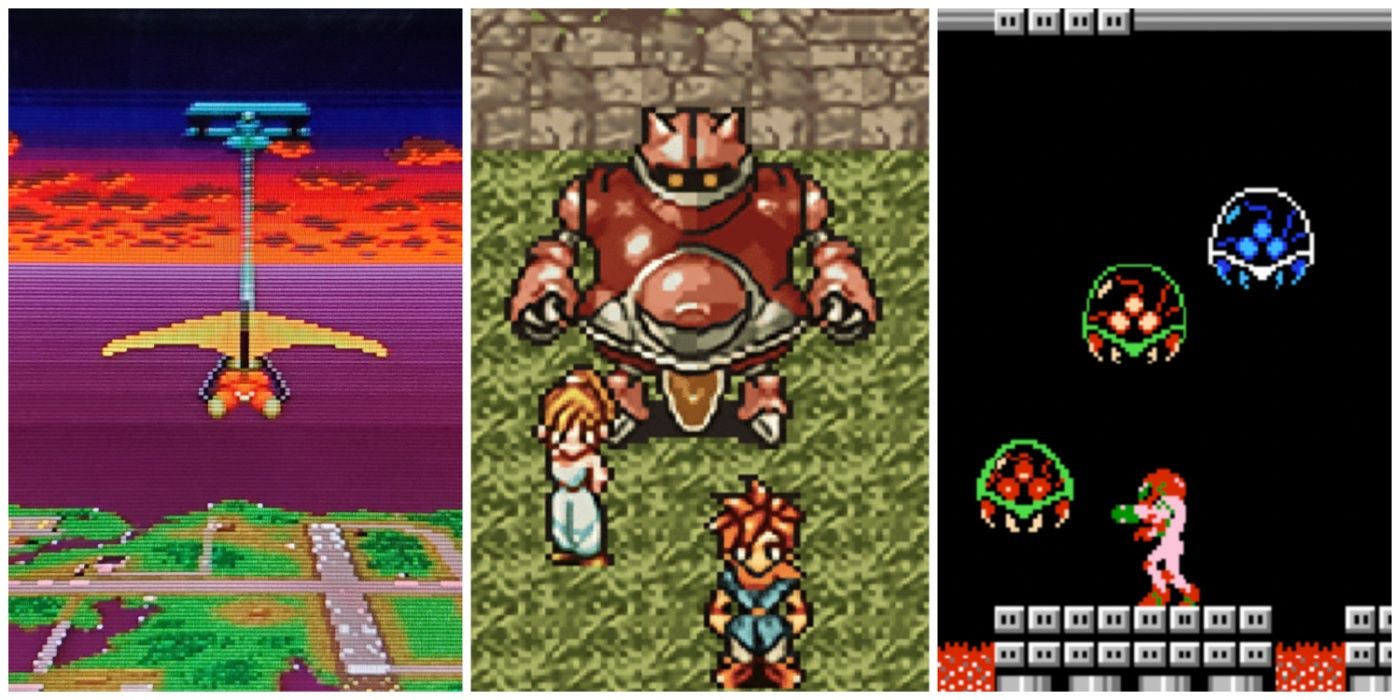 Nintendo is one of the most celebrated video game companies who have been in the business for over four decades. Nintendo has developed groundbreaking home and handheld consoles like the Nintendo 64, the DS, and the Switch, with still no end in sight. Nintendo found early success with their NES and Super Nintendo releases, some of which are products of their time or are more enjoyable for younger audiences. At the same time, there are also many retro Nintendo titles that play even better when they're re-experienced as an adult.
Gamers who experienced classic franchises like Metroid, Super Mario Bros. or The Legend of Zelda don't need to play modern titles to have fun. These retro games actually offer a lot of enjoyment for adult gamers looking to revisit some of Nintendo's classic, beloved titles.
RELATED: 15 Best Nintendo Franchises, Ranked
10
Metroid
Release Date: August 6, 1986
Metroid has become one of Nintendo's most resilient franchises that's taken on many forms, whether it's a side-scrolling action/adventure title, a first-person shooter series, or even a pinball game. The original Metroid is a masterclass in "show, don't tell" where the player is given incredibly sparse information for what they're supposed to do, and where. The original Metroid utilizes a somewhat non-linear structure where exploration is carried out at the player's discretion.
This can be overwhelming for younger audiences who don't pick up on the game's mechanics and power-ups, only to get lost and discouraged. This formula is refreshing for adult gamers who appreciate this mystery and lack of hand-holding.
9
Pilotwings
Release Date: August 23, 1991
Pilotwings is a flashy flight simulator that was released as a North American Super Nintendo launch title, which makes excellent use of the console's Mode 7 graphical capabilities. There's not much of a story in Pilotwings and the game focuses on a grounded approach to flight lessons and the player's quest to obtain their pilot license through exercises that make use of various aerial vehicles like a plane, hang gliding, a rocket belt, and skydiving.
Pilotwings is a great rental game for kids who can work through the tasks, while failing to appreciate the nuance of the game's mechanics and the relaxing nature of this simulation exercise. Alternatively, adults can embrace these missions' point-based systems and perfecting their scores.
8
Kid Icarus
Release Date: July 1987
Nintendo's Kid Icarus is a playful reimagining of Greek mythology where Pit, an angel, fights against foreboding monsters as he pursues sacred treasures for the goddess Palutena. Kid Icarus received a Game Boy sequel, but the next entry didn't arrive until more than two decades later, and only after Pit's new-found popularity in the Super Smash Bros. crossover fighting series.
Kid Icarus has a very kid-friendly aesthetic, but it's one of the harder NES games with a very punishing difficulty that's likely to frustrate children from getting very far. It's a game that's meant to be played by adults who are seasoned gamers, even if its presentation style reinforces the opposite.
RELATED: 10 Best Video Game Franchises That Got Their Start On The SNES
7
Mega Man II
Release Date: June 1989
Capcom's Mega Man II is widely considered to be the franchise's best game, despite being over 35 years old. Mega Man II's success is a testament to its tight gameplay, controls, level design, and soundtrack. The game's cute-looking enemies and Robot Masters are also likely to appeal to children, who will then be prone to frustration over the sequel's intense difficulty.
It's much easier to have fun with Mega Man II as an adult who has a greater endurance for such challenges. Children may also not pick up on the game's signature non-linear structure where the right approach to Robot Master progression can make the game much easier as Mega Man figures out each of the bosses' weaknesses.
6
Ninja Gaiden
Release Date: March 1989
Tecmo's Ninja Gaiden achieved unprecedented popularity through its modern rebooted series during the '00s for the Xbox. Decades earlier, Ryu Hayabusa's violent quest to get revenge on those who killed his father was first experienced on the NES. An action game that stars a ninja is an easy sell to kids, but the title's mature subject matter is mirrored with a challenging difficulty that makes Ninja Gaiden one of Nintendo's harder titles.
Younger audiences likely have fond memories of the game's first level, without ever working their way through the title's six "acts" and 20 levels. Ninja Gaiden's story comes to life through impressive cinematic cutscenes and the game doesn't properly come to life if these sequences aren't reached.
5
EarthBound
Release Date: June 5, 1995
EarthBound, known as the Mother series in Japan, is a radical change of pace for the RPG genre that tells a modern story in urban environments rather than the medieval fantasy realms that are so prevalent in these games. EarthBound follows Ness, Paula, Jeff, and Poo, four children who find themselves on an unlikely adventure to save the world.
The RPG's young cast and child-like weapons that include baseball bats and yo-yos will immediately appeal to young audiences and seem like a good introduction to the RPG genre. However, EarthBound builds to some high-minded psychological concepts that might fall flat on this crowd and will resonate more with adults.
RELATED: 10 Darkest Nintendo Games, Ranked
4
Chrono Trigger
Release Date: March 11, 1995
Square made an impressive name for themselves on the NES and Super Nintendo with their Final Fantasy series. However, Chrono Trigger from '95 was meant to be a dense evolution of these ideas with a complicated narrative that revolves around time travel.
Chrono Trigger also set new standards for the era's RPGs with a dozen different endings that are possible based on the player's decisions. These diverse possibilities are appealing to adult gamers who want to suss out every secret and endlessly replay a title, whereas a younger player may finish the game once and assume that they've seen everything.
3
StarTropics
Release Date: December 1, 1990
StarTropics is an underrated action-adventure title that borrows a lot from The Legend of Zelda. Mike Jones, a baseball-loving 15-year-old, travels to a mysterious island to visit his archaeologist uncle, only to discover that he's missing. StarTropics' protagonist and toy-like weapons should appeal to most younger audiences. However, StarTropics is a challenging experience that might discourage the same crowd if they don't quickly pick up on the game's mechanics.
StarTropics even makes use of unconventional real-world solutions to its puzzles, like a notorious segment that requires the player to submerge a physical letter in water in order to reveal an essential code. These inventive puzzles and the game's labyrinthine levels are more likely to be incentives for adults.
2
Super Mario Bros. 3
Release Date: February 12, 1990
Nintendo's Super Mario series has dozens of games, most of which represent the strongest titles on their respective consoles. Super Mario Bros. and its sequel lay an excellent foundation that's taken to new heights with Super Mario Bros. 3, the last entry on the NES before the Super Nintendo's Super Mario World.
The Super Mario Bros. 3's use of a world map where the player selects the levels that they want to tackle provides a little more freedom, which is also represented through the sequel's unique power-ups. Kids enjoy Super Mario Bros. 3, but they might fail to recognize some of the game's larger ideas, like how it's actually a stage-play that's being performed by Mario and company.
1
The Legend Of Zelda
Release Date: August 22, 1987
The Legend of Zelda has evolved into a massive open-world experience, which makes its humble origins even more fascinating in retrospect. The original Legend of Zelda is a standout NES game, but much like Metroid, it can be overwhelming for audiences who are used to a more structured narrative. Anyone who grew up with 3D Zelda games will have a hard time adjusting to this nostalgic title.
Zelda's world is so big and confusing that players were urged to create their own maps to stay on top of everything. It's an exercise that's daunting for kids who just want to have fun with a game, but speaks towards the idea that video games were initially for adults.
on bbc news
on hindi news
on the news today
on channel 7 news
ôrf news
campo grande news ônibus
ôpera news
campo grande news greve de ônibus
l1 news horário dos ônibus
l1 news ônibus
lago azul news ônibus
news österreich
news österreich heute
news österreich aktuell
news öffentlicher dienst
news österreich corona
news öl
news österreich orf
news ö3
news österreich heute aktuell
news österreich sport
ö24 news
ölpreis news
öbb news
ösv news
österreich news krone
övp news
özil news
öffentlicher dienst news 2023
österreich promi news