Finding beauty in the grotesque is a rare talent. Filmmaker and illustrator Patrick Horvath is an ardent fan of the horror genre who has devoted his art to exploring what makes human beings tick. His latest comic book from IDW Publishing is disarming at first glance but creeps up on the reader at the moment they least expect.
Written, illustrated, and colored by Patrick Horvath with letters from Hassan Otsmane-Elhaou, Beneath the Trees Where Nobody Sees #1 follows Samantha Strong as she keeps her peaceful life in Woodbrook Town separate from her secret life as a serial killer. CBR recently spoke with Horvath about the inspiration behind this dark tale, the anthropomorphic designs of the characters, and the one rule that can change Sam's life.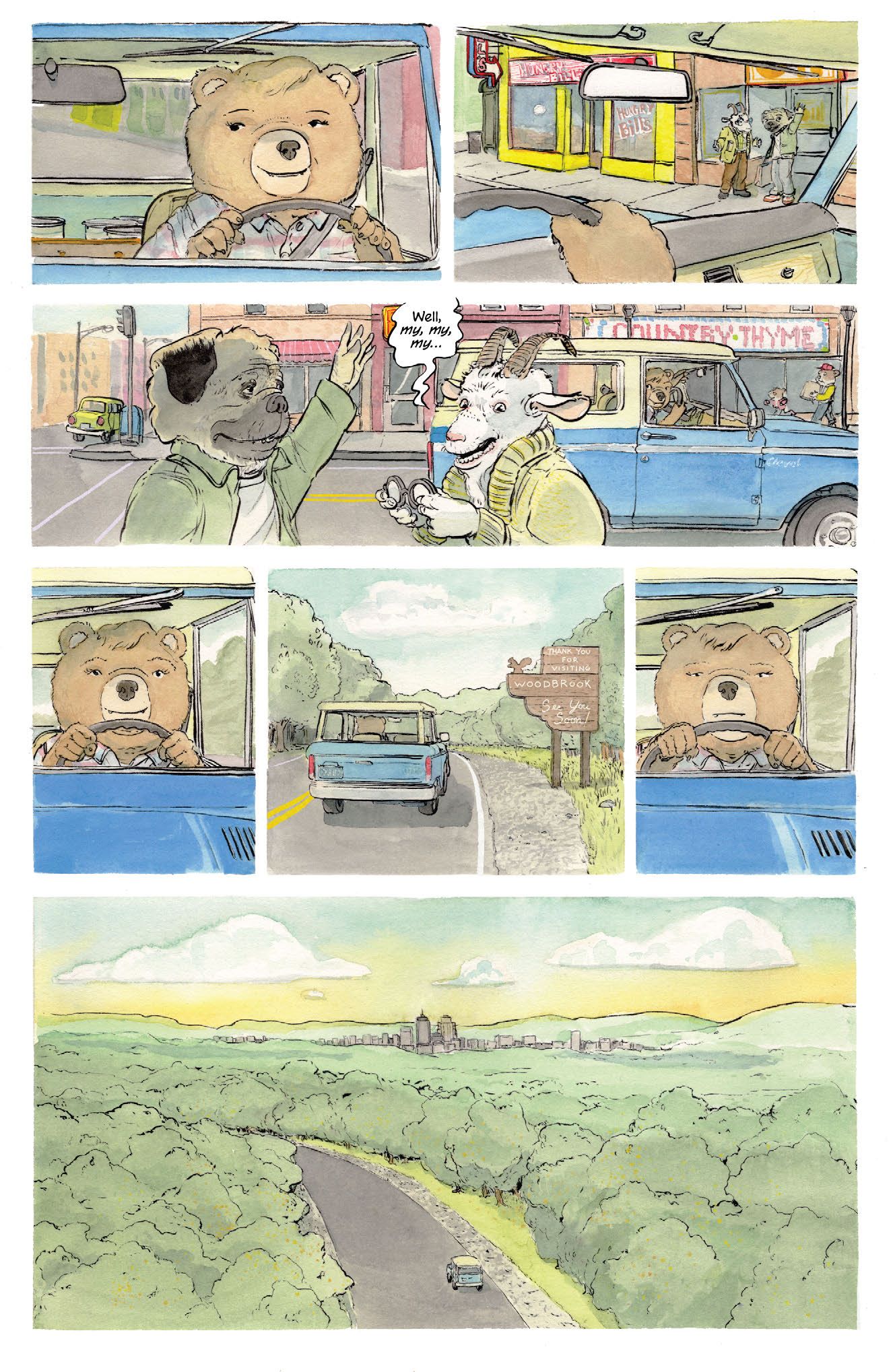 CBR: Beneath the Trees Where Nobody Sees is not what it seems on the surface. What can you tell fans about the series?
Patrick Horvath: I've seen the term "cozy horror" pop up in discussing the series, and I think it might be my favorite description so far. The easiest way to describe the book is if you were to shuffle up the Busy Town books of Richard Scarry with the world of Dexter. Our main character, Samantha, is a brown bear who owns the local hardware store, is a well-respected member of the community, and has been secretly thriving as a serial killer for decades. She's found a way to carefully satisfy her bloodlust without drawing attention, but all of that is about to come crashing down.
How did you get drawn to the crime thriller genre and bring this project to life?
Horror is one of my favorite genres to work in, and I love all the different flavors it comes in. Crime thrillers have [the] added bonus of offering a grounded element to the horror, and it was the perfect thing to lean into for this project to create a jarring pull in the opposite direction of the cute and cuddly world it's set in. I think it was that sweet 'n spicy push-pull that was so appealing to IDW. When I pitched several book ideas to them, this one was a clear winner.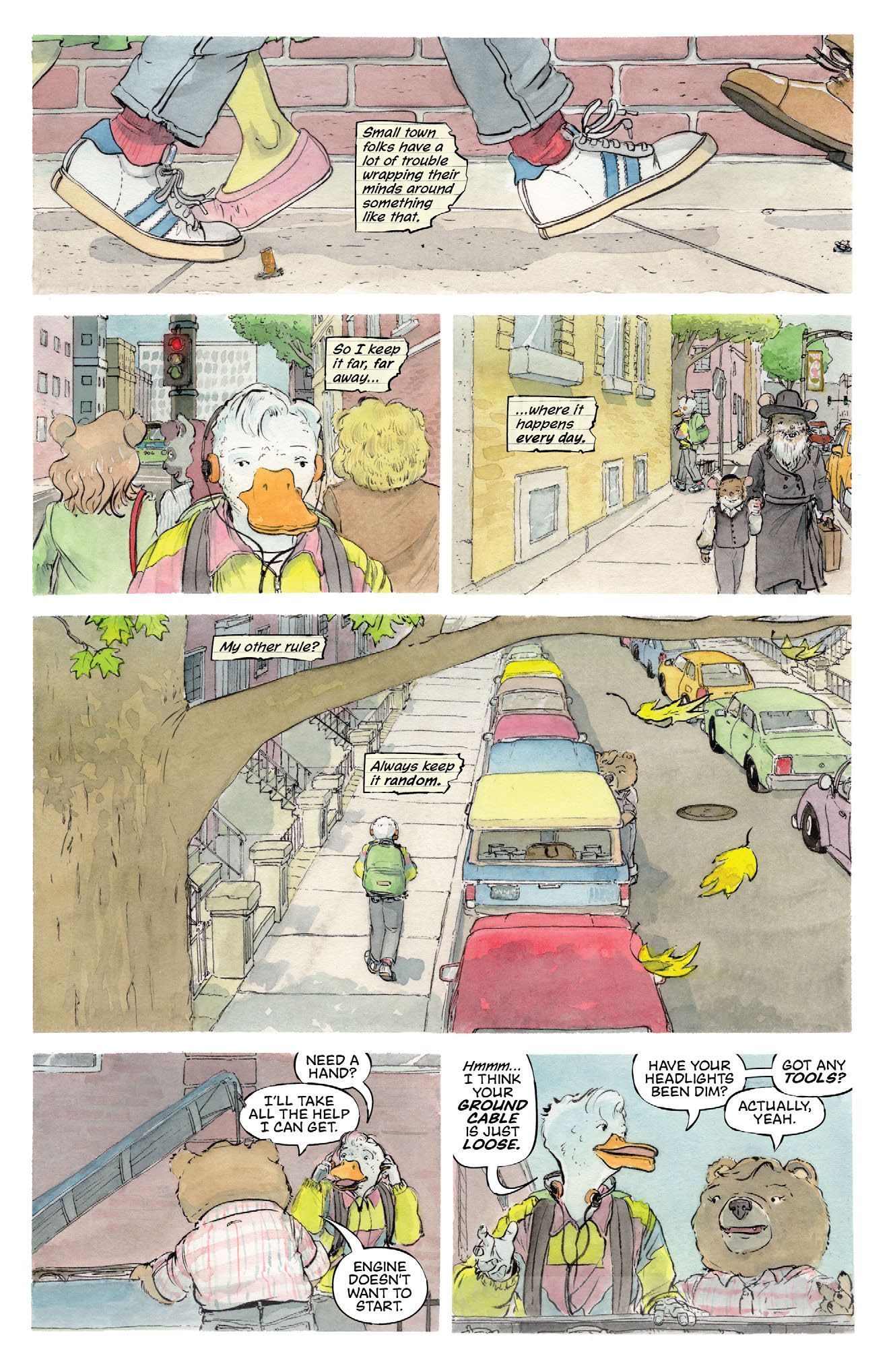 The town of Woodbrook seems idyllic, with cute citizens and a tight-knit community. What made you go with the anthropomorphic animal design?
Years ago, I had done a random drawing of an anthropomorphic bear walking along and carrying a bloody axe. It was just a funny idea to me at the time. As I was looking at the finished drawing, I started thinking up the seeds of what would ultimately end up being this book. It just struck me that it would be really interesting (and kind of hilarious) to do a really dark story about a serial killer having an existential crisis but have it set in this ridiculously cute little town.
How did you tap into the mind of your serial killer protagonist Samantha Strong?
I took some cues from films and TV where we're given that type of perspective. I also read up on a bunch of material, including Peter Vronsky's Serial Killers and Journey into Darkness by John Douglas & Mark Olshaker. Coming up with Samantha's internal monologue involved building out a profile of what sort of impulses were driving her and then having that play out as she's sustaining this public perception of the life she's carefully constructed.
RELATED: Deniz Camp Unleashes the Children of the Vault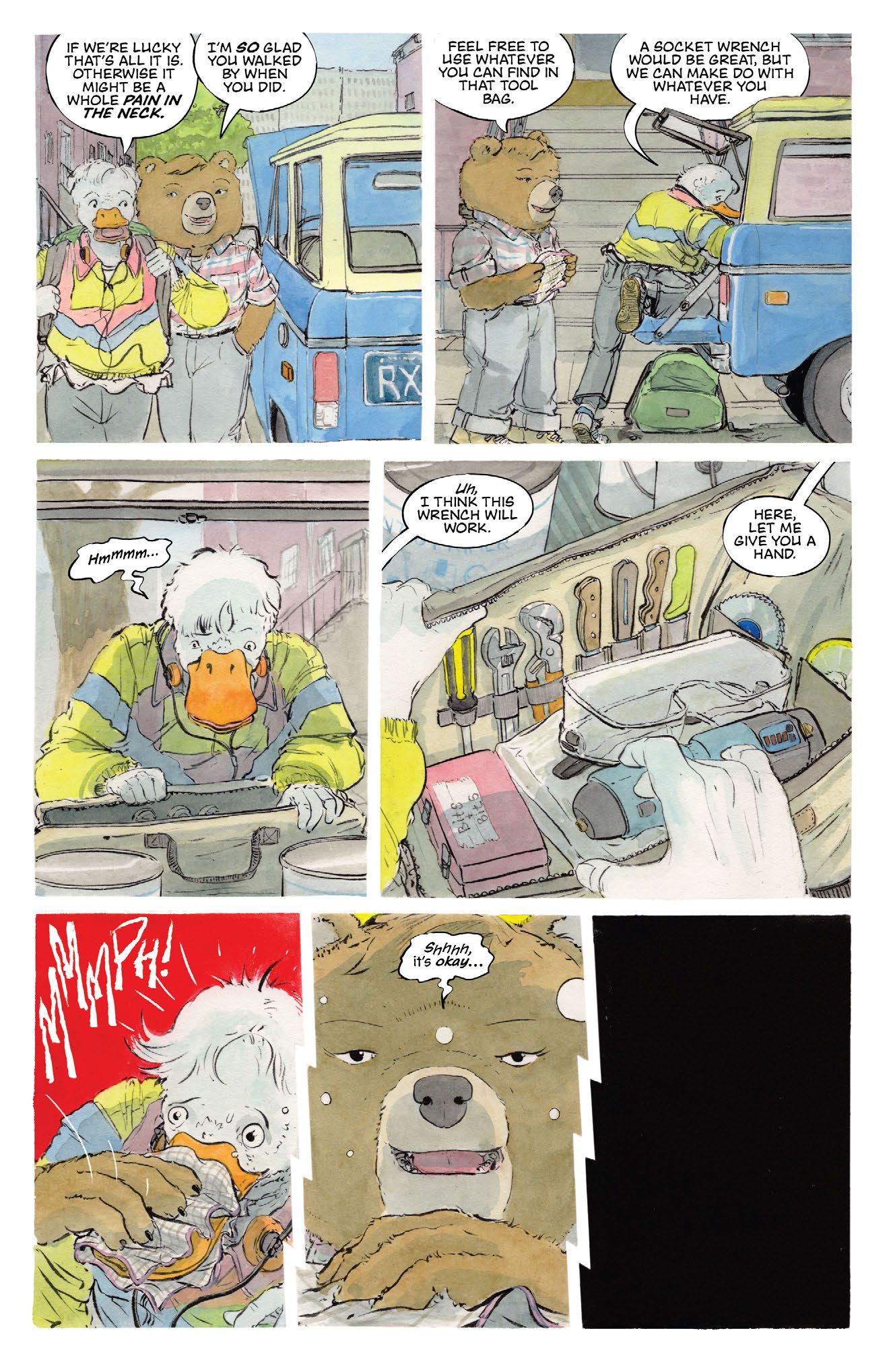 What can you tell readers about Sam's relationship with the townsfolk?
I wouldn't say there's absolutely no satisfaction that she gets from her public life in Woodbrook. But virtually every relationship she maintains is a superficial façade that allows her to hide in plain sight. It was interesting to me that every friendly wave, every pleasant interaction was hollow, and all served the illusion of her public persona. It's basically a friendship of convenience on the scale of a whole town, and it's been working out splendidly for her until now.
What techniques do you use to make your artwork so disarmingly cozy?
I'm most comfortable working traditionally. So, I'm inking everything and then coloring with gouache (usually thinned way out so that it's almost like watercolor). There's definitely a way to pull off cute and cozy digitally, but it's just totally beyond my capabilities. I have a much easier time putting paint down on paper. And it allows for a lot of happy accidents that I'd never think of on my own.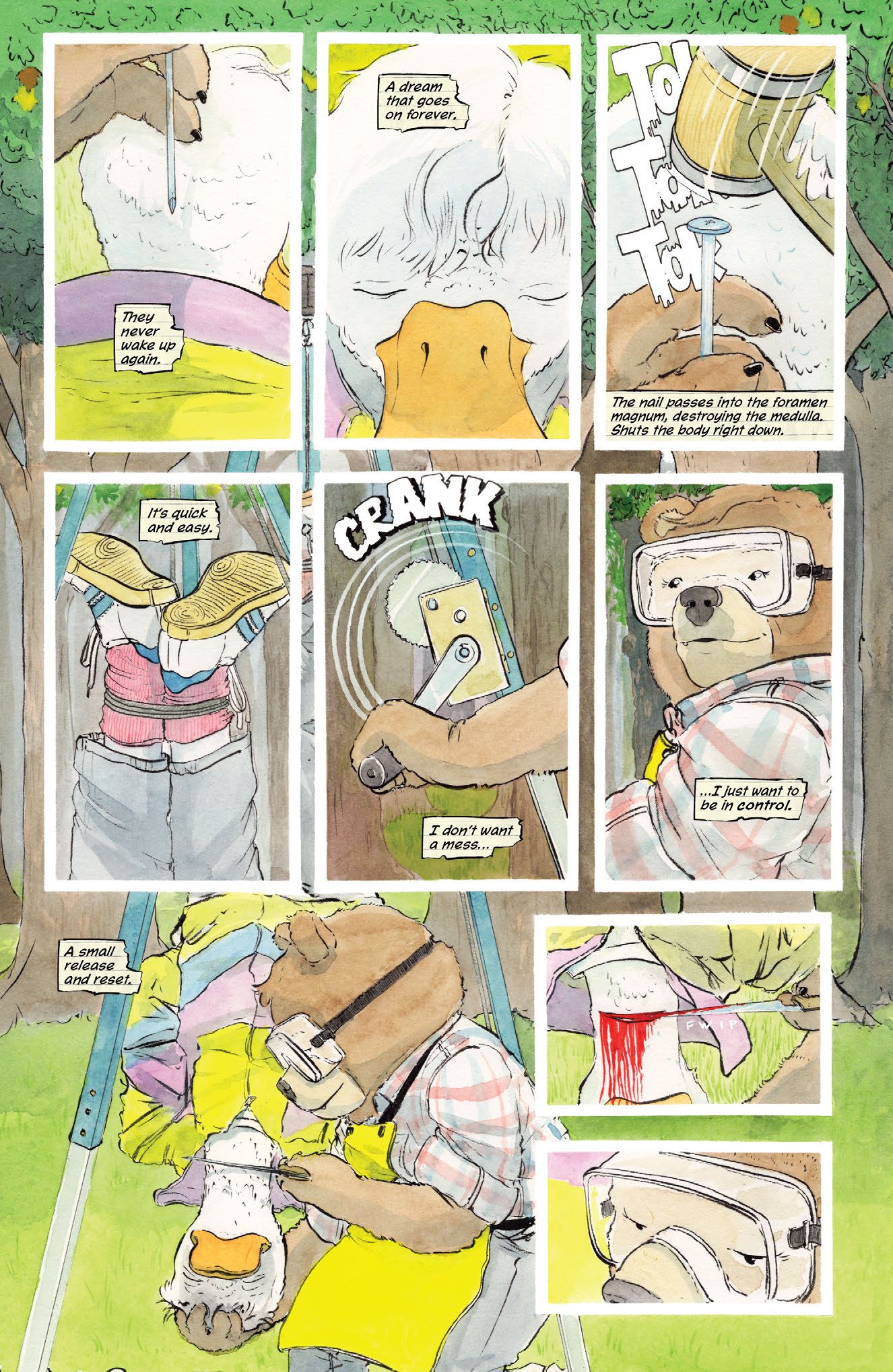 There is a scene that goes into Sam's handiwork in detail. How did you plan the paneling of that poetically gruesome scene?
When I started doing layouts for that sequence, I wanted to approach it in a way that reflected Sam's frame of mind, getting at the cold and orderly approach while still showing a glimpse of the joy that she gets from it all. The tough part was the balancing act of making sure there was enough space to let it breathe while still keeping up the pace for the rest of the pages in that issue.
How was your experience working with letterer Hassan Otsmane-Elhaou?
It's been wonderful, and we're still in the middle of it. This is my first time working with a letterer, and Hassan is a powerhouse. His choices are always so well-inspired [that] they lift up everything that's happening in the book and take it to a whole new level. The amount of creative nuance that he brings to every panel is incredible. Seriously, I can't believe my luck that I'm able to work with him on this book.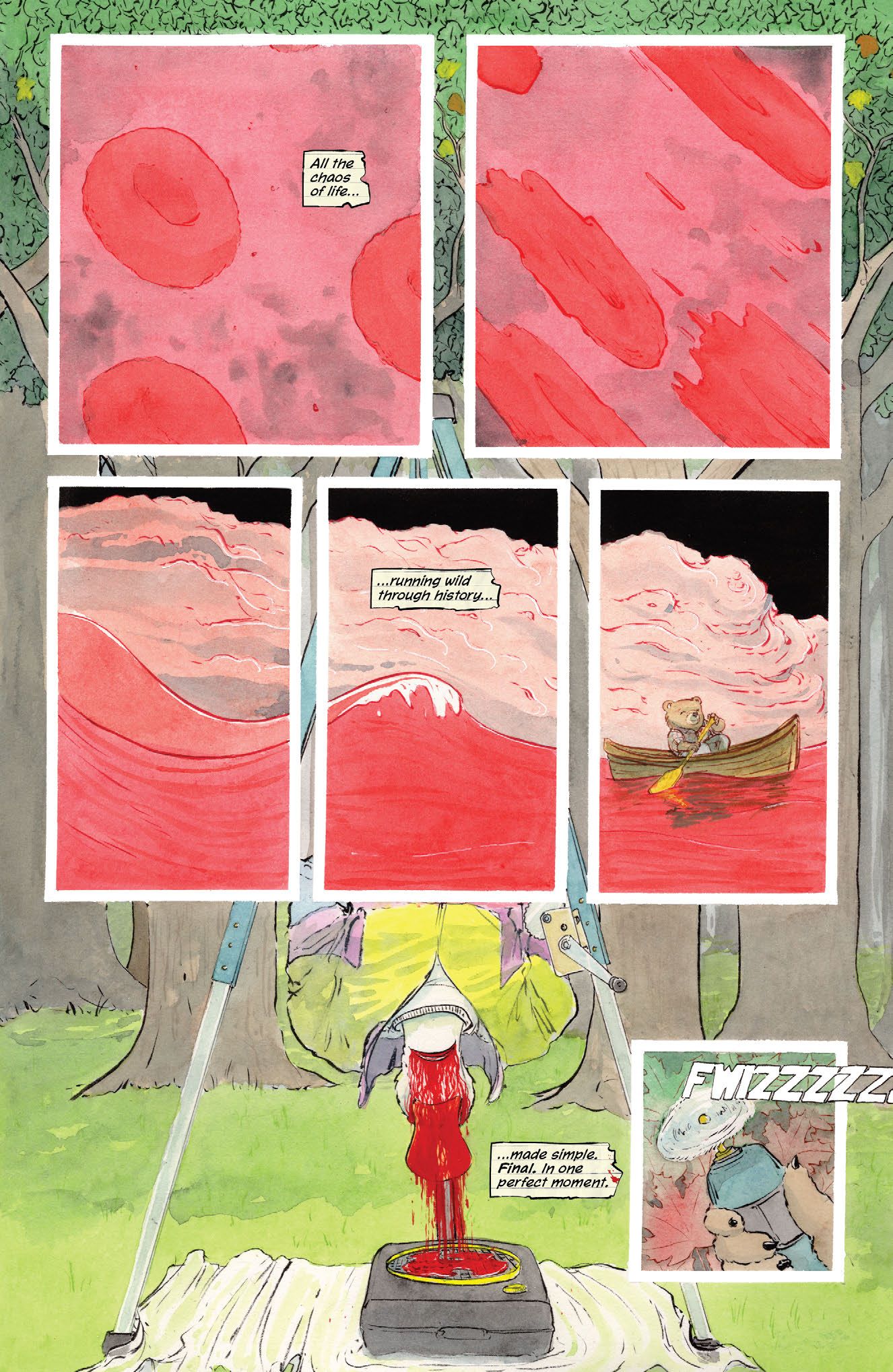 What are some of your inspirations behind the series?
I remember hearing about a true story that I think took place in a small Belgian town around 2007, and it always stuck with me. This person was over at a friend's home having dinner. The friend's wife and child were apparently out of town, so it was just the two of them. When they were helping the friend clean up after dinner, the person went downstairs to put some leftovers in the freezer and found the wife's frozen body inside. The person was somehow able to keep it together, carry on like nothing had happened, and get out of there without drawing suspicion so they could call the police.
The thing that stuck with me the most was the idea that you think you know someone so well and then have that whole concept of their identity flipped on its head. The notion of a killer hiding in plain sight has always, sort of, low-key terrified me, and it was really intriguing to me to explore that perspective in the whole set-up for this series.
Beneath the Trees Where Nobody Sees ends on a shocking note, almost like a Dexter episode. What other surprises do you have in store for fans?
Violence and paranoia are in store for the good folks of Woodbrook. The adorable little town will be turned upside down, and families will be torn apart. Samantha's carefully constructed life will begin to unravel, and a whole community will be looking over their shoulders to see if they'll be next. As Sam scrambles to protect her secret, she may end up a victim herself.
Beneath the Trees Where Nobody Sees #1 is due out on October 18.
on bbc news
on hindi news
on the news today
on channel 7 news
ôrf news
campo grande news ônibus
ôpera news
campo grande news greve de ônibus
l1 news horário dos ônibus
l1 news ônibus
lago azul news ônibus
news österreich
news österreich heute
news österreich aktuell
news öffentlicher dienst
news österreich corona
news öl
news österreich orf
news ö3
news österreich heute aktuell
news österreich sport
ö24 news
ölpreis news
öbb news
ösv news
österreich news krone
övp news
özil news
öffentlicher dienst news 2023
österreich promi news