Warning: This interview contains spoilers for Avengers #7, on sale now
The Avengers are Earth's Mightiest Heroes. So, if they lose a battle, it's game over for the planet, but when the team's ranks include Captain Marvel, the Scarlet Witch, Thor, the Vision, Iron Man, Black Panther, and Captain America, you know they'll go down swinging. That's what happened in Avengers #7 by writer Jed MacKay and artist C.F. Villa, the kick-off to a new arc titled "Twilight Dreaming."
Fortunately for the Avengers, it wasn't the only thing that happened. The end of the issue revealed that the metaphorical nightmare they were facing was, in fact, a shared literal one created by none other than the malignant entity known as Nightmare. It was cover for a surprise attack on the team by the mysterious Myrddin and his team of heroes, the Twilight Court. In the latest installment of CBR's Earth's Mightiest Spoilers, an exclusive series of post-game interviews about each issue of Avengers, MacKay spoke about those events and more. Marvel also shared an exclusive sneak peek at Villa and colorist Federico Blee's pages for Issue #8.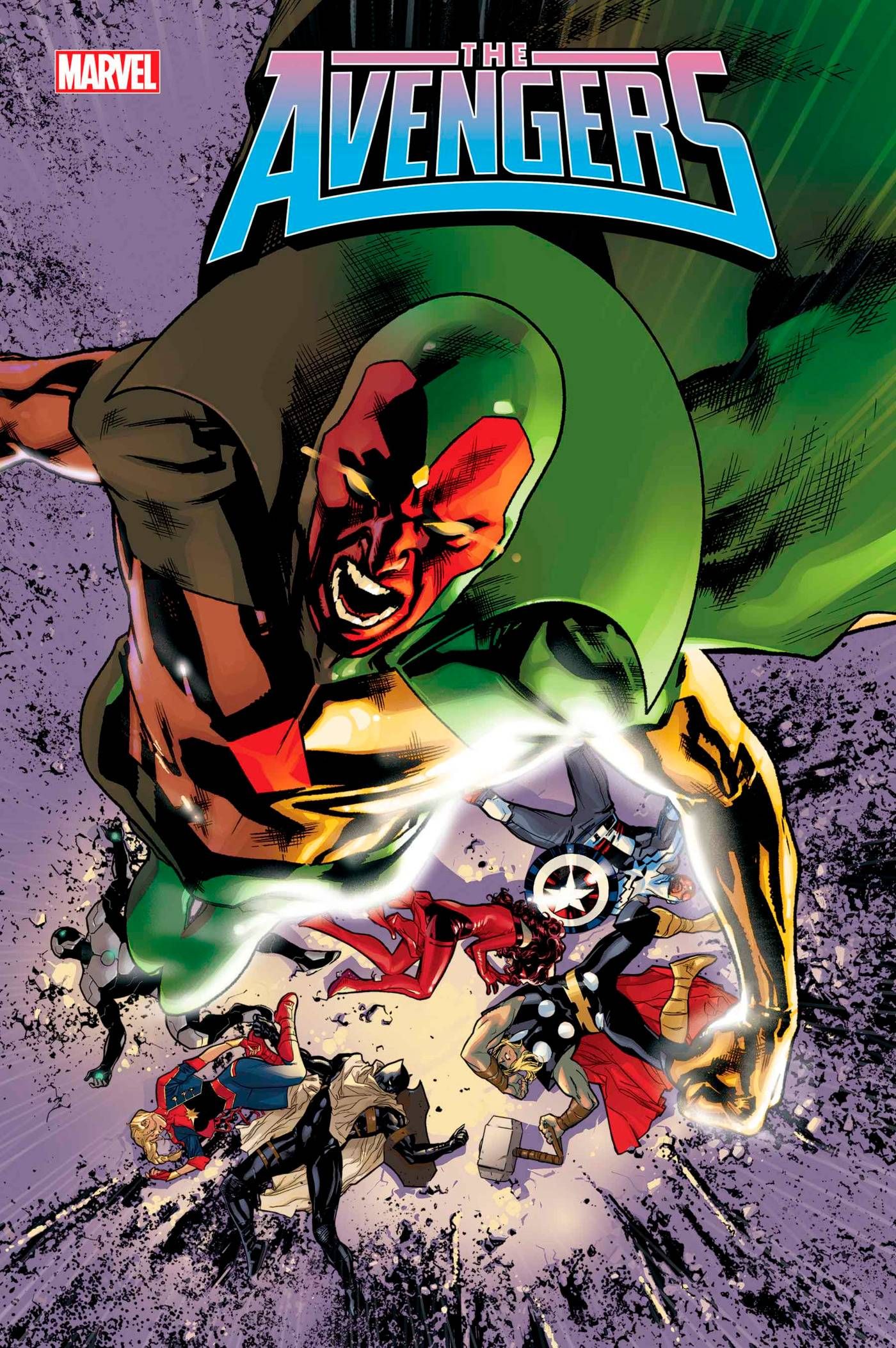 CBR: Let's start by talking about C.F. Villa's incredible double-page spread that reveals the kaiju-style monster in the Avengers' shared nightmare. How did this sequence come about? Was it always supposed to be a double-page spread? And what was your reaction when these pages came in?
Jed MacKay: We were starting off a new arc and starting it in the most dire situation possible, so I wanted the issue to be big and splashy and exciting — all action and pizazz. So when we were showing off what's become of the world, what has undone the Avengers, I knew I wanted it to be as big and widescreen as possible. And, as usual, C.F. didn't disappoint in showing us the end of the world.
In the nightmare sequence, several Avengers are clad in different, and in some cases, older costume designs, but Sam is still wearing his signature Captain America outfit. Is that a coincidence? Or is it a clue about how Sam and his teammates feel about themselves and their current roles?
Not really. It's just that Sam doesn't have a deep bench of Captain America outfits. [Laughs] I was talking to C.F. about the nightmare trap the Avengers are caught in, and he came up with the idea of signposting it at the beginning with different costumes, going back into the characters' history (and, of course, any opportunity to bring back crop-top Thor).
T'Challa's brilliant tactical mind, fighting skills, and fantastic devices make him such an effective hero that it's easy to forget he's a man with strong connections to some of the gods of the Marvel Universe. We're reminded of that connection in the nightmare sequence where his prayer to the Tiger God is answered in spectacular fashion. Are you interested in further exploring T'Challa's relationship [with] Bast and her fellow deities in upcoming issues?
I think the spirituality of the Black Panther is always a really interesting avenue to go down — T'Challa's secular power, both politically and tactically, [is] usually at the forefront, but there's so much to explore on the spiritual side that I'm sure we'll get into it eventually!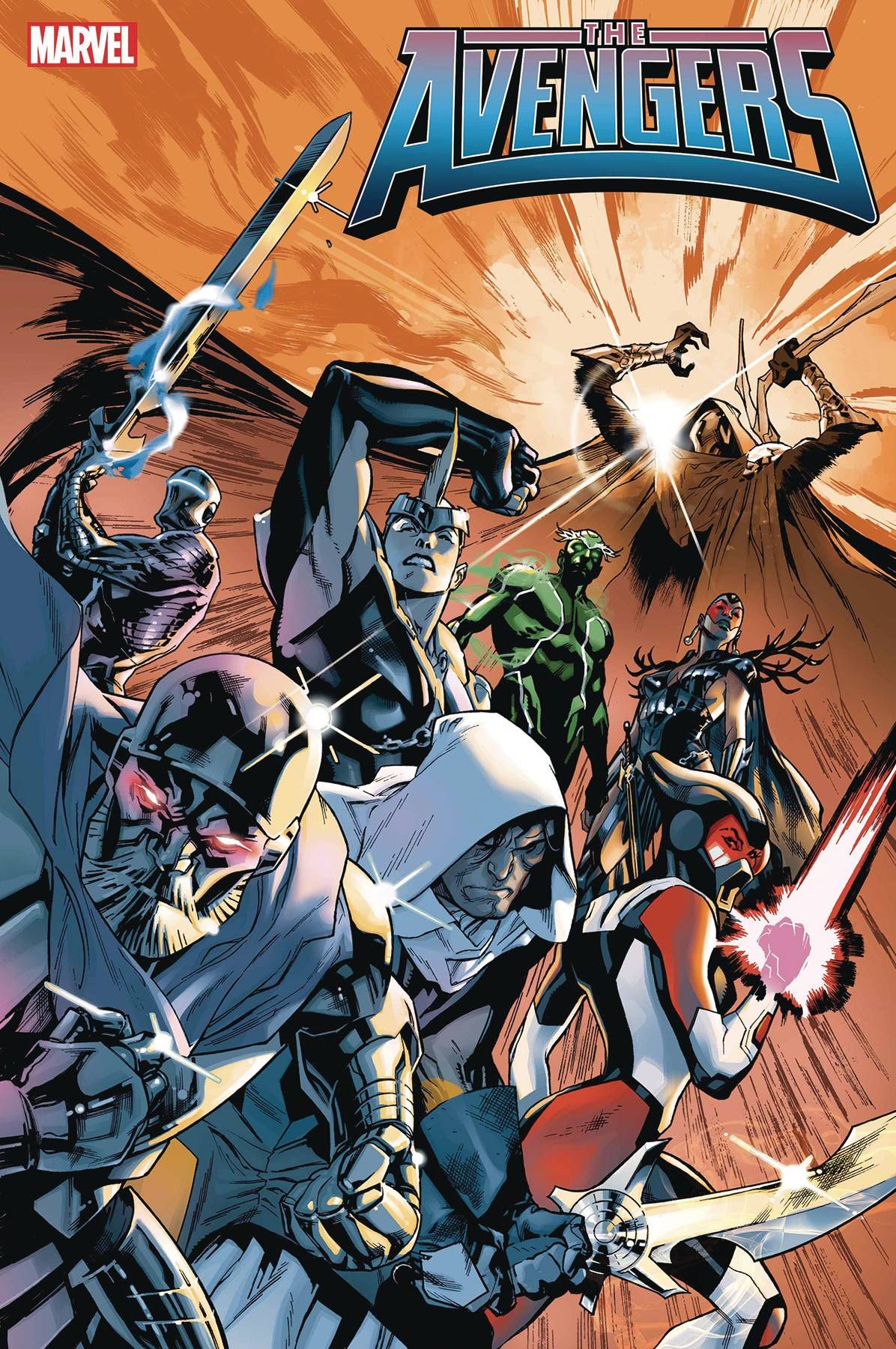 The source of the Avengers nightmare is, of course, Nightmare himself. It felt like you had a great time with this character. What do you enjoy most about writing Nightmare? Is this the last we've seen of him in this story?
Nightmare is a villain that I think is very relatable for most readers. Very few of us have gone up against evil aliens or killer robots (I think, I could be wrong), but almost everyone can remember waking up in a sweat, thankful that whatever horrifying situation they were caught in was just a dream. Nightmare is an expression of that very real, very common fear. Most of us dream, and most of us have no control over what happens there.
The final page of Issue #7 brings Myrddin and his Twilight Court over from the pages of Timeless and into Avengers. What do you want readers who are meeting them for the first time here to know about them?
This is a thread that carries over from Timeless (2022) — the mysterious Myrddin, rival to Kang, sent his engineered heroes, the Twilight Court, after the Conqueror, and they hounded him to the very ends of time, which is where we met Kang again in Avengers #1 when he had dire warnings for the Avengers about the Tribulation Events to come and their place in them. Now, with the first of those Events taken care of, Myrddin and his knights have come again for Kang the Conqueror, and the Avengers stand against him.
Any final hints and teases you can leave us with about the action in Avengers #8 and this new arc overall?
Well, with the Avengers and the Twilight Court throwing down, #8 is going to be pretty action-packed!
Avengers #7 is on sale now.
on bbc news
on hindi news
on the news today
on channel 7 news
ôrf news
campo grande news ônibus
ôpera news
campo grande news greve de ônibus
l1 news horário dos ônibus
l1 news ônibus
lago azul news ônibus
news österreich
news österreich heute
news österreich aktuell
news öffentlicher dienst
news österreich corona
news öl
news österreich orf
news ö3
news österreich heute aktuell
news österreich sport
ö24 news
ölpreis news
öbb news
ösv news
österreich news krone
övp news
özil news
öffentlicher dienst news 2023
österreich promi news