Summary
Aunt May and Uncle Ben were heroes before Peter Parker became Spider-Man, as shown in their first appearance in Strange Tales #97.
The story "Goodbye to Linda Brown!" revealed Aunt May and Uncle Ben caring for a mermaid, showing their acceptance and understanding of others.
"Goodbye to Linda Brown!" should be considered an important part of Marvel Comics history, as it fits neatly into the primary timeline and exemplifies May and Ben's characters.
For the more than sixty years that Peter Parker has astonished fans as the Amazing Spider-Man, his beloved Aunt May has been a nearly constant presence in his life. Perhaps more importantly, his Uncle Ben tragically formed the foundation for him even becoming a hero. Surprisingly, Aunt May and Uncle Ben just so happened to have their own stint as heroes of a sort before Peter was ever even bitten by the radioactive spider that made him into Marvel's most iconic webslinger.
Only shortly before the Amazing Spider-Man made his breakout debut in Amazing Fantasy #15, Aunt May and Uncle Ben made their very first appearance together elsewhere. Rather than being some vague reflections of the beloved characters, Marvel's original Aunt May and Uncle Ben were the same ones that have been part of Spider-Man's decades-long saga. This makes the revelation that they preceded Peter in print surprising, and the fact that the elderly couple's first outing involved caring for a wayward princess of the sea is even more astonishing.
Aunt May and Uncle Ben Appeared Long Before Spider-Man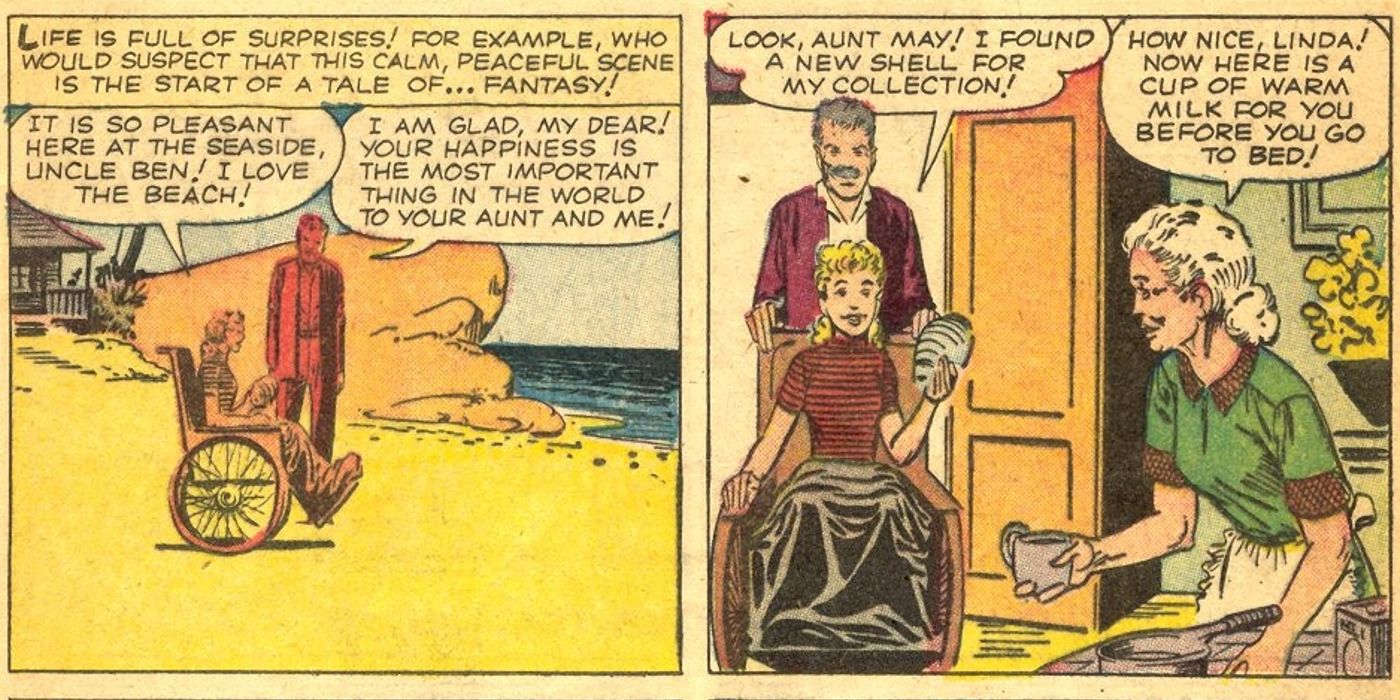 The Amazing Spider-Man is Officially Going to War with His Greatest Love
1962's Strange Tales #97 was published a month before Amazing Fantasy #15 and it featured the story "Goodbye to Linda Brown!" by acclaimed creators Stan Lee and Steve Ditko. On its own, the story wasn't anything remarkable, although it was quite touching. Starring Aunt May and Uncle Ben, the story saw the older couple dote on their eponymous, wheelchair using young ward as best they could. Although the nature of Linda's disability was never touched on, it didn't seem to slow her down in the slightest, especially not when she ventured out toward the sea. Like so many other one-off vignettes of its era, the tale featured a twist ending in which Linda cast off her figurative chains and returned to her proper home deep under the sea as a mermaid.
Again, little was explained in terms of how Linda came into Aunt May and Uncle Ben's lives, although it was evident that they understood some innate truth that she had yet to discover for herself. At the same time, the two never tried to keep Linda from embracing who she was apart from keeping her from suffering unduly. There might be something to be said for May and Ben's general reaction to losing Linda, but their intentions were never misplaced in any way. Similarly, there is an argument to be made that the details of this story points toward this Aunt May and Uncle Ben being different characters than those that appear later, but that still does not distract from the goodness they display in this tale and would later relay to their nephew.
Aunt May and Uncle Ben Have Always Been Marvel Heroes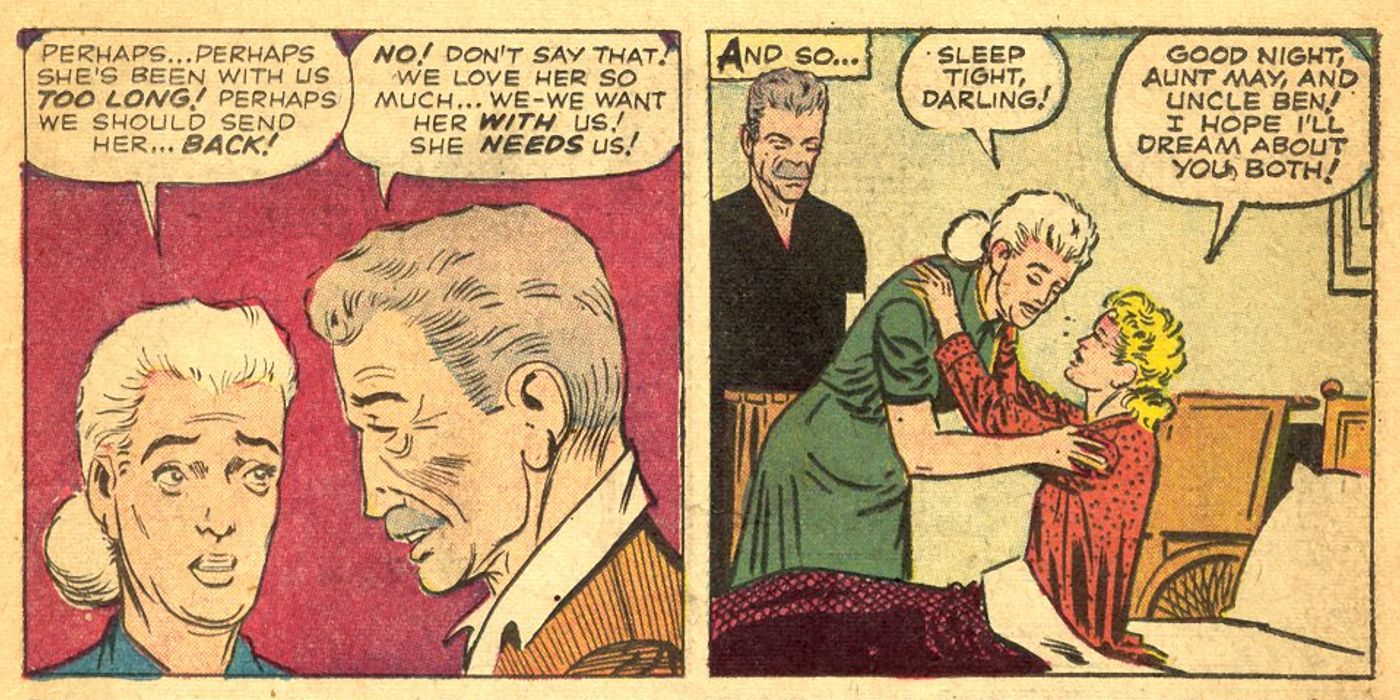 Every Spider-Man Comic Currently Running (& Their Most Recent Issue)
In the official version of their story, Maybelle Reilly and Ben Parker met one another early on and formed a rocky romance that was built on a foundation of overcoming remarkable hardships. When they first crossed paths, May was dating someone whose criminal proclivities nearly cost Ben his life. Fortunately, the latter's steadfast resolve in the face of such a grave threat (not to mention his unwavering sense of right) both saved Ben's life and endeared him to May. From there, it was only a handful of breakups and reconciliations before the two were wed.
For various reasons, May and Ben were unable to conceive a child on their own. The fact that they would go on to raise Peter Parker as their own did fill some amount of that void, but it did not make the overall hardship of coming to terms with their situation any easier, nor did it ease their grieving after the deaths of Peter's parents. Still, May and Ben showed a preternatural level of resolve and resiliency in the face of the many tribulations that came their way. As such, the lessons they imparted upon Peter have become core to his mission as Spider-Man, while May's continued presence and efforts in the modern day have helped to define the best that humanity has to offer.
Uncle Ben and Aunt May's First Story is Important to Marvel History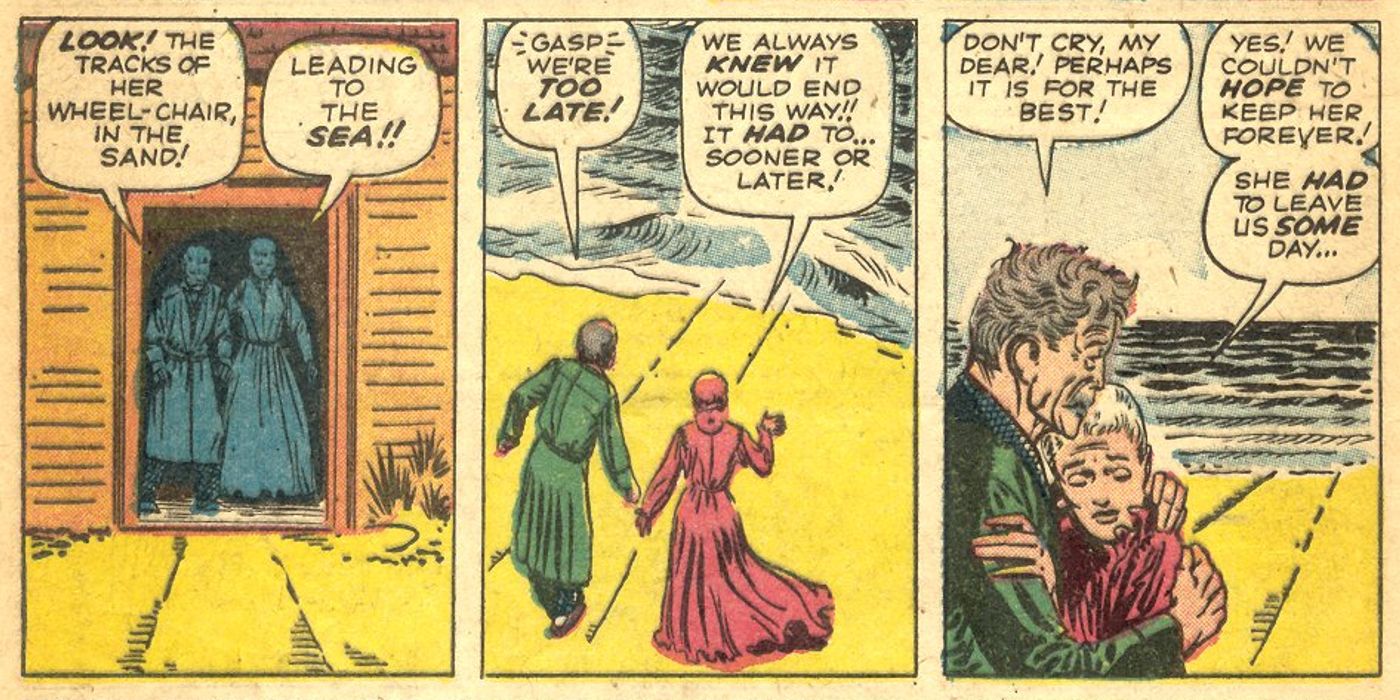 Even if "Goodbye to Linda Brown!" isn't explicitly canon, treating it as such in no way detracts from Aunt May or Uncle Ben as characters. And, with it releasing so soon before Peter Parker made his own debut, there is no reason that the two stories can't line up next to one another. There is always the matter of where exactly it falls on any given timeline, but the Marvel Universe's built-in sliding timescale can surely account for this.
On top of everything else, "Goodbye to Linda Brown!" does not pale in terms of content or characterizations of its leading duo, especially not when compared to other additions to their stories. The most infamous of these is easily 2003's Trouble (by Mark Millar and Terry Dodson), a part of Marvel's short-lived Epic imprint that rewrote the romantic and personal histories of May and Ben, as well as Richard and Mary Parker. This convoluted soap style comic not only put May and Ben's love life through the wringer, but it also recast them as Peter's true parents all along. For everything the later story got wrong, May and Ben's earliest appearance set a profoundly better precedent without making stark and contrasting changes to their history.
on bbc news
on hindi news
on the news today
on channel 7 news
ôrf news
campo grande news ônibus
ôpera news
campo grande news greve de ônibus
l1 news horário dos ônibus
l1 news ônibus
lago azul news ônibus
news österreich
news österreich heute
news österreich aktuell
news öffentlicher dienst
news österreich corona
news öl
news österreich orf
news ö3
news österreich heute aktuell
news österreich sport
ö24 news
ölpreis news
öbb news
ösv news
österreich news krone
övp news
özil news
öffentlicher dienst news 2023
österreich promi news