Summary
The trailer for Aquaman and the Lost Kingdom reveals Black Manta's intense desire for revenge against Aquaman and his plans to kill him and his entire family.
Black Manta leads a major attack on Atlantis and possesses the powerful Black Trident, which gives him control over undead and undersea creatures.
The movie adaptation diverges from the comics by flipping the order of events, potentially putting Aquaman's still-living father at risk and raising concerns about the fate of his son.
The first trailer for Aquaman and the Lost Kingdom has arrived, revealing the unhinged plans for Black Manta's ultimate revenge against Arthur Curry (Jason Momoa). As seen in the first Aquaman, Black Manta (Yahya Abdul-Mateen II) and Arthur quickly became rivals after the death of Manta's father in the movie's first act. Now, it seems Black Manta has formed a major revenge scheme that will result in major consequences for the King of Atlantis.
Real name David Kane, Black Manta was once a mercenary aboard his father's pirate crew. However, David's father was killed after Aquaman refused to save his life, motivating a deep desire for vengeance as Manta continued working for Aquaman's brother Orm (Patrick Wilson) who wanted Atlantis' throne for himself. Now, Aquaman and the Lost Kingdom's first trailer sees Arthur and his brother joining forces against Black Manta with the major villain wielding the powerful relic known as the Black Trident.
Related: Aquaman & the Lost Kingdom Cast & DC Character Guide
Black Manta's Villain Plan Explained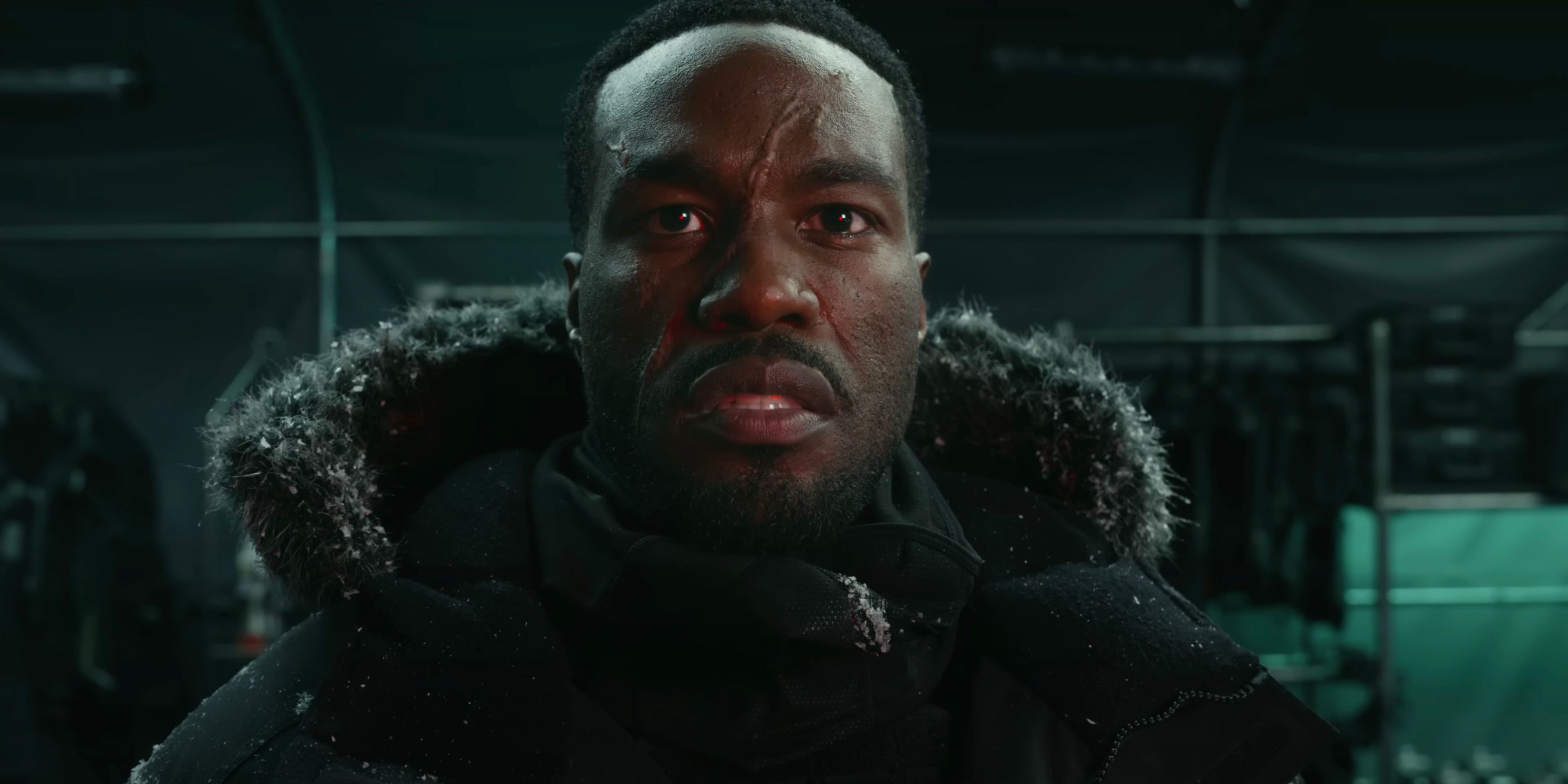 As Black Manta reveals in the trailer for Aquaman in the Lost Kingdom, his sole goal is one of pure revenge against Aquaman and everything he holds dear. Having failed at vengeance in the first Aquaman, Kane's now looking to kill Aquaman and his entire family, undoubtedly wanting Arthur to feel the same loss he did after losing his father. Black Manta also wants to "burn his kingdom to ash". As a result, there are several shots of Aquaman's loved ones in danger including his mother Atlanna (Nicole Kidman) and wife Queen Mera (Amber Heard).
There also looks to be a major attack on Atlantis itself with Black Manta leading a collection of dark forces and aquatic attack craft. The trailer also includes a truly worrying shot of the Amnesty Bay lighthouse in flames, the home of Aquaman's father Tom Curry (Temuera Morrison). Combined with the threat of a total global meltdown, it appears as though Black Manta's revenge quest will be executed on multiple fronts, endangering everything and everyone Aquaman cares about. However, the centerpiece of it all looks to be the new Black Trident in Manta's possession.
How Did Black Manta Get The Black Trident?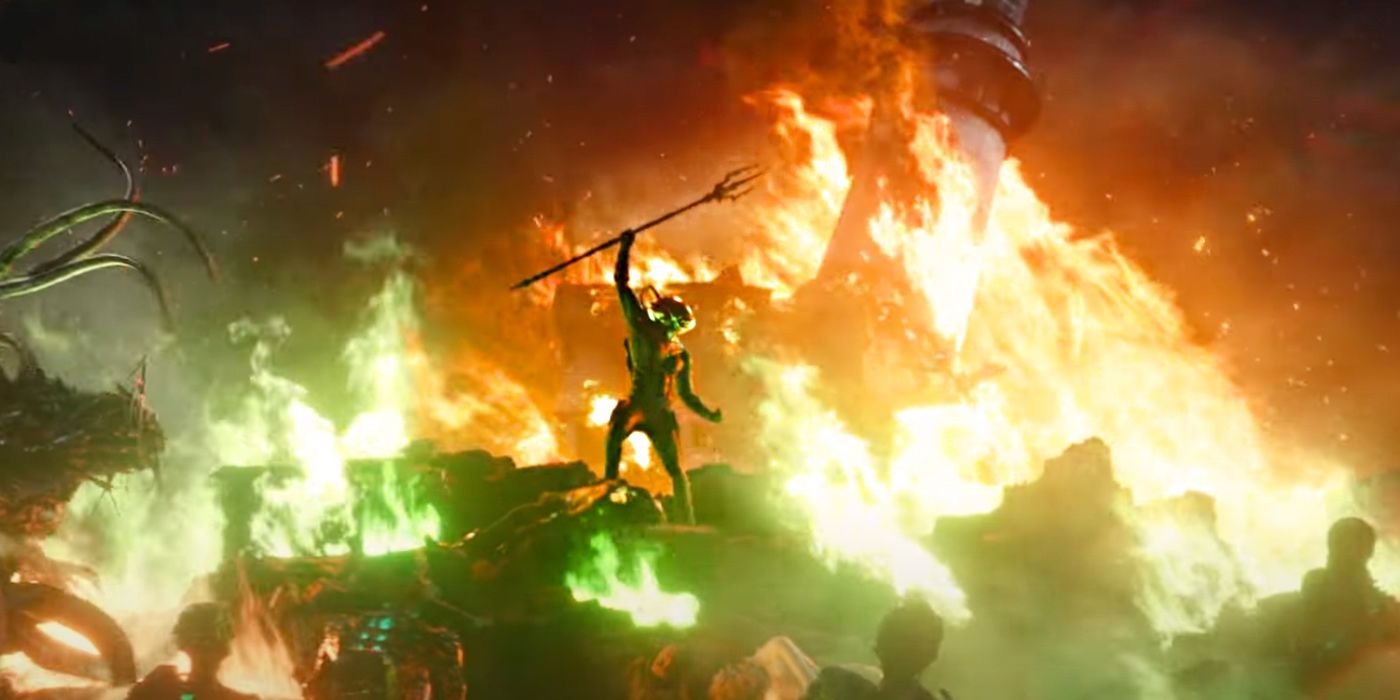 The new trailer for Aquaman and the Lost Kingdom does not reveal how Black Manta got his hands on such a powerful relic. It only confirms that it has made Aquaman's classic rival stronger and more powerful than ever before. As confirmed by Orm, the Black Trident is connected to the seventh the titular "Lost Kingdom" which apparently met its demise during the reign of King Atlan. Teased to contain a corruptive power not unlike a curse, it seems the Black Trident has given Manta control over the undead and more undersea creatures to combat Aquaman himself.
That being said, it can be speculated that Dr. Stephen Shin (Ray Park) may be behind Black Manta's recovery of the ancient weapon. As seen at the end of 2018's Aquaman, Shin saved Black Manta with the tease that the pair would be joining forces. Having studied Atlantis and desperately trying to prove its existence to the surface world, it's possible that Shin agreed to help Manta as part of his plans for revenge, potentially even pointing Manta in the right direction of where to find the Black Trident itself.
Related: How To Watch DCEU Movies In Order (By Release Date & Chronologically)
Is Black Manta's Revenge Plan From The Comics?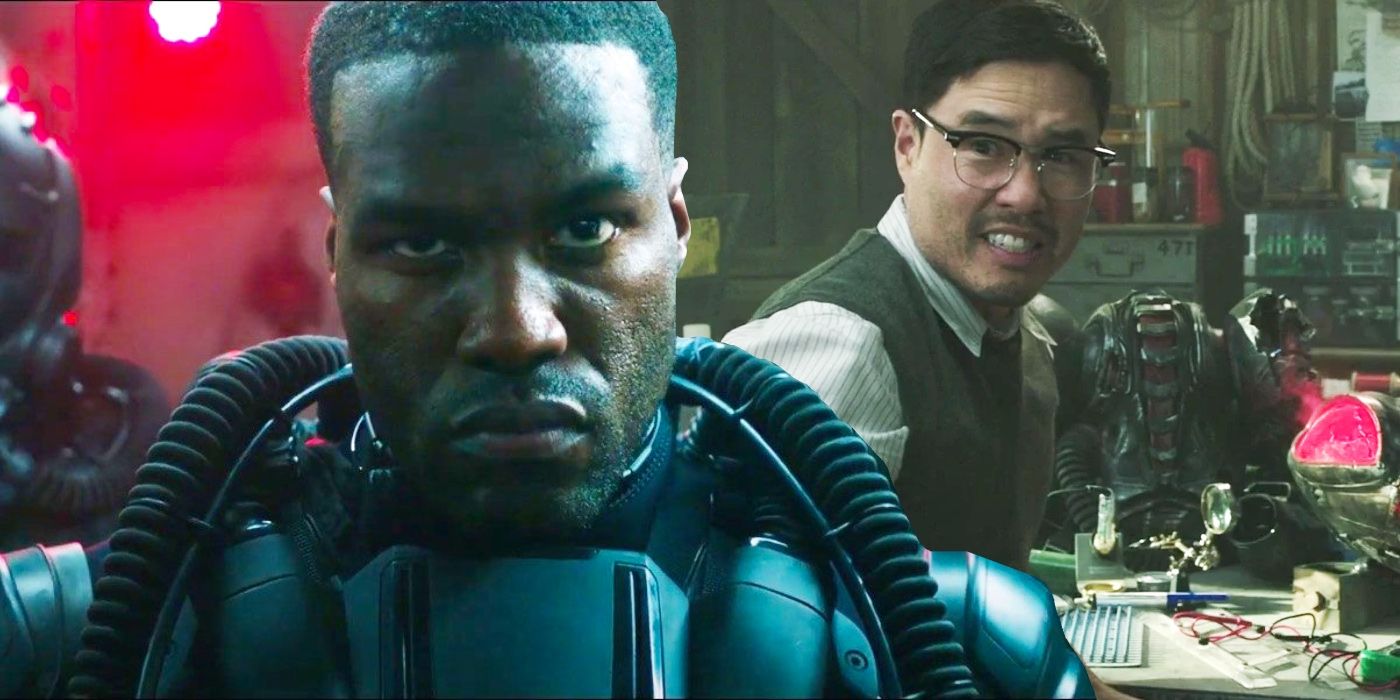 Overall, it certainly looks as though Aquaman and the Lost Kingdom is adapting a major part of Aquaman's origins with Black Manta as seen in the original DC Comics. On the page, Aquaman's father died during Black Manta's attack to get a sample of Arthur's blood for Shin who wanted to prove he was Atlantean. Swearing revenge, Arthur attacked Black Manta but accidentally killed David's father Jesse instead, cementing their ongoing rivalry as Aquaman and Black Manta. As such, it seems the on-screen version is flipping the order of events, a prospect that certainly darkens the fate of Aquaman's still-living father in the upcoming sequel.
Additionally, Black Manta also murdered Aquaman's son in the comics when he was only an infant. This is extremely concerning considering the confirmed existence of Arthur's new son in Aquaman and the Lost Kingdom and Manta's clear intention to murder Aquaman's entire family. With any luck, Arthur and his brother Orm will be able to find a way to stop Black Manta and his new trident before the movie adapts the comics too closely in the darkest way possible.
on bbc news
on hindi news
on the news today
on channel 7 news
ôrf news
campo grande news ônibus
ôpera news
campo grande news greve de ônibus
l1 news horário dos ônibus
l1 news ônibus
lago azul news ônibus
news österreich
news österreich heute
news österreich aktuell
news öffentlicher dienst
news österreich corona
news öl
news österreich orf
news ö3
news österreich heute aktuell
news österreich sport
ö24 news
ölpreis news
öbb news
ösv news
österreich news krone
övp news
özil news
öffentlicher dienst news 2023
österreich promi news