Summary
Ahsoka Tano's duel with Anakin Skywalker features several nods to Darth Vader's final showdown with Luke Skywalker in Return of the Jedi.
Ahsoka Episode 5, "Shadow Warrior" highlights the similar internal struggles faced by both Ahsoka Tano and Luke Skywalker.
Ahsoka and Luke's respective fights with Darth Vader depict a Jedi resisting Anakin's dark fate.
The following contains spoilers for Ahsoka, Season 1, Episode 5, "Shadow Warrior," now streaming on Disney+.
The fifth episode of Ahsoka, "Shadow Warrior," saw Ahsoka reunited with her master, Anakin Skywalker. Ahsoka found herself back in the World Between Worlds after seemingly being killed by Baylan Skoll and was greeted by her old master. The reunion was not an easy one, however, as Anakin had one final lesson for his old Padawan, and intended to put her to the test with a trial by lightsaber. Their duel moved from the World Between Worlds into their memories of the Clone Wars and saw Anakin tapping into both the light and dark sides of the Force.
Through their encounter in the World Between Worlds, Anakin hoped to teach Ahsoka that she must choose life over death. In doing so, he also had to help Ahsoka confront her fear that she may be doomed to fall down the same dark path that Anakin once did. Ultimately, Ahsoka chooses to reject the path of the dark side. Of course, this isn't the first time Anakin Skywalker has been in a duel with a Jedi who was tempted by the dark but ultimately escaped the fate that befell Anakin himself. In Star Wars: Episode VI – Return of the Jedi, Anakin — then Darth Vader — found himself in the same situation with his son, Luke Skywalker. The duel depicted in Ahsoka featured more than a few echoes of this climactic showdown between Vader and Luke.
RELATED: Jacen Syndulla Honors Kanan Jarrus in One Unique Way
Ahsoka Parallels Return of the Jedi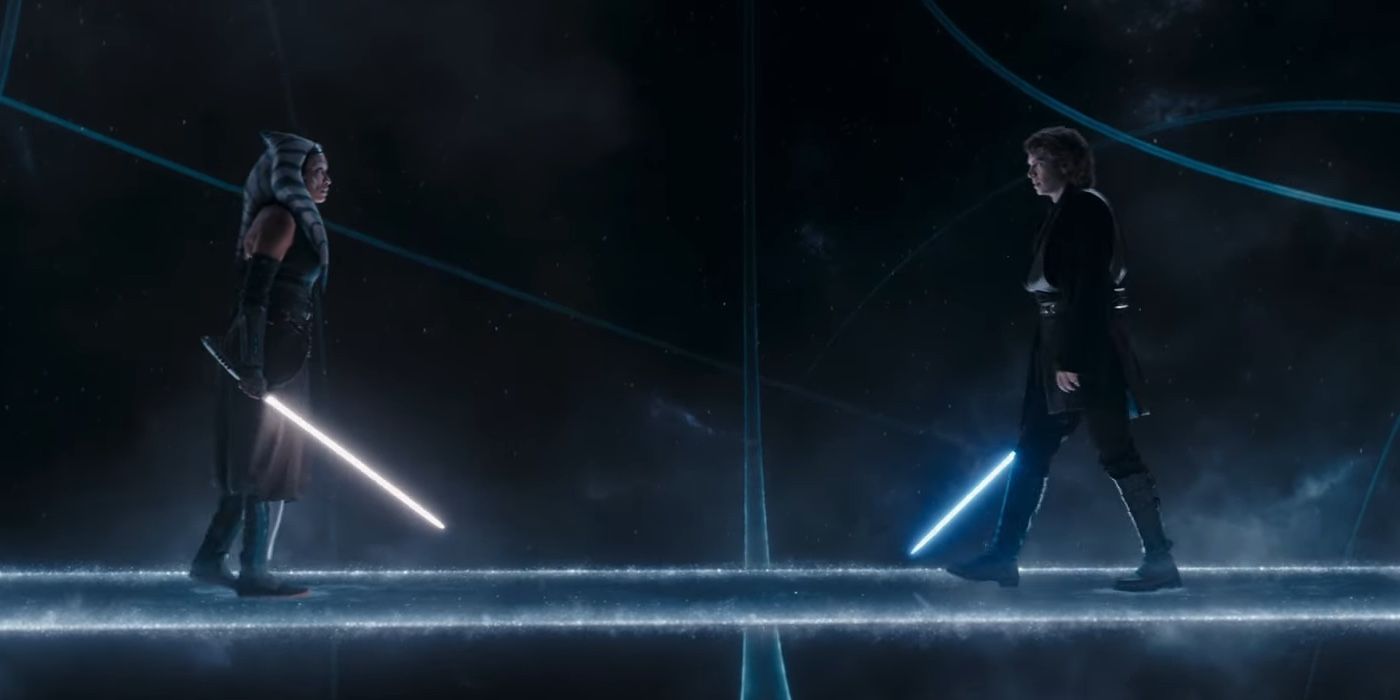 After Ahsoka Episode 4 revealed Anakin Skywalker's return in the World Between Worlds, fans were left wondering whether this was truly Anakin as a Jedi Knight or whether this was somehow Darth Vader, given the episode's use of "The Imperial March" in its closing moments. While in Episode 5 it appeared this truly was Anakin, living on after his death through the Force, he was still able to channel Vader in order to train Ahsoka. In doing so, Anakin evoked his final lightsaber duel as Darth Vader, as seen in Return of the Jedi.
At the very start of their duel, as Anakin ignited his lightsaber, Ahsoka told him "I won't fight you." Anakin responded "I've heard that before," referencing his duel against Luke Skywalker, during which Luke told him "I will not fight you, father." Later, as Ahsoka's training took both her and Anakin back into one of their early missions from the Clone Wars, Anakin told her that if she refused to fight then she would die. Again, this echoes Vader's duel with Luke, in which Vader told his son "If you will not fight, then you will meet your destiny." The two duels also end on a similar note, with both Ahsoka and Luke throwing down their lightsabers and refusing to give in to their aggression.
Although Ahsoka Tano's and Luke Skywalker's circumstances varied, there was a clear underlying similarity between these two fights. As Luke was Vader's son and Ahsoka was his apprentice, both Jedi feared that they may be destined to fall to the dark side just as Vader did. The duels from Return of the Jedi and Ahsoka Episode 5 each showed these Jedi fighting to avoid sharing Vader's fate. In both instances, they came close to killing Vader, before throwing down their weapon and vowing to live as a Jedi rather than give in to the dark side.
RELATED: Who Plays Young Ahsoka in the Disney+ Series?
Ahsoka and Luke Skywalker Are Both Haunted by Darth Vader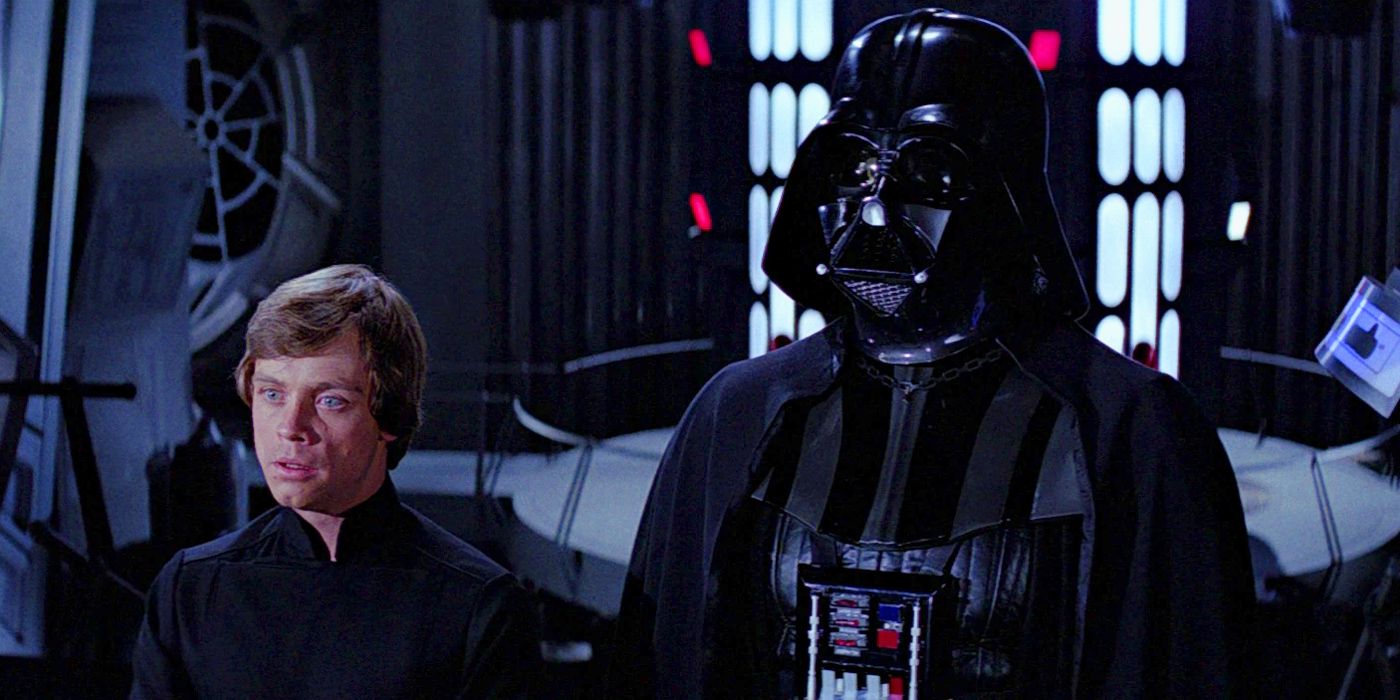 By the time of Return of the Jedi, in Luke's case — and Ahsoka in the case of Ahsoka Tano — both Luke and Ahsoka had come to learn the truth about Anakin Skywalker's fate. This obviously gave them both cause to question their Jedi path. They had each been following in the footsteps of Anakin Skywalker, but now they could finally see where those footsteps led. In their final duels with Anakin/Vader, they were each fighting against the call of the dark side as much as they were fighting their immediate opponent.
Luke and Ahsoka could both be seen feeling the pull of the dark side in Return of the Jedi's final lightsaber duel and Ahsoka's duel in the World Between Worlds. During the duel in Return of the Jedi, it was the moments where Luke was winning the lightsaber fight, and using his aggression to overpower his father, that he seemed to be losing the greater battle against the dark side of the Force. At the end of her duel with Anakin in the World Between Worlds, Ahsoka takes his lightsaber and holds it to his throat, the glow of its crimson blade giving her eyes a Sith-like appearance. Ultimately, both Luke and Ahsoka chose to throw their weapons down and stay true to the Jedi path.
Each of these duels revealed the true nature of a Jedi through Luke's and Ahsoka's ultimate realization of this ideal. They both recognized that the destructive path they were fast approaching would take them away from the light and they each chose to step away, to choose life over death. The two duels also served to confirm Anakin Skywalker was never completely lost beneath the shroud of Darth Vader. In Return of the Jedi, it was Anakin's redemption by Luke that led to the defeat of the Sith. On Ahsoka, it was Ahsoka's realization that both she and Anakin were capable of rising above the darkness that allowed Ahsoka to be reborn.
RELATED: Ahsoka Sends the Titular Hero to Ezra and Thrawn in an Obvious Way
Anakin's Duel With Ahsoka Reframes Darth Vader's Showdown With Luke Skywalker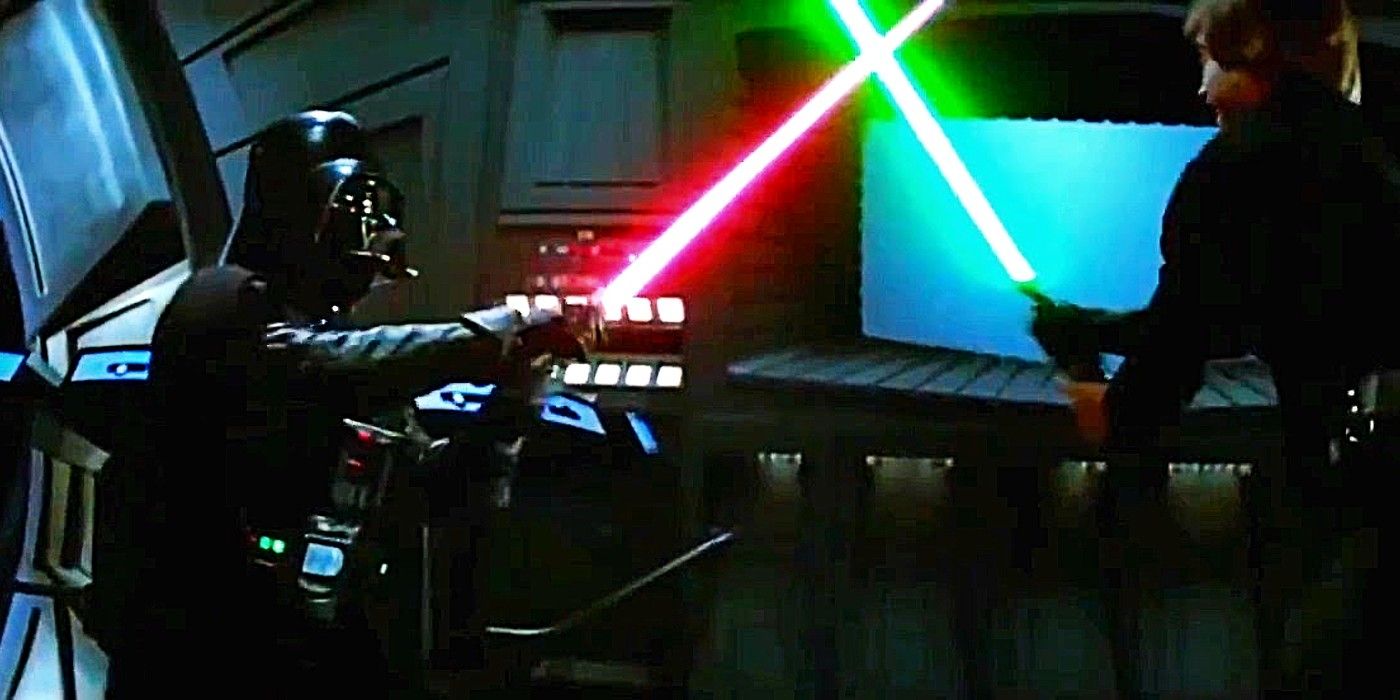 The resemblance between the duels in Return of the Jedi and on Ahsoka may change how fans view the former. Anakin's words to Ahsoka were similar to Vader's dialogue with Luke and he ultimately pushed his son and his apprentice to the same final realization. It could be argued that, in Return of the Jedi, Vader was not actually trying to kill Luke or turn him to the dark side, but rather giving him a trial by fire to help him remain true to the light, just as he did with Ahsoka. There is some evidence in the film to support this interpretation.
Originally, the scene in which Luke is brought to Darth Vader, attempting to convince him to return to the light side, ended with a variation of Luke's theme over the final shot of Vader as Luke was taken to the Emperor. This version of Return of the Jedi's soundtrack might have implied that Luke was already getting through to Vader before they even made it to the Emperor's throne room. Many fans have suspected that this scene was the moment in which Anakin's allegiance to the dark side began to crumble. Furthermore, when Luke defeated Vader in their duel and was ready to make the killing blow, Vader appeared to gesture for Luke to calm down, as if trying to keep him from giving in to the dark side.
Given that Ahsoka Episode 5 showed Anakin Skywalker using the dark side to teach Ahsoka that she is stronger than that, it's feasible that he took a similar approach with Luke. In both instances, Anakin taught his son and his apprentice that they must fight in order to live, but that they need not give in to the aggression and hatred that would turn them into killers. Darth Vader became both an external threat and inner demon for Luke Skywalker and Ahsoka Tano. It was only by refusing to slay Vader, refusing to believe he had extinguished the good in Anakin, that they became the Jedi they were meant to be.
New episodes of Ahsoka are available to stream every Tuesday on Disney+.
on bbc news
on hindi news
on the news today
on channel 7 news
ôrf news
campo grande news ônibus
ôpera news
campo grande news greve de ônibus
l1 news horário dos ônibus
l1 news ônibus
lago azul news ônibus
news österreich
news österreich heute
news österreich aktuell
news öffentlicher dienst
news österreich corona
news öl
news österreich orf
news ö3
news österreich heute aktuell
news österreich sport
ö24 news
ölpreis news
öbb news
ösv news
österreich news krone
övp news
özil news
öffentlicher dienst news 2023
österreich promi news