As a child of the early internet, games like Hypnospace Outlaw can't help but resonate quite deeply with me. This was the internet as I remembered it, goddamnit, and the fact it mixed in a compelling corporate conspiracy story in between its pages was just the icing on an already fine cake (in GIF form, naturally, with a MIDI tune of Vivaldi's Four Seasons blaring out from your internet browser for good measure). But in revisiting Hypnospace for this month's RPS Game Club, there was one page in particular that really brought the rose-tinted shutters down on me. It was beautiful, lovely April, Hypnospace's virtual pet hamster, who can live, snooze and poop on your desktop, and maybe turn a slightly sickly shade of green if you don't pay enough attention to her.
As with most things in Hypnospace, I can only assume that April and her fellow gaggle of virtual pet friends are riffs on real-life virtual pet games Catz and Dogz from the late 90s, which, yes, as a ten-year-old girl at the time, I was absolutely obsessed with. Developed by the now defunct PF Magic, Catz and Dogz 3 were arguably two of my most formative PC games growing up, and cor, I miss those dumb beasts so very much.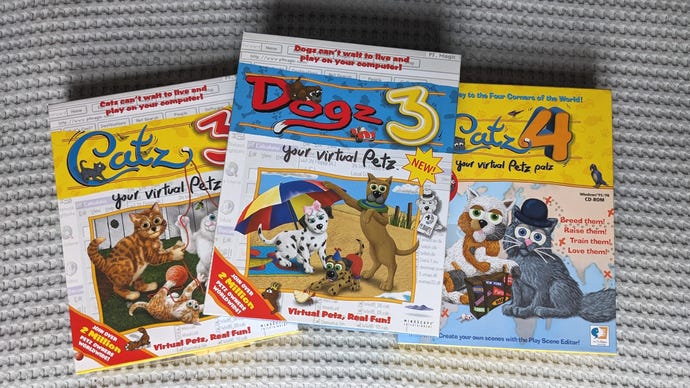 I first encountered Dogz 3 at a friend's house. She was one of the few people I knew at school who also liked and played video games back then, and we'd spend entire weekends noodling about on her PC (and eventually Dreamcast and PlayStation, with our own family N64 often in the mix). It was the N64 that eventually became our multiplayer machine of choice – we were both nuts for Pokemon Stadium's competitive mini-games – but not before we'd done the whole 'removing the swimming pool steps from her Sims house and setting the kitchen on fire after taking out all the doors etc etc', and created an entire dynasty of inbred Dogz pups.
I was hooked – to the point where I not only badgered my mum to get me my own copy of Dogz 3 (and then Catz 3 shortly afterwards), but when I came across the previous games, Dogz and Catz 2 in a WHSmith bargain bin for about a fiver each (or something stupidly cheap), I pestered her to get me those ones as well. I'll be honest, I didn't really understand the concept of numbered sequels at that point, or how much of a leap forward Dogz and Catz 3 had been from their predecessors. I do remember being distinctly disappointed that Dogz and Catz 2 didn't have as many interesting breeds or features as their successors, though, and I sheepishly played both for about five minutes, and then never touched them ever again. Sorry, mum.
The third games, though? I played the hell out of them. I remember being fascinated by all the different play scenes – how you could plant seeds in the back yard and see flowers grow over time, or how your Dogz would dig holes in the soil as they chased frisbees you threw with your mouse. Shells would wash up on the beach as you chucked balls around, and the crackling fire in the family room would sometimes have little mice that emerged in the skirting board, that your catz would yowl and pounce at – unless you caught them with your mouse first, and dangled them cruelly in front of your petz' noses like a play toy.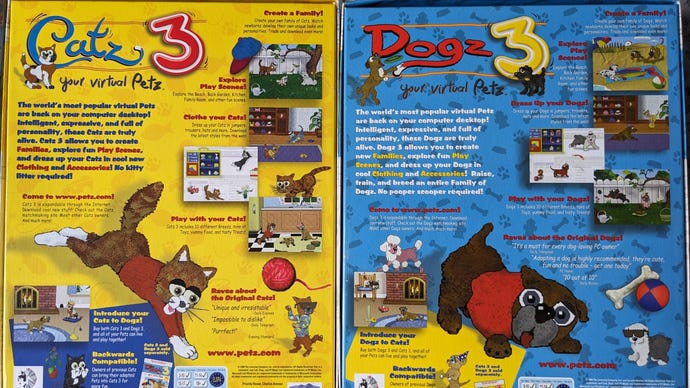 Looking back, all of these little interaction points are quite basic by today's standards, but they felt surprisingly alive in the moment. The door portal was a particular stroke of genius on this front, too. You could use this draggable, glorified red and yellow dog/cat flap to summon forth individual petz you wanted to play with, but you'd also see other dogz and catz sometimes pawing at the locked window of their own accord, desperate to come out and play, if not for the strict limit on only having two petz out at any one moment.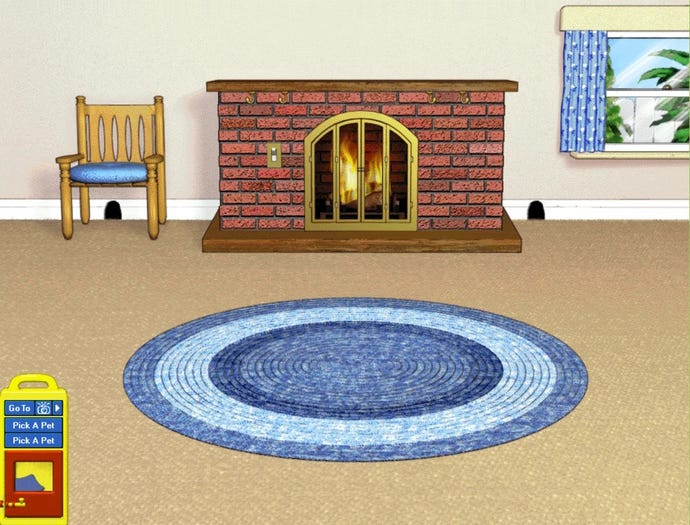 The only time you could circumvent this restriction was when a mother pet had their really tiny baby in tow, which they'd carry by the scruff of their neck in their mouths. Being so small, these babies didn't do very much except sleep and yawn in a very cute fashion, but when you had mum and dad and baby altogether in the same scene, it was *mwah!* Perfect. Exactly what I wanted as a kid whose parents despised their real-life equivalents. I can't remember how many generations I actually had altogether at one point – it was at least half a dozen, if not more, by my shoddy recollection – but I can remember sitting entranced for ages, just willing the telltale hard drive rattle to load in the big (weirdly human) kissy heart icon that would appear when an affectionate nose rub hit the correct RNG in the game's code to signal the spawning of a new arrival. Listen, I was ten, it was all perfectly innocent, I assure you.
The only pet I did, in fact, have as a child, was a hamster. Several of them, in fact, over the years, and our first was a golden Syrian one just like April. He didn't have such a pretty name, admittedly – my brothers decreed he'd be called Derek Archimedes for reasons still unknown to me (the next one would be Ferdy, named after then-Tottenham Hotspur footballer Les Ferdinand). But Derek was a good little chap, and if there's one thing that Hypnospace captures with an unerring degree of accuracy, it's just how much poop there was everywhere, all the time. I'm not even kidding. Less so on the whole 'eating encrypted files to reveal hidden industrial espionage documents', but hey, these things can't be perfect. The Petz equivalent of this was probably letting you dress up your cat as a wizard with a big bushy beard and have them make zero fuss, which honestly, if I tried that with my actual cats, they'd shred every last piece of that costume within nine seconds flat.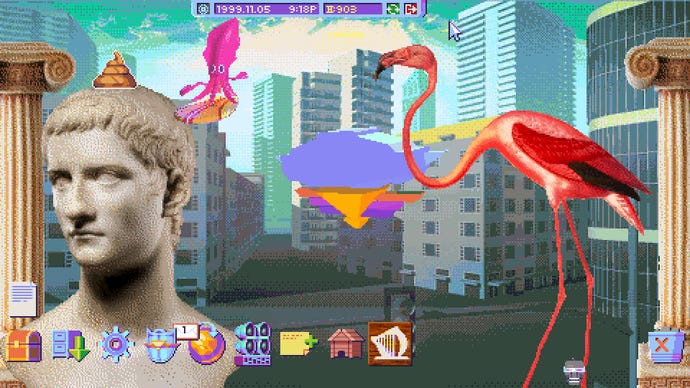 And yes, I know April gets intensely annoying if you don't pay her constant attention in Hypnospace Outlaw. I'm not ashamed to admit that I willingly let April perish in a sea of her own excrement during my first playthrough, because hey, I had a conspiracy to solve and Chowder Man tracks to rank, April, I can't keep constantly feeding you Hypnocoins and shovelling your stinking turds into my no doubt overflowing recycling bin. Her accompanying virtual pet friends – Mushi the purple SquisherZ, the thousand-yard-stare Lovesquid and the even freakier TestPet eyeball – weren't much better for it, either, and ultimately, you're probably better off not engaging with them at all, for the sake of your own sanity.
But I like that they exist within Hypnospace all the same. They're another part of its world wide time capsule web that elegantly captures not just other real games of the time, but also the hold they had over the way we interacted with our PCs back then. April and friends are an important artefact worth preserving in my books, even if they were sometimes hard to find and take care of beneath the mountainous piles of their own virtual waste.

on bbc news
on hindi news
on the news today
on channel 7 news
ôrf news
campo grande news ônibus
ôpera news
campo grande news greve de ônibus
l1 news horário dos ônibus
l1 news ônibus
lago azul news ônibus
news österreich
news österreich heute
news österreich aktuell
news öffentlicher dienst
news österreich corona
news öl
news österreich orf
news ö3
news österreich heute aktuell
news österreich sport
ö24 news
ölpreis news
öbb news
ösv news
österreich news krone
övp news
özil news
öffentlicher dienst news 2023
österreich promi news