"Freedom is a state of mind." One can only hope, especially when watching Michael Goorjian's lead character in his new Armenian-filmed feature Amerikatsi, which centers on an American in the late 1940s traveling to Soviet Armenia in an effort to learn about his roots. From there, it's despair personified as he's immediately brought to a Soviet prison for reasons that are simply outside his control. He's not a threat like they say; he's a charming, hopeful individual who will inspire viewers long after they finish Goorjian's new film.
We recently caught up with Goorjian, who serves as writer and director of his new comedy-drama, in addition to playing the main role. He opens up about wearing multiple hats for the COVID-filmed production, a funny little Charlie Chaplin connection of his, and more.
'Don't Worry, Be Happy'
As Goorjian's new film comes to an end, a title card comes on screen that reads, "Dedicated to my grandfather." Amerikatsi is already based on true events, taking place in a tense post-WWII era, but Goorjian takes it a step further and uses personal memories to help weave a heartwarming, sometimes tragic tale. "Many Armenians who came to America, who survived the genocide, they reacted in different ways," Goorjian told MovieWeb, continuing:
"My grandfather went the route of wanting to just shut that off and have his children grow up to be American. And I remember as a child, that he would never talk about the genocide, he only would tell me, 'You need to be happy.' The Bobby McFerrin song, [my grandfather] used to say that before Bobby McFerrin used to say, 'Don't worry, be happy.' And he always reinforced that to me. So in a way, I dedicated to him because the character Charlie is really who he was."
Amerikatsi is also a special project because of its timing on the production end. These are strange times we're living in, given the global pandemic. And as Goorjian told us, they began shooting his movie in March 2020. "Five days into shooting, and we had to lock down," he said. "And I ended up getting stuck in Armenia for about seven months. Myself and my cinematographer were from the States; most of the crew and cast were all based in Armenia. But yeah, we were there. It was crazy."
Related: Aurora's Sunrise: Animation on Armenian Genocide Wins MiradasDoc Festival
In Amerikatsi, Goorjian plays the imprisoned American who ultimately forms an unlikely bond with a guard living nearby. Tigran is his name, and he's played to perfection by Hovik Keuchkerian. While discussing the complications presented by the pandemic, Goorjian noted how, in real life, Keuchkerian's mother fell ill with the virus in Madrid. All his scenes were eventually shot, but it sounds like it took some time. Goorjian continued to detail the shooting-during-COVID experience:
"We were in lockdown for a good two months. And then the government said, 'OK, we'll let you shoot just the scenes in the cell because it involves just you and a few crew members.' So there's not too many people around. And I remember that day, you know, after two months of everybody waiting to see what's going to happen, that was one of the most the happiest days on set I've ever experienced. People were so just thrilled to get to do something."
"And so, shooting all of those sequences was challenging, of course, but I mean, the pandemic actually made the film a better film in the long run," added Goorjian. "All of the challenges that it threw our way, we did our best to — like [my character] Charlie — just find the opportunity within it."
Directing Fellow Actors and Representing Armenia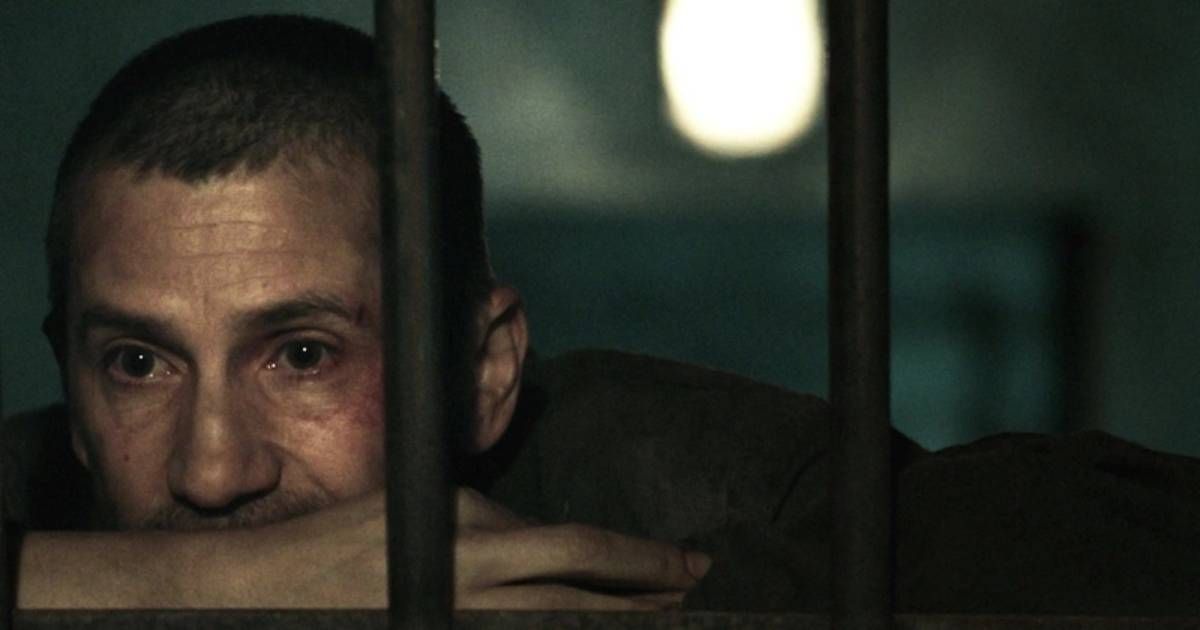 Goorjian has directed projects in the past, so wearing multiple hats for Amerikatsi wasn't exactly a daunting experience. "I got into directing because I love acting. I love working with actors," he said. "I tend to rely on my DP to do what he's been hired to do, which is the camera stuff. And he knows everything that I am looking for… I really relied on him and my ADs. But to me, it's not too much different directing other actors, and me acting with you in a scene; it feels the same. So it's not too difficult, but you have to have a good team around you."
It was a good team that put together this new film that has its fair share of good jokes. After all, Amerikatsi is a comedy-drama, despite the dark subject matter. The Soviet guards often call Charlie 'Mr. Charlie Chaplin,' and interestingly enough, Goorjian played the legendary performer's son in the 1992 film with Robert Downey Jr. It's pure coincidence, says Goorjian: "It actually just came out of a joke. Someone just started calling [me that] because the character's name was Charlie […] At the time as well, the knowledge of what America was, with the West, was very limited in the Soviet Union. They knew Mickey Mouse and things like that. And so Charlie Chaplin seemed like, yeah, that's one of those weird guys from the West."
Related: The 10 Funniest War Comedies Ever, Ranked
Another project that Goorjian worked on at a young age was the musical film Newsies alongside fellow rising star Christian Bale. And it seems Goorjian was always destined to be a filmmaker in addition to acting, since the cast put together their own horror film on the set of Newsies — it's called Blood Drips Heavily on Newsies Square. "We had literally a VHS camera on set," said Goorjian.
"We were bored, and so me and a couple of the other guys started making our own horror film. It's about [Don Knotts] not showing up on the set of Newsies and going on a killing spree, and it's hysterical. And we literally shot it in order in the camera, one shot after another… It's crass, young humor. Christian Bale is in it. Bill Pullman's in it. Everybody wanted to be a part of it."
And one final note on Amerikatsi — its Armenian themes can't help but shed light on the country's current situation and tensions with Azerbaijan. Goorjian is mindful of the situation and weighed in on how he's helping to raise awareness:
My version of the goal is attention. So few people even know where Armenia is. And right now, with what's going on, there are 120,000 people that have been, for eight months, blockaded, unable to get food, water. It's crazy. And it's crazy that nobody knows about it.
"So I've thought a lot about this," added Goorjian. "For me, I think, by making a film that's showing what Armenia is, giving humanity to the face, to what Armenians are, that goes beyond the stereotypes that people know — that's helping in a way. That's my way as an artist of helping, is bringing attention."
From Variance Films, Amerikatsi will be released exclusively in theaters in New York and Los Angeles on Friday, with a national rollout to follow.
on bbc news
on hindi news
on the news today
on channel 7 news
ôrf news
campo grande news ônibus
ôpera news
campo grande news greve de ônibus
l1 news horário dos ônibus
l1 news ônibus
lago azul news ônibus
news österreich
news österreich heute
news österreich aktuell
news öffentlicher dienst
news österreich corona
news öl
news österreich orf
news ö3
news österreich heute aktuell
news österreich sport
ö24 news
ölpreis news
öbb news
ösv news
österreich news krone
övp news
özil news
öffentlicher dienst news 2023
österreich promi news