Following Nvidia's DLSS 3.5 announcements at Gamescom, AMD has finally revealed FSR 3 – along with a separate frame generation solution that works on all DX11 and DX12 titles. In a meeting with AMD, Digital Foundry saw both technologies in action and came away impressed.
FSR 3 is a frame generation solution that operates along similar lines to Nvidia's DLSS 3 – combining frame generation (Fluid Motion Frames) with super resolution upscaling (FSR 2) and latency reduction (Anti-Lag+) in a small number of supported games, with Forspoken and Immortals of Aveum set to first debut the technology. FSR 3 will work on Radeon graphics cards, as well as Nvidia and Intel GPUs.
So, how does FSR 3 look? At Gamescom, we had a demonstration of both titles running with the new technology active on a Radeon 7900 XTX running at 4K output. Both were running with v-sync on, which AMD recommends for frame-pacing purposes. In the very small Forspoken demo we saw, the game was running locked at 120 frames per second and looked just as a v-synced 120fps should look. The game was running in FSR 2 quality mode providing its own frame-rate boost, with frame-gen then taking you up to the limit. In terms of fluidity and clarity, FSR 3 looked a match for DLSS 3 – a view shared by Alex, Rich and John, who were all present to see the demos in person. A great start for FSR 3.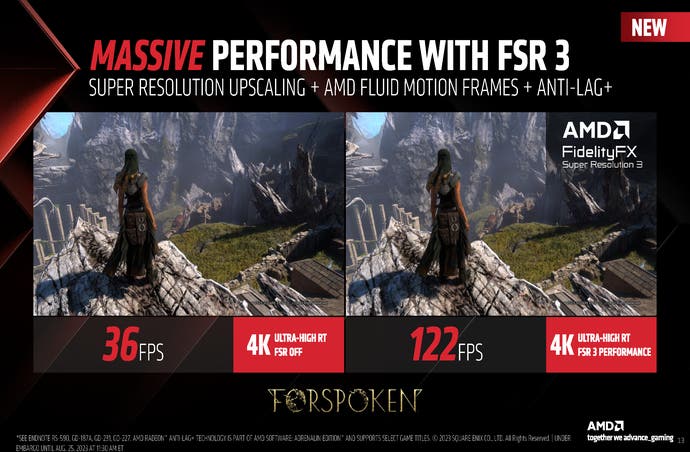 Forspoken is one of two games that we saw FSR 3 exhibited with live at Gamescom.
Immortals of Aveum was run in similar condititions: 4K output resolution in FSR 2 quality mode, with frame-gen then added to the equation to deliver a substantial boost to frame-rate. This time though, we didn't hit a locked 120fps, but the increase to fluidity was still profound and the quality of the generated frames again looked very good – comparable to DLSS 3.
However, despite running on a VRR screen, the game presented like standard v-sync, meaning that dropped frames were more noticeable with typical v-sync stutter. A frame-time counter in the top-right of the screen did seem to suggest that frames were being presented as they would in a normal v-sync presentation even though the demo was using a VRR-capable screen. Even so, the quality was clearly evident.
Also impressive was that both demos handled UI elements well. Some DLSS 3 titles (especially the early ones) interpolated HUD elements, producing shimmer in motion, but AMD has a range of options open to developers here in ensuring a pleasing, static HUD.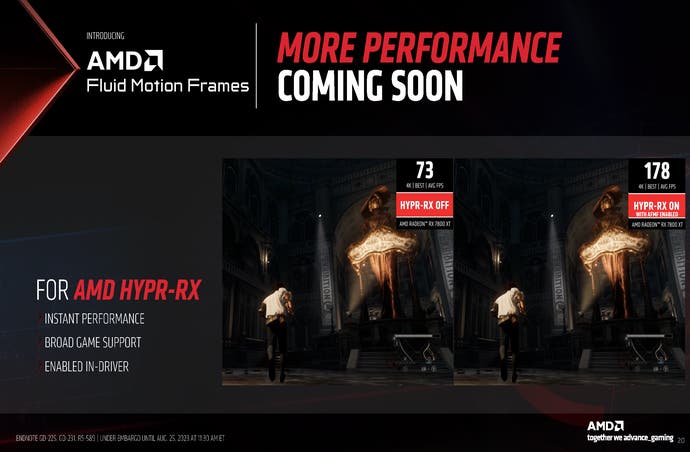 So, how does FSR 3 actually work? The principles are similar to DLSS 3, but the execution is obviously different as unlike the Nvidia solution, there are no AI or bespoke hardware components in the mix. A combination of motion vector input from FSR 2 and optical flow analysis is used. DLSS 3 uses a hardware block to achieve the latter, of course, while FSR 3 uses software instead, running using asynchronous compute. The more a game uses async compute, the less resources there are for FSR 3 meaning that the time taken to generate the interpolated frame is longer. However, conversely, the less async compute is used by the game, the faster FSR 3 optical flow is computed. This software-based solution doesn't just mean that FSR 3 will run on any vendor's GPU. It also means that the technology is compatible with the current generation consoles – but just remember that a high frame-rate is required for best results. AMD recommends a 60fps base frame-rate for best results with FSR 3.
Early impressions are promising then, but this was a 'hands-off' demo so we couldn't get a feel for how the games play – and details were thin on the ground in terms of latency mitigation. As a base technology, FSR 3 works on any vendor's hardware, but 'out of the box' there is no way to mitigate for the added latency of frame generation. AMD's solution is driver-level Anti-Lag, or better yet, a new Anti-Lag+ technology that the firm did not want to discuss in depth during our presentation. Beyond the latency question marks, the only other caveat was the use of v-sync in the demo and how FSR 3 will work with variable refresh displays, or with v-sync off.
After the FSR 3 demo, AMD wanted us to show us something new and very interesting. Prefaced with the caveat that there will be obvious image quality issues in some scenarios, we saw an early demo of AMD Fluid Motion Frames (AFMF), which is a driver-level frame generation option for all DirectX 11 and DirectX 12 titles. We saw it demonstrated on The Last of Us Part 1… and it works.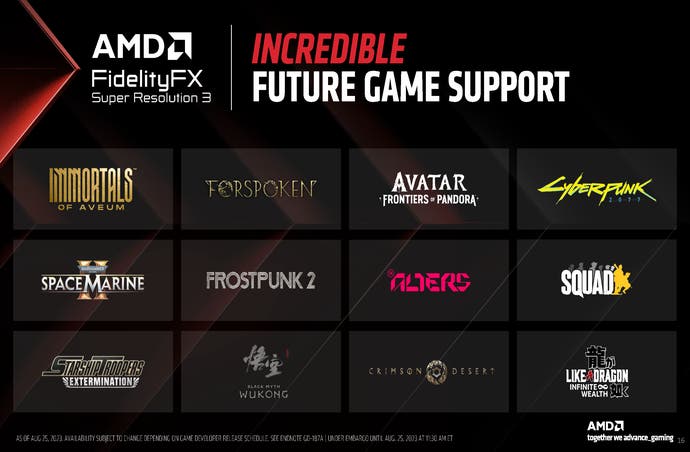 This is using optical flow only. No motion vector input from FSR 2 means that the best AFMF can do is interpolate a new frame between two standard rendered frames similar to the way a TV does it – albeit with far less latency. The generated frames will be 'coarser' without the motion vector data but the effectiveness of those frames will scale according to content and the base frame-rate. A slower moving game, for example, makes it easier to interpolate content as there is less difference between the two standard rendered frames. Meanwhile, the higher the base frame-rate, the less time a generated frame persists on-screen – with the lower quality interpolated frames 'strobing' between standard rendered frames. Typically, all frame-gen solutions benefit from higher base frame-rates, but this is especially important with AFMF.
However, what we saw in the demo was clearly worthwhile. The bottom line is that we did indeed see The Last of Us Part 1 running at circa-160fps and higher, albeit with v-sync off, so there was screen-tearing (we suspect this is because it was running outside of the screen's VRR range). Right now, AFMF works with v-sync off, but AMD is looking to add v-sync support. Initially, AMD asked us not to share our thoughts on AFMF until closer to release, but a little while later, we received word that we could talk about it – excellent news! We also received a series of data points on the technology.
First, AFMF can provide frame-rate improvements in excess of 90 percent, depending on the hardware and the game. AFMF is intended to be run on games that are already able to hit a smooth frame-rate (70fps, for instance), with the goal of maxing out a 120Hz or 144Hz panel, with higher frame-rates resulting in higher image quality, for the reasons previously stated. Similar to the Radeon Boost driver-level dynamic resolution scaling feature, the tech is automatically disabled in response to rapid mouse movement, presumably to prevent obvious visual anomalies that will occur in frame generation when the two source frames have so little in common.

To see this content please enable targeting cookies.


AMD was a little guarded when they showed us the TLOUp1 demo, because it was early and an optical flow-only solution will not match the quality of FSR 3 or DLSS 3 in most content. This is a tech with obvious limitations. Outweighing that, we think, is the fact that it should work with any DX11 or DX12 game – and one of the best things about PC gaming is the wealth of options given to users. And soon we'll have another, potentially potent one. The only slight downer? AMD is integrating it into its HYPR-RX package, which is exclusive to RDNA 3 GPUs – a touch strange bearing in mind that FSR 3, the more complex frame-gen solution, is more broadly compatible.
Even so, we were genuinely excited by the AFMF concept because it's another feature available to gamers that'll find utility on high refresh rate screens, which are basically the norm in the PC market these days. AMD is perfectly clear about the strengths and weaknesses of AFMF and at the very least, RDNA 3 users will have a fascinating new tool to experiment with. At best, you have an 'after-market' frame generation solution that could work really well on a huge number of games. Then there's the Asus ROG Ally – a handheld with RDNA 3 graphics and a 120Hz VRR screen, where the artefacts could well be far less noticeable. Again, we should stress that we were 'hands off' for this demo, so the proof of the pudding will be in the tasting/testing, but we're certainly looking forward to checking it out.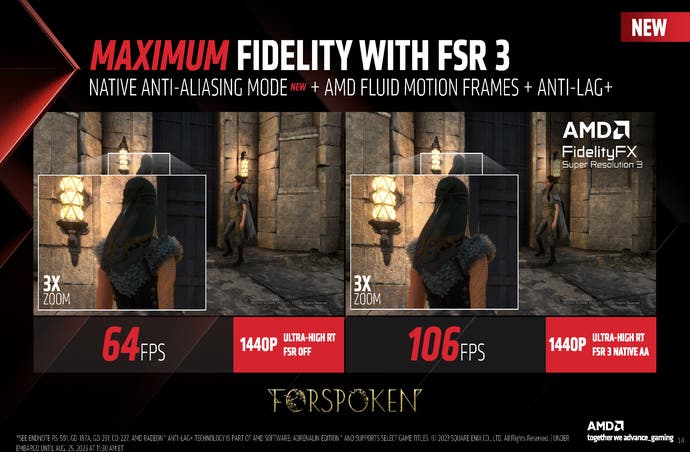 As well as AMD Fluid Motion Frames and FSR 3, the company is also now allowing FSR to be used without upscaling for improved anti-aliasing. This is called 'native anti-aliasing mode', and can be combined with frame generation and Anti-Lag+ to improve fidelity over standard TAA while also boosting visual fluidity – a similar feature to Nvidia's DLAA.
It'll be fascinating to see what shape Fluid Motion Frames and FSR 3 are in once they arrive in Q1 2024 and September 2023 respectively. For its part, AMD has gotten together a good group of upcoming titles to ship with FSR 3 support, with the full list including Avatar: Frontiers of Pandora, Cyberpunk 2077, Space Marine 2, Frostpunk 2, The Alters, Squad, Starship Troopers: Extermination, Black Myth: Wukong, Crimson Desert and Like a Dragon: Infinite Wealth – plus Immortals of Aveum and Forspoken, as mentioned earlier. That means plenty of proper hands-on testing opportunities to come, so stay tuned.
In the meantime, why not check out AMD's other big Gamescom news – the announcement of the RX 7800 XT and RX 7700 XT graphics cards, which support FSR 3 and AFMF, and look set to bring the fight to Nvidia's RTX 4070 and 4060 Ti.

on bbc news
on hindi news
on the news today
on channel 7 news
ôrf news
campo grande news ônibus
ôpera news
campo grande news greve de ônibus
l1 news horário dos ônibus
l1 news ônibus
lago azul news ônibus
news österreich
news österreich heute
news österreich aktuell
news öffentlicher dienst
news österreich corona
news öl
news österreich orf
news ö3
news österreich heute aktuell
news österreich sport
ö24 news
ölpreis news
öbb news
ösv news
österreich news krone
övp news
özil news
öffentlicher dienst news 2023
österreich promi news