Now that's more like it. The Radeon RX 7700 XT and Radeon RX 7800 XT graphics cards don't just fill out a 1440p-shaped hole in AMD's current lineup – they both, the latter in particular, make the kind of spirited attempt to get up in Nvidia's face that previous red team GPUs simply didn't.
Whereas the RX 7900 XT siblings served an expensive niche and the RX 7600 just didn't seem to care, the RX 7700 XT and RX 7800 XT find a far more palatable balance between price and speed. With an emphasis on speed, judging by my test subjects, the XFX Speedster QICK 319 Radeon RX 7700 XT Black Edition and the XFX Speedster QICK 319 Radeon RX 7800 XT Core Edition. You know graphics cards are serious about performance when they each have two synonyms for "fast" in their names.
As for price, XFX's RX 7700 XT (forgive the abbreviation but we all know it's necessary) comes in at £429 / $460. That's higher than the 8GB RTX 4060 Ti, but on par with the same GPU's 16GB version. Meanwhile, the RX 7800 XT outright undercuts its GeForce rival, the RTX 4070. Although this has enjoyed a surprise drop a minimum of £530 / $550, the XFX RX 7800 XT launches at £510 / $540, and AMD will sweeten the deal with a free copy of Starfield.
Of course, this is not a new tactic: Radeons have long set lower outlays to drag your eyes away from Nvidia's DLSS and ray tracing advantages. For the first time this generation, though, it's being backed up with winning performance in non-ray-traced games, forming a value proposition that finally provides a respectable alternative to the RTX 40 series' more advanced tech.
AMD Radeon RX 7700 XT and Radeon RX 7800 XT review: 1440p benchmarks
Both of these GPUs are more than viable 1440p contenders. At least by the standards of 2023 pricing, the RX 7700 XT is the true mid-ranger, while the RX 7800 XTX is more of a whack-everything-on-maximum semi-luxury for punters with high refresh rate gaming monitors.
In fact, you'd be doing both these cards a disservice by sticking to 60Hz. With the sole exception of the RTX 4070 edging ahead in Shadow of the Tomb Raider, the RX 7800 XT is quite comfortably the new fastest graphics card in its weight class, with its frames-per-second leads hitting double figures in half of our 1440p benchmarks.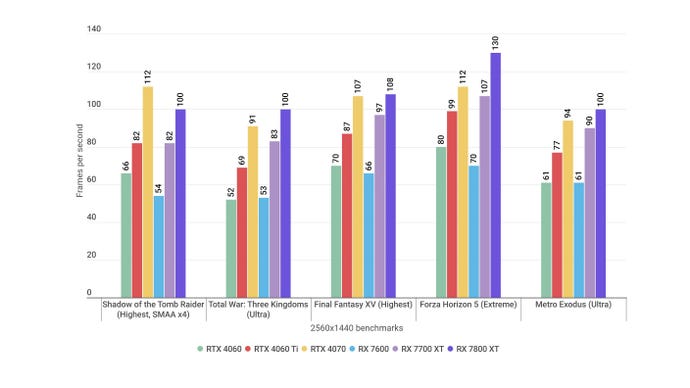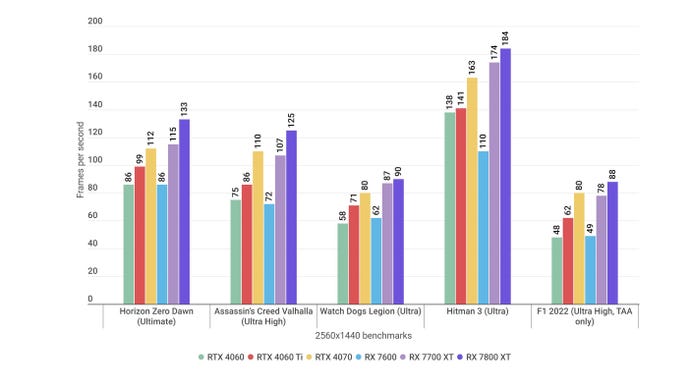 The RX 7700 XT consistently outpaces the RTX 4060 Ti as well – the latter was tested with an 8GB model, as I've never been able to get my hands on a 16GB version, though I understand they perform near-identically in all but a tiny few games. Granted, that's possibly more of a reason to not buy the 16GB RTX 4060 Ti than it is to buy the RX 7700 XT, as the 8GB RTX 4060 Ti's performance deficit is at least counterbalanced by it having that lower price. The RX 7800 XT, though? That's straight-up more frames for less cash, and as far as rasterised, native-resolution performance goes, the RTX 4070 can't convincingly answer back.
Mind you, plenty of games do let you swap rasterised lighting for premium ray-traced effects, and more still let you engage DLSS upscaling for a speed boost. In these, the RTX 40 series remains king, with both the RX 7700 XT and RX 7800 XT once again showing that AMD's RDNA 3 architecture still has a way to go with more modern visual features.
In Cyberpunk 2077, a game that loves gorging itself on cutting-edge graphics gubbins, the RX 7800 XT averaged 96fps on Ultra quality and 44fps with both Psycho ray tracing and FSR 2.1 upscaling on Quality mode. Not a bad clutch of results, but then the RTX 4070's initial 90fps only fell to 62fps with Psycho RT and Quality DLSS. Likewise, the RX 7700 XT started at 80fps before dropping to 38fps, while the RTX 4060 Ti started at 63fps and fell to 46fps.
Essentially, RDNA 3 graphics cards can outplay their RTX equivalents without ray tracing (and by quite a staggering degree, in the RX 7700 XT's case). But, as soon as those fancy settings show up, the framerate hit is so much harder on Radeon GPUs that Nvidia's can take the lead. DLSS typically isn't that much better at reclaiming lost frames than FSR, but its upscaling does look sharper and cleaner, too.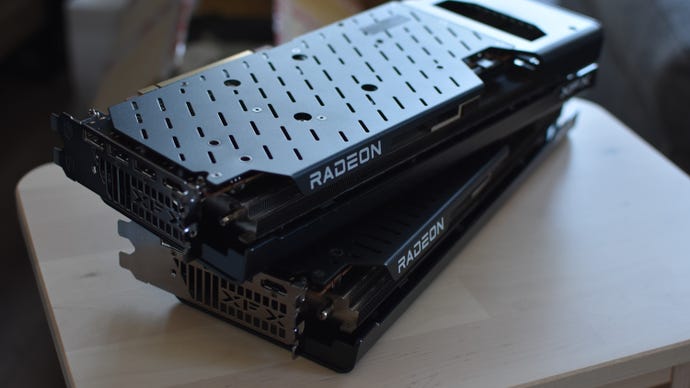 There's also the issue of DLSS 3 and its frame generation, which until recently has been a sort of instant-win button for the RTX 40 series: its ability to create AI-generated frames at no extra rendering cost, outside of a dash of input lag, can take the RTX 4070's 62fps result in Cyberpunk 2077 up to 107fps at the flick of a switch. It's an issue that's been muddied, however, by both the imminent launch of the similar, Radeon-compatible FSR 3 and Nvidia's own side-upgrade for ray tracing in DLSS 3.5.
I'll want to test these before blasting out opinions on the value they add. FSR 3 could theoretically close a honking great feature gap between the Radeon and GeForce sides, but is currently only confirmed for a paltry dozen games. DLSS 3.5 will be supported by even fewer, at least at launch, but then could add another worthwhile tool to the RTX 40 series' already well-stocked kit.
We'll see, on those. It's already pretty obvious that for bog-standard upscaling and ray tracing, Nvidia's latest RTX cards are still the ones to go for, but does that disqualify how the RX 7700 XT and RX 7800 XT are generally faster without them? If you play a lot of games that don't support these features, then no, it does not.
AMD Radeon RX 7700 XT and Radeon RX 7800 XT review: 1080p benchmarks
1080p is a bit of a strange rez for these cards, not least because you can get competent GPUs for this level (like the Intel Arc A750) at less than half the price. It's also where you're most likely to see CPU bottlenecking put the squeeze on more powerful graphics hardware, as seems to be the case with Final Fantasy XV and especially Watch Dogs Legion.
Even in less restained games, here we can see the RTX 4070 put up more of a defence against the RX 7800 XT. It's the RX 7000 siblings that ultimate win out, though, with the RX 7800 XT topping the charts more often than not and the RX 7700 XT narrowly besting the RTX 4060 Ti. In Assassin's Creed Valhalla and Forza Horizon 5, it even manages to beat the RTX 4070 as well.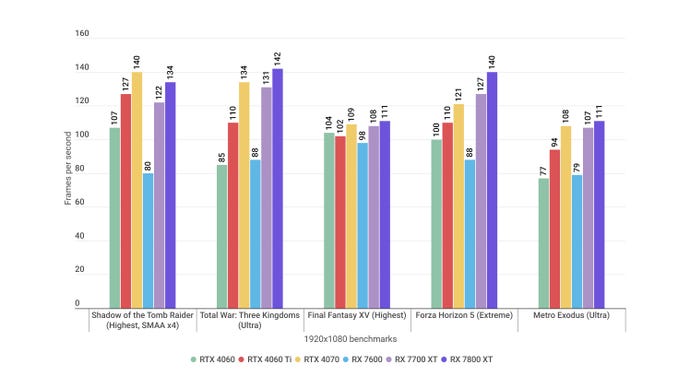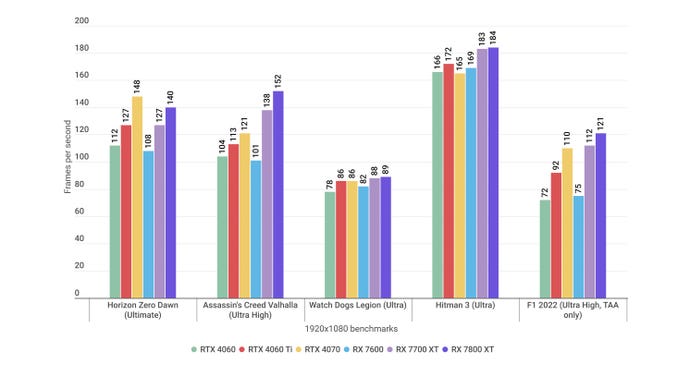 There's still a stark difference in ray tracing capability: for all its heroics, the RX 7700 XT still slumped from 121fps to 34fps In Cyberpunk 2077 once Psycho ray tracing came into play. Quality FSR 2.1, which helped that up to 57fps, did little to mask how the cheaper RTX 4060 Ti only dropped from 100fps to 41fps. Quality DLSS let the Nvidia GPU settle on 69fps, reversing its fortunes in the graphed benchmarks above.
Again, then, the strengths of the Radeon RX 7700 XT and RX 7800 XT come down to how well they run older or less RT-focused games. Which should be respected, especially when they're beating their fiercest competitors by 20fps or more.
These XFX models, specifically, also have their charms. While their colossal triple-fan coolers aren't for the faint of heart or short of case, they are beautifully quiet, while running colder than I've seen most RTX 40 series partner variants. I found the RX 7800 XT slightly cooler, averaging 59°c while running games and peaking at 61°c. The RX 7700 XT was just a tad warmer, but still commendable, averaging 61°c and peaking at 63°c.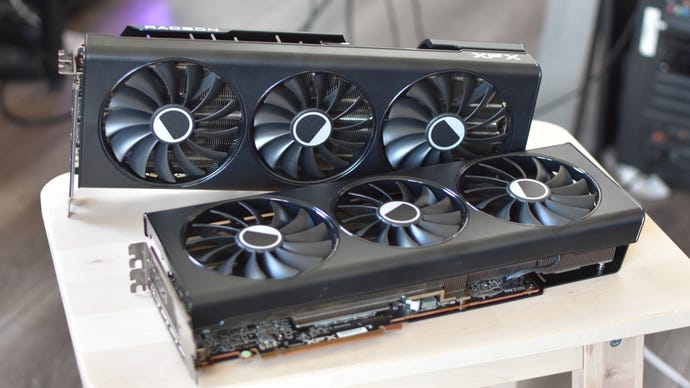 Basically, if you've ever read an RPS graphics card review and wished I'd stop bringing up DLSS so much, one of these GPUs may well be for you. What they lack in support for the graphical bells and whistles of present-day PC gaming, they make up for in simple, straightforward, FPS-pumping power. But then, which one exactly?
Of the two, the RX 7700 XT is the harder sell. The 8GB RTX 4060 Ti may be slower on average, but it's also cheaper – and yes, it does have the added flexibility of DLSS 3. Those who want to keep well below £500 really will have to consider whether they'd rather favour rasterised or ray-traced performance; only if it's the former will the RX 7700 XT be the better option.
The RX 7800 XT, on the other hand, can claim a more persuasive victory over the RTX 4070. Ray tracing disadvantage or no, it's still going to be faster (and probably cooler) in most games, while saving you a few coins to put towards CPU or SSD upgrades in the future. Besides, depending on how FSR 3 support picks up speed, the lack of DLSS 3 might not even sting that much. Maybe.

on bbc news
on hindi news
on the news today
on channel 7 news
ôrf news
campo grande news ônibus
ôpera news
campo grande news greve de ônibus
l1 news horário dos ônibus
l1 news ônibus
lago azul news ônibus
news österreich
news österreich heute
news österreich aktuell
news öffentlicher dienst
news österreich corona
news öl
news österreich orf
news ö3
news österreich heute aktuell
news österreich sport
ö24 news
ölpreis news
öbb news
ösv news
österreich news krone
övp news
özil news
öffentlicher dienst news 2023
österreich promi news