Prime Day 2023 only came and went in July, but that hasn't deterred Amazon – who presumably own a number of oversized clocks with the word "DEALS" replacing all twelve numbers – from announcing another, functionally identical sale. This time it's Amazon Prime Big Deal Days, it's happening this October, and god, I am so, so very tired of writing about these things.
Still, as much as Prime Big Deal Days is sillily named and oddly timed (is Black Friday not just a month later?), it may yet prove useful as a source of cheap PC gaming hardware. Amazon sales usually are, with SSDs, gaming mice, keyboards, and even graphics cards reliably among their discounted wares. Here's everything we know so far, and some tips for the big day(s) on how to secure the best stuff and avoid shady rip-off tactics.
When is Amazon Prime Big Deal Days 2023?
Prime Big Deal Days runs across October 10th and 11th 2023. So maybe the name isn't so silly after all – at least it's got the proper plural, unlike Prime Day, which is in fact two days.
Anyway, October 10th-11th. There you go. Them's the dates.
If Prime Big Deal Days is like Prime Day, does that mean it's only for Prime members?
Yep. All the best deals – meaning, the deepest price cuts, probably on the most desirable hardware – will only be available to those with an Amazon Prime membership. Amazon is such a colossal mass of retail tendrils that non-members will surely find some discounted goods during Prime Big Deal Days, but they won't be Prime Big Deal Days per se, and as such are unlikely to make for equally compelling offers.
As with all of Amazon's Prime events, though, there is a workaround. All you need to do is sign up for Prime's 30-day free trial; this will, for the trial's full duration, grant you all the perks of a full member, up to and including access to the Prime Big Deal Days sales. Sign up now and the trial period will cover October 10th-11th, and then some.
This trial normally ends with you automatically signing up to Prime proper, but you can cancel this at any time before the trial ends, making off with your Prime Big Deal Days savings and not losing a penny to any subscription costs. Or, if you decide to stick with Prime, a standard membership is £9 / $15 per month.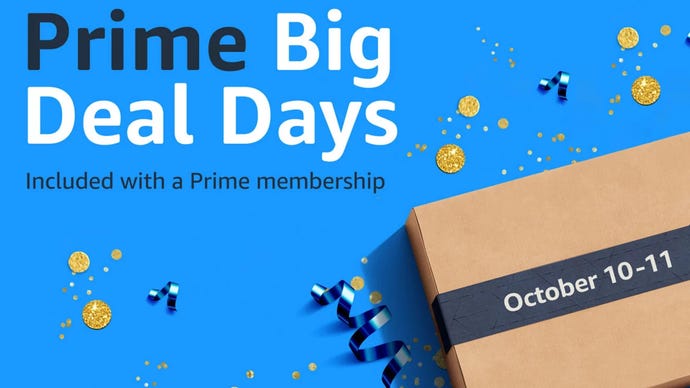 And there'll be PC gaming deals, you say?
Deffo. While the exact components and peripherals on sale will only be revealed in time, PC gaming gear has been a staple of every Prime-branded sale for years. And not just the main Prime Day either – last year's October-set equivalent of Prime Big Deal Days, the Prime Early Access sale, included genuinely good deals on some of our favourite keyboards, headsets, and SSDs.
Even with Black Friday bearing down, then, anyone in the market for a PC upgrade should probably pay attention to Prime Big Deal Days. We'll be highlighting the very best deals here on RPS, including offers on Steam Deck accessories and microSD cards.
---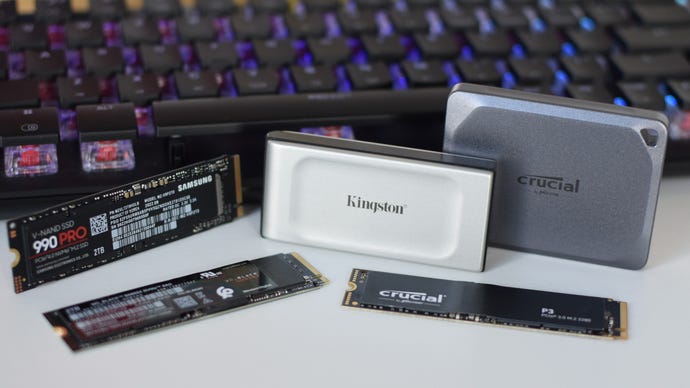 Amazon Prime Big Deal Days 2023: How to get the best deals
Don't be fooled by fake discounts
A lot of "sale" prices on Amazon are often just a devious sleight of hand: shortly before a major deals event like this one, sellers will raise the price of an item, then drop it back down once the event starts. This lets them advertise the lowered price as a discount, when it may be equal to or even higher than it was previously.
The Keepa browser extension is an excellent defence against this sinister shopping shithousery. Once installed, it adds a price tracking graph to every Amazon listing you view, plotting out fluctuations and revealing if a product was recently more or less expensive. It's not just useful as rip-off protection, either – Keepa can help you identify the really juicy deals by confirming steep price drops on the day.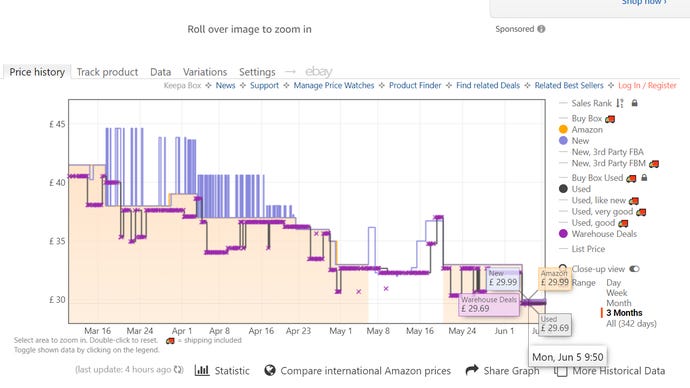 Choose what you want in advance
I know I said there'll probably be loads of PC gaming gubbins on sale, but if this is anything like previous Prime Day (and Prime Day-adjacent) events, you won't want to jump in like it's an unsupervised ball pit. For every respectable piece of price-slashed PC gaming gear, there's usually about 20 bits of unwanted plastic scrap, and you'll waste far too much of your day if you simply dig through the pile looking for gems. Or worse, you end up buying tat you don't need, just because it looked like a good deal.
Instead, consider what you actually want for your PC and peripherals. Set a budget, read reviews (ours), and consult buying guides (also ours), then decide on which specific products to look for. Maybe not all of them will be on sale, but you'll have already narrowed the search, and won't be wasting cash on impulse buys.
If you want to get really organised, you could even find what you want on Amazon before Prime Big Deal Days begins, then add them to your cart. On the 10th, you can then check the cart for an instant overview of which kit is on sale, and by how much. Simply remove anything that hasn't had a sufficient saving, and you can get your shopping done in seconds.
Let someone else find deals for you
Alternatively, and in the manner preferred by Reedpop's SEO managers, you could just check the upcoming RPS deals guides. I'll inevitably be sent down the Prime mines, returning with highlights of the available PC gaming kit; once these guides are live, they'll be stocked with only the choicest deals on quality hardware. Our trusted colleagues/console-jockeying rivals at Eurogamer/Digital Foundry will be doing the same.
You can also let Amazon themselves do some of the work, by making smart use of item filters. They haven't been set up yet but, when viewing Amazon's main Prime Big Deal Days page, there should be a set of filters down the left hand side of the deal listings. These will let you search for specific product types, including PC hardware, as well as set price limits or filter by discount percentages.

on bbc news
on hindi news
on the news today
on channel 7 news
ôrf news
campo grande news ônibus
ôpera news
campo grande news greve de ônibus
l1 news horário dos ônibus
l1 news ônibus
lago azul news ônibus
news österreich
news österreich heute
news österreich aktuell
news öffentlicher dienst
news österreich corona
news öl
news österreich orf
news ö3
news österreich heute aktuell
news österreich sport
ö24 news
ölpreis news
öbb news
ösv news
österreich news krone
övp news
özil news
öffentlicher dienst news 2023
österreich promi news