All Might is already an iconic figure in the My Hero Academia universe. All Might is the world's top hero who risked everything and put his life on the line time and time again to protect those who couldn't fight for themselves. For fans of the series, All Might is equal parts comic relief and emotional support for the main protagonist in a way that makes him simultaneously awesome and endearing.
There are plenty of times in MHA when All Might's coolness is on full display as a fighter, his silliness and dark humor hit just right, and his connection to Deku is enough to hit fans straight in the feels. All Might's most iconic scenes tend to be when the most dynamic parts of his character are on full display to create moments that viewers never forget.
RELATED: 10 Most Overpowered Anime Hero Attacks
10
All Might Begs Deku's Mom To Let Him Come Back To UA
At this point, All Might and Deku's mentorship was largely a secret, as was the truth of Deku's power. That being the case, when All Might showed up at Midoriya's house, his mother was in quite a shock. As exciting as it was to have All Might in her home, Midoriya's mom wasted no time sharing her true feelings – she was against sending him back to U.A.
Her son had been put in danger too many times not only because of villains, but because of the incredible power he holds with his Quirk. Feeling the weight of his inadequate teaching methods thus far, All Might got on his hands and knees to beg Midoriya's mother for another chance to train her son. This humble display moved Midoriya and his mother to tears. It's a heartwarming moment that still makes fans emotional.
9
All Might Chases After Deku
Deku tried to bare the brunt of the fight against All For One on his own, feeling that it was all up to him, but All Might never stopped being Deku's mentor, even when he didn't have any more power or skills to teach him. In order to help his student whom he noticed was not taking care of himself, All Might tried to do the only thing he felt he could do: pack him some food.
Sadly, because he wanted to protect everyone, Deku left All Might behind, and continued off on his own. It's a heartbreaking moment because of All Might's perceived failure as the heir of One For All, but it ultimately led to All Might's own growth as a person in understanding that his role as Deku's teacher wasn't always going to be easy.
RELATED: 10 Anime Characters Who Always Outsmart Their Rival
8
All Might Rescues His Biggest Fan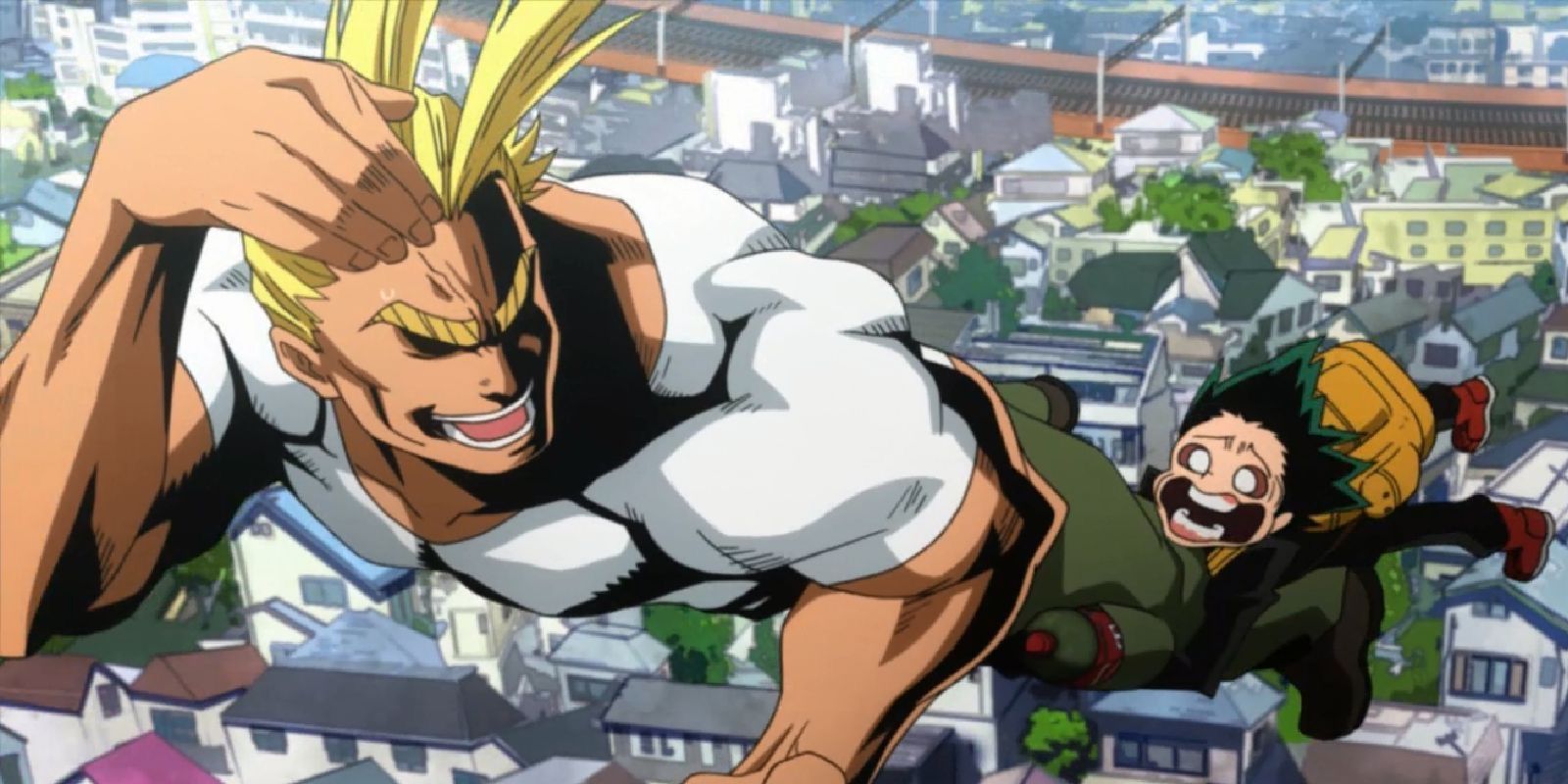 It's no secret that Midoriya is All Might's biggest fan. After he's attacked by the Sludge Villain, Midoriya is both shocked and starstruck when his all-time role model arrives to rescue him.
Using his signature Texas Smash attack, All Might destroys the villain in one blow, proving why he's the number one pro hero. This was the ultimate fan moment for Deku, and jump-started one of the most endearing mentor-student relationships in anime history.
7
All Might's Power Runs Out For The First Time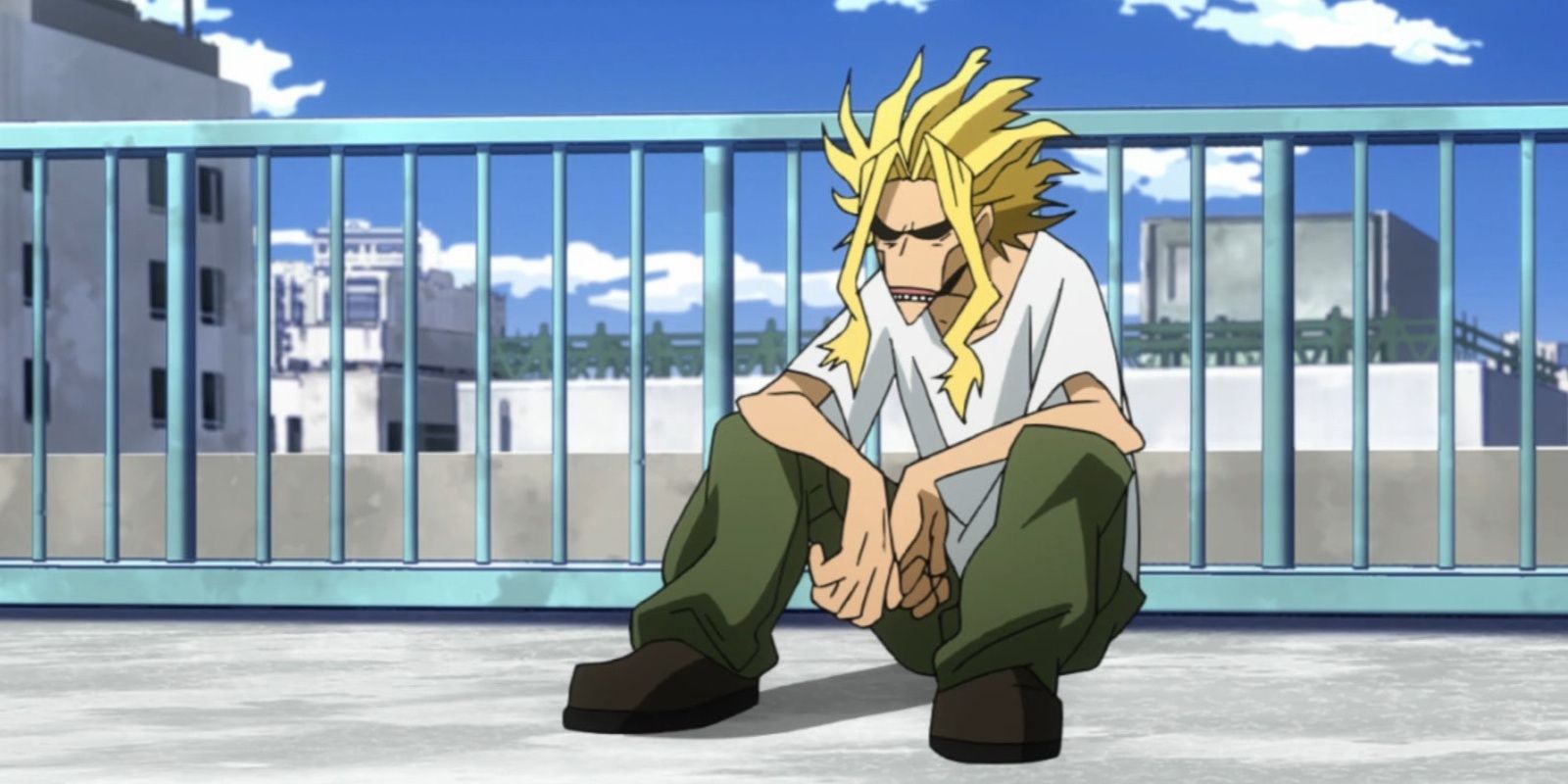 All Might was set up as the model of a great and powerful hero from the outset of MHA. That set up is what ultimately made the first time All Might's power ran out in front of Modoriya all the more memorable.
When All Might shrunk down to his weakened state, even Midoriya couldn't believe it, calling All Might an impostor. It's both a sad and important moment for All Might as a character who ultimately showed that even the greatest heroes can't be strong all the time.
6
All Might Goes All Out Against Deku and Bakugo
Shonen anime training arcs aren't anything new, but MHA definitely took the excitement up a notch with All Might's test battle against Deku and Bakugo. For their First Term Final Exam, All Might decided to go all out against the two rivals to teach them how to deal with real villains who would be out for blood.
All Might fought the two without holding back in order to give them direct combat experience in a genuine way, but the test ended up being more than they bargained for. The result is an intense battle in which All Might manhandles the boys, to the point where he may have taken "teaching them a lesson" a bit too far.
RELATED: 10 Weak Anime Characters Who Became OP
5
All Might Is Inspired By Deku's Bravery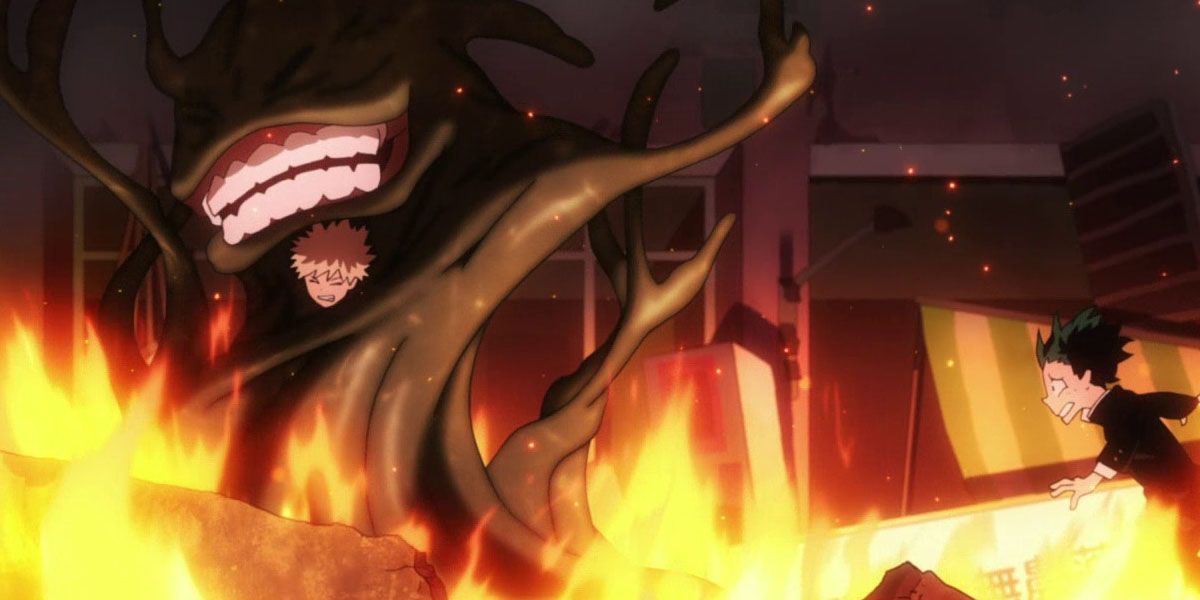 When the Sludge villain strikes again, it takes Bakugo as his prisoner. In this moment All Might's power all but runs out. With the situation looking dire, Midoriya decides to take action himself, even though he stands no chance against the villain.
Inspired by the young boy's courage, All Might finds the strength within himself to pull off a Detroit Smash, knocking the villain into oblivion and rescuing Midoriya's bully. Not only was this moment important for All Might as a character, but it also buils a lot on what would become Deku's second close relationship: his friendship with Bakugo.
4
All Might Learns a Valuable Lesson From Stain
Midoriya took on the weight of the world when he accepted One for All from All Might, and he dove into that sense of responsibility head on. In the process though, he ended up constantly putting himself in danger to the point that his life was at risk, and All Might couldn't bare to watch it happen.
This drove All Might to give up on himself, and stop believing in his own ability to help, but he got a reality to check from the most unexpected of places: the Hero-Killer, Stain. No one admired All Might more than Stain did, so seeing the former top hero wallowing in his own misery was unacceptable for him. Stain reminded All Might that he is still a hero even without his powers, purely because of what he means to people as a symbol of hope.
3
All Might Gives Deku His Quirk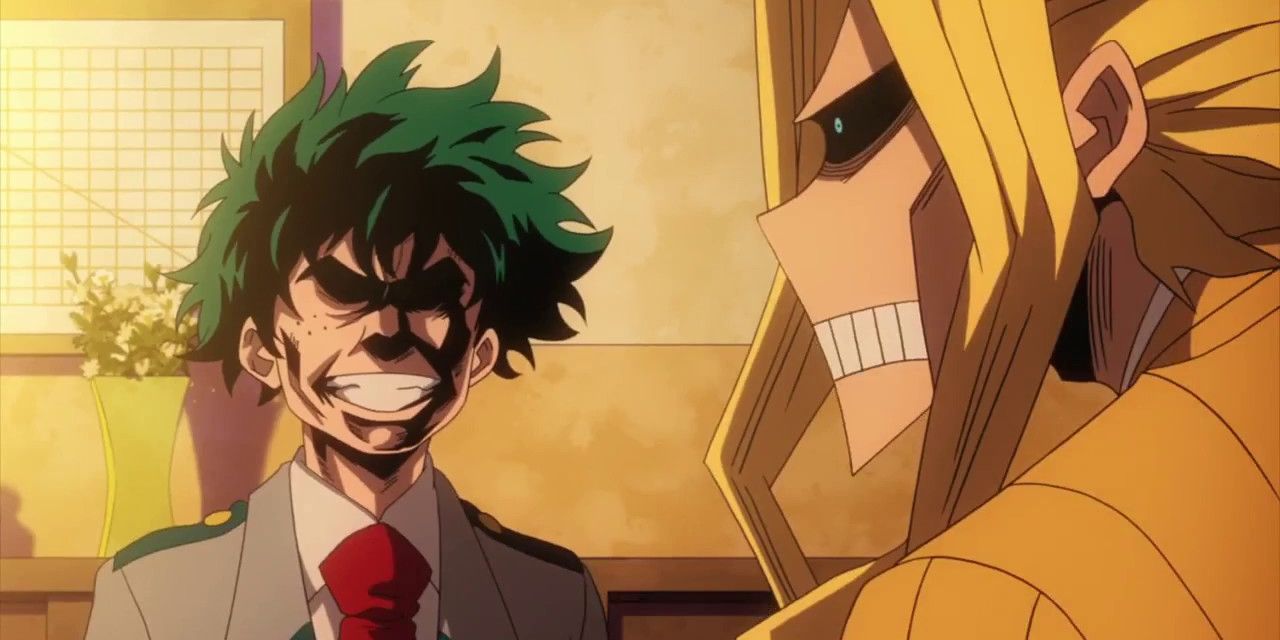 When All Might first offered to give Midoriya his power, the boy accepted wholeheartedly without realizing the grueling road he would have ahead. Because of the nature of his ability, All Might had to extensively train Midoriya to strengthen his body to a point that he could at least handle a fraction of One For All's power.
With that initial training out of the way, All Might offered Midoriya a piece of his hair: the most straightforward way of ingesting his DNA to inherit his quirk.
RELATED: 10 Strongest Anime Characters With A Surprising Weakness
2
All Might Punches a Nomu Into Space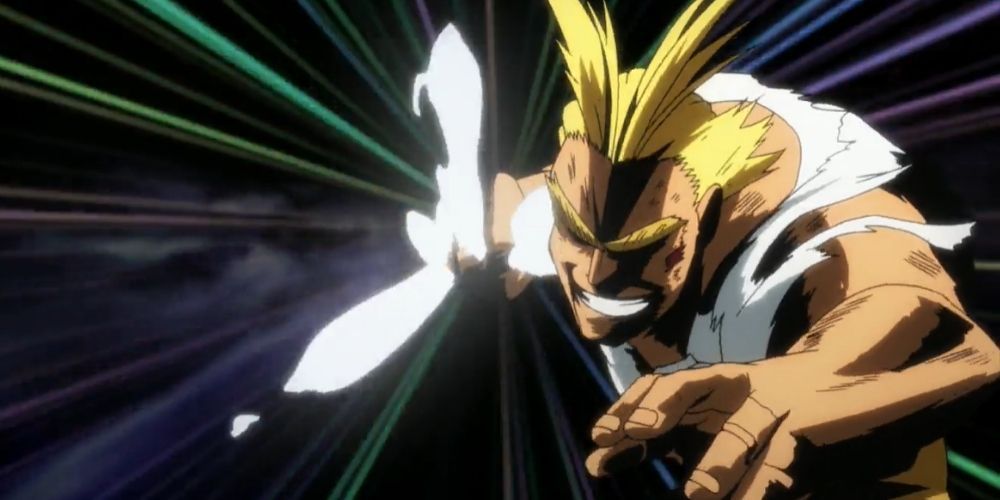 All Might is well known for his overwhelming strength, but the extent of that strength is rarely shown. That's because he is often holding back as to not cause unnecessary destruction to the surrounding city, but his fight with a Nomu during the USJ attack finally displayed just how strong he truly was.
In what is perhaps his greatest feat of pure strength in the series, All Might punches a Nomu in the sky to the point that it seems to leave orbit. This is an incredible show of strength, especially when considering both how strong a Nomu is, and how All Might's strength was already beginning to waver at this point.
1
All Might Uses The Last of His Power Against All For One
All Might's battle against All For One on live television was by far the most powerful moment for his character. Up to this point, All Might had never shown weakness in public before, so when his power began to run out on live TV, it was difficult for everyone to watch.
Despite his weak form, All Might proved that strength of will is often more important. He mustered up the last of his strength into one arm and one final punch. All Might was never the same after this moment, and his image in the public eye as an invincible hero was changed forever, but if anything he gained even more respect and adoration because of it.
on bbc news
on hindi news
on the news today
on channel 7 news
ôrf news
campo grande news ônibus
ôpera news
campo grande news greve de ônibus
l1 news horário dos ônibus
l1 news ônibus
lago azul news ônibus
news österreich
news österreich heute
news österreich aktuell
news öffentlicher dienst
news österreich corona
news öl
news österreich orf
news ö3
news österreich heute aktuell
news österreich sport
ö24 news
ölpreis news
öbb news
ösv news
österreich news krone
övp news
özil news
öffentlicher dienst news 2023
österreich promi news