House of The Dragon introduced the world to some unforgettable characters, effectively recreating the hype that surrounded Game of Thrones for its 8 season run. Most importantly, it brought to light the incredibly nuanced character of Alicent Hightower, daughter of Ser Otto Hightower and the Lady Queen of the Seven Kingdoms.
Alicent had a rollercoaster journey in Season 1 of House of The Dragon. She was used as a pawn in her father's political machinations, hoodwinked by her best friend Rhaenyra, and ultimately became better at the game and started standing up for herself and her children. When Alicent rose to her power, she said some very impactful quotes. These were her best ones.
RELATED: 10 Things Only Book Fans Know About Rhaenyra & Daemon's Relationship In House Of The Dragon
10
"…Where is duty? Where is sacrifice?"
Season 1, Episode 7 "Driftmark"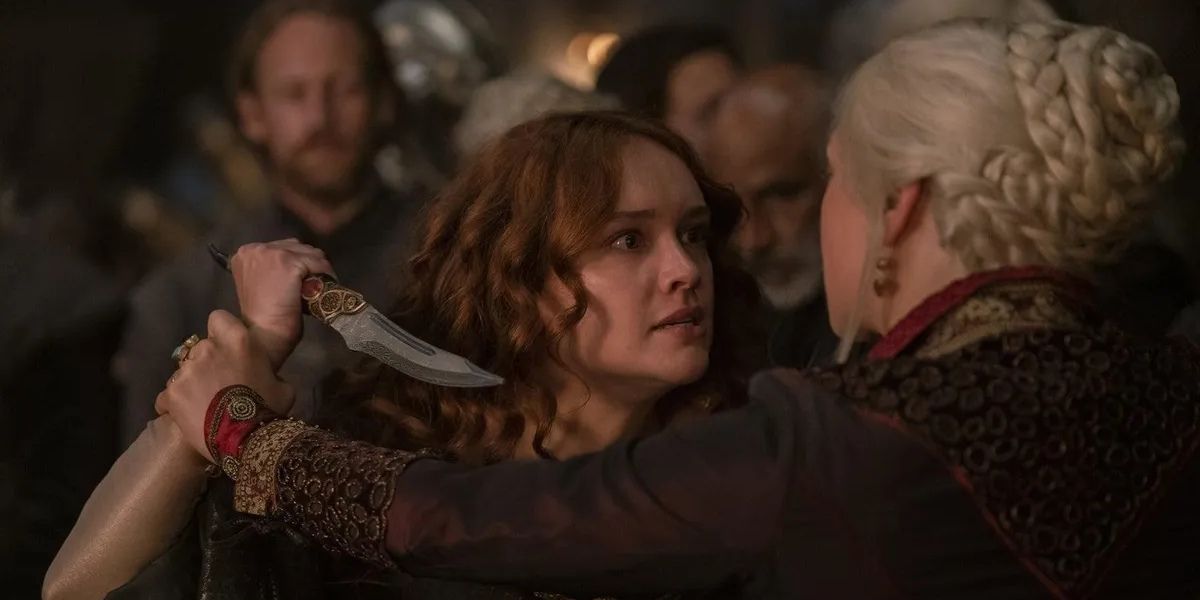 "What have I done but what was expected of me? Forever upholding the kingdom, the family, the law. While you flout all to do all as you please. Where is duty? Where is sacrifice? It's trampled under your pretty foot again! And now you take my son's eye, and to even that, you feel entitled."
Unfortunately, Alicent had just been a means to gain power and heirs for others at her young age. She accepted her fate because she believed that she was carrying out her duty towards the realm and her House. This was the reason why she was infuriated when she saw Rhaenyra act of her own free will, and without being held up to the same standard that she had since she was a teenager.
She had quietly accepted everything happening around her, but could not sit still when her Aemond's eye was taken in a skirmish between kids. It brought out the worst in Alicent, as well as her bitterness about the life she had to lead. Like many female fantasy characters, she deserved better.
9
"We do not rule, but we may guide the men that do."
Season 1, Episode 9 "The Green Council"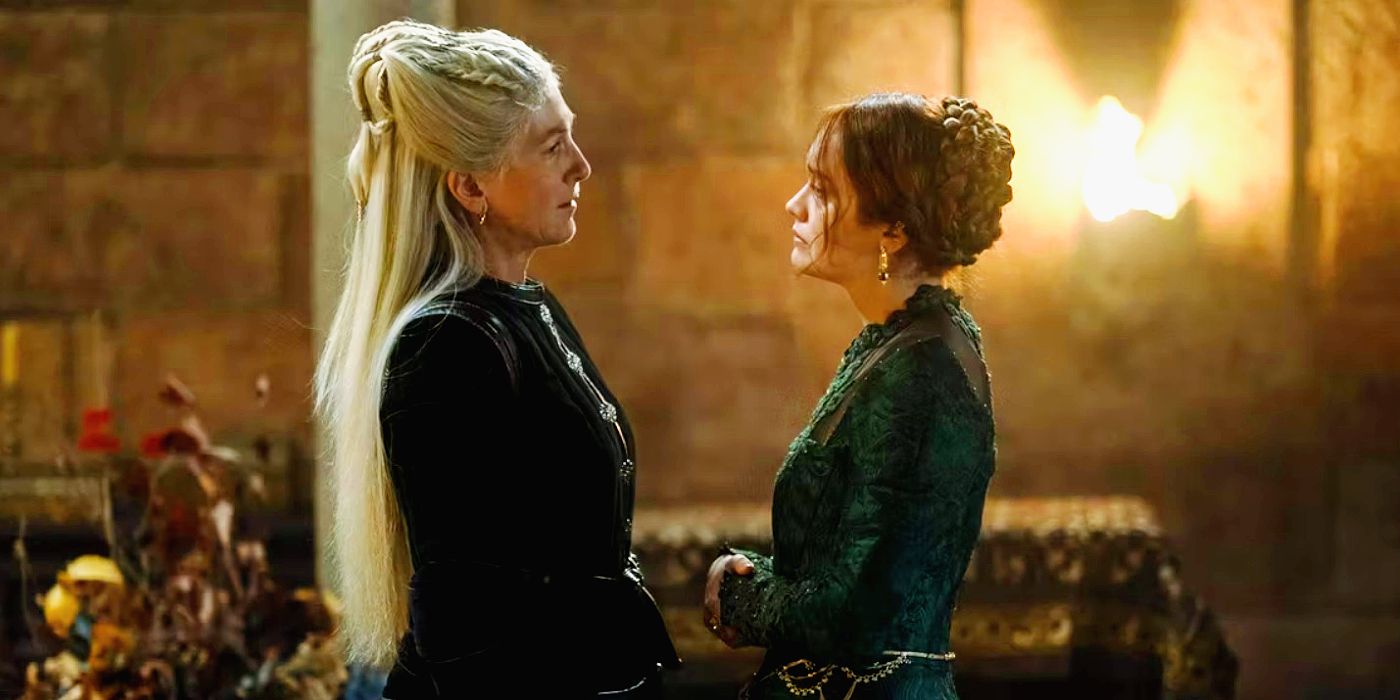 Alicent didn't get to do much visibly for the kingdom, but she believed in ruling in a different way. She was too traditional to rebel the way Rhaenys or Rhaenyra would, but she knew how to make men listen to her and do what she wanted, or what worked for the kingdom. Through whispers and tentative suggestions, she would make Kings and their Hands obey.
She said this line to Rhaenys when she tried to convince the elder Targaryen to align her famously strong dragon with Aegon and his campaign to rule. Rhaenys, who was too proud to bow down to men, disagreed with Alicent, but her circumstances also differed greatly from the Lady Queen's.
RELATED: 10 Side Characters In Fantasy TV Who Deserve A Spinoff Show
8
"How sweetly the fox speaks…"
Season 1, Episode 6 "The Princess and the Queen"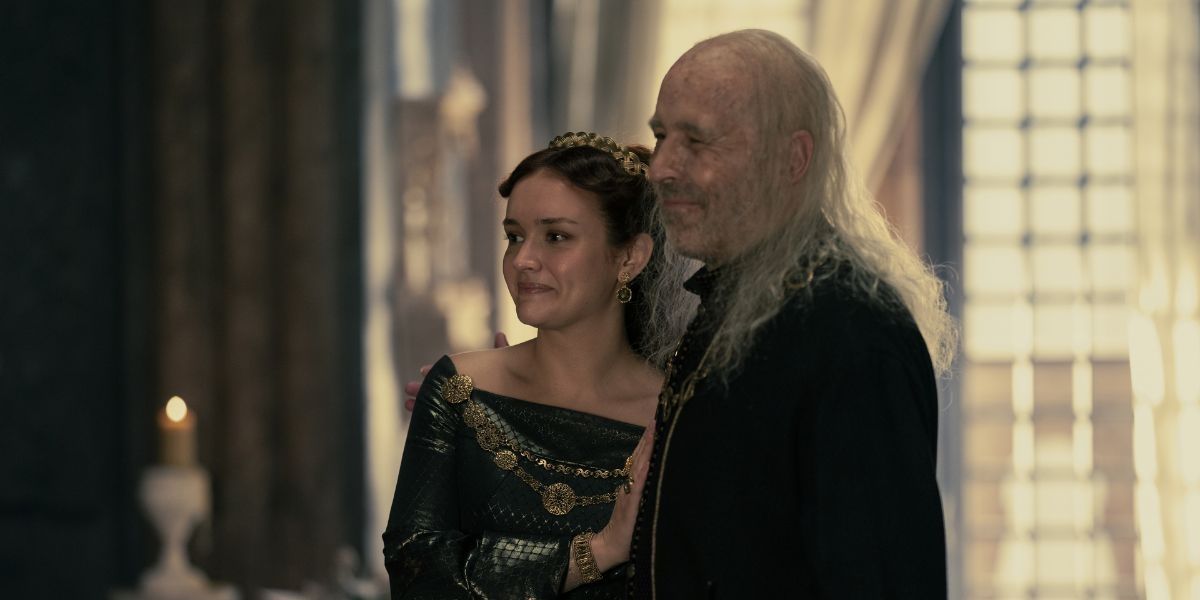 "How sweetly the fox speaks when it's been cornered by the hounds."
"The Princess and the Queen" saw Alicent and Rhaenyra as grown-ups for the first time in a massive time jump. What used to be a tender friendship had turned into a bitter tolerance to each other, and Alicent felt it keenly. She did not have any qualms in calling Rhaenyra out on the paternity of her children, effectively cornering her when she felt like it.
When Rhaenyra offered her son Jace's hand to Alicent's daughter in marriage, the Queen received it badly. Instead of taking the olive branch, she chose to read Rhaenyra's offer as one of desperation, because she thought that she had managed to intimidate her.
7
"A true queen counts the cost to her people."
Season 1, Episode 9 "The Green Council"'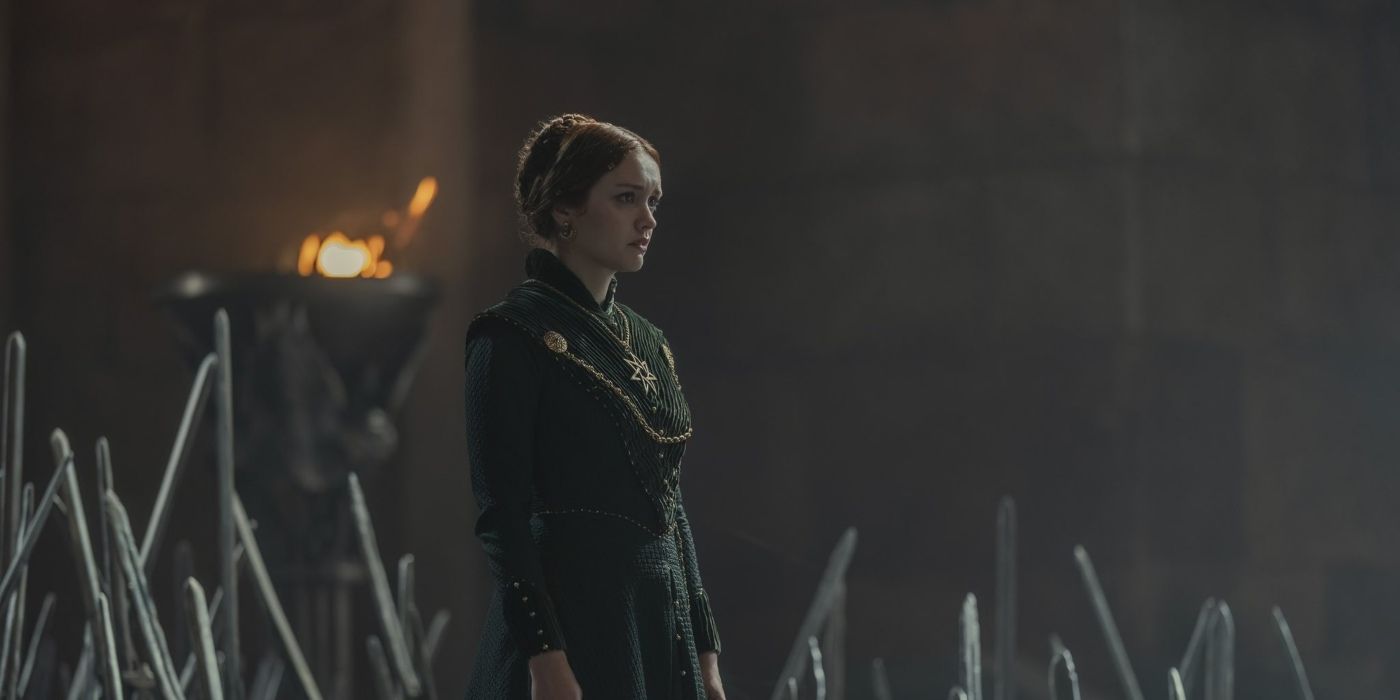 The reason why Alicent is a fan-favorite GoT character, as well as a disliked one is that she often said one thing, but her actions never followed through. In her interaction with Rhaenys, Alicent spoke wisely about looking out for smallfolk and the cost to them when thinking of her next move. Sadly, it didn't seem like she did later on.
Alicent was equally partisan in starting a brutal civil war that spanned years, resulted in numerous deaths, and only harmed the people she supposedly ruled. At the end of the day, for all her speeches, Alicent only cared for power and she grabbed it.
6
"Reluctance to murder is not a weakness!"
Season 1, Episode 9 "The Green Council"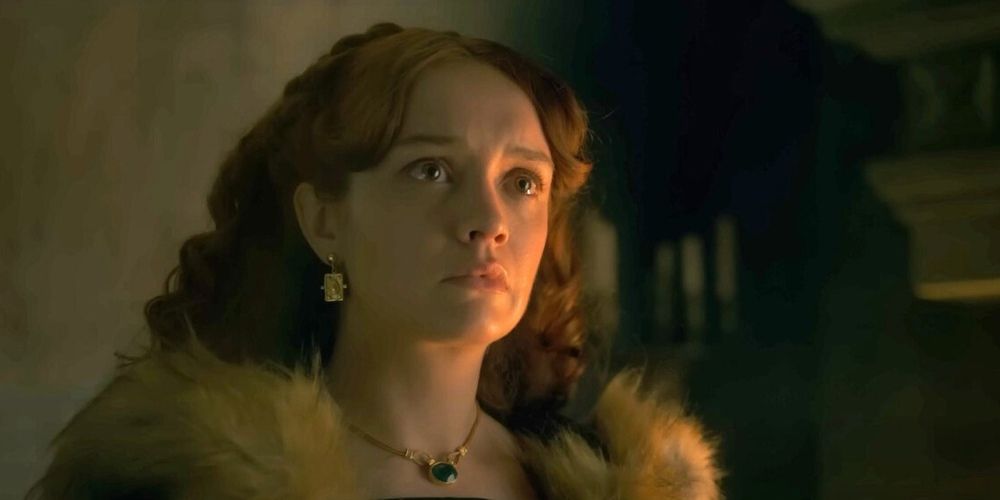 Standing up to her father was not easy, but Alicent started doing it when she realized how Otto had used her. When Otto encouraged her to kill Rhaenyra to clear Aegon's path to succession, she made her morals clear to her father. She may want to see her son in power, but she drew the line at killing her former best friend.
This quote proved that there was goodness in Alicent, even if it was buried under years of hatred and resentment. She tried to be fair in her dealings, and didn't give in to the easier but morally corrupt paths that Otto had in his life.
RELATED: 10 Huge TV Drama Plot Twists That Weren't Necessary
5
"For all her faults, she is your sister, your father's daughter…"
Season 1, Episode 9 "The Green Council"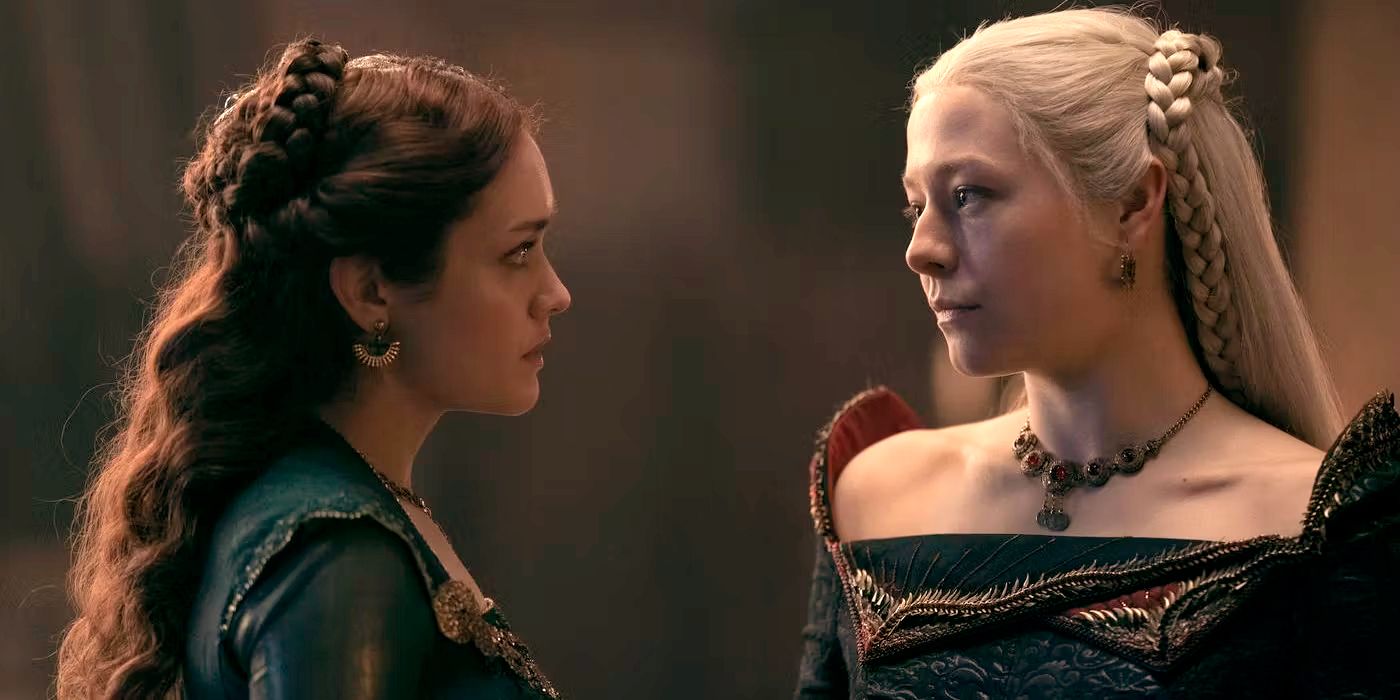 "Listen to me, Aegon. Your grandfather, the Hand, will try to impress on you that Rhaenyra should be put to the sword. You must reject this counsel. We must not rule with cruelty and callousness. For all her faults, she is your sister, your father's daughter…"
House of The Dragon is one of the best prequel series out there because it built on what the original laid the foundation for. HoTD depicted characters like Alicent who had shades of good and bad, both. She could never forget the sweet sisterhood she had shared with Rhaenyra in their youth, which was why she encouraged her son to show mercy and restraint with Rhaenyra, even if Otto told him to kill her.
Alicent Hightower faced a dichotomy when it came to her children, her ambitions, and Rhaenyra Targaryen. She still tried to keep her ethics strong in the Dance of the Dragons.
4
"To have every young knight and lord in the Seven Kingdoms fawning over you…
Season 1, Episode 4, "King of the Narrow Sea"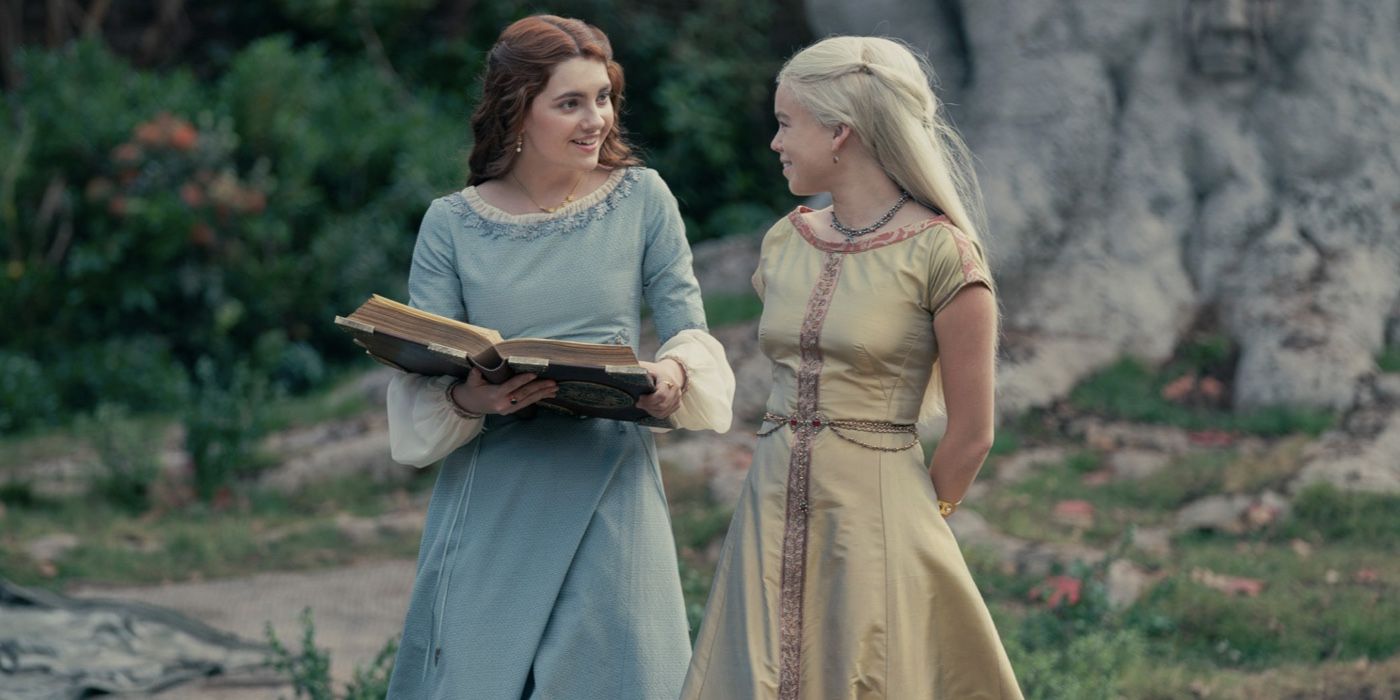 "To have every young knight and lord in the Seven Kingdoms fawning over you… What misery. It is rare for girls in this realm to get a choice between two suitors, no less two score of them."
As close as young Alicent was to young Rhaenyra, their circumstances were always rather different. As a Princess and heir intended, Rhaenyra had the liberty of choice, and Viserys lined men up for her to wed and start her kingdom. Alicent may have been in court, but she would never get the best of the Seven Kingdoms lining up for her.
In fact, she chose to follow her father who pushed her into seducing Viserys so that she could marry him. Alicent envied the freedoms Rhaenyra enjoyed as a Princess, and that feeling turned to resentment later.
3
"Is it? You Targaryens do have queer customs."
Season 1, Episode 4, "King of the Narrow Sea"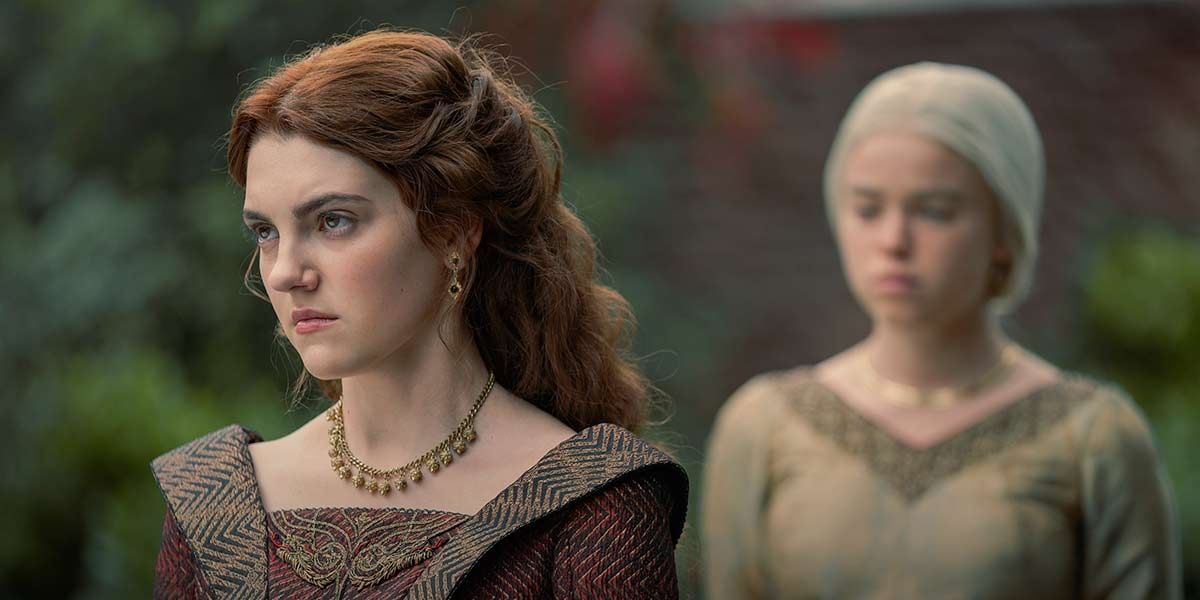 One of the bigger rifts between younger Alicent and Rhaenyra stemmed from the latter's shenanigans with Daemon Targaryen. Alicent considered herself the epitome of duty, and she grew indignant when she heard that her friend, who was her age, had gone to a brothel and fooled around with the man who was her uncle. Rhaenyra's flagrant disregard for rules angered Alicent to no end.
When Rhaenyra denied the accusations, the new Queen was quick to point out that House Targaryen did have odd customs. Incest and strange unions were considered customary, and this was the first time Alicent had spoken her mind clearly without regard for manners or courtliness.
RELATED: 10 Main TV Characters Who Died In The First Season (& How)
2
"You may do as you wish, husband…"
Season 1, Episode 6 "The Princess and the Queen"
"You may do as you wish, husband… when I am cold in my grave."
It was surprising how all of Alicent's warmth for Rhaenyra had turned to hatred as they had grown up. When Viserys showed excitement over Rhaenyra's to wed Jace to Helaena, Alicent made it clear that she was not in favor of the idea. She did not feel the friendship that Rhaenyra had tried to invoke, and she told Viserys in no uncertain terms that he could do it over her dead body.
Even if Alicent had played into her father's hands and spent her youth serving men, she was in full control here. She was never going to be forced into any alliances or uncomfortable decisions. In fact, Alicent influenced the King's decision-making.
1
"You are the challenge, Aegon!"
Season 1, Episode 6 "The Princess and the Queen"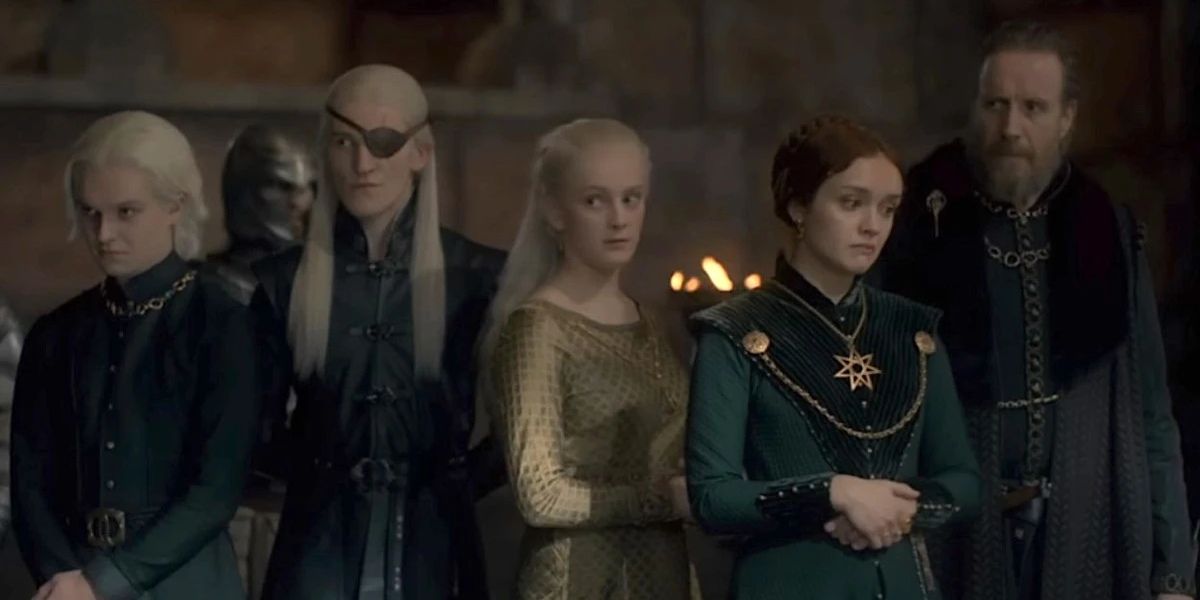 "You are the challenge! You are the challenge, Aegon! Simply by living and breathing! You are the King's firstborn son and what they know, what everyone in the realm knows in their blood and in their bones is that one day, you will be our King."
Being in court her whole life, and watching the Hand had given Alicent a vast knowledge of politics and how the kingdom worked. Even if Aegon didn't want to be King, initially, it was his mother who pushed him to take on the responsibility and fight for the Iron Throne. She made a mistake because her son was in no way fit to rule.
Even if she didn't say it, Alicent longed for power beneath her pious exterior. She had been the one to push Aegon into a battle for the Seven Kingdoms, who had not even been interested until that point. She wanted to regain the power and control she had lost in her life by campaigning through her son.
on bbc news
on hindi news
on the news today
on channel 7 news
ôrf news
campo grande news ônibus
ôpera news
campo grande news greve de ônibus
l1 news horário dos ônibus
l1 news ônibus
lago azul news ônibus
news österreich
news österreich heute
news österreich aktuell
news öffentlicher dienst
news österreich corona
news öl
news österreich orf
news ö3
news österreich heute aktuell
news österreich sport
ö24 news
ölpreis news
öbb news
ösv news
österreich news krone
övp news
özil news
öffentlicher dienst news 2023
österreich promi news